Oregon Football: Pre-Spring Practice 2-Deep Depth Chart Predictions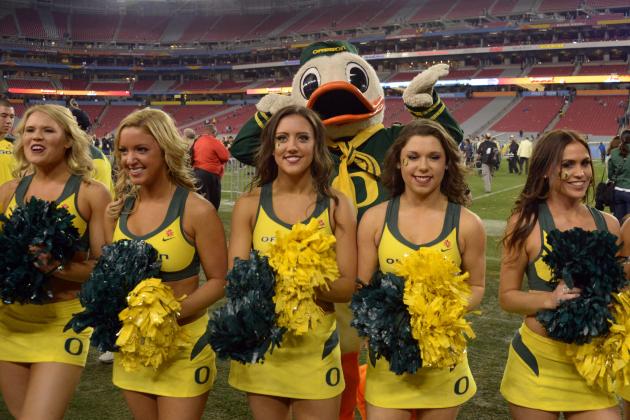 USA TODAY Sports

While it was great fun watching the departing Duck footballers participate at last week's Oregon pro day, it did make you wonder who could ever replace them on the Ducks' 2-deep depth chart. With spring practice just around the corner, it might be fun to take a look at a projected depth chart now and then again once spring camp concludes.
This is, after all, Mark Helfrich's first spring practice in charge. He may very well have some changes in mind. Maybe Helf thinks Jeff Lockie is ready to take over at quarterback, replacing Marcus Mariota.
Kidding! Just kidding!
But there will likely be some surprises at the spring game when the season practices conclude. Remember last year? When you couldn't wait to see new Oregon starting QB Bryan Bennett?
Who will be this year's surprising players? Here's one way it could go down. Projected starters are in bold.
Begin Slideshow

»
Matt Wogan photo courtesy 247Sports.com
Never have the dreams of so many been hoisted on the head—or, more accurately, foot—of one young man. Every Oregon fan on the planet wants, no, needs incoming freshman kicker Matt Wogan to be The Answer.
There will be no bashing of any player on the Oregon 2013 roster in this space, but that doesn't mean that the first player inserted into this predicted depth chart wasn't new kicker Wogan. None of you have seen Wogan play—unless you hang out in Indian Trail, NC—but somehow you just know that he will be the Ducks' savior in 2013, right?
One area in which there might be disagreement is who will be returning punts and kickoffs this year. Some of you who comment occasionally do not believe De'Anthony Thomas will be used in this fashion again. You are incorrect. Why, if you are doing battle and you have a choice between using a BB gun or a howitzer, would you not use your howitzer?
Here's a tweet from Thomas several hours after he won three events at the Oregon Preview, outdoor track and field season kickoff meet, one of which was a new meet record, as he anchored the 4X100 relay. He's likely referring to track in this instance, but it is an honest look at his DNA:
I JUST WANT TO BE REMEMBERED AS A CHAMPION #LIVEANDGRIND

— DE'ANTHONY THOMAS (@1STCLASSMOMBA) March 17, 2013
Here's your special teams 2-deep depth chart:
KO: Matt Wogan—Alejandro Maldonado
PK: Matt Wogan—Alejandro Maldonado
P: Dylan Ausherman—Matt Wogan
KR: De'Anthony Thomas—Keanon Lowe
PR: De'Anthony Thomas—Bralon Addison
HLD: Jeff Lockie—Jake Rodrigues
LS: Drew Howell (punts, PAT, FG)—With the departure of Jeff Palmer, Howell is the only LS listed on the Ducks' 2013 roster.)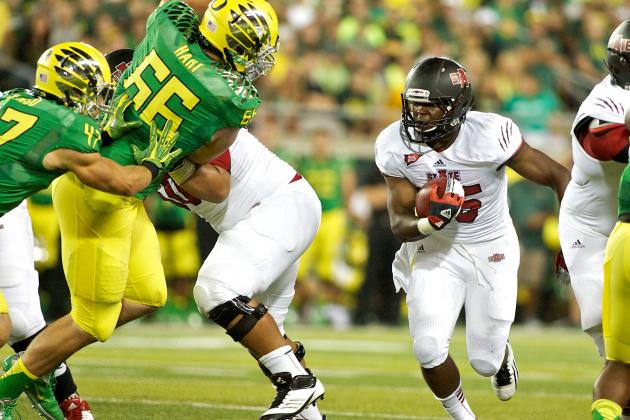 Craig Mitchelldyer/Getty Images

Whether you believe that Dion Jordan was a true defensive end or a linebacker, you must agree that the Ducks will miss him on defense in 2013. Also gone at defensive tackle is Isaac Remington.
That's the bad news. The good news is that Jordan and Remington are the only two significant losses on Oregon's D-line, and the Ducks should be strong again in this unit.
DE: Taylor Hart—DeForest Buckner
DE: Tony Washington—Christian French
DT: Wade Keliikipi—Alex Balducci
DT: Arik Armstead—Ricky Heimuli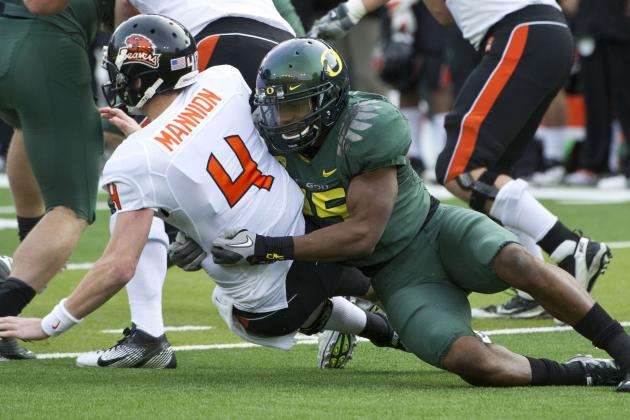 Jim Z. Rider-USA TODAY Sports
Sean Mannion is introduced to Boseko Lokombo
You had to be proud watching departing Oregon linebackers Kiko Alonso and Michael Clay lighting it up at Oregon's pro day last week.
At the same time, you had to be worried about this position on the Ducks' roster this year. Alonso's and Clay's backups, Rahim Cassell and Derrick Malone, did get some playing time in 2012. However, we didn't see enough of them to know if they can fill these big shoes trotting off to the NFL.
You have to hope that with Boseko Lokombo returning for his senior year and holding down the fort on the strong side, that Malone and Cassell will get the job done at the other two LB positions.
Also, junior college transfer Joe Walker is enrolled and will be participating in spring practice. It's entirely possible that Walker will earn a starting role. Let's plug him in and give him a goal to shoot for, OK?
SLB: Boseko Lokombo—Tyson Coleman
WLB: Derrick Malone—Rodney Hardrick
MLB: Joe Walker—Rahim Cassell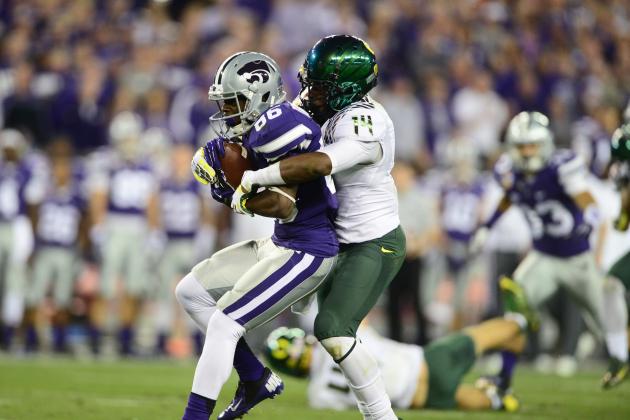 Mark J. Rebilas-USA TODAY Sports

What a strange journey Oregon's defensive backfield went on in 2012. First, all-world safety (and my candidate for Heisman) John Boyett was lost for the season after one game, electing to have surgery on both knees. Then, his truly excellent replacement, Avery Patterson, also went down in November, tearing the ACL in his left knee.
Let's not do this again in 2013, OK guys?
If handsome, brilliant, charming Coach Helfrich (yes, that was a suck up) allows visitors to attend any spring practices, it will be interesting to see if Patterson appears fully recovered. For the sake of this piece, assume that he is good to go.
Spring practice will be important for several players, but none more so than redshirt freshmen twins Eric and Stephen Amoako. The brothers are both terrific athletes, and according to defensive coordinator Nick Aliotti in an interview with A.J. Jacobson of DuckSportsAuthority.com, Eric and Stephen could play safety or cornerback.
Aliotti (who confesses to not being able to tell the brothers apart unless they are wearing their numbered jerseys) also said that the coaches plan to place them on the depth chart this spring wherever they will have the chance of seeing the field the soonest.
CB: Terrance Mitchell—Dior Mathis
CB: Ifo Ekpre-Olomu—Stephen Amoako
SS: Brian Jackson—Eric Amoako (James Scales, Jackson's backup in the Fiesta Bowl, is not on the Ducks' 2013 roster.)
FS: Avery Patterson—Erick Dargan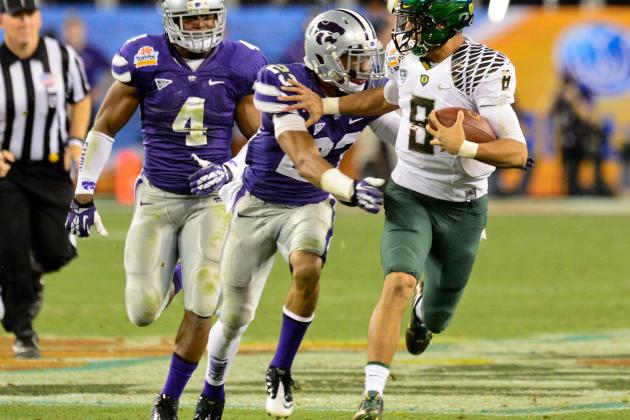 Matt Kartozian-USA TODAY Sports
Do. Not. Touch. Me.
When we first looked at the 2013 depth chart back in January after the Fiesta Bowl, the only question at the Oregon quarterback position was whether backup Bryan Bennett would transfer or not.
That question, sadly, has been answered with Bennett's late January transfer to Southeastern Louisiana University. Bennett is listed on the Lions' roster and will wear No. 10. Go Lions!
So, with Bennett gone, the big spring competition will undoubtedly be for the No. 2 QB role behind starter Marcus Mariota. Both redshirt freshmen Jake Rodrigues and Jeff Lockie are talented. Lockie may hold a slight edge due to Rodrigues' injury his senior year of high school, but expect the competition to be spirited.
Quarterback: Marcus Mariota—Jake Rodrigues or Jeff Lockie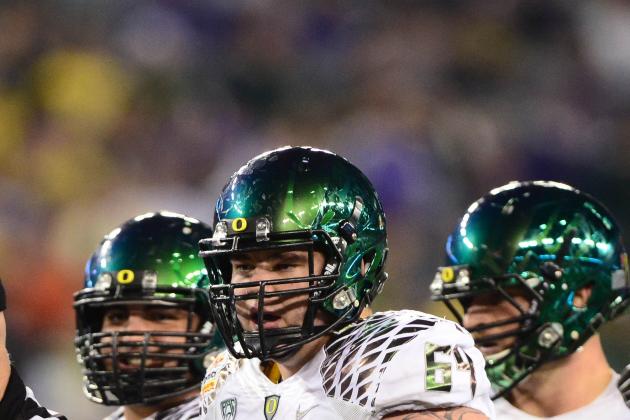 Mark J. Rebilas-USA TODAY Sports

Can you say "young"?
The offensive line will be the Ducks' youngest overall unit, and, in fact, will likely see some of the new recruits (two 4-star and three 3-star) get some serious playing time. Three of the four 2-deep guards from 2012 are gone—Kyle Long, Ryan Clanton (who may have helped himself right into the NFL with a good performance at Oregon's pro day) and Nick Cody.
With all the youth in this unit, predicting the 2-deep on the O-line is the most difficult of all the positions. Spring practice won't tell you much either, as the most promising recruits won't be here until summer. Marcus Mariota had better take the newbies out for a big steak dinner the minute they arrive on campus; he will need these recruits on his side in a hurry.
Here's a stab at what the O-line might look like:
LT: Tyler Johnstone—Cameron Hunt or Andre Yruretagoyena
LG: Hamani Stevens—Evan Voeller
Center: Hroniss Grasu—Karrington Armstrong
RT: Jake Fisher—Everett Benyard III
RG: Evan Voeller—Jamal Prater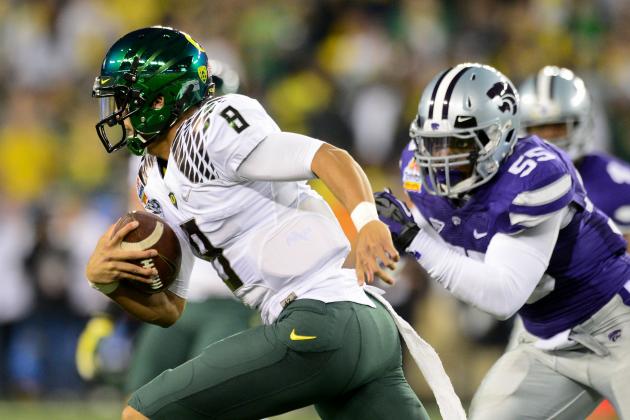 Matt Kartozian-USA TODAY Sports
Byron Marshall gets big game experience in the Fiesta Bowl
When last we visited this depth chart issue right after the Fiesta Bowl, we were still talking about 4-star running back Dontre Wilson being in the mix. Thank you, Urban Meyer, for making this slide more clear as we approach spring practice.
With Wilson's flip-flop to The Ohio State University, the door is even wider open now for 5-star recruit Thomas Tyner to give probable starter Byron Marshall a run for his money. Do you suppose that one extra star behind Tyner's name was on Wilson's mind when he decommitted? You will never know; all you can do is wish the young man good luck in Columbus and be thankful that you don't have to spend the next four years there.
Tyner has chosen to not compete in track his senior season at Aloha High School, according to an article by Jerry Ulmer of The Oregonian earlier this month. Tyner's coach, Jay Miles, said that Tyner just wants to finish out his senior year as a normal student and needed a moment to be out of the limelight.
Hope that's not code for "he needs to work on his grades." Tyner has also taken himself off Twitter as of February 27, with this tweet:
This is the last youll hear from me on twitter and other social networks until college. Gotta focus on school right now. Peace tweeps

— D4SH (@thomas_tyner) February 27, 2013
Running Back: De'Anthony Thomas and Byron Marshall—Thomas Tyner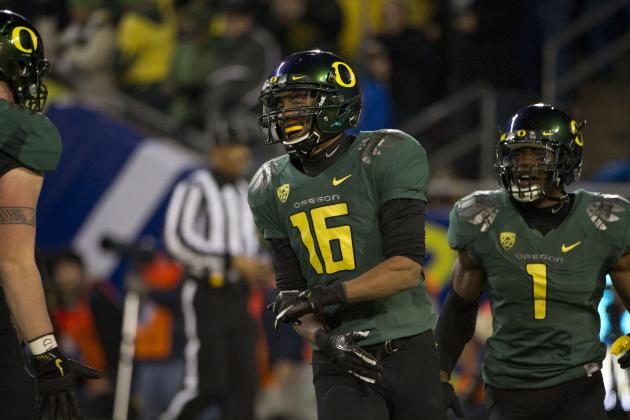 Jim Z. Rider-USA TODAY Sports

Aren't you just dying to see, with new Coach Mark Helfrich and new OC Scott Frost in charge, if the Ducks throw the ball more in 2013?
Heaven knows there are plenty of wide receivers on this Ducks' roster to catch it. There is also a growing realization that QB Marcus Mariota might have a legitimate Heisman Trophy chance if his passing numbers are higher than they were during his freshman campaign. Wins, of course, are more important than individual awards, but with the wealth of talent at WR this year, look for a more balanced attack by the Ducks.
In addition to the good experienced receivers on the roster, Oregon added two potential big-play kids in 4-star Darren Carrington and 4-star Devon Allen.
But with a solid year of valuable experience working with Mariota, you must give the veterans the starting nod.
WR 1: Daryle Hawkins—Bralon Addison
WR 2: Josh Huff—Dwayne Stanford
WR 3: Keanon Lowe—B.J. Kelley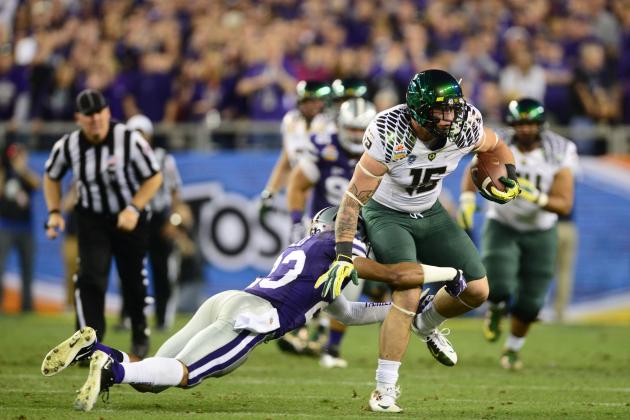 Mark J. Rebilas-USA TODAY Sports
Do you honestly think you can tackle Lyerla with one arm?
One of the top contributors to Oregon's offense in 2012 was tight end Colt Lyerla. His bruising, take-no-prisoners approach to the game every time he was on the field was very refreshing. If Lyerla keeps his nose clean this summer, there is no reason why the all purpose threat will not be recognized as the top tight end in college football next January.
Who will be Lyerla's backup at the position? Look for redshirt freshman Evan Baylis, who at 6'6", 244 pounds, has the size and talent to be next in line. Also in the mix are Lyerla's 2012 backup redshirt sophomore Koa Ka'ai, and sophomore Pharaoh Brown.
The truth is that any of these four tight ends would be starting at most schools. That's how good Lyerla is.
Tight End: Colt Lyerla—Evan Baylis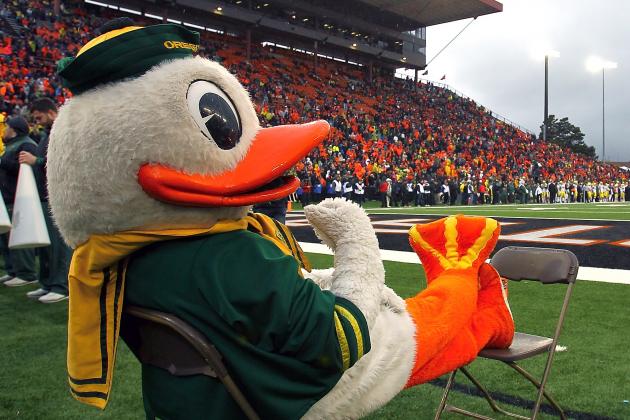 Jonathan Ferrey/Getty Images

The Oregon Ducks' spring practice begins on April 2.
Is it April yet?!?
Kay Jennings is a member of the Football Writers Association of America. Follow her here.