GSP vs. Diaz: Round-by-Round Recap and Analysis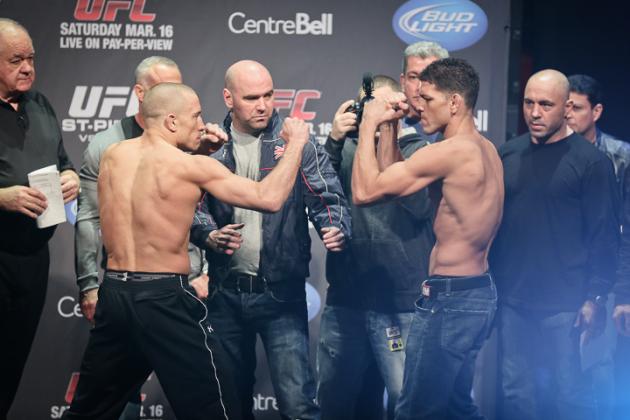 Photo credit: Wilson Fox
The words and the questions will all melt away Saturday night at UFC 158 when welterweight champion Georges St-Pierre enters the cage and stares across at challenger, grudge rival and underdog Nick Diaz.
St-Pierre, one of the best wrestlers in MMA, is favored to take Diaz, a boxer and jiu-jitsu ace, to the ground and keep him there. But anything can happen in such a heated cage rivalry.
Didn't have a chance to order the pay-per-view? Check out this recap and analysis, which will be updated in real time as the fight unfolds.
Begin Slideshow

»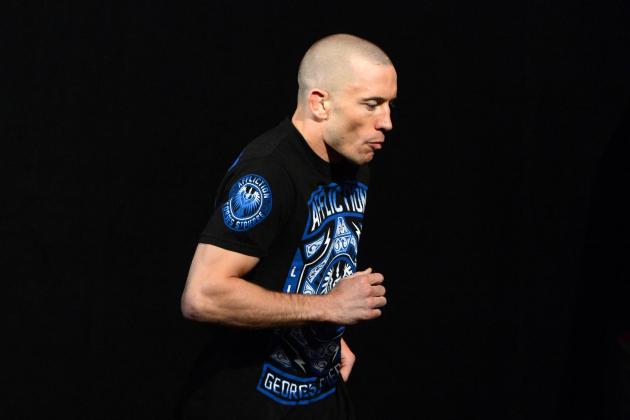 Eric Bolte-USA TODAY Sports

The Bell Centre crowd is deafening as GSP makes his way to the cage in full karate regalia. Seriously—I I can barely hear Goldie and Rogan (no jokes, please).
As GSP stepped into the Octagon, referee Yves Lavigne had to restrain a trash-talking Diaz from getting too close to St-Pierre. Hoo boy, this is gonna be good.
Jake Shields is in Diaz's corner, but I don't see Nate. The usual Tristar suspects riding with GSP.
Very tense staredown, as you might imagine. No glove touch.
And we're finally fighting. Both men rush to the center. Diaz immediately swinging, landing a jab and giving him the "come get some gesture." GSP responds by landing a takedown, and Diaz pulls a tight guard. GSP's working to break it, though. This is one of his great strengths.
GSP landing a couple of elbows and he's up. Diaz scrambles away and GSP grabs his back, lands a few shots. They're maneuvering on the ground, with GSP rolling away from Diaz, staying on Nick's back and landing shots to the head. Now he is in side control, but gaining the back again. Now back in Nick's full guard.
St-Pierre postures up and lands a couple of elbows and they're finding the eye area. Diaz might be cut a little, but nothing serious. What's more serious for Diaz is that he can't get up to his feet. GSP on him like a blanket. This is not a shock.
Diaz back to his feet now and there's 1:06 remaining. And now they're back down. GSP looked like he was thinking about a kimura for a quick second but nothing came of it. St-Pierre is very much within himself, and just looking to wear Diaz down. A classic GSP round, and he punctuates it with a big slam to the canvas.
My score: 10-9 St-Pierre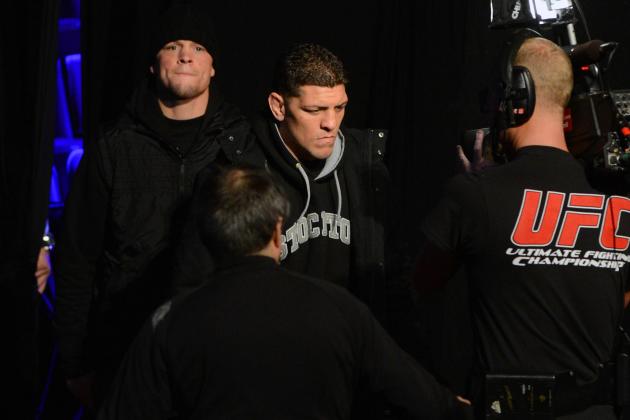 Eric Bolte-USA TODAY Sports

GSP corner between rounds: "You're doing exactly what we want." Yeah, I'd say so. Crowd is still chanting and completely deafening.
Round starts and they stand and trade. GSP throwing a jab, then misses with a front kick. Diaz throws a tentative right, and GSP counters with the takedown. Thus far, Diaz can't seem to do anything to either stop the takedown or mount any offense from his back.
GSP postures up, Diaz scrambles, GSP gets his back. Diaz is using decent wrist control on one of GSP's wrists. Small victory.
Big knee to the ribs of Diaz. Small scramble on the ground but back to same position: GSP on Diaz's back, Diaz controlling left wrist of St-Pierre but not doing much else.
They're back standing now. It will be interesting to see how long GSP allows the standing exchange to last. Answer: the final 45 seconds or so of the round. Superman jab from GSP but that's about it.
Diaz with the trash talk after the round, probably something about being smothered.

My score: 10-9 St-Pierre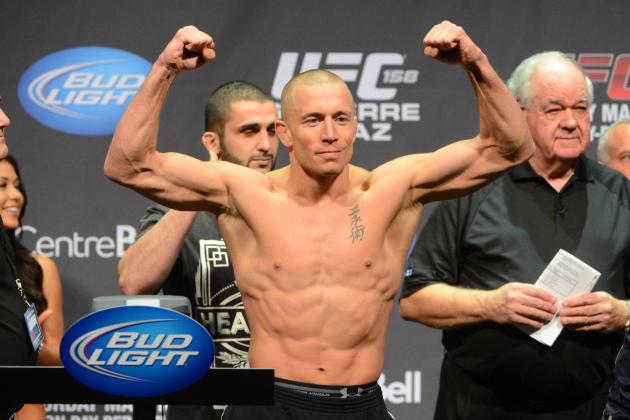 Eric Bolte-USA TODAY Sports

Diaz seems frustrated between rounds that GSP isn't standing with him. The round starts standing and Diaz is talking. GSP throws a high kick that goes begging.
GSP lands a jab. Diaz trying his head games but isn't landing much. Diaz stuffs a takedown!
But GSP tries again and hits it. Diaz gives up his back again, GSP takes it again. Diaz slithers to the fence and pushes up to his feet.
Standing again which is what Diaz wants, but he's not doing much to capitalize, just covering up against GSP's jab.
Diaz lands a hard right to the body. Inside leg kick from GSP. Diaz returns it.
Another stiff jab from GSP and Diaz might be bleeding from the nose. GSP blocks a head kick. They trade unsuccessful spinning kicks.
GSP's spidey sense starts tingling so he shoots for a takedown, but Diaz stuffs it. St-Pierre lands a hard right hand. Diaz with a nice jab. Diaz throws a combination that lands. A left from Diaz. A combination from Diaz and GSP has had enough. He lands the takedown and is in Diaz's guard.
Thirty seconds left. GSP on his back and looks up at the clock. That's the round. Diaz takes a swing after the bell but it misses.
My score: 10-9 St-Pierre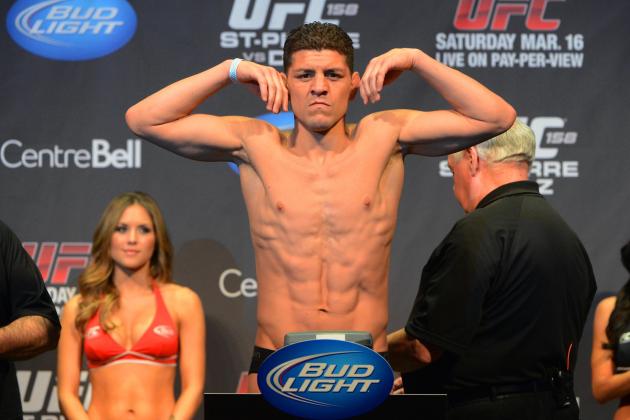 Eric Bolte-USA TODAY Sports

I have a feeling St-Pierre is going to get this to the ground sooner rather than later.
They trade, though, with St-Pierre landing a jab. Diaz tries a combination but can't really get it off. Diaz stuffs another takedown.
Diaz throws a haymaker and misses. Diaz opening up and throwing more, but isn't landing a ton. Both men seem to have bloody noses now, though.
They clinch up against the fence and they trade body shots. Diaz with a stiff knee to the solar plexus, and then another. They break up and Diaz throws a nice combination. Diaz circling with his hands down. GSP lands a jab. GSP lands a big takedown. Diaz scrambling around and protecting himself, preventing GSP from getting clean looks.
They're back up on the feet against the fence, but GSP takes him right back down. Diaz hit the mat hard that time. Back up to the feet. Lots of action in this fight, just not a lot of damage inflicted from either side.
GSP has Diaz's back and lands a few shots but nothing crazy. Back on the canvas now. Round ends.
My score: 10-9 St-Pierre
Eric Bolte-USA TODAY Sports

Final round begins. Neither man looks too bad.
GSP takes center of the Octagon. They trade leg kicks. Crowd chanting "GSP." Diaz lands a good, hard left and GSP responds with a jab. They clinch up, with Nick landing a couple of knees to the body again. GSP returns fire.
They break up and are standing. GSP lands a jab. Diaz goes for a high kick and slips. GSP jumps on his back. Diaz fishing for an arm, a leg, whatever he can find. Nothing doing, though.
They're rolling around. Diaz again trying to scramble but GSP constantly establishing and re-establishing dominant positions.
They're back on the feet now, and 1:40 remains. They clinch and exchange some knees to the body again. Montreal crowd chanting a loud and profane chant that rhymes with "Duck To Diaz."
Big takedown from GSP and the crowd goes wild. Thirty seconds left. GSP going for ground strikes but Diaz staves it off. That's the way the fight ends. They embrace in the cage and Diaz raises GSP's arm.
My score: 10-9 St-Pierre
My overall score: 50-45 St-Pierre
For more fight analysis and what not, follow Scott Harris on Twitter.