10 Sophomores Who Should Have Been Picked in the 2013 NFL Draft
Kevin C. Cox/Getty Images
Whether it is fair or not, a collegiate football player cannot be drafted until he is three years removed from college.
With that being said, every year there are a couple of sophomores who seem ready to enter the NFL draft, and it does not seem right that they have to come back for another season and risk injury.
Some players are certainly more ready than others and even if somebody is not a big-time name in college that will not necessarily translate to the next level quite yet.
The 2012 season was a little different however, as it appeared there were more than a handful of players who were ready to make the jump to the next level.
Players like Braxton Miller, Isaiah Crowell, Marcus Mariota, De'Anthony Thomas and Brett Hundley are very talented but could use another year or two of experience.
The names on the list are ready right now.
While they are going to have to wait another year instead, we decided to compile a list of 10 sophomores who are NFL ready.
Here they are.
*Redshirt freshmen are included with the sophomores since they have been in college for two seasons.
*Redshirt sophomores are not included since they are already eligible for the NFL draft.

Honorable Mentions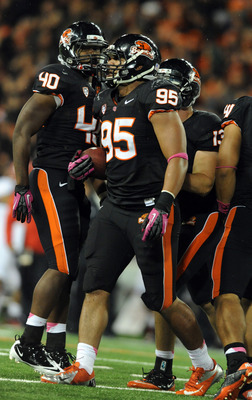 Steve Dykes/Getty Images
Here are five players who were close to making the list, but were just not quite there. They are however, talented enough to jump to the NFL right now.
Bishop Sankey, Washington: The talented running burst onto the scene out of nowhere last year and was one of the best backs in the Pac-12.
Allen Robinson, Penn State: Robinson had a huge sophomore season in 2012 and is one of the most talented wide receivers in the conference.
Loucheiz Purifoy, Florida: Purifoy developed into an excellent cover corner in 2012 and will likely be a high selection in the 2014 NFL draft if he decides to come out.
Scott Crichton, Oregon State: This pass rusher might just be the best at his position in the Pac-12 and will be a load on offense this coming season.
Trey DePriest, Alabama: DePriest started 12 games last season at middle linebacker for the Crimson Tide and that alone says enough. This guy has the potential to be a stud.

No. 10 Ka'Deem Carey, Arizona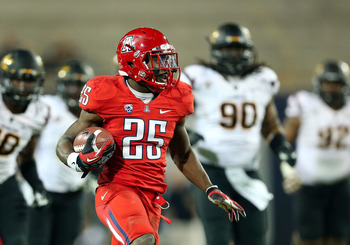 Christian Petersen/Getty Images
After 91 carries and 425 yards during his freshman season, Arizona running back Ka'Deem Carey broke out last year, totaling 1,929 yards with 23 touchdowns on 303 carries.
There is no doubt that he is one of the true workhorses in the country and could have made the jump to the NFL this season.
At 5'10" and 203 pounds, he is not afraid to run around people or go right over them.
His versatility is another asset, as he also has the ability to catch the ball out of the backfield. Last year he caught 36 passes for 303 yards and a touchdown.
He is not the fastest guy in the world, but has enough breakaway speed to be an every down back at the next level.
No. 9 Johnny Manziel, Texas A&M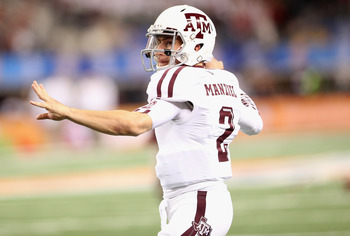 Ronald Martinez/Getty Images
Johnny Manziel did a little bit of everything last season, and while he is slightly undersized, what he does with the ball in his hands is something that is NFL-worthy.
As a redshirt freshman in 2012, Manziel passed for 3,706 yards with 26 touchdowns and nine interceptions. He also rushed for 1,410 yards and 21 touchdowns on 201 carries.
The 6'1", 200-pound Manziel does not quite have the size to be a top pick, but he still could have been selected within the first three rounds this year.
If he can continue to prove himself, his draft stock is only going to rise. Another year or two at the collegiate level will certainly not hurt his stock.
No. 8 Stephon Tuitt, Notre Dame
Jonathan Daniel/Getty Images
With the exception of Jadeveon Clowney, there is no sophomore defensive end more NFL ready than Stephon Tuitt from Notre Dame.
The 6'6", 303-pound pass rusher had an outstanding 2012 season with 12 sacks as he was in the backfield for the better part of the season.
Tuitt may not be as fast or quick off the edge as Clowney, but he has all of the tools to be a factor in the NFL.
Whether or not he would have left early if he could is debatable, but this is a guy who could have been a first round selection in the 2013 NFL draft.
No. 7 Teddy Bridgewater, Louisville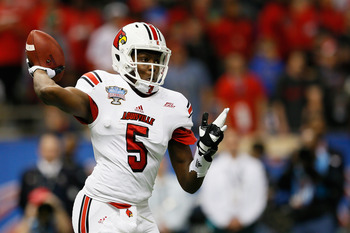 Kevin C. Cox/Getty Images
Louisville quarterback Teddy Bridgewater might be the most NFL ready quarterback in all of college.
He had a breakout 2012 season and came on strong particularly at the end of the year.
The Miami native finished the season with 3,718 yards and 27 touchdowns with eight interceptions.
While he is not exceptionally tall, he has plenty of size to compete at the next level. At 6'3" and 218 pounds, he will have no problem seeing over defenses in the NFL.
Look for Bridgewater to hang around one more year and then become a first round selection in the 2013 NFL draft.
No. 6 Austin Seferian-Jenkins, Washington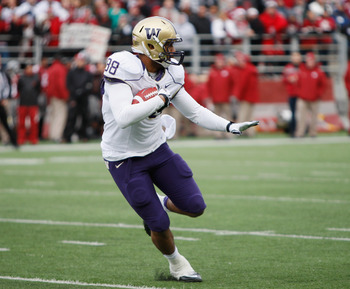 William Mancebo/Getty Images
There are probably not a lot of people who know much about Washington tight end Austin Seferian-Jenkins.
If they don't they soon will.
As a sophomore in 2012, he caught 69 passes for 852 yards and seven touchdowns.
With the exception of Tyler Eifert at Notre Dame, he might have been the best tight end on the board in the 2012 draft.
What sets him apart from some of the other players is his size. The 6'6", 266-pound big man also has decent speed that will almost certainly have him as the top tight end whenever he decides to come out.
No. 5 Ryan Shazier, Ohio State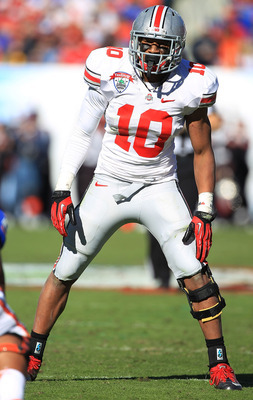 Scott Halleran/Getty Images
Few players in the country are better tacklers than Ryan Shazier of Ohio State.
During the 2012 season, he finished the year with 116 tackles and eight passes defensed. Throw in an interception he took to the house and five sacks for good measure.
That is a pretty solid season for a sophomore, and Shazier is likely to improve in 2013. The Buckeyes are losing their entire defensive front, but there is enough young talented sophomores to step right in.
Shazier might be the most NFL ready of any underclassmen at the linebacker position, and has the perfect combination of speed and size.
The 6'2", 226-pound Shazier will be playing on Sundays for a long time to come.
No. 4 Timmy Jernigan, Florida State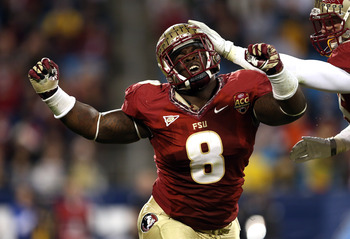 Streeter Lecka/Getty Images
There is no sophomore defensive tackle in the country that is more poised for the NFL than Timmy Jernigan of Florida State.
In 2012 he only had 1.5 sacks and 43 tackles, but his potential is hard to ignore.
He has that high motor that is very hard to find. The 6'2", 298-pound Jernigan could play on Sundays right now, and would likely have been a first round selection in the 2013 NFL draft.
Jernigan was the anchor on a very talented Florida State defense, and will be in the same role once again in 2013.
Look for him to put up some bigger numbers in 2013 before bolting for next year's draft.
No. 3 Sammy Wakins, Clemson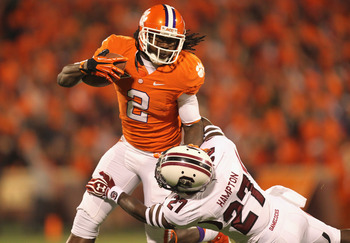 Streeter Lecka/Getty Images
Sammy Watkins is the first of two wide receivers on the list who would have been a high selection in 2012.
He is as skilled as almost any player in the country and with Tajh Boyd throwing him the ball, he should have huge numbers again this season.
In 2012, Watkins caught 57 passes for 708 yards and three touchdowns. Those numbers were not quite what he put up as a true freshman in 2011, but he did miss three games a season ago.
Watkins is 6'1" and 200 pounds, so he has plenty of size to go along with his 4.5 40-speed.
There is little doubt that Watkins will jump for the NFL draft next season and be a first round selection.
No. 2 Marqise Lee, USC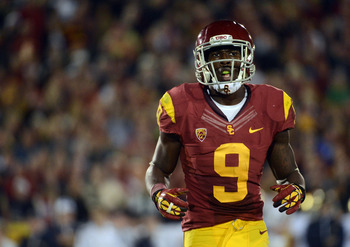 Harry How/Getty Images
No player in the country put up better stats in 2012 than USC wide receiver Marqise Lee.
The sophomore caught 118 passes for 1,721 yards and 14 touchdowns. That came a year after catching 73 passes for 1,143 yards 11 touchdowns as a true freshman in 2011.
He might have been a top 10 selection this season and certainly will be in the 2013 NFL draft.
The 6'1", 195-pound Lee has all the necessary tools to dominate the NFL in the future just like he is doing to the college game today.
He is very similar to Watkins in size and speed, but grades out a little better as an overall wide receiver.
No. 1 Jadeveon Clowney, South Carolina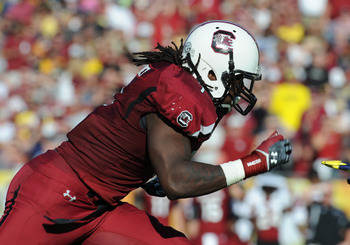 Al Messerschmidt/Getty Images
Was there any question who the top player on the list would be?
South Carolina defensive end Jadeveon Clowney would have certainly been the top pick in the 2013 NFL draft, and will likely be the top selection in the 2014 draft, unless something drastic happens.
He is an absolute freak and proved that last season as he finished the year with 12 sacks and two passes defensed.
The 6'6", 256-pound Clowney is the most complete player in college football and will be one of the best players to come out of the collegiate ranks in quite some time.
It is no coincidence that Clowney finds himself on the top of another list.
Keep Reading