Chicago Bulls: 3 Players Who Must Step Up in the NBA Playoffs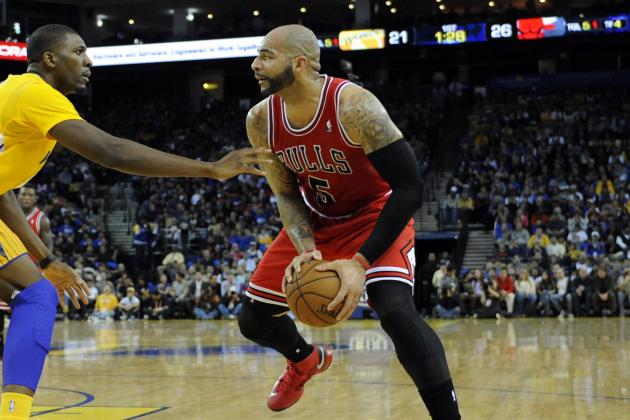 USA TODAY Sports

The Chicago Bulls are still awaiting the return of their young superstar and former MVP—Derrick Rose.
But as we saw during the 2011 and 2012 playoffs, the Bulls can't just rely on one player to carry them to a championship. It will take a total team effort to knock off the fellow elite Eastern Conference powerhouses like the Miami Heat or Indiana Pacers.
With that being said, the Bulls only have a few other players who could potentially make a big impact on their success in the playoffs, but they haven't been playing exceptionally well throughout most of the season.
This slideshow will evaluate three players on the Bulls roster who must step up in order for the Bulls to have a chance at a long playoff run, and ultimately an NBA title.
Begin Slideshow

»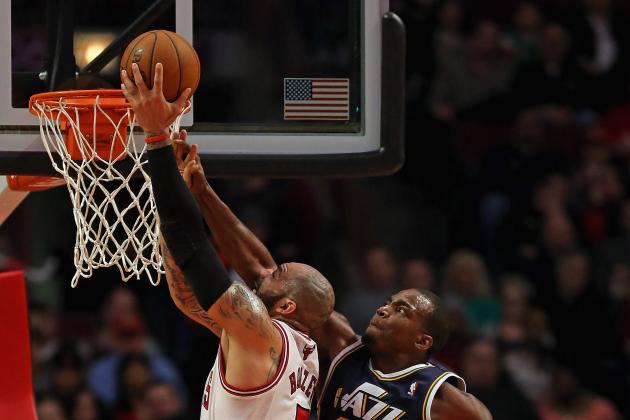 Jonathan Daniel/Getty Images

Boozer should have stepped up in the playoffs in the Bulls' past few seasons.
He put together strings of good games this season, but has been very inconsistent for the most part. Averaging 15.6 PPG and 9.1 RPG, Boozer has had very few games where he made a huge impact.
Furthermore, his 47 percent field goal percentage this year is the lowest of his career.
In the playoffs the last two years, Boozer has averaged only 13 points per game on a mediocre 43 percent field goal percentage (per Basketball Reference).
During the playoffs, his numbers have plummeted, which isn't a good thing for the Bulls.
If the team wants to make a deep playoff run, they will need the former All-Star to step up his game, especially against weak interior teams like the Miami Heat and New York Knicks.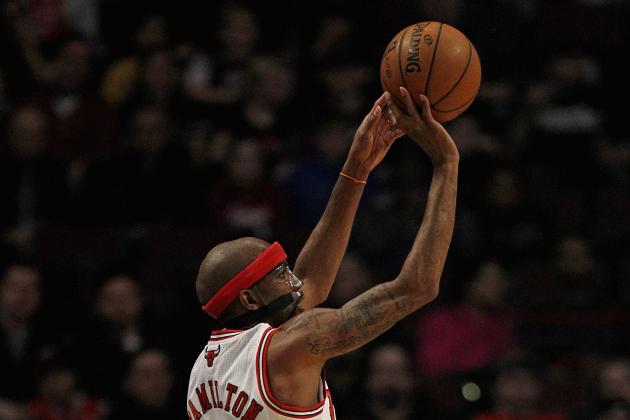 Jonathan Daniel/Getty Images

Hamilton is older and not as quick as he was in his prime, but he can still produce at an adequate level.
Before the emergence of Jimmy Butler, Hamilton was the team's best option at shooting guard. His off-ball movements to find the open shot will be ever-so-important against good defensive teams that can easily shut down individual players.
For the season, Hamilton is still putting up respectable numbers at the age of 35. He's registering 10.2 points per game on 43 percent shooting from the field in just 22 minutes per game, but struggled in the playoffs last year.
This is quite out of the ordinary, considering that Hamilton has been a player who has elevated his play during the playoffs for the past decade, when he was with the Detroit Pistons.
He has only averaged over 20 points in the regular season for two seasons, but averaged over 20 points in the playoffs five different years.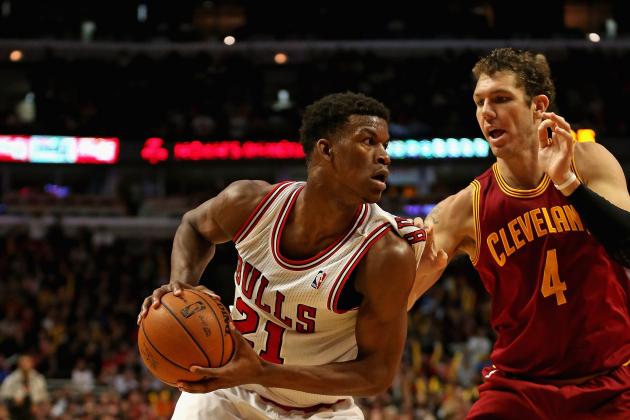 Jonathan Daniel/Getty Images

This isn't a knock on Butler, because he broke out this season during Luol Deng's various absences and proved that he could play with anybody in the league.
But now, much more is expected of him.
Butler is the ex-factor of this team come playoff time. When players like Deng, Boozer and Noah are contributing at their usual pace, Butler will be the game-changing difference maker that could lift this team over the top.
He has proven that he is a capable two-way swing-man with great all-around skills, but other teams won't be focused on him as much as the aforementioned names.
If he can provide valuable minutes off the bench or in the starting lineup, he could definitely help spark the Bulls with his limitless energy and hustle.