Alabama Football: Pre-Spring Practice 2-Deep Depth Chart Predictions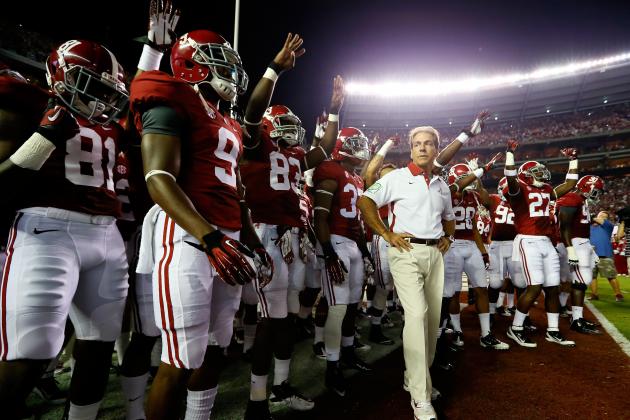 Kevin C. Cox/Getty Images
With Alabama's spring practice just underway, Nick Saban and his staff will be closely monitoring several position battles over the next month.
The Alabama Crimson Tide officially kicked off spring practice over the weekend, and with a new season on the horizon, faces old and new are fighting to secure a position on the team's two-deep depth chart by the conclusion of the spring session.
Considering the haul of talent Nick Saban has lured to Tuscaloosa in recent years, the competition for playing time and the intensity levels in practice are sure to be at a high level.
Saban is noted for his tendency to experiment by moving players around during spring, and he's already began that process during the team's first practice (h/t Associated Press via ESPN).
While veterans like quarterback A.J. McCarron are firmly entrenched as starters, the path for the next wave of future stars in Tuscaloosa begins now.
How does the Tide's depth chart currently stand, and which players begin spring as the favorites to lock down spots entering the A-Day game?
With practices just starting to heat up, I'll provide a glimpse of what the Tide's lineup looks like heading into spring.
Begin Slideshow

»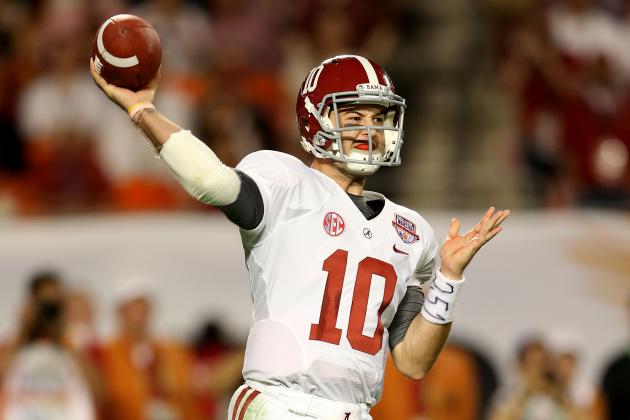 Streeter Lecka/Getty Images

McCarron has earned two crystal footballs in as many seasons as the Tide's field general. It's safe to say that the fifth-year senior—who became the latest Tide great to put off the NFL in favor of a final college season at the Capstone—is the team's unquestioned leader.
McCarron is on pace to hold nearly every significant passing record in school history, and with an explosive cast of playmakers surrounding him, the Mobile native will give Alabama one of the best quarterbacks in the country leading their attack.
The real competition to watch will be the search to find his backup, and junior Blake Sims will have five other players fighting to usurp the role he held a year ago, including three early enrollees from the 2013 recruiting class.
Sims' experience gives him the edge entering spring.
Two-Deep
1. A.J. McCarron (Sr.)
2. Blake Sims (Soph.)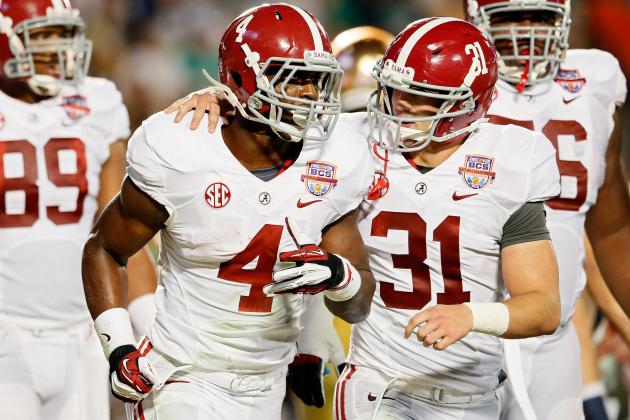 Kevin C. Cox/Getty Images

After a sensational debut season on the college level, T.J. Yeldon is primed to take over a position that has seen his predecessors rack up yards, accolades and a mouthful of drool from NFL scouts in anticipation of their ascension to the next level.
Similar to the derby that will decide McCarron's backup, sophomore Kenyan Drake will have a host of candidates fighting to unseat him.
Keep an eye on early enrollee and the newest Tide uber-recruit at the position, former 5-star Derrick Henry.
Two-Deep
1. T.J. Yeldon (Soph.)
2. Kenyan Drake (Soph.)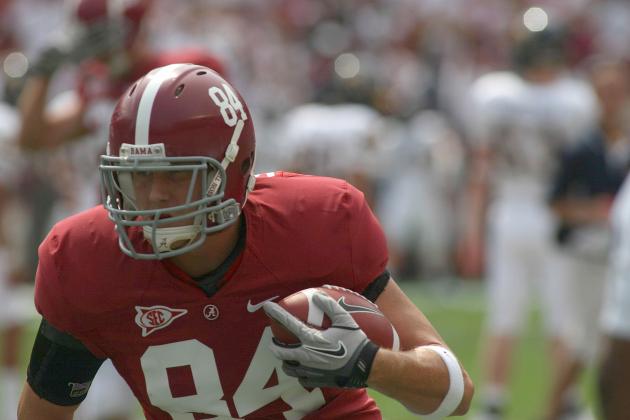 Greg McWilliams/Getty Images

Along with Henry, the arrival of fellow 5-star recruit O.J. Howard could be one of the spring's biggest developments, considering that Alabama's presence over the years at tight end has been primarily filled by players that specialize as blockers.
Sophomores Brian Vogler and Harrison Jones and redshirt freshman Malcolm Faciane all have different strengths they bring to the table, but all are light on valuable experience.
Howard will get the chance to stake his claim for the spot, but he will have to earn his time by making a good first impression in the spring.
Similar to the H-back spot, it's likely that Vogler, Jones and Faciane are all on equal footing instead of there being an established pecking order. Vogler gets the slightest of nods due to his size and the fact that he's earned the most playing time to date.
Redshirt freshman Kurt Freitag and senior Jalston Fowler—who is a candidate to make the switch from running back after recovering from a torn ACL—appear to be the main candidates to assume the H-back role vacated by Kelly Johnson.
While this position is one of the biggest unknowns entering spring, Saban's history of moving players around in an effort to get the best players on the field leads to my belief that Fowler finds a way onto the field at this spot.
Two-Deep Tight End
1. Brian Vogler (Soph.)
2. O.J. Howard (Fr.)
Two-Deep H-Back
1. Jalston Fowler (Sr.)
2. Kurt Freitag (Soph.)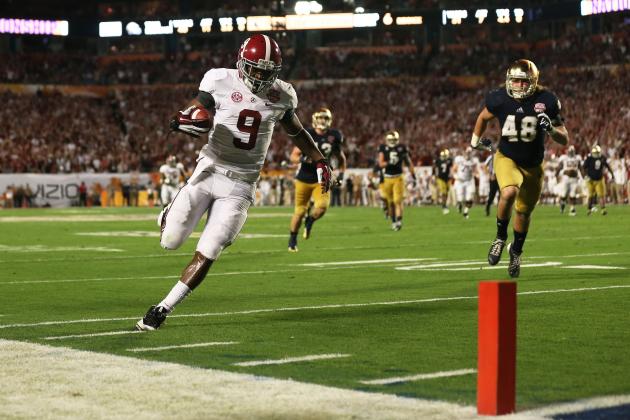 Streeter Lecka/Getty Images

Along with Yeldon, it didn't take fellow true freshman Amari Cooper long before emerging as one of the SEC's top skill players.
Cooper caught a team-high 58 passes for 999 yards and 11 scores—including topping the 100-yard mark in four of the Tide's last five games.
Considering that DeAndrew White—who is another player returning from a season-ending injury—has starting experience, having him in a backup role is a testament to just how deep the receiver unit is this season.
Two-Deep
1. Amari Cooper (Soph.)
2. DeAndrew White (Jr.)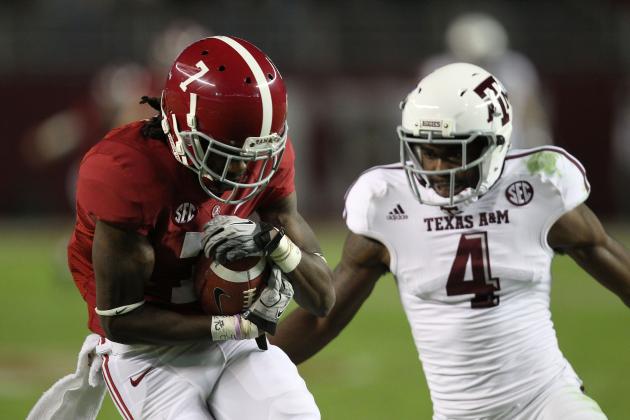 Mike Zarrilli/Getty Images

Seniors Kenny Bell and Kevin Norwood have each made their share of big plays during their respective careers.
While both players will be interchangeable parts during the season, Norwood's availability for spring could be in jeopardy due to a turf toe injury according to Laken Litman of Fox Sports.

— Laken Litman (@LakenLitman) March 13, 2013

That's ironic because Bell missed the last month of the season with a broken leg.
Regardless, both players are safe bets to be integral parts of the Tide's receiver rotation this fall.
Two-Deep

1. Kenny Bell (Sr.)

2. Kevin Norwood (Sr.)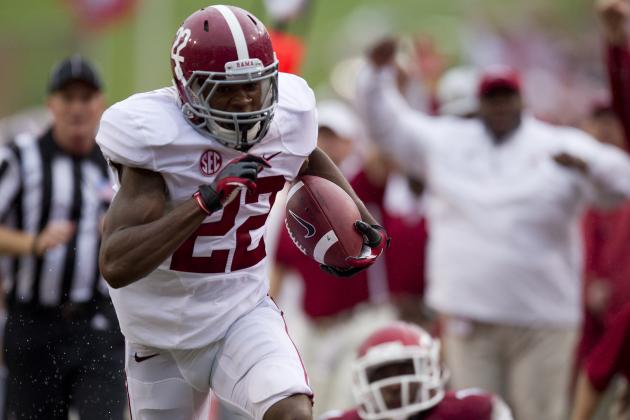 Wesley Hitt/Getty Images

While Cooper found immediate stardom in his freshman season, Chris Black—who, like Cooper, enrolled last January and starred in spring practice a year ago—wound up redshirting due to an injury suffered in fall practice before the 2012 season.
Christion Jones went on to find a home in the slot and had a solid year. The continued development of both Jones and Black is a crucial factor for the receiver unit so that the Tide's opponents are not able to blanket Cooper with double-coverage.
Sophomore Cyrus Jones is another talented receiver that will fight for a place in the unit's rotation.
Although both Christion Jones and Cyrus Jones were two of the players that worked out with the defensive backs in the team's first practice, the latter of the two would be the most likely to make a permanent position switch.
Two-Deep
1. Christion Jones (Jr.)
2. Chris Black (Fr.)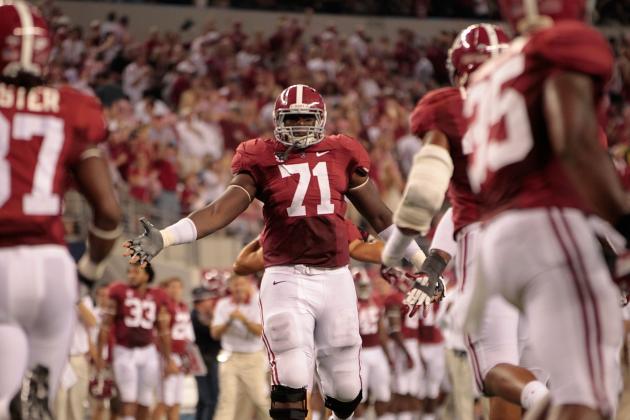 Leon Halip/Getty Images

A year ago, Cyrus Kouandjio was the biggest question mark on the offensive line entering the spring.
What a difference a year makes. Kouandjio filled the massive shoes of Barrett Jones and quietly developed into one of the nation's top left tackles by season's end.
Kellen Williams was a dependable backup a year ago, and his return gives the Tide quality depth at one of the most important positions in the trenches.
Two-Deep
1. Cyrus Kouandjio (Jr.)
2. Kellen Williams (Sr.)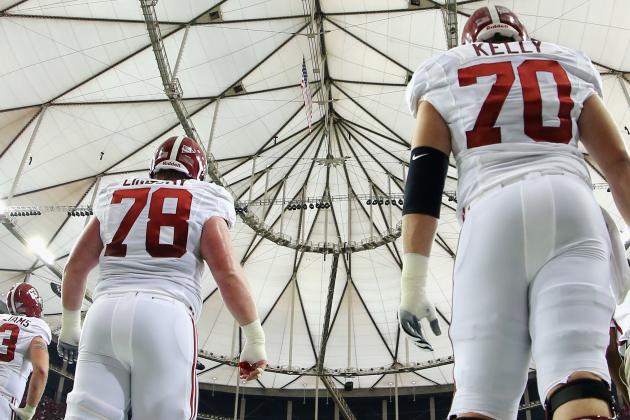 Mike Ehrmann/Getty Images

Filling the shoes of departed All-American Chance Warmack will not be easy, but the Tide has a pair of juniors vying for the right to replace him in Chad Lindsay and Arie Kouandjio.
Lindsay has backed up Warmack each of the last two seasons, while Kouandjio—the elder brother of Cyrus—has battled injuries throughout his career and spent last season backing up Anthony Steen at right guard.
Kouandjio has acknowledged that he's thought of the possibility of playing next to his brother, but Lindsay will serve as a stiff competitor to claim a spot that could see one of the spring's fiercest battles (h/t Don Kausler Jr. of al.com).
Two-Deep
1. Chad Lindsay (Jr.)
2. Arie Kouandjio (Jr.)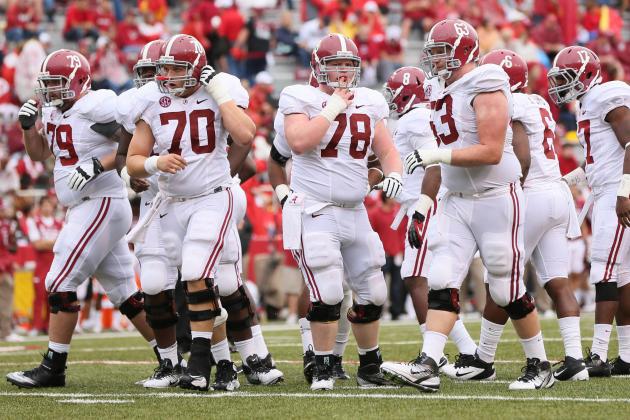 Nelson Chenault-USA TODAY Sports

Jones made the move to center before the 2012 season, and the offensive line did not miss a beat. Fielding an offensive line without him for the first time since the 2008 season will definitely be a challenge.
However, Ryan Kelly—who was the backup to Jones last season—played well enough in mop-up duty to earn SEC All-Freshman honors.
Redshirt freshman Isaac Luatua is a newcomer that will enter the mix for playing time this spring, with center or guard a potential landing spot for the California native.
Two-Deep
1. Ryan Kelly (Soph.)
2. Isaac Luatua (Fr.)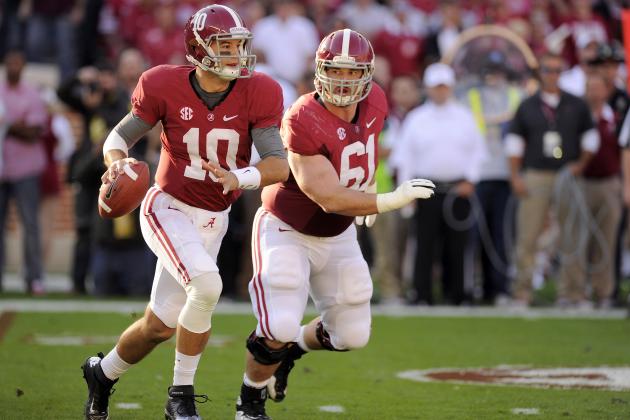 John David Mercer-USA TODAY Sports

Along with Cyrus Kouandjio, Steen is the only other starter returning on the offensive line for the Tide.
This will be the Mississippi native's third consecutive season as the starter at right guard.
Alphonse Taylor, a versatile lineman who has spent time as a nose guard on defense during his brief college career, is an intriguing option that will get a chance to showcase his abilities on the offensive line this spring.
Two-Deep
1. Anthony Steen (Sr.)
2. Alphonse Taylor (Fr.)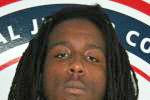 Pic courtesy of 247 Sports
The spot vacated by D.J. Fluker will be another position battle worth watching between juco transfer Leon Brown and 2012 backup Austin Shepherd.
Considering Saban's success at plucking instant contributors from the juco ranks, it appears that Brown will be given every opportunity to claim the starting nod.
Shepherd's experience in Alabama's program will certainly help him in his quest to become a starter, but Brown is the safest bet to assume Fluker's position at this point.
Two-Deep
1. Leon Brown (Jr.)
2. Austin Shepherd (Jr.)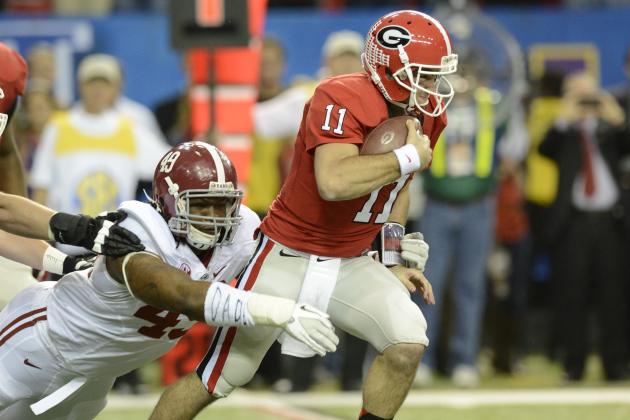 USA TODAY Sports

As the only returning starter on the defensive line, Ed Stinson figures to be the anchor of the Tide's three-man front this fall.
Meanwhile, freshman Dalvin Tomlinson—who was able to draw the praise of Saban as a redshirt freshman last season—is an athletic lineman who has flashed a quick first step that could make him a newcomer to watch when the pads come on (h/t Don Kausler Jr. of al.com).
Two-Deep
1. Ed Stinson (Sr.)
2. Dalvin Tomlinson (Fr.)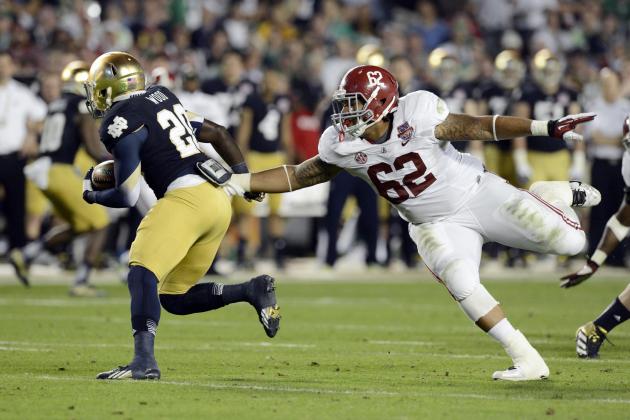 John David Mercer-USA TODAY Sports

The nose guard position in Alabama's 3-4 scheme is critical in the Tide's mission to stop their opponents from establishing a running game.
With Jesse Williams off to the NFL, his understudy in 2012—junior Brandon Ivory—enters a critical part of his career with a starting job in his sights if he can consistently plug the middle.
Sophomores Darren Lake, who appeared in eight games a year ago, and Wilson Love are threats to challenge Ivory for the job.
Additionally, redshirt freshmen Korren Kirven and Dakota Ball are players who could get looks at this spot.
Two-Deep
1. Brandon Ivory (Sr.)
2. Darren Lake (Soph.)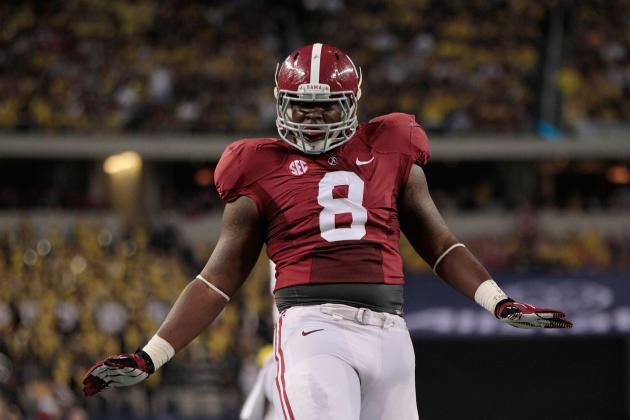 Leon Halip/Getty Images

Rising junior defensive end Jeoffrey Pagan showed flashes of his pass-rushing ability last spring and during the fall in spot duty.
Between him and sophomore LaMichael Fanning, the Tide have a pair of ends that are as physically imposing as any defensive ends in the SEC.
While both players are raw, the extended reps that will come with spring practice can only help their development and help to enhance the Tide's pass rush when fall arrives.
Two-Deep
1. Jeoffrey Pagan (Jr.)
2. LaMichael Fanning (Soph.)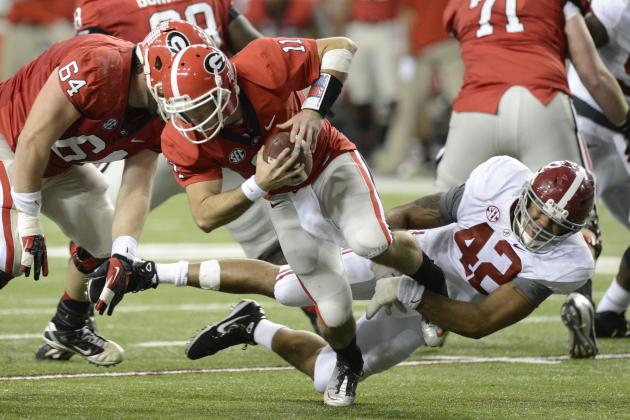 USA TODAY Sports

The story of last year's spring practice, at least on the defensive side of the ball, was the dominance of linebacker Adrian Hubbard.
Although his play in the fall could not be classified as dominant, Hubbard—who will be a fourth-year junior this fall—was solid enough to warrant consideration of forgoing his final two years of college eligibility in order to declare for the NFL draft.
Hubbard opted to return to school for a little more seasoning and, in turn, gives Alabama's linebacker unit a boost with a player on the cusp of realizing his enormous potential.
Senior Jonathan Atchison is a veteran backup who knows the system and can provide solid depth, but younger linebackers such as Ryan Anderson, Dillon Lee and Denzel Devall will push him for the right to earn meaningful snaps this fall.
Two-Deep
1. Adrian Hubbard (Jr.)
2. Ryan Anderson (Fr.)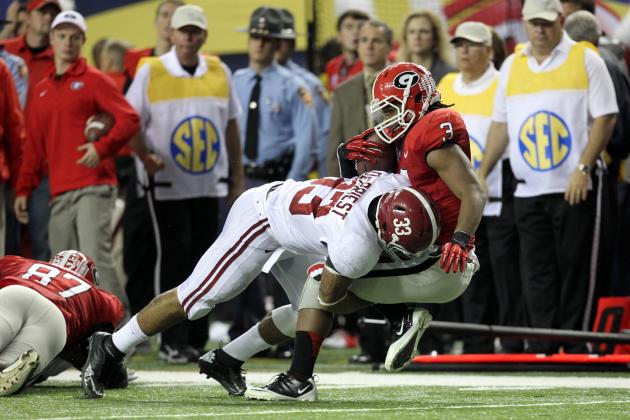 USA TODAY Sports

With the departure of Nico Johnson—who split time as a co-starter at both inside linebacker positions in Alabama's scheme—junior Trey DePriest will begin the spring as the top option at the "Mike" position.
DePriest helped fill the void left by Dont'a Hightower by finishing with 59 tackles, which was the second-best total on the team.
Sophomore Reggie Ragland was an impact recruit in the 2012 class who is poised to flourish with the opportunity of more snaps serving as ample motivation to show the coaching staff what he can do in the spring.
Two-Deep
1. Trey DePriest (Jr.)
2. Reggie Ragland (Soph.)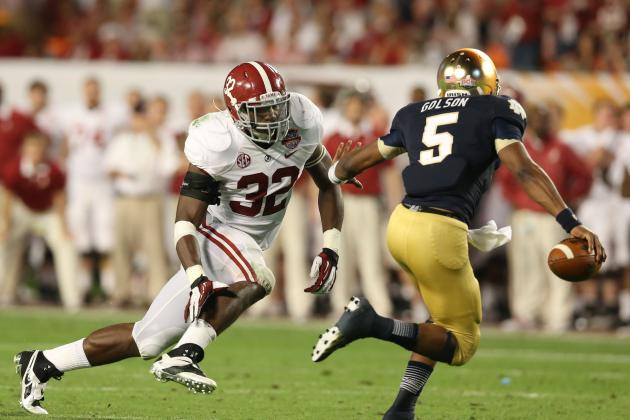 Matthew Emmons-USA TODAY Sports

Hubbard's flirtation with the NFL draft was largely unexpected, but in an ironic twist, C.J. Mosley quickly announced that he was returning to school despite an All-American caliber season that saw him rack up 107 tackles, four sacks, two interceptions and a forced fumble.
Mosley's return gives Alabama one of the nation's premier talents at the position and provides Saban and defensive coordinator Kirby Smart the luxury of using his versatility to be creative in dialing up pressures and mixing coverages.
With the recent dismissal of linebacker Tyler Hayes, finding Mosley's eventual successor is an issue critical to the future of the defense.
Senior Tana Patrick is an experienced backup who can spell Mosley, but Lee may be a player whom Saban chooses to give a long look in hopes of finding a long-term replacement.
Two-Deep
1. C.J. Mosley (Sr.)
2. Dillon Lee (Soph.)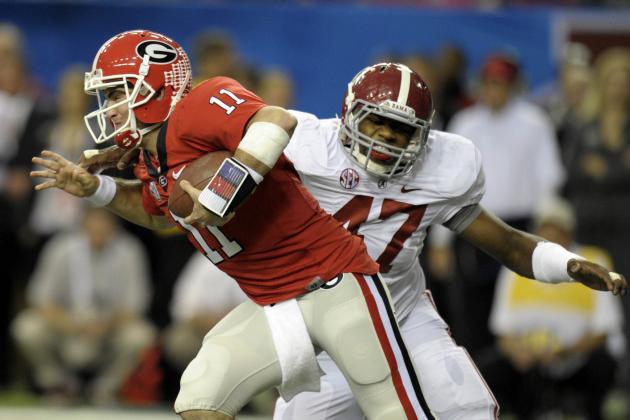 USA TODAY Sports

Junior Xzavier Dickson is another rising talent that finished the season on a strong note after starting slowly.
Pairing him with Hubbard gives Alabama a formidable presence on the edges of its middle level.
Of all of the linebacker recruits in the Tide's banner 2012 class, Devall stood out as the quickest to adapt and flash his potential during his freshman season.
The Louisiana native is at the forefront of a group of talented younger players on the defense who are candidates to break out this spring.
Two-Deep
1. Xzavier Dickson (Jr.)
2. Denzel Devall (Soph.)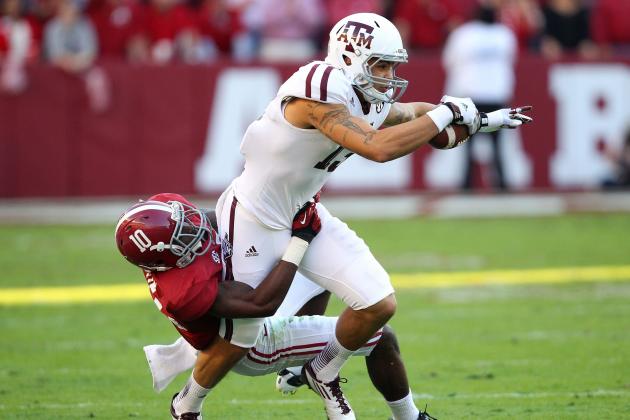 Mike Zarrilli/Getty Images

With Dee Milliner leaving early for the NFL, fielding at least three solid corners is arguably Saban's chief concern on defense for the spring.
Senior John Fulton is a player who has shown flashes of his potential throughout his career, but he's never been able to put together a consistent stretch of play for a variety of reasons, with his inability to stay healthy one part of the problem.
Assuming he gets a clean bill of health, his three years of experience in the Tide's secondary should give him a leg up as the front-runner to fill the void left by Milliner.
Sophomore Geno Smith and senior Deion Belue are the other serious contenders to lock down the other corner positions, but youngsters such as Jabriel Washington and Bradley Sylve will be counted on to step and show the staff that they can handle the responsibility of playing to the standard set by Saban and Smart since their arrival in Tuscaloosa.
Two-Deep
1. John Fulton (Sr.)
2. Bradley Sylve (Soph.)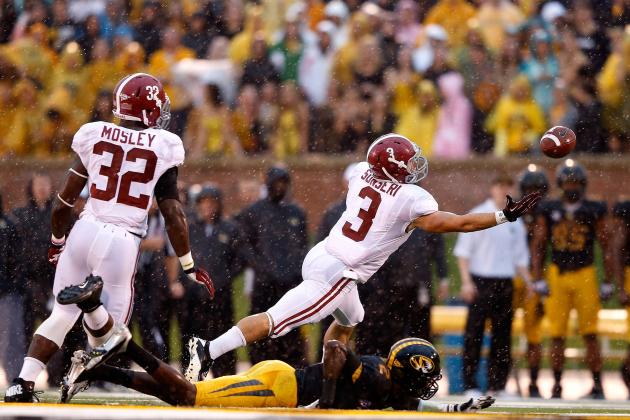 Jamie Squire/Getty Images

Junior Vinnie Sunseri has been a vital part of the Tide's secondary since he arrived on campus, and his ability to play safety, corner or down in the box gives the defensive staff the flexibility to make adjustments on the fly.
Similar to the plight of Ha Ha Clinton-Dix (more on him later) last spring, Collins enters this spring as one the younger players whom fans are clamoring to see get more time on the field.
If Collins can live up to his immense potential, Alabama will field a setup with a similar rotation at the safety spots as it did a year ago, with three dependable players who are capable starters.
Two-Deep
1. Vinnie Sunseri (Jr.)
2. Landon Collins (Soph.)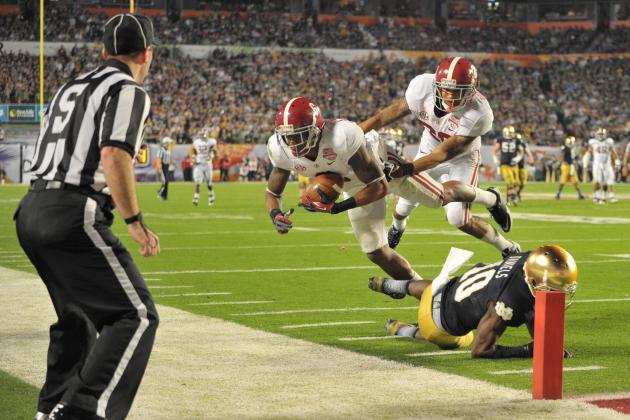 Matt Cashore-USA TODAY Sports

Ha Ha Clinton-Dix is another rising talent who had his national coming out party in the Tide's BCS title-clinching win over Notre Dame two months ago.
The Orlando native tied for the team lead in interceptions with four, and he appeared to get stronger in coverage as the year progressed.
Veteran Nick Perry is another player who has significant experience, and his return gives the Tide a capable presence who can anchor the secondary's second unit.
Two-Deep
1. Ha Ha Clinton-Dix (Jr.)
2. Nick Perry (Sr.)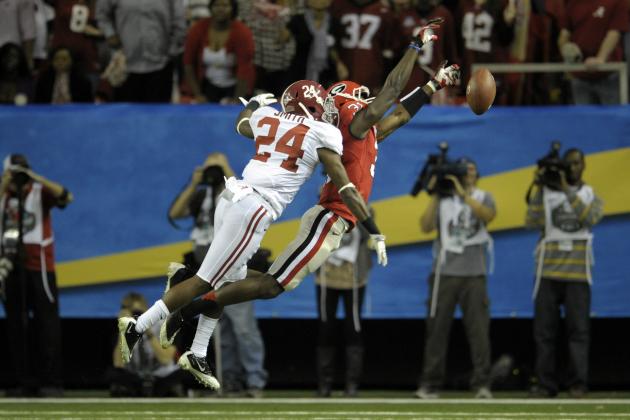 USA TODAY Sports

Deion Belue arrived from the juco ranks a year ago and had a debut season that was filled with ups and downs.
He was largely picked on in the LSU and Georgia games, but he managed to fight through those games and deliver stretches of solid play.
Smith is a gifted young corner who is a viable threat to usurp one of the starting corner positions by the time spring concludes, but Belue's year of going through the fire should help give him the nod entering spring.
Regardless of whether Smith can wrestle away one of the Tide's top two corner slots, his play towards the end of last season assures that he will have a bigger role in the secondary as a sophomore.
The addition of a trio of offensive players to the secondary was one of the main stories after Saturday's first practice, but its unclear at this stage if any of these moves will become permanent (h/t Associated Press via ESPN).
Given Saban's preference to play nickel coverages for large portions of games as a counter to the growing trend of spread offenses, Smith—or whoever emerges as the Tide's third corner—will certainly be a big part of the Tide's plans this season.
Sunseri has shown the ability to drop down, and Collins is another talented defender who could easily wind up earning more time on the field in nickel situations.
Two-Deep Corner
1. Deion Belue (Sr.)
2. Geno Smith (Soph.)
Two-Deep Nickel
1. Geno Smith (Soph.)
2. Landon Collins (Soph.)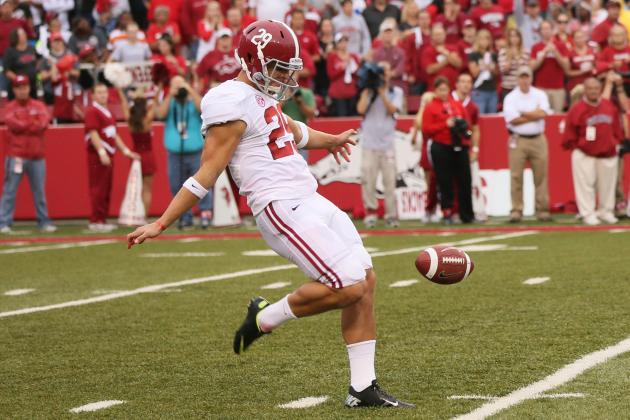 Nelson Chenault-USA TODAY Sports

The departure of reliable kicker Jeremy Shelley opens the door for prized 2012 kicker recruit Adam Griffith to take over the Tide's field goal duties this fall.
Griffith will battle long-range specialist and returning veteran Cade Foster for the job.
Meanwhile, the return of Cody Mandell will give the Tide a dependable punter who is capable of flipping the field when his number is called.
Two-Deep Kicker
1. Adam Griffith (Fr.)
2. Cade Foster (Sr.)
Two-Deep Punter
1. Cody Mandell (Sr.)
2. Cade Foster (Sr.)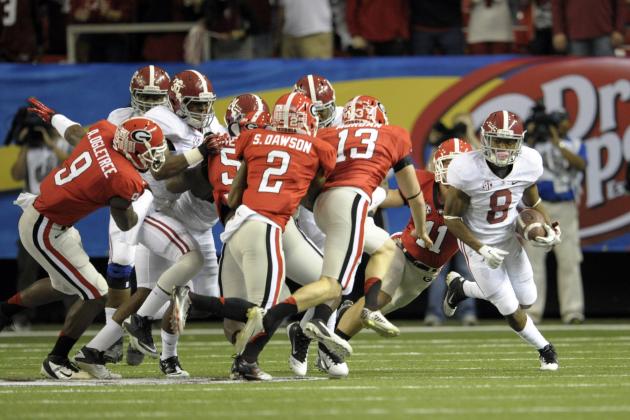 USA TODAY Sports

After a season-ending knee injury suffered by Dee Hart, Christion Jones and Cyrus Jones both juggled time leading the Tide's return units on kickoffs and punts.
Both players averaged more than 25 yards per return on kickoffs, with Christion Jones' touchdown return against Ole Miss serving as the Tide's biggest highlight from that unit a year ago.
Both players are the front-runners to assume those roles again in 2013, with Christion Jones the most likely candidate to emerge on punt returns.
However, Hart and Cyrus Jones have both shown the ability to be capable returners, and both could get long looks in the spring in an effort to identify the Tide's most consistent performer in that segment.
Two-Deep Kick Returner
1. Christion Jones (Jr.)
2. Cyrus Jones (Soph.)
Two-Deep Punt Returner
1. Christion Jones (Jr.)
2. Cyrus Jones (Soph.)