GSP vs. Diaz: 4 Questions We Have About Nick Diaz
Eric Bolte-USA TODAY Sports

Nick Diaz has been calling out Georges St. Pierre for a long time, and now he finally gets his wish granted. He will challenge the long-time champion for his belt at UFC 158 in GSP's hometown of Montreal.
Diaz will need everything to go just right to dethrone GSP.
Fight week has already been interesting. Diaz missed the open workouts, had a memorable press conference and tried to get in GSP's face at the weigh-ins.
He is ready for tonight.
These are four questions we have about Nick Diaz as he gets set for a shot at the UFC Welterweight Championship.
Begin Slideshow

»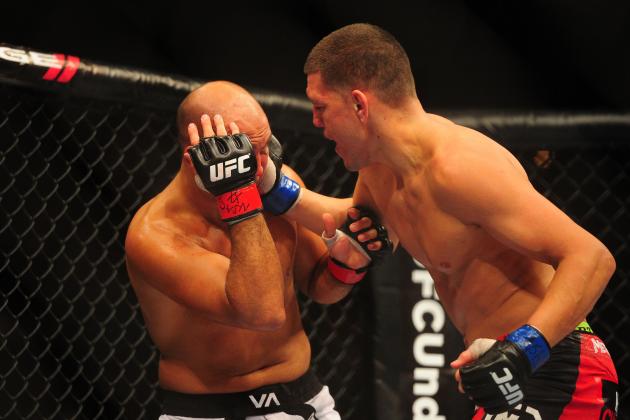 Mark J. Rebilas-USA TODAY Sports

Diaz loves to talk during his fights, and for some fighters that causes them to act uncharacteristically.
Can Diaz do that to GSP? Can he force GSP in to a brawl?
If that happens, GSP could be trouble.
Diaz thrives in those situations. He works his boxing very well when the fists are flying and he can mix up his attack with body shots.
Diaz will hope to turn this in to a firefight, but it is very unlikely. GSP is a smart fighter. If Diaz can even have a few exchanges he can capitalize on the situation and do damage to GSP. It could play well in the eyes of the judges.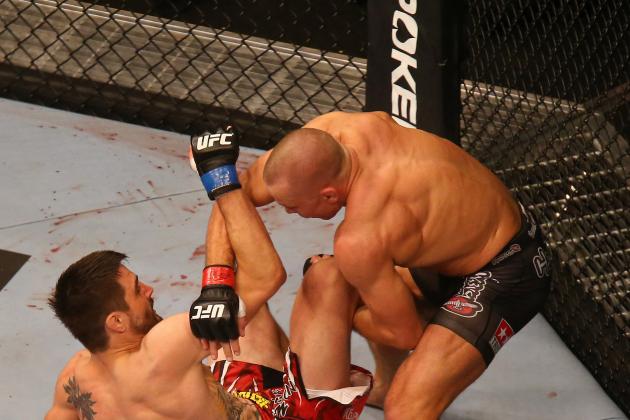 Tom Szczerbowski-USA TODAY Sports

There is no better takedown artist in MMA today than GSP. He times his attempts so well that it is hard for anyone to stop them. During the course of the fight he will no doubt take down Diaz.
The question is can Diaz even stop one of GSP's attempts?
If he can defend the takedown and keep the fight standing, Diaz will have a much greater shot at victory. He won't be able to stop every single attempt from GSP, but each one he is able to stuff is of great importance.
Diaz has had trouble in the past with wrestlers, and UFC 158 is a very big task for him.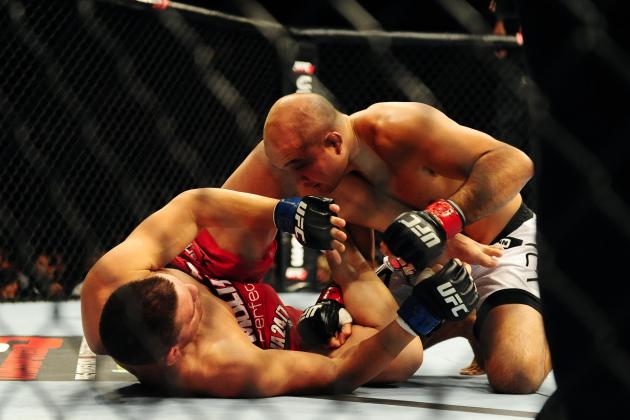 Mark J. Rebilas-USA TODAY Sports

GSP will take Diaz down at some point, and Diaz needs to be able to keep GSP honest with submission attempts.
Diaz has been controlled on the mat by wrestlers in the past, and the welterweight champion is certainly capable of doing just that. Diaz has to fight on position and make GSP defend. At the very least, he has to nullify GSP and force a stand-up.
GSP does not give opponents much room from bottom to score any kind of offense. Diaz needs to change that in this bout. Create space from the bottom and attack.
If Diaz is held down easily by GSP then this will be an anti-climatic 25 minutes.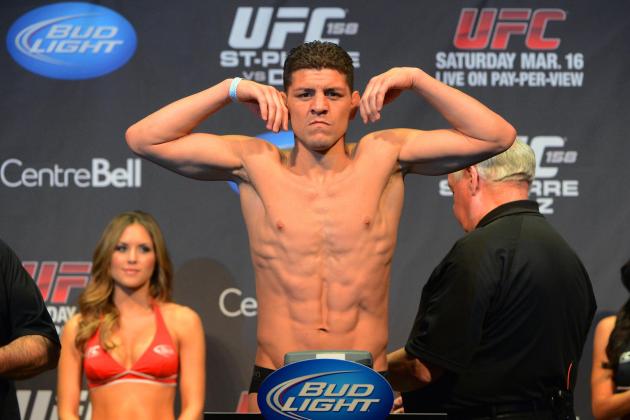 Eric Bolte-USA TODAY Sports

It's the question everyone is asking.
Win or lose, will Diaz test positive once again?
Diaz's smoking is no secret. He doesn't try to hide it, and he doesn't deny it. He is open about why he does it. Is it performance enhancing? Probably not, but the fact remains it is in the rules and he is a professional.
UFC President Dana White said if he tests positive again, the UFC would probably be forced to release the talented welterweight.
We won't know the results for some time, but should Diaz test positive again he is likely out of the UFC. Rather anyone agrees with the rule or not Diaz is a professional. It would be a shame.