GSP vs Diaz Fight Card: 5 Things to Watch for in Montreal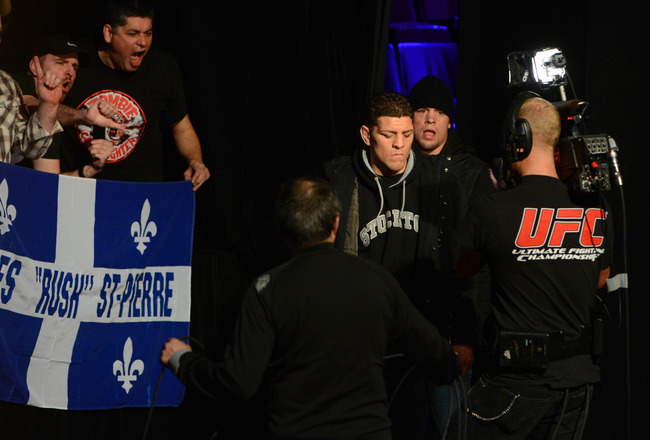 Eric Bolte-USA TODAY Sports
UFC 158 is tonight. Georges St. Pierre vs. Nick Diaz. This is a highly anticipated grudge match for the UFC Welterweight Championship.
With all the hype surrounding that fight, many other key bouts are being overlooked. The co-main event is sure to excite as well as give us the next top contender in the division. Carlos Condit and Johny Hendricks square off inside the Octagon in the hopes of earning the next title shot.
The action gets underway on Facebook with a three fight preliminary card before moving to FX for four more scraps. Then it's time for the five-fight main card on pay-per-view.
The Montreal crowd will be loud and raucous. These are five things you can keep your eye on as UFC 158 gets underway tonight.
Undervalued Prelims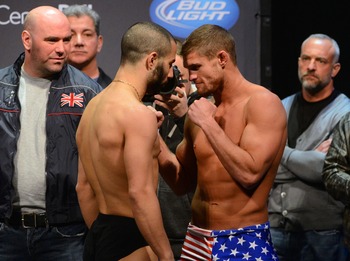 Eric Bolte-USA TODAY Sports
All the talk surrounding UFC 158 is about the top of the card, but the preliminary card also has a lot of solid fights to be watched.
The Facebook prelims will give us a look at George Roop at 135 pounds, T.J. Dillashaw vs. Issei Tamura, and the return of Rick Story.
When the bouts go to FX the action kicks off with a fierce striking battle between John Makdessi vs. Daron Cruickshank. After that bout concludes we get to see Dan Miller back in action against one of the top welterweight prospects, Jordan Mein.
Featherweights Antonio Carvalho and Darren Elkins will throw down, and the final prelim is between Patrick Cote and Bobby Voelker.
Truly, there is no terrible fight on the undercard. These 14 fighters can set the tone for the main card to follow with non-stop action. These fights deserve to be seen and should give fans a lot of excitement early on tonight.
Prospect Development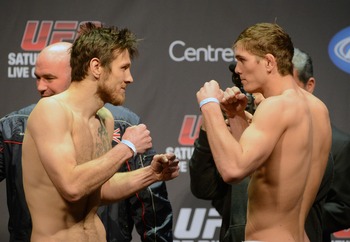 Eric Bolte-USA TODAY Sports
There are several developing prospects to watch on this card, and their performances will give us an idea of where they currently stand.
None standout as much as welterweight Jordan Mein.
Mein is only 23 years old and he has 34 professional bouts. He has only lost twice since 2010 (against Tyron Woodley and Jason High) with a record of 12-2. If he can get past Dan Miller in his UFC debut he will surely turn a lot of heads.
Other prospects on the card include recent The Ultimate Fighter runner-ups Mike Ricci and Colin Fletcher who meet one another in the opening fight on the PPV. The lightweights looked solid in their seasons, but they failed to win it all.
We also cannot forget middleweight Chris Camozzi who goes up against Nick Ring.
There are several young fighters to watch on this card to see how they are progressing under the bright lights of the UFC.
Judging & Officiating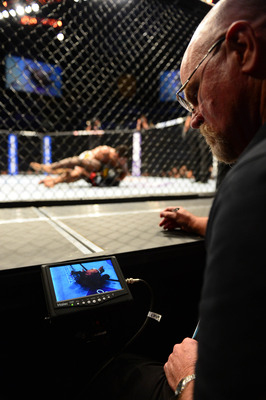 Kyle Terada-USA TODAY Sports
One thing fans and fighters alike should have their eye on early is how the referees and judges are calling the action. Everyone can get a sense of how the night will go.
Unfortunately, MMA still is hampered by consistent poor judging and bad officiating. Will the referees be quick to stand up fighters tonight? Will judges be near incompetent? We will probably find out pretty early.
Perhaps Montreal can step up their game, assign quality officials to the bouts and everything can go off without a hitch. We can dream, right?
One can only hope the sport can improve in these areas quickly.
GSP's Mental State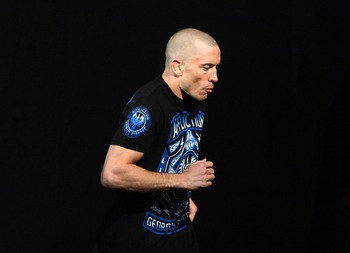 Eric Bolte-USA TODAY Sports
This may be the biggest question entering tonight's main event: What kind of mental state is GSP in?
If he enters the cage as the same ol' champion we've grown to know over the years, then he will fight smart and safe. He will put Diaz on his back and not let him up, and find space to utilize ground and pound while avoiding being caught in a submission.
If he is angry, the game changes.
Fighters who fight with their emotions and try to go out of their way to harm their opponent leave openings for their opponents to catch them. It may be getting over-aggressive on the feet, or a mental mistake on the mat.
GSP can be as prone to this as anyone else. Has Diaz gotten into his head so much that GSP will take unecessary risks tonight?
We will find out in a few hours.
Welterweight Fallout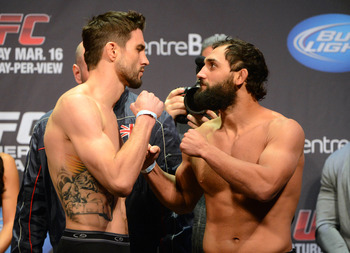 Eric Bolte-USA TODAY Sports
The top three bouts on the card are all in the welterweight division, and in total there are six bouts at 170 pounds.
From the middle of the pack to the top of the mountain there will be a significant shift in the welterweight division.
The first welterweight clash is between Rick Story and Quinn Mulhern. Mulhern comes over from Strikeforce, and Story was once considered a possible title contender. A win in this fight will keep them moving forward.
Dan Miller and Jordan Mein is an interesting bout in the division, and Patrick Cote vs. Bobby Voelker will be exciting as well.
All eyes are on the top of the card. Who will win the title, and who will emerge as the top contender? This is what UFC 158 is all about. All will be answered very soon.
Keep Reading