Georges St. Pierre vs Nick Diaz: 3 Reasons Diaz Will Prevail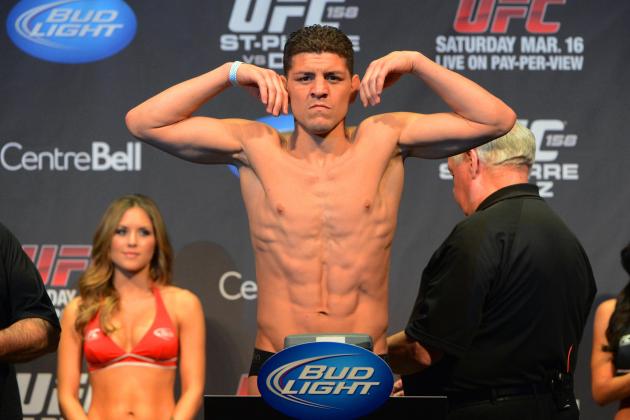 Eric Bolte-USA TODAY Sports

Nick Diaz will challenge Georges St. Pierre for the UFC Welterweight Championship later tonight at UFC 158 in Montreal, and he will walk away with the title.
The Stockton native poses significant threats to the crown of GSP. He has a very good ground game, and is one of the better boxers in all of MMA.
GSP will enter as the favorite. There is no question he is has a stylistic advantage in this fight, but anything can happen in MMA. We have seen it time and again.
Here are three reasons Diaz will take the belt back to Stockton.
Begin Slideshow

»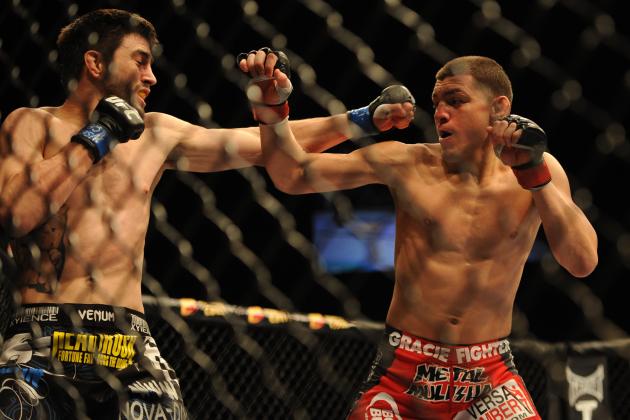 Kelvin Kuo-USA TODAY Sports

This is a fight between two of the best boxers in MMA.
GSP has trained with the likes of Freddie Roach, and Diaz has trained with the likes of Andre Ward. They use their boxing skills well in MMA.
The champion has a very good jab, and his total striking is better than Diaz's. He will need to use his kicks more in this fight as Diaz can slip his jab and counter better than GSP's past opponents.
Diaz's style allows him to continue a high output for as long as he wishes. That is a big advantage for him. He can keep the same intensity up for the entire fight. He does not tire himself out with huge haymakers, but he does have good power.
This will allow him to eventually catch and defeat the champion.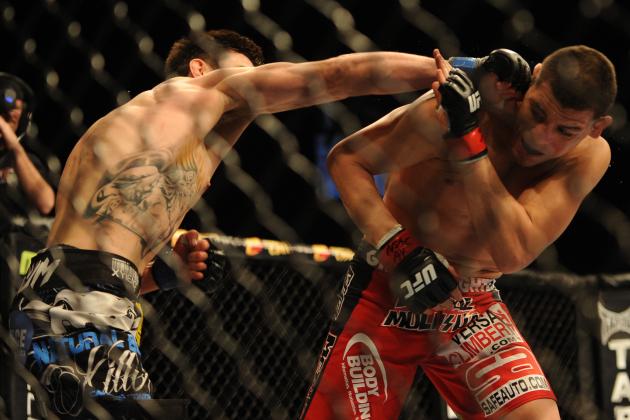 Kelvin Kuo-USA TODAY Sports

Diaz is one of the toughest fighters to stop. GSP wants to deliver punishment and make Diaz retire, but that is a tall order for anyone.
If GSP wants to retire him it will take an extraordinary amount of damage.
That's not going to happen.
Diaz's ability to absorb punishment will allow him to walk through GSP's strikes and stalk him. GSP will need to fight backing up for the majority of the time the fight stays standing. Diaz can get close enough to work his body shots and push GSP where he's never been before.
His durability will keep him in the fight for a full 25 minutes. That gives him every last second to stun the crowd, and the world, by upsetting the champion.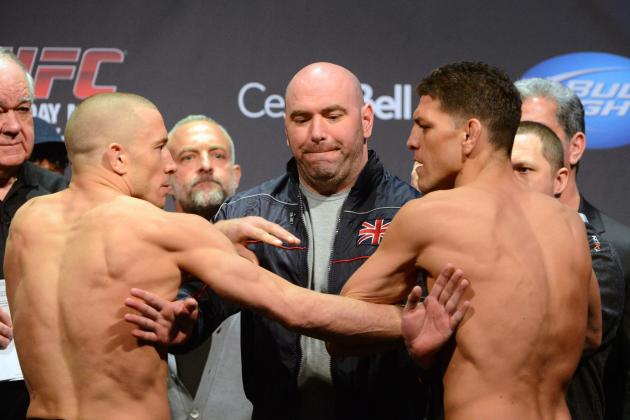 Eric Bolte-USA TODAY Sports

GSP is one of the best fighters in the world at staying in the moment during a fight. He wins the mental bout the majority of the time, but Diaz has gotten in his head. That will be the biggest factor.
I do not suspect GSP will do anything stupid because of this, but it will make a difference because GSP will not play is 100 percent safe.
He wants to punish Diaz. GSP wants to hurt him.
On the feet and on the ground, GSP will take more of a risk in trying to hit the challenger. That is where openings happen. Diaz will get the chance to capitalize on small windows of opportunity to finish the champion by knockout or submission.
If Diaz did not get in his head it is likely GSP would simply rely on his wrestling to grind out another decision win. That's not the case this time. He'll open his game up, and that is when Diaz will earn the stoppage.