UFC 158 Keys to Victory for Johny Hendricks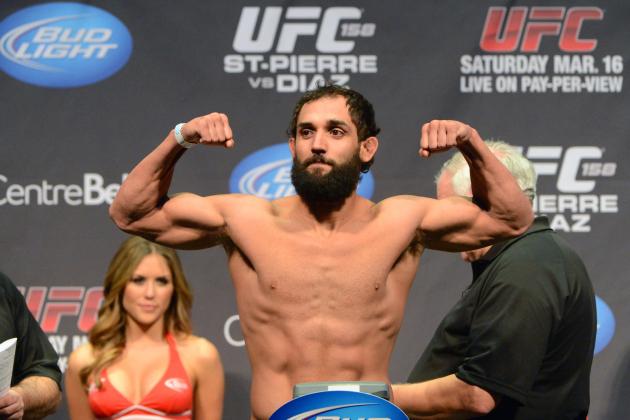 Eric Bolte-USA TODAY Sports

Before he ultimately accepted a de facto title eliminator bout at UFC 158, Johny Hendricks had his sights set on a pair of the welterweight division's top dogs in Georges St-Pierre and Jake Ellenberger.
But after St-Pierre snubbed "Bigg Rigg" for Nick Diaz, and Rory MacDonald pulled out of his rematch with Carlos Condit, the UFC had to implement its makeshift welterweight tournament.
UFC matchmaker Joe Silva pitted Hendricks with "The Natural Born Killer" in the night's co-main event, and Ellenberger with former middleweight title challenger Nate Marquardt.
Condit has posed alarming problems in certain areas for every welterweight he's faced in the UFC, including "GSP." The Natural Born Killer probably won't stray from his typical approach of nonstop offense, regardless of where Hendricks tries to take the fight.
The oddsmakers unquestionably had to ponder long and hard to generate a line for a bout between Hendricks and Condit, ranked No. 1 and 2, respectively, by the UFC. In the end, Bovada.com deemed Hendricks a slight 1.45-to-1 favorite (-145).
Here's a look at three keys to victory for Bigg Rigg.
Begin Slideshow

»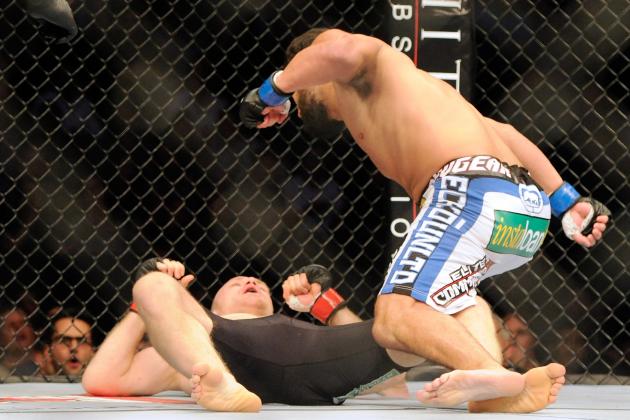 Eric Bolte-USA TODAY Sports

Hendricks has heard all about Condit's notorious chin of steel, which has withstood everything thrown its way in 34 pro fights, including big shots from GSP, Diaz and MacDonald, among many others.
But the left-handed knockout artist isn't discouraged by the odds. Hendricks made it evident that he intends to become the first fighter to KO Condit during an interview on Countdown to UFC 158.
"Jon Fitch, I don't think he was ever finished. (Martin) Kampmann was only finished maybe once or twice. I'm starting to fight these guys who've never been finished. They're not ready for the quickness."
If Hendricks can find his range and close the distance with enough precision, he'll eventually land a few of his patented left straights on Condit's jawline.
Always cerebral, however, Condit's cognizant of the fact that closing the distance will be the name of the game for Hendricks.
"He's able to close distance very, very quickly, (and) catch people with these punches. If he wasn't able to close that distance, he'd be kind of air-balling it," Condit said during an interview on Countdown to UFC 158.
Because Condit moves masterfully inside the Octagon, Hendricks will have to either match or better his footwork or land with leaping shots, or as Big Rigg likes to call them, "Tyson hooks."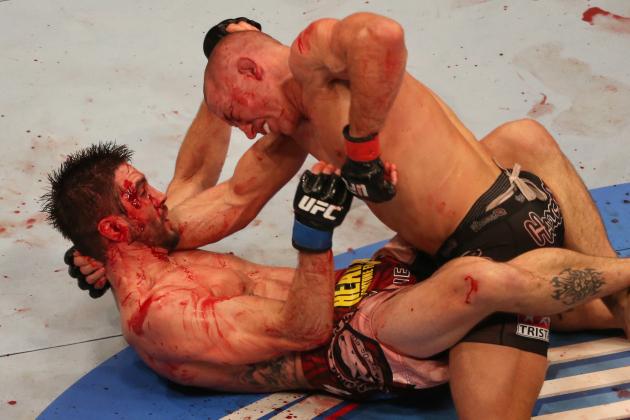 Tom Szczerbowski-USA TODAY Sports

With takedown ability akin to GSP's, Hendricks can feel free to abandon his pursuit of a knockout and engage in a wrestle-heavy, ground-and-pound attack at any time.
St-Pierre already produced the blueprint when he notched a unanimous decision win over the highly aggressive Condit in their title fight at UFC 154.
In the case that Hendricks gets stunned by Condit—like GSP did with a tricky high kick—Bigg Rigg's confident that he can always outwrestle The Natural Born Killer, who surrendered seven takedowns against St-Pierre.
Hendricks (69 inches), who will give up seven inches in reach to Condit (76), can also use his wrestling chops to nullify dropping a point war to The Natural Born Killer. Diaz tried to win that battle against Condit and got outstruck 159-117 at UFC 143, losing for the first time in almost five years.
If a two-time NCAA wrestling champion like Hendricks wants to take down an aggressive submission artist like Condit, it will happen.
Bigg Rigg must enact a flawless ground-and-pound routine once on the ground, though. If not, the venomous Condit will make him his 14th submission victim.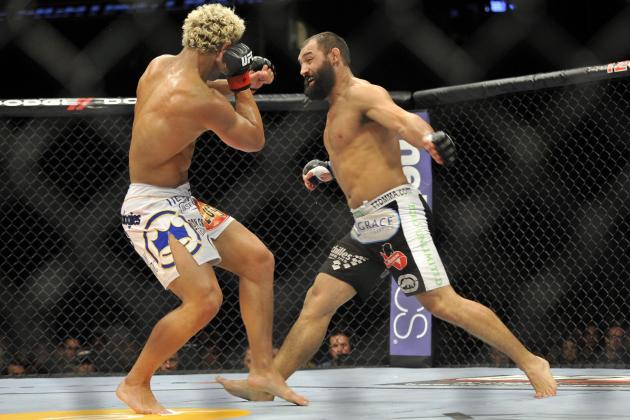 Joe Camporeale-USA TODAY Sports

He may hold slight advantages in specific categories, but Condit certainly can't claim to hold an edge over Hendricks in the strength department.
In the clinch, in wrestling and kickboxing exchanges and on the ground, like GSP, Hendricks will get plenty of chances to outmuscle the wiry Condit.
Lately, however, it seems like Hendricks only yearns to flash his barbaric strength when he's firing boxing combinations with bad intentions, which he typically does in the early stages of his fights.
Hendricks, who's racked up an 11-1 record in the UFC, has won by form of knockout in less than two minutes in three of his past five fights.
If he wants to avoid a few of Condit's virtues, cardio and technical striking, Hendricks must find a way to tap into his power and end this scrap early.