8 Takeaways from Friday Night's Streak-Happy Action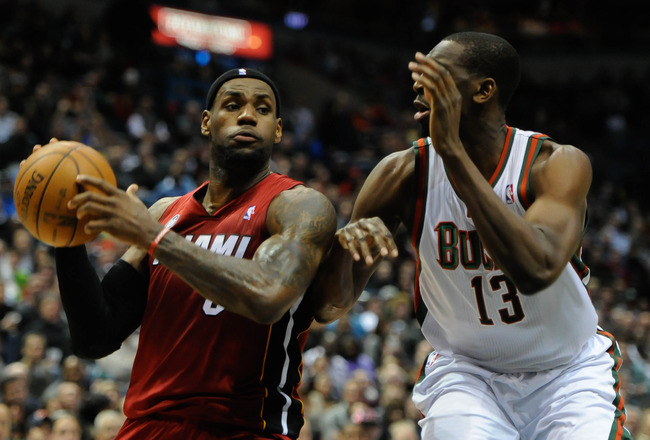 Benny Sieu-USA TODAY Sports
With the 2012-13 season entering its final stretch, the ability to find sustained success at this point can be the difference between improving playoff seeding or missing the postseason dance altogether.
The word "streak" has taken on a new life in the basketball world of late, with the Miami Heat racing their way up the history books. They put their 20-game winning streak on the line on Friday night in a road clash with a Milwaukee Bucks team that had already defeated them once and forced them to overtime in their other meeting.
But the Heat weren't the only team with the chance to build on recent success.
The Denver Nuggets had quietly assembled their own double-digit winning streak of late, striking fear in the Western Conference elites along the way. They welcomed a Memphis Grizzlies team to the Pepsi Center riding its own underappreciated wave of six straight victories.
With playoff implications abound, read on to see which teams were able to continue their winning ways.
1. Still Streaking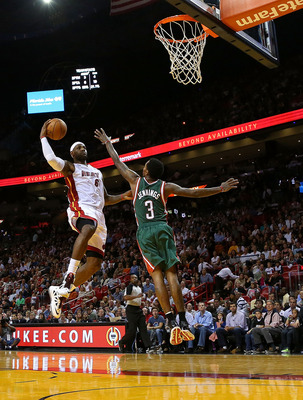 Mike Ehrmann/Getty Images
The Milwaukee Bucks were a trendy pick to break the Miami Heat's winning streak, but they saw the same result as the last 20 opponents Miami has faced.
If this is what represents a serious challenge to the Heat at this point, the league might as well hand over the Larry O'Brien Trophy already.
The Bucks had a one-point lead after the first quarter, then faced a 16-point deficit 24 minutes later. Miami doesn't usually turn up the defensive intensity as quickly as it did in this game; the Heat held the Bucks to just 15 second-quarter points.
Forgive me if you've heard this one before, but LeBron James was brilliant. James scored 28 points (on 12-of-24 shooting), grabbed 10 rebounds and dished out seven assists.
If Miami's winning streak was never in serious jeopardy in this game, its title defense appeared as though it may be. Dwyane Wade went to the locker room with a sprained neck in the first quarter after taking a nasty spill.
But Wade returned to action and continued his strong play. He finished the night with 20 points, nine assists and seven rebounds, giving him 12 straight games with at least 20 points.
Chris Bosh chipped in with 28 points for the Heat, who grabbed sole possession of the third-longest winning streak in league history at 21 games.
Next up for Miami is a back-to-back road set that starts with Sunday's match with the Toronto Raptors then finishes with Monday night's game against the Boston Celtics.
2. Define 'Indefinite'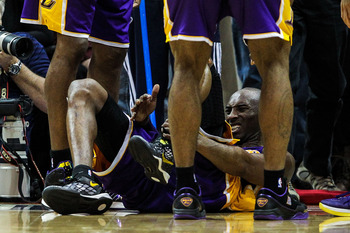 Daniel Shirey-USA TODAY Sports
When the only timetable set for Kobe Bryant's severe ankle sprain was an "indefinite" one (via ESPN.com), speculation ran rampant as to just how long he'd be sidelined.
When the Los Angeles Lakers squared off with Indiana Pacers on Friday night, the Lakers star gave far more questions than answers about his status.
He was there for the game's opening tip—all 12 minutes of the first quarter actually.
But once Bryant came off the floor after the opening period, he would never step foot back on it. He finished the game with zero points (for just the 15th time in his career, via NBA.com) and two assists in his 12 minutes.
He was obviously, understandably, limited in his movements. His body appeared to gain some adrenaline-fueled energy in his early offensive touches, but he slowed as the quarter progressed.
Behind 20 points, 12 rebounds and four blocks from Dwight Howard and 35 combined points off the bench from Antawn Jamison and Steve Blake (who accounted for nine of the team's 13 threes), the Lakers still emerged victorious.
The game was tied at 87 in the final two minutes, but a successful and-one from Howard gave the Lakers a lead they would never relinquish. The Lakers escaped Indianapolis with a 99-93 win, their 10th in their last 13 games.
But the lasting theme from this game will be Bryant's appearance and subsequent departure. Whatever that means to the Lakers' (35-32) playoff chances will be seen in the coming weeks.
3. The Air Up There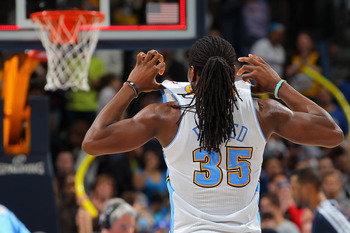 Doug Pensinger/Getty Images
If I'm Denver Nuggets coach George Karl, my postseason mantra is "All it takes is one."
The fifth-seeded Nuggets will have a hard time hosting more than one playoff series, but it's hard to imagine them losing any home games in the postseason.
The Nuggets welcomed the third-seeded Memphis Grizzlies to town and managed to fight through a woeful 10-point third quarter in their 87-80 win.
Whether Karl pulled some majestic coaching maneuvers or the altitude and frenetic paced proved overwhelming, the Grizzlies looked gassed by the game's final period. Denver outscored Memphis 29-14 in the final frame, getting contributions from a host of scorers.
It's easy to discredit the Nuggets for their lack of a star player. But on a night when their best-kept secret, Ty Lawson, suffered through an uncharacteristically cold night—Mike Conley has a tendency to bring out the worst in people—the Nuggets flexed their biggest strength: depth.
All nine Nuggets players that saw action scored. Seven of them scored at least eight points, with Kosta Koufos' 18 leading the way. Koufos added a career-high 16 rebounds in his 31 minutes.
The Nuggets have now won 11 straight games and haven't lost at home in nearly two months. If they can just snatch one road win, they're more than a problem in a seven-game series.
4. Coming for That No. 1 Spot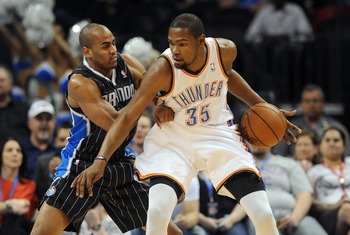 Mark D. Smith-USA TODAY Sports
The San Antonio Spurs may never let them back in the race for the Western Conference's top seed, but the Oklahoma City Thunder can't worry about that.
All they can do is focus on their own games, battling with the big boys of the NBA and dominating the league's lesser teams. And the league doesn't house many teams with a worse resume than the 18-48, J.J. Redick-less Orlando Magic.
The final score read 117-104 in favor of the Thunder, but that didn't truly capture the Thunder's dominance. They built a 13-point edge in the opening 12 minutes and increased that lead to as many as 27 points.
Friday night's box score was something this team needs to see if it hopes to match (or top) last season's NBA Finals run.
Russell Westbrook still got a little shot-happy (he attempted a team-high 19 field goals in 36 minutes), but the final score was built on the balanced attack that the talent-rich Thunder can use to overwhelm opponents. Westbrook, Kevin Durant, Serge Ibaka and Kevin Martin poured in a combined 84 points, with Martin's 15 being the group's basement.
But the best story the box score will tell is that of the Thunder's defensive effort. They held the Magic to just 43.5 percent shooting and brutalized them on the glass to the tune of a 52-33 edge.
The youthful Thunder are going to give their opponents free possessions—they turned the ball over 17 times in this game. So it's important that they do the most to limit opposing teams' offensive production.
5. A Rare Running of the Bulls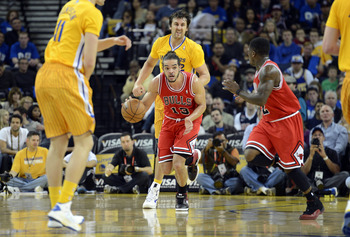 USA TODAY Sports
With Nate Robinson doing his best Derrick Rose impression, the Chicago Bulls (36-29) raced past the Golden State Warriors (37-30) in front of a stunned Oracle Arena crowd clinging to their team's fleeting playoff hopes.
Robinson made his first trip back to the place where he cashed his checks last season. And he looked right at home in guiding the Bulls above the century mark for the first time in three weeks in their 113-95 rout of the Warriors.
He obliterated the Warriors backcourt with 20 points and seven assists in less than 27 minutes. He helped lead coach Tom Thibodeau's defensive charge that left Warriors sharpshooter Stephen Curry misfiring throughout the night (eight points, 2-of-13 from the field). Curry failed to hit a three for the first time in four months.
With Rose running out of time to make his return, Robinson could be tasked with a heavy workload in Thibodeau's playoff rotation. Contrary to popular belief, that's not necessarily a bad thing.
He has a tendency to play too fast, which leads to forced shots or poor decisions. But the Bulls could badly use another scorer, and that's something Robinson's been able to do throughout his eight-year career.
Considering should-be starter Kirk Hinrich has been plagued by injuries this season (he sat out this matchup with a sore foot, the 21st time game he's missed), Robinson's going to be a key factor in keeping the Bulls relevant. Bulls fans would be best served to find some patience...and some Advil.
6. A Tale of Two Halves...and One Beard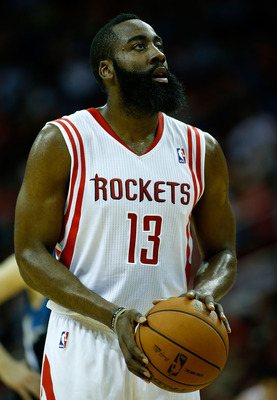 Scott Halleran/Getty Images
Things couldn't have gone any worse for the Houston Rockets in the first half.
With playoff stipulations attached to every game from here out, the Rockets failed to show any signs of life in an abysmal 39-point half.
The Minnesota Timberwolves were more than happy to take the gifts given to them on both ends of the floor. They turned 15 first-half Houston turnovers into 20 points. The league's fifth-worst shooting team connected on 55 percent of its field-goal attempts while opening up an 18-point lead heading into intermission.
But somehow coach Kevin McHale was able to turn his stumbling sleepwalkers into the comeback kids, thanks in large part to his potent backcourt. James Harden scored a game-high 37 points and Jeremy Lin poured in 24 of his own. Both players finished the night with eight assists, and Harden added seven rebounds.
A 26-point second-half advantage gave the Rockets (36-30) a 108-100 win.
Houston's outside-in attack wouldn't carry nearly the same weight if not for Harden's ability to find easy shots. There's no shot easier in the sport than the free throw, and Harden worked his way into 18 attempts there, eight of which came in Houston's 34-point fourth quarter.
Call it the benefit of superstar calls or Harden's ability to manipulate the system; no matter the name, it's still productive. This was the 35th game this season where the first-year Rocket has attempted at least 10 free throws. Considering he's shooting a career-best 85.5 percent from the foul line, it's safe to say he's maximizing those trips.
7. Teach Me How to John Wall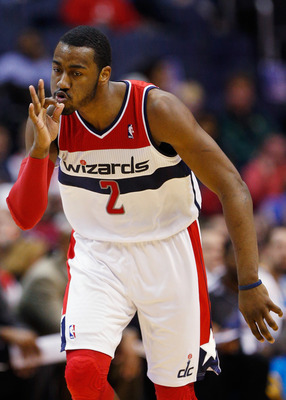 Rob Carr/Getty Images
John Wall has never shied away from flashing his dance moves, but the only thing he's breaking down lately are defenders.
In the Washington Wizards' 96-87 win over the New Orleans Hornets, Wall put up a blistering 29 points and nine assists. He connected on 12 of his 15 field-goal attempts and turned the ball over just three times in his 33-plus minutes.
Some might call it a heroic effort, but lately it's just business as usual for the third-year guard. Over his last three games he's averaging 26.3 points and 11 assists, shooting a hair under 60 percent from the floor.
With rookie Bradley Beal still sidelined with a sprained ankle that's now cost him six straight games, Wall tried to reclaim his position as the best guard in the nation's capital.
A knee injury kept him sidelined until mid-January, and he's struggled for the most part to take the next step in his development (he entered the night shooting just 42.1 percent and averaging a career-high 4.2 turnovers per 36 minutes).
But when he's grooving like he has been of late, Wall's showing that he's still got a chance to live up to the lofty expectations placed on him when the Wizards invested the top pick of 2010 draft in the one-and-done University of Kentucky star.
8. The "Hibbert" Clause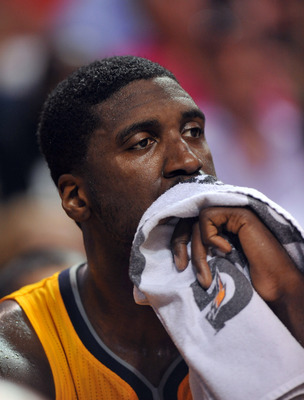 Steve Mitchell-USA TODAY Sports
Indiana Pacers center Roy Hibbert is counting his blessings—in his downtime from counting his endless stacks of money, that is—that the league's current collective bargaining can't expire before his current contract does.
If his max money contract wasn't off the books by then, he could be the face of the league's next amnesty clause.
With Bryant out of the equation, there was really only one way for the Lakers to win: getting a big night from Howard. The Pacers looked destined for a win with their highest-paid player standing in Howard's path.
Of course, that's not quite how things went. Hibbert made Howard work for his offense ("Superman" needed 17 field-goal attempts for his 20 points), but lost the interior matchup. Decisively.
Hibbert continued to struggle in what's been the worst offensive season of his five-year career. The career 47.2 percent shooter has hit on just 43.2 percent of his looks this season.
He was even worse on Friday. He finished the night with just seven points and shot an abysmal 25 percent (3-of-12). I'd add Hibbert's shot chart here, but I'm not sure Pacers fans could stomach seeing it.
He lost the rebounding battle with Howard (12-10). He didn't register a single block, while Howard tallied four.
The Pacers' size is supposed to be the key their contender status. If tonight was any indication, that could mean Indiana's looking at a brief postseason stay.
Keep Reading