Minnesota T-Wolves vs. Houston Rockets: Postgame Grades and Analysis for Houston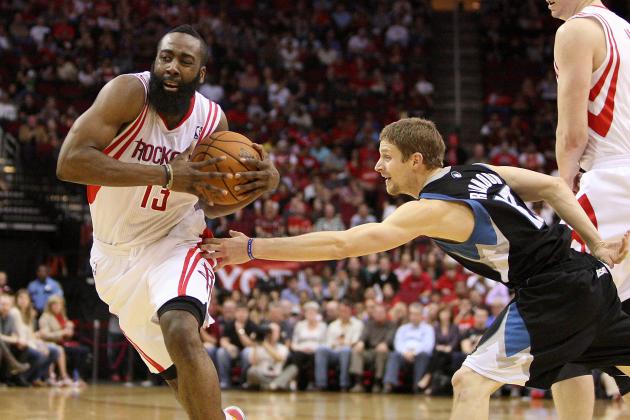 Troy Taormina-USA TODAY Sports

In one of the most thrilling comebacks of the 2012-13 NBA regular season, the Houston Rockets fought from 20 points down to defeat the Minnesota Timberwolves. Houston now moves to 36-30 and maintains their 1.5 game lead over the Los Angeles Lakers.
So how did it all go down?
Statistically speaking, Harden led the charge with 37 points, eight assists and seven rebounds. Lin truly created the victory, however, with 24 points, eight assists and a furious fourth quarter rally.
So what was the story of this monstrous comeback?
Begin Slideshow

»
Overall Grade: A+
Minutes Played: 39
+/-: +6
Stat Line
24 points, 8 assists, 1 rebound, 4 steals, 3 turnovers, 8/16 FG, 3/8 3PT
If there was one source of consistency from the Houston Rockets, it was point guard Jeremy Lin.
With James Harden struggling to do anything positive in the first half, Lin took the initiative. He countered Minnesota's offensive onslaught with key buckets, including a tough layup to bring Houston within one.
After struggling in the second quarter, however, it appeared as if Lin was on pace for a rough night.
Lin scored on or assisted 14 points in the third quarter. Behind his heroics, Houston closed a 20-point gap and brought it down to a six-point contest.
In the fourth quarter, Lin accounted for 16 of the Rockets' 34 points. That includes a game-tying layup and the three which gave the Rockets their permanent lead.
You could easily make the case that without Lin, this would have been an ugly loss—not an eight-point win.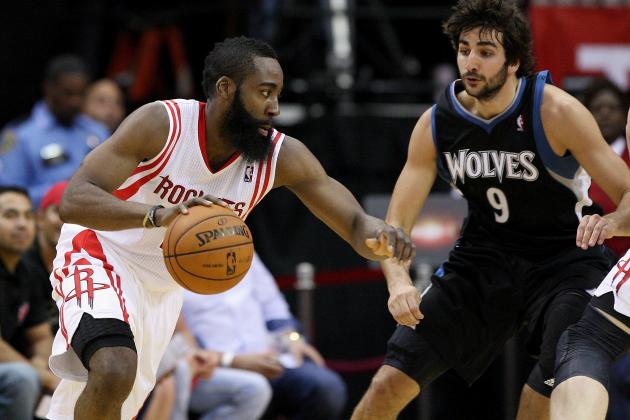 Troy Taormina-USA TODAY Sports

Overall Grade: A+
Minutes Played: 43
+/-: +7
Stat Line
37 points, 8 assists, 7 rebounds, 5 turnovers, 5 personal fouls
If the game had ended at halftime, James Harden's grade would have been ugly. He was a turnover machine, took poor shots in the first half and dragged his team down with his quality of play.
In the second half, however, Harden let the game come to him and made one very important change—he ended his ball-stopping ways.
Harden scored 25 points during the second half alone. A major reason for his success was his willingness to let Jeremy Lin dictate the offense.
Harden made his way into openings, knocked down three-pointers and proceeded to do what he does best—attack the basket and draw contact.
That's become the life source of Harden's game, as he dominates by virtue of his ability to draw fouls. That was on display against Minnesota, as he attempted 18 free throws.
Harden's struggles sunk his team in the first half. His ability to dominate the third and fourth quarters redeemed him.
The grade simply takes a hit because of his five turnovers and five personal fouls.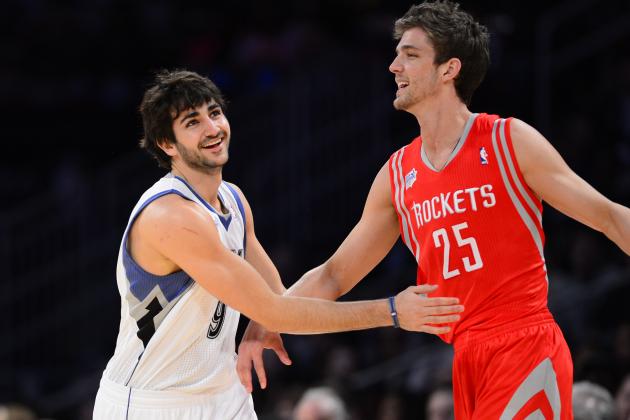 Bob Donnan-USA TODAY Sports

Overall Grade: B
Minutes Played: 31
+/-: +4
Stat Line
14 points, 4 rebounds, 2 assists, 1 steal, 6/12 FG, 2/5 3PT
It wasn't pretty for Chandler Parsons.
Defensively, Parsons had a very tough time matching up against Minnesota's Mickael Gelabale. The Frenchman scored at virtual will during the first half and consistently gained position on Parsons on the glass.
This led to Gelabale finishing with 10 points, seven rebounds, five assists and three offensive boards.
With that being said, Parsons turned it around in the second half. He kept Gelabale at bay and managed to find his own shot when it mattered most.
In fact, Parsons scored nine points during the fourth quarter alone.
This second-half turnaround helped save Parsons' grade and Houston's chances at victory.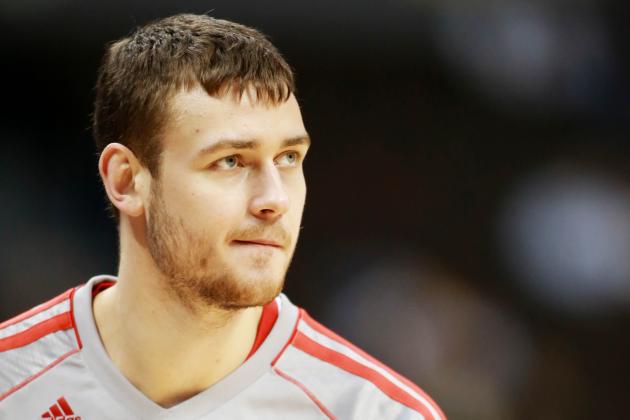 USA TODAY Sports

Overall Grade: C
Minutes Played: 25
+/-: +2
Stat Line
4 points, 3 assists, 2 rebounds, 2/6 FG, 0/3 3PT
Donatas Motiejunas didn't play a bad game, per say. With that being said, he was a virtual non-factor during a game in which the Rockets fell behind by as many as 20 points.
Not the right time to play below average basketball.
Motiejunas appeared to be forcing the issue early on, attempting rather ill-advised three-pointers. As a merely average shooter from said area, Motiejunas took three from beyond the arc.
He missed all of them.
Overall, Motiejunas played with good energy and hardly deserves the blame for a near-loss. With that being said, this was an outing in which Houston needed all the help they could find.
Motiejunas didn't provide much.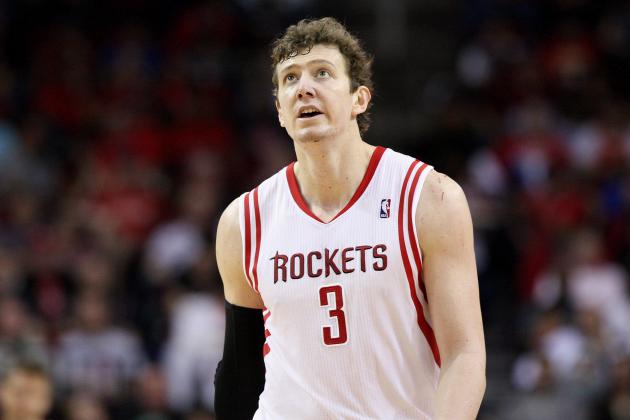 Troy Taormina-USA TODAY Sports

Overall Grade: C-
Minutes Played: 23
+/-: +2
Stat Line
6 points, 11 rebounds, 1 block, 4 turnovers, 3/7 FG
When you have four turnovers in the first half, it's safe to say that you're struggling. When the player that commits turnovers is a center, it's a whole new level of disaster.
That was the story for Omer Asik, whose rebounding numbers continue to fail in masking his all-around shortcomings.
Asik had trouble stepping out to defend Greg Stiemsma and was routinely sent the other way when attempting field goals. His stone hands also led to those disturbingly high amount of turnovers, as we've seen all season.
Eleven rebounds in 23 minutes may look pretty, but he played a poor game.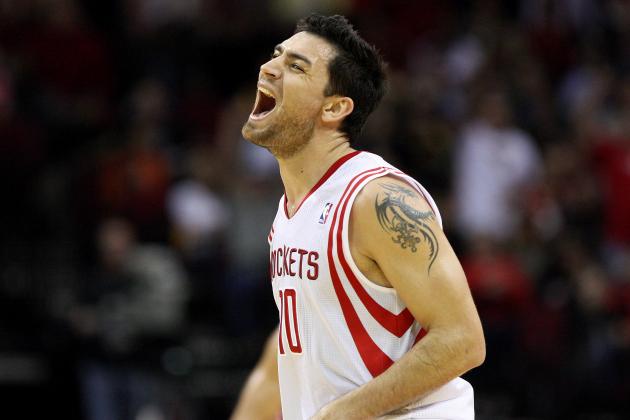 USA TODAY Sports

Overall Grade: C+
Minutes Played: 29
+/-: +4
Stat Line
9 points, 10 rebounds, 2 assists, 1 steal, 1 block, 3/9 FG, 1/5 3PT
Carlos Delfino had your quintessential up-and-down evening. That seems to be the trend with the Houston Rockets' entire team.
Shooting 3-of-9 from the floor and 1-for-5 from beyond the arc is a great way for a sixth man to make a limited contribution. Grabbing 10 rebounds and making key defensive plays down the stretch is a proper form of redemption.
More or less.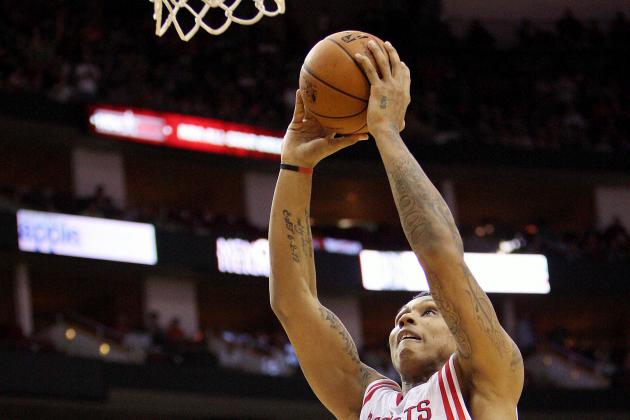 Troy Taormina-USA TODAY Sports

Overall Grade: C+
Average +/-: +3.8
Collective Stat Line
23 points, 19 rebounds, 4 assists, 2 steals, 1 block
As a whole, the Houston Rockets' second unit was rather lackluster. The team managed to score just 23 points and performed more in isolation-style ball than a team-oriented approach.
Truth be told, they didn't have much time to contribute in the first place—only two reserves topped 10 minutes.
Fortunately, Greg Smith managed to finish with quite an impressive outing. In 22 minutes, Smith tallied 12 points and four rebounds on 5-of-7 shooting.
Ten of those points came during the fourth quarter. That includes a furious dunk which put this game away.
If only the rest of the second unit joined him.