UNC Pounds Florida State 83-62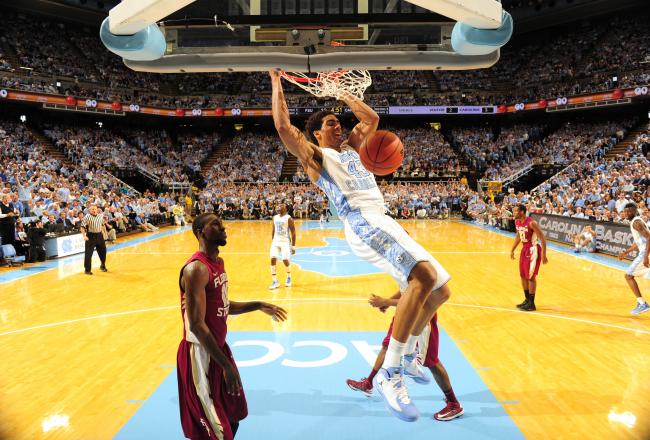 Bob Donnan-USA TODAY Sports
Well, this wasn't exactly a game for the ages.
North Carolina (23-9, 12-6 ACC) and Florida State (18-15, 9-9 ACC) played it close in the first half, but the second was a completely different story.
FSU cut the lead to just four points early in the second half, but then lost all momentum after a pair of threes from P.J. Hairston and Reggie Bullock. Carolina ended up outscoring Florida State 48-35 in the final 20 minutes.
And that was through James Michael McAdoo fouling out and Hairston going down twice with injuries. He got a stinger in his shoulder the first time, and ended up coming back in just to have the webbing between his fingers sliced.
If it wasn't for his 21 points on 7-of-11 shooting (5-of-6 from three), this would have been a horrible night for the sophomore.
McAdoo and Bullock added 12 and 17 points, respectively, for the Tar Heels.
The Carolina point guards had stellar games, too. Marcus Paige pulled out of his freshman slump to dish out 10 dimes to just one turnover. Strickland dropped seven more, and only gave up one turnover.
That's 17 assists and two turnovers all together.
That transitions perfectly to the story of the night: turnovers. Carolina only lost seven, while the 'Noles gave up 18.
It's pretty hard to pick up a win like that.
Michael Snaer gave a valiant effort in his final ACC game, putting up 20 points, seven rebounds, five assists, one steal and two blocks. Unfortunately for FSU, he was the only one that managed to reach double figures.
Couple that with the turnovers, and it's pretty easy to see where this game was lost.
Now the Tar Heels will move on and play Maryland—not Duke—in the semifinal match tomorrow at 3 p.m. EST.
UNC 83, FSU 62 (Final)
That's game, folks.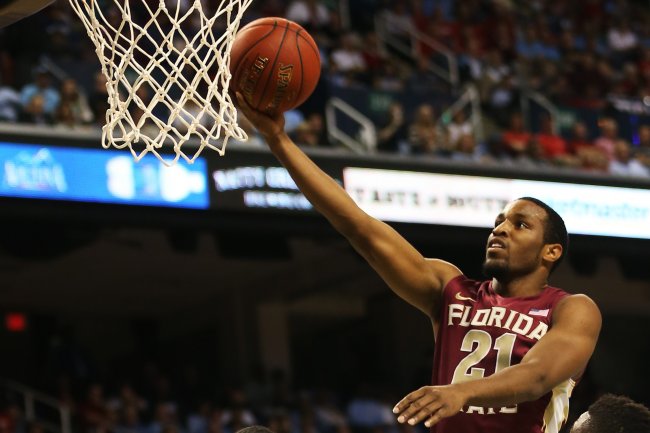 Streeter Lecka/Getty Images
UNC 79, FSU 62 (1:40 2nd Half)
Either way, great ACC career for Michael Snaer. He will be missed. Good luck at the next level, kid.

UNC 79, FSU 62 (1:40 2nd Half)
Did Snaer just want out of the game? Odd fifth foul, considering the score.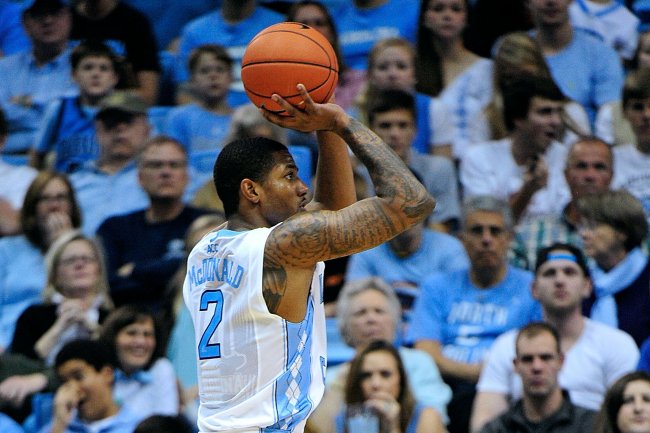 Grant Halverson/Getty Images
UNC 77, FSU 59 (3:50 2nd Half)
But not if FSU gives McDonald 15 feet of space behind the arc...

UNC 74, FSU 59 (4:13 2nd Half)
So this game could get interesting with both Hairston and McAdoo out...

UNC 74, FSU 57 (4:13 2nd Half)
Judging by Roy William's gesture, it seems like Aaron Thomas may have cut the webbing between Hairston's fingers as he swiped the steal.
Someone get Thomas some clippers! Sheesh. Anyone know if he plays the guitar?
UNC 74, FSU 57 (4:13 2nd Half)
Tough nite for Hairston. First the stinger in his shoulder, now he's going to the locker room in pain with a bloody hand.

UNC 74, FSU 52 (5:20 2nd Half)
McAdoo just fouled out, but I'm thinking it doesn't matter anymore.

UNC 72, FSU 52 (5:50 2nd Half)
This crowd seems pretty bored right now.
Nine assists and one turnover for Marcus Paige so far

— Carolina Basketball (@UNC_Basketball) March 16, 2013
Snaer has spent a lot of time tonight pleading with the refs.

— InsideCarolina (@InsideCarolina) March 16, 2013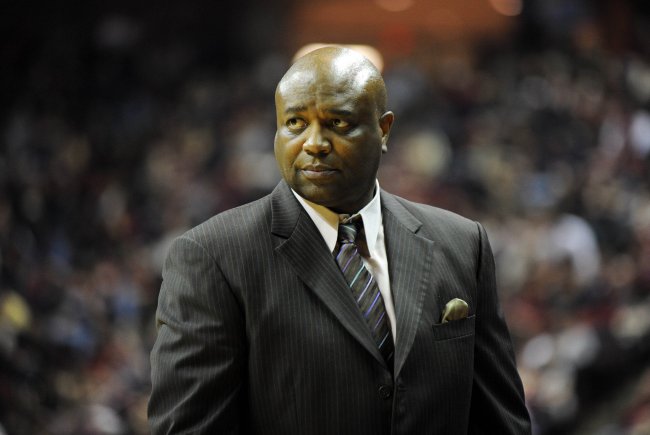 USA TODAY Sports
UNC 67, FSU 50 (8:10 2nd Half)
Strickland just converted the fourth-straight layup for North Carolina. Hairston, Paige and Bullock all got in on the action.
Hamilton has to be livid.
UNC 61, FSU 46 (9:37 2nd Half)
That's the second time Paige was able to dish it to a wide-open Bullock, cutting through the lane for an easy lay-in.

I could tweet this sadness all night long. Crying should be reserved for fans.
No foul on one end and a foul on the other.#Swoffie'd

— FSU Men's Basketball (@FSU_MBasketball) March 16, 2013
UNC 57, FSU 44 (10:58 2nd Half)
Hairston is back in the game. Team staff is calling it a stinger.

See what I mean?
Foul on the air- for hairston missing the layup

— FSU Men's Basketball (@FSU_MBasketball) March 16, 2013
UNC has outscored FSU 17-8 since McAdoo sat down with his 3rd foul. Heels currently on a 13-0 run.

— InsideCarolina (@InsideCarolina) March 16, 2013
UNC 57, FSU 41 (12:02 2nd Half)
It looks like Hairston jammed or dislocated his left shoulder driving. McDonald tried to screen, but he ended up picking his teammate's shoulder instead.

Most telling stat so far: UNC with 13 assists & 4 turnovers, FSU with 6 assists & 12 turnovers.

— InsideCarolina (@InsideCarolina) March 16, 2013
UNC 50, FSU 35 (14:55 2nd Half)
The Heels are hitting some ridiculous shots.#Noles not playing bad defense.

— FSU Men's Basketball (@FSU_MBasketball) March 16, 2013
Exactly why the 'Noles should be worried. This game could slip away VERY fast.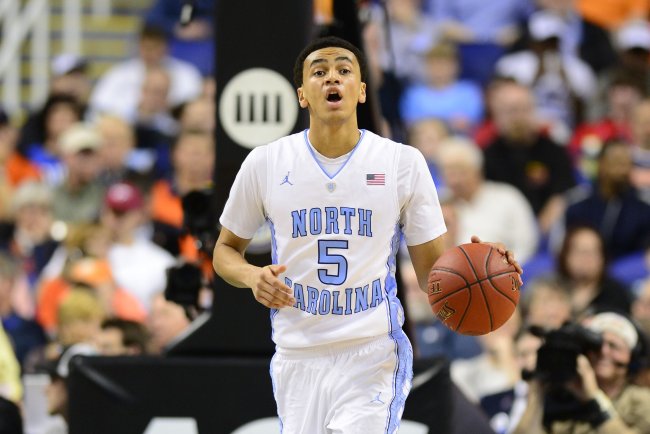 Bob Donnan-USA TODAY Sports
UNC 47, FSU 35 (15:12 2nd Half)
We haven't talked much about Paige tonight, but he is having an excellent game. Seven points, one rebound, one steal and six assists to just one turnover.

UNC 47, FSU 35 (15:12 2nd Half)
Uh-oh. Bullock just sank his first three of the night. You may as well call this a game if those two get on a roll.

UNC 42, FSU 35 (17:10 2nd Half)
Wow. Another three from Hairston. He is now 5-of-6 from downtown.

UNC 37, FSU 33 (18:07 2nd Half)
Hamilton is keeping Snaer in the game despite his three fouls. The move paid off with another three from the senior.

This article is
What is the duplicate article?
Why is this article offensive?
Where is this article plagiarized from?
Why is this article poorly edited?