L.A. Lakers vs. Indiana Pacers: Live Score, Results and Game Highlights
Commentary from the Lakers 99-93 victory over the Indiana Pacers at Bankers Life Fieldhouse on March 15, 2013.
Keys to the Lakers win:
1) Dwight Howard: Howard played a great game on both ends of the court, and the Lakers played Orlando Magic style with Kobe Bryant off the court. Howard scored 20 and grabbed 12 boards. Working an inside/outside game with Howard, the Lakers got a lot of threes...
2) Three-Point Shooting: As a result of the Dwight Howard double teams and some crisp ball movement, the Lakers shot 13-of-26 from behind the arc. Steve Blake was 5-of-7 and scored 17 points.
3) Balanced Attack: Sans Kobe, the Lakers got everyone involved. MWP, Steve Blake, Antawn Jamison, Dwight Howard and Steve Nash all scored in double-figures.
4) Great Ball Movement: The Lakers had 27 assists on 33 field goals. That's looking for one another.
Lakers: improve to 3-16 this season in road games against opponents with a winning record with their win over Pacers tonight

— ESPN Stats & Info (@ESPNStatsInfo) March 16, 2013
LAKERS 99, PACERS 93 — FINAL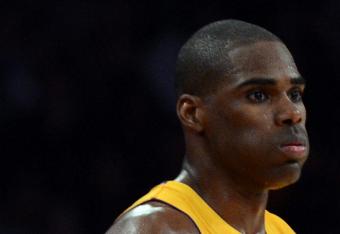 Antawn Jamison hit a huge three to give the Lakers a six point lead with about a minute to go. That's likely curtains.
LAKERS 93, PACERS 87 — 43.7 seconds 4th, Lakers possession
Dwight Howard completed a three-point play to put the Lakers up three. That's a big time free throw from a guy who can't hit them.
LAKERS 90, PACERS 87 — 1:30 4th, Pacers Timeout
George Hill drove past Steve Nash and drew a foul on Dwight Howard for a three-point play. If the Pacers could get Howard to foul out, this game would be theirs. Howard's played the entire second half.
LAKERS 87, PACERS 87 — 2:30 4th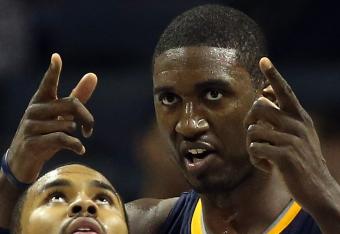 Roy Hibbert's offensive putback brings the Pacers back within one. Hibbert challenged Dwight Howard stronger than he did Metta. Well done.
LAKERS 84, PACERS 83 — 3:40 4th, Lakers Timeout
Earl Clark's corner three was a result of David West not wanting to step out to challenge the jumper.
David West is going to have to step out on the floor, whether he likes it or not. Clark isn't the prototypical stretch-4, but he can hit them.
LAKERS 82, PACERS 81 — 5:30 4th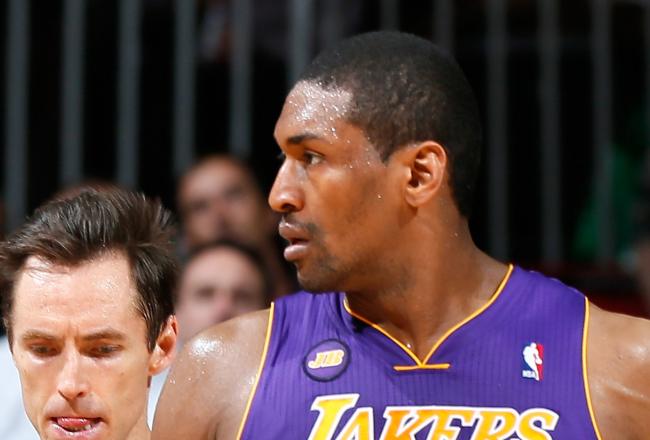 Metta World Peace's offensive rebound and putback gave him 19 points for the evening and helped the Lakers take a three point lead. Metta's not exactly an offensive standout, but he has his nights.
LAKERS 79, PACERS 76 — 6:28 4th, Timeout In Play
Roy Hibbert tried an up and under against Metta World Peace. When you're 7'2" and using finesse moves against a player seven inches shorter? No words.
LAKERS 77, PACERS 76 — 7:00 4th
There's no question Steve Blake has been the Lakers' player of the game so far tonight. Dude's been huge.

— Lakers Nation (@LakersNation) March 16, 2013
Steve Blake is having a great game. His corner three gave the Lakers a one point edge before an Ian Mahinmi jumper.
Mahinmi scored the previous possession with a nice post move against Dwight Howard. The Pacers have frontcourt depth.
PACERS 76, LAKERS 75 — 8:02 4th, Timeout In Play
Kobe Bryant is No. 5 in all-time scoring, but he won't have a chance to pass Wilt Chamberlain for No. 4 until at least next game. I'm sure that's the last thing on his mind with his Lakers down two and fighting for their dear lives to make the postseason.
PACERS 72, LAKERS 70 — 9:31 4th
The foul was ruled a flagrant, and Sam Young hit 1-of-2 from the line. The extra possession was a Pacers score, too, as Sam Young flipped it up and in.
PACERS 72, LAKERS 68 — 9:39 4th
Sam Young came up with a steal and had a nice breakaway, but he was hacked hard by Antawn Jamison. It's under review for flagrant.
Other than that, no points yet in the quarter.
PACERS 69, LAKERS 68 — 10:21 4th
Jodie Meeks used the Lakers' foul-to-give, leaving the Pacers with just 3.6 seconds to run their final pay of the quarter. Lance Stephenson inbounded to Ian Mahinmi, who launched a 20-foot jumper. I don't think that was what Frank Vogel wanted.
PACERS 69, LAKERS 68 — End of 3rd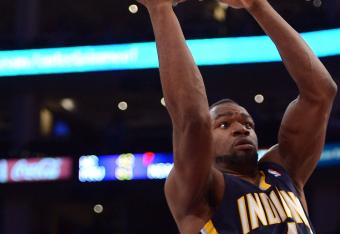 Sam Young is getting in on the three party for Indy. Sam Young doesn't shoot many, it's his 15th of the year. Indy will take whatever they can get on a night when the offense is slow in coming.
PACERS 69, LAKERS 67 — 17.5 seconds 3rd
Dwight Howard hit 3-of-6 from the line in the first half, and he started the second half (from the line) by hitting 1-of-2. Par for the course. Howard's form is getting worse, though, since his days in Orlando. He also has almost no routine.
PACERS 63, LAKERS 62 — 2:00 3rd
Lance Stephenson just put on a dribbling exhibition—to his own detriment. After a few seconds of dribbling in circles, Stephenson's turnover ignited a Lakers fast break.
Metta World Peace has scored seven in the quarter. A game of runs.
PACERS 58, LAKERS 57 — 4:23 3rd, Pacers Timeout
The Lakers had eight turnovers in the first half, but already have four in the second half, through the first five minutes of the third quarter.
PACERS 56, LAKERS 50 — 7:00 3rd
Paul George's powerful tomahawk dunk was enough for Mike D'Antoni. The Pacers have hit 6-of-10 from the floor to start the quarter and have gone on a 13-2 run.
The offense is a lot more fluid, and Paul George is finally hitting shots. If the Pacers draw another foul on Dwight Howard, they could put this one away really fast.
PACERS 56, LAKERS 50 — 7:26 3rd, Lakers Timeout
The Pacers have scored 11 straight points, and with Kobe Bryant unable to go, it will be hard for the Lakers to come back in this one if they fall too far behind.
PACERS 54, LAKERS 50 — 7:40 3rd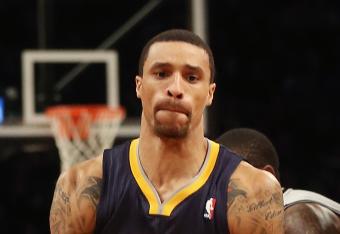 George Hill hit another jumper coming off a pick and roll. The Pacers offense is looking a lot better, and since their defense was already good, this is all that was needed for Indy.
PACERS 51, LAKERS 50 — 8:54 3rd
The Pacers have started the second half hot. George Hill's three-pointer drew the Pacers within a point.
LAKERS 50, PACERS 49 — 9:32 3rd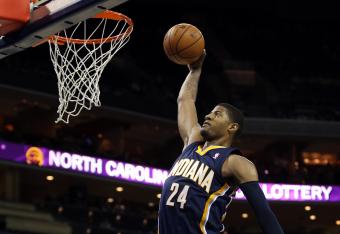 Paul George thought the halftime break might change his cold shooting. He jacked up a quick three in transition and missed badly. George really need to get his driving game going, and stop shooting jumpers on a night when they're just not falling.
I spoke too soon. George just hit a triple.
LAKERS 50, PACERS 46 — 10:00 3rd
The Pacers went to David West for their first possession of the second half. West's turnaround jump hook over Metta World Peace started the half on a good note for Indy, but Dwight Howard answered at the other end.
LAKERS 48, PACERS 43 — 11:00 3rd
Great that Kobe tried to play @kobebryant. Doubt he'll play in the 2nd half. His ankle will be too stiff. He sent his message to #Lakers

— Kurt Rambis (@KRambis) March 16, 2013
Kobe practices what he preaches. He told Dwight Howard to play through pain, and he tried. He just couldn't. This injury won't hold Kobe out long, obviously, though.
Lakers utilized a 31-9 run to lead by as many as 11; at the break, Pacers trail 46-41. George has 12 (on 3-of-11 FGs), Antwan Jamison w/ 11.

— Scott Agness (@ScottAgness) March 16, 2013
The first half ended for real—I think. Dwight Howard heaved up a three high in the air, and Frank Vogel is addressing the refs. So, a few extra minutes of nothingness there to end the first half. Time to go take a walk.
LAKERS 46, PACERS 41 — Truly Halftime
This article is
What is the duplicate article?
Why is this article offensive?
Where is this article plagiarized from?
Why is this article poorly edited?