UFC 158 Results for GSP vs. Diaz: Questions Facing the UFC Heading into April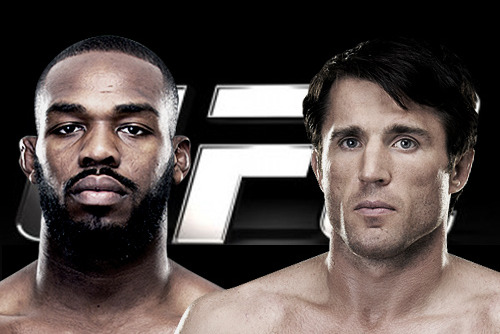 UFC 158 is in the books, and the final results for the full fight card are as follows:
Georges St-Pierre vs. Nick Diaz
Johny Hendricks defeats Carlos Condit via unanimous decision (29-28 x 3)
Jake Ellenberger defeats Nate Marquardt via knockout at 3:00 of Round 1
Chris Camozzi defeats Nick Ring via split decision (29-28, 28-29, 29-28)
Mike Ricci defeats Colin Fletcher via unanimous decision (30-27)
Patrick Cote defeats Bobby Voelker via unanimous decision (29-28 x 3)
Darren Elkins defeats Antonio Carvalho via TKO at 3:06 of Round 1
Jordan Mein defeats Dan Miller via TKO at 4:42 of Round 1
John Makdessi defeats Daron Cruickshank via unanimous decision (29-28 x 3)
Rick Story defeats Quinn Mulhern via TKO at 3:05 of Round 1
T.J. Dillashaw defeats Issei Tamura via knockout at 0:26 of Round 2
George Roop defeats Reuben Duran via unanimous decision (29-28, 29-28, 30-27)
Now that the excitement of the welterweight title bout is out of the way, we can take a breather for a few weeks, as the UFC takes a brief break before jumping into April with both feet. The promotion will present a fight card on each weekend in the coming month, and with that in mind, here are some questions to ponder during your UFC downtime.
Begin Slideshow

»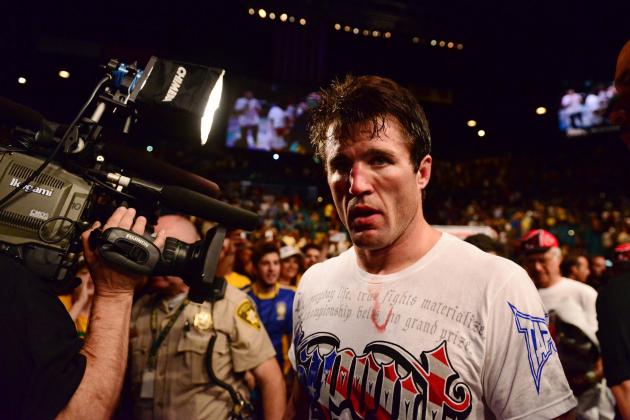 Mark J. Rebilas-USA TODAY Sports

Whenever there are UFC fight cards every weekend during the course of a month, the UFC has to be worried about fan burnout. Let's face facts, the UFC's demographic consists of young men who typically like to spend at least one Saturday a month away from the house.
When the promotion puts an event on every weekend, it may just end up picking and choosing the fight(s) that it feels are must-see.

If the UFC could pick which card the fans deem essential, it will surely be the pay-per-view event that comes at the end of the month. That card, UFC 159, is intriguing, as it features the light heavyweight title fight between Jon Jones and Chael Sonnen as well as a simmering grudge match between Michael Bisping and Alan Belcher.

However, the card on the weekend before UFC 159, UFC on Fox 7 is pretty stacked and has the added bonus of being totally free.
On that card, you have UFC lightweight champion Benson Henderson putting his title on the line against Strikeforce champion Gilbert Melendez, Daniel Cormier making his UFC debut against Frank Mir and Nate Diaz meeting Josh Thomson. Oh yeah, there's also the promise of a slugfest between Dan Hardy and Matt Brown.

The ratings for the month bear watching. Depending on how they pan out, the UFC may want to avoid months where it keep its fans home every Saturday, even if one of those Saturdays is for an afternoon event, like the Fuel show on April 6.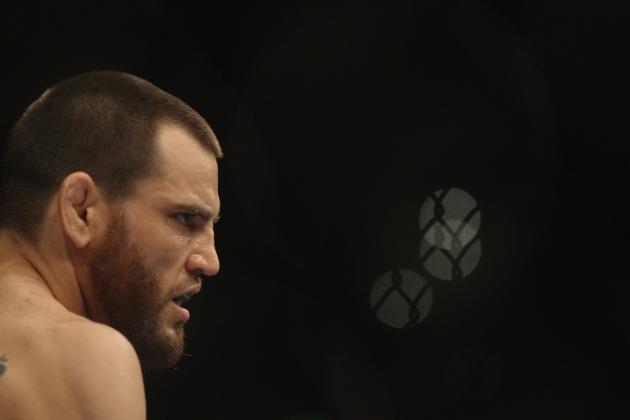 Mark Kolbe/Getty Images

Not long ago, the UFC threatened that there would be numerous cuts coming among the roster. After an initial mini-purge of fighters, the massive housecleaning that was talked about never came.

The question that is now being asked is: Was that idle talk in order to get fighters to deliver more exciting fights? I doubt that's the case. Threatening to fire people is never good for the long-term morale of any organization, even one the likes of the UFC, which is the top of the heap as far as MMA promotions are concerned.

So when will these cuts come? Will the UFC deliver them before April 1, or will it let the coming month play out before making those decisions?

With close to 100 fighters being involved in bouts in April, it may make sense to take a wait-and-see approach, especially when you see that there is a decent gap between the last fight in April and the first one in May.

In short, the majority of the UFC roster should probably not be looking to make any extravagant purchases in the near future.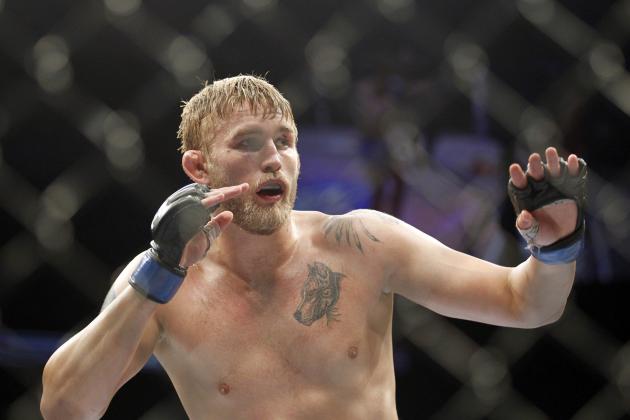 Joe Nicholson-USA TODAY Sports

A quick glance at the UFC's website says that the promotion may be cutting it a little close in getting some of these fight cards finalized.

The April 6 event in Sweden has eight fights confirmed, The Ultimate Fighter card the following weekend is understandably underbooked, as the season is still playing out. The Fox event on April 20 has seven fights set, and as far as the April 27 pay-per-view, that card only has five confirmed fights.

I know we're pretty far away from those events, but you would think, at the very least, the April 6 card would have more confirmed fights. It's hard to build fan interest in something when there's not much to build that interest around.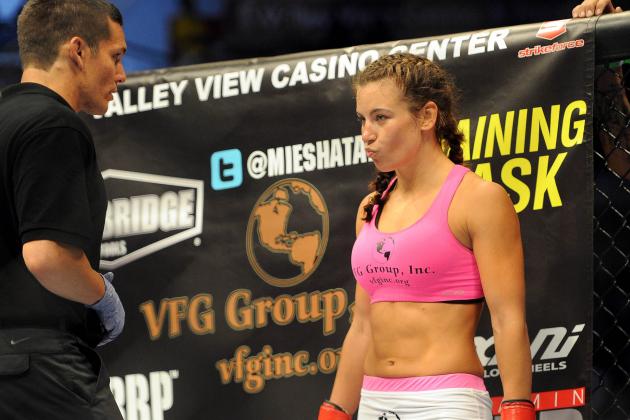 Jayne Kamin-Oncea-USA TODAY Sports

The selling of Ronda Rousey was very easy for the UFC. We all know she was the main reason the organization became involved in women's MMA, but one fighter does not make a division. Now, the big test comes for the promotion.
How will it sell the other female fighters?

We'll get our first taste of how that will be accomplished in the weeks leading up to the April 13 meeting between former Strikeforce champion Miesha Tate and Cat Zingano.

A quick glance at the UFC's website shows that the promotion is off to a shaky start, as Zingano's image does not appear on the fight card. True, she's new to the promotion, but the fight has been booked since mid-February, which is surely enough time to get a photo of Zingano for the site.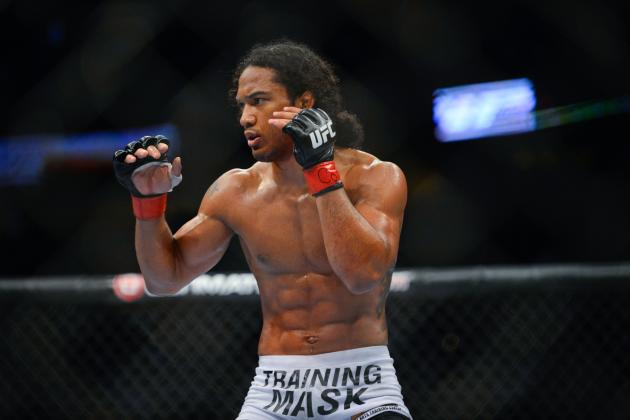 Ron Chenoy-USA TODAY Sports

The UFC made a strong debut on Fox in November 2011, pulling in 5.7 million viewers for that first card, which was headlined by a heavyweight title bout. Since then, the numbers have been down from that high but have shown some promise.

For Fox 2, the UFC pulled in 4.7 million viewers but then saw a big drop with Fox 3 and 4 with both events dropping to the 2.4 million range. A rebound occurred with Fox 5 and 6 as both of those shows pulled in more than four million viewers.

For Fox 7, the UFC will deliver a title fight as the main event with a strong set of televised fights below it. Another thing that may help the UFC here is that Benson Henderson is a familiar figure to the Fox fans, as his bout against Nate Diaz headlined UFC on Fox 5.

An additional plus is that Daniel Cormier will be debuting for the UFC on this card and facing known commodity Frank Mir. Both Cormier and Mir are strong in front of a camera and can do a solid job in selling this fight and the Fox fight card as a whole.

I'm sure the UFC is expecting at least four million viewers for this card.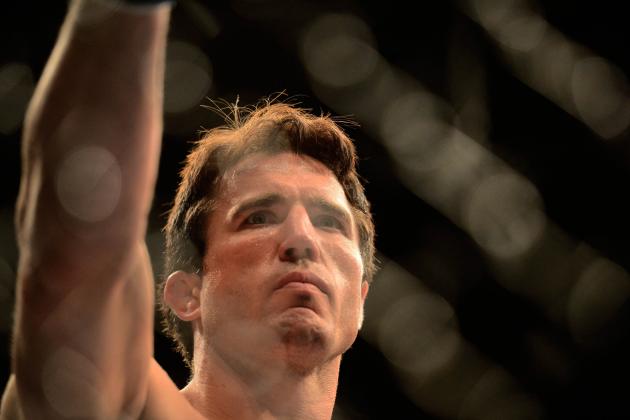 Mark J. Rebilas-USA TODAY Sports

Am I the only one waiting for the other shoe to drop when it comes to UFC 159's main event? I mean, c'mon, where's the hate?

The lead-up to the Jon Jones vs. Chael Sonnen fight has been downright civil, and I'm not sure how I feel about that.
We have come to expect the unexpected from Sonnen, so we are left to wonder if and when he's going to come out firing and try to get into Jones' head.

Sonnen recently fired a volley at the champ, so maybe that was the start of things, or maybe that was just a test run to see what his next move should be. Maybe by not doing what we all expect, he will be able to get even further into everyone's head as they wait for him to deliver some of the patented Sonnen gamesmanship.
One thing is certain, we'll all be watching...and waiting.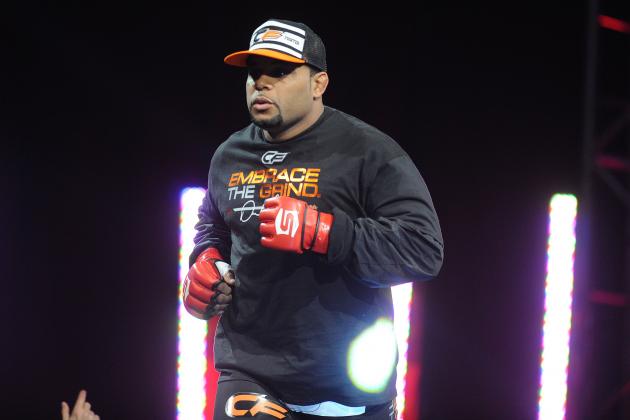 USA TODAY Sports

The door looks to be open for some title contenders to emerge in April and possibly two titles to change hands.

Alexander Gustafsson has a chance to earn a shot at the light heavyweight title if he can defeat Gegard Mousasi in dramatic fashion in UFC on Fuel 9's main event.

There's also a chance that the winner of the Urijah Faber vs. Scott Jorgensen bout could earn a shot at the bantamweight title when they meet on April 13.
We already know that pending some huge change of direction, the winner of the Miesha Tate and Cat Zingano bout on that card will be lined up to face UFC women's bantamweight champion Ronda Rousey.

At UFC on Fox 7, Daniel Cormier meets Frank Mir in a fight that could decide if Cormier gets a shot at a title in the heavyweight division (if teammate Cain Velasquez drops the belt) or if he will drop to 205 and look for a shot at the light heavyweight title instead.

As for the title shots themselves, Benson Henderson puts his lightweight strap on the line against Strikeforce champion Gilbert Melendez at UFC on Fox 7, and Jon Jones defends his light heavyweight title against Chael Sonnen at UFC 159.

Some interesting bouts are lined up in April, to say the least.