A few of the picks in the 2013 NFL draft could change the selection process for several teams. Obviously, the first pick is one of them, but the Kansas City Chiefs' seemingly inevitable selection of Luke Joeckel isn't the only pivotal pick.
There are others throughout the first round that can create a plethora of if/then scenarios for NFL teams.
There is nothing strange about the the top pick being a drink stirrer in the draft; this is the case with the No. 1 selection every year. But the other picks that can be most important change from year to year.
This mock draft focuses on the picks in the first round of the 2013 NFL draft that will shape team's selections.
(The players that are being spotlighted will feature an image, a video from B/R's draft experts. The selection will also appear italicized.)
1. Kansas City Chiefs - Luke Joeckel, LT, Texas A&M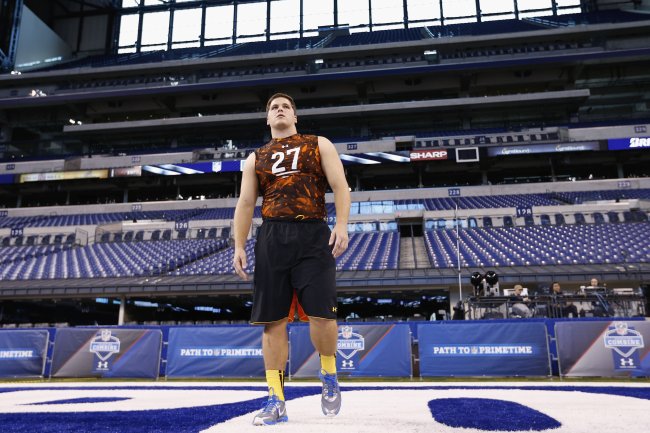 The Chiefs parted with a second-round pick in 2013 and a conditional selection in 2014 to get Alex Smith. That's a lot to give up, so it is clear Smith will be the starter in Kansas City.
Joeckel is the safe and sensible pick for the Chiefs.
Taking him will excite the teams that covet Geno Smith as a potential franchise quarterback. Once the Chiefs acquired Smith from the San Francisco 49ers, teams like the Buffalo Bills and Jacksonville Jaguars had to be ecstatic.
Even though it is possible both could pass on Smith. Don't be surprised to see a team trade up to ensure they get the top quarterback in the draft.
2. Jacksonville Jaguars - Dion Jordan, DE, Oregon
Jordan is a 6'6", 250-pound defensive end in the physical mold of Jason Pierre-Paul. The Jaguars desperately need playmakers on both sides of the ball.
Jordan looks like he can fit the bill.
3. Oakland Raiders - Star Lotulelei, DT, Utah
Lotulelei is back near the top of the draft since he's been cleared to play without restriction.
He is one of the most talented players in the draft, and the Raiders would be fortunate to add him to their otherwise weak defensive line.
4. Philadelphia Eagles - Eric Fisher, LT, Central Michigan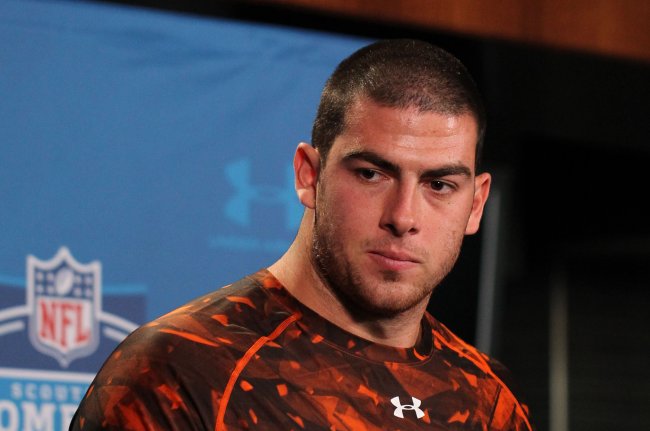 Brian Spurlock-USA TODAY Sports
The Eagles certainly had protection issues in 2012. The offensive line surrendered 48 sacks last season, so taking Fisher is the smart move.
If the Eagles make the Central Michigan product their choice, the rest of the teams in the first round that need a tackle will see a drop-off in talent at the position.
Though there are a few other decently-regarded tackles in the draft, Fisher and Joeckel look to be the cream of the crop.
Unfortunately for the other tackle-starved teams, the Eagles must take Fisher here. Though he has said he's "fully heathy," Jason Peters' sustained health can't be counted on. He missed all of the 2012 season.
As a 31-year-old, 340-pound tackle coming off a ruptured Achilles tendon, it will tough to stay healthy moving forward.
The team has to be better at protecting their quarterback this season—even if Peters misses significant time again. At worst, Fisher could play right tackle to give the team two ultra-talented tackles.
5. Detroit Lions - Dee Milliner, CB, Alabama
Though the Lions lost Cliff Avril to the Seattle Seahawks, they would be wise to take Milliner to help their secondary.
There are a few potential impacting pass-rushers available, but none of them would help the Lions defense as much as a top-notch cornerback.
Milliner is the best player in the draft at his position, and he should be the Lions' pick here.
6. Cleveland Browns - Geno Smith, QB, West Virginia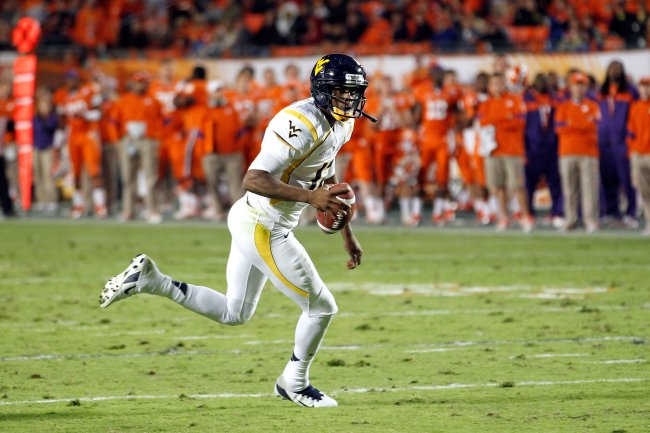 J. Meric/Getty Images
Something tells me the Browns aren't satisfied with Brandon Weeden at quarterback.
It may seem strange that the Browns would take a signal-caller in the first round two years in a row, but this could also be a prime spot for a trade.
Smith should still be a coveted prospect. If the Buffalo Bills like him enough to move up, things could get even more interesting in the first round.
As it stands, this pick is important for two reasons. It could mark the first time a quarterback comes off the board, but it could also be the primary asset in the first draft-day trade.
7. Arizona Cardinals - Jarvis Jones, OLB/DE, Georgia
With the quarterback position addressed, for now, with the acquisition of Carson Palmer, the Cardinals can look for an impact player on defense.
Jones would give them a difference-making pass-rusher, something the team could use. They had 38 sacks in 2012, but a team can never have too many pass-rushers.
8. Buffalo Bills - Ryan Nassib, QB, Syracuse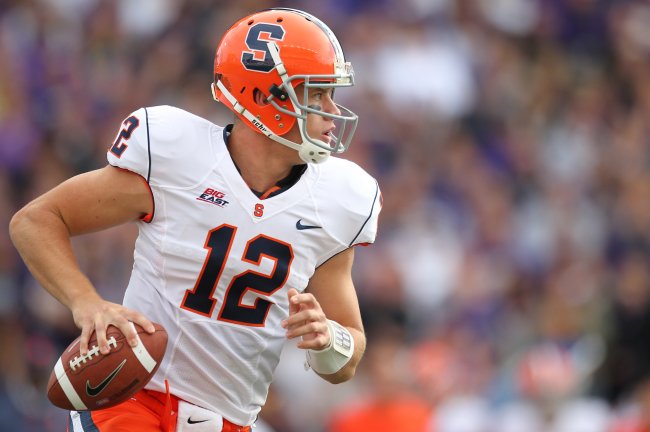 The Bills still need a franchise quarterback. Kevin Kolb's signing should not be looked as a move that changes that fact. With Smith presumably off the board, the debate over which player to take should be easier.
The fact that Nassib played his collegiate career with the Bills' new head coach, Doug Marrone, makes this a solid fit.
Taking Nassib here is the smartest and safest approach to address the most important position in the sport. We'll see if the Bills agree.
This is a very important selection because most would agree that Smith is the top quarterback prospect, but there is some confusion about the player who is second best.
If the Bills take Nassib, that would define the top-two signal-callers. Prospects like USC's Matt Barkley, North Carolina State's Mike Glennon and Florida State's E.J. Manuel would likely find themselves in the second or third round.
What team needs to trade up most?
9. New York Jets - Barkevious Mingo, DE/OLB, LSU
Mingo's pass-rushing ability is perfect for the Jets' scheme. This team won't get back to winning until they start getting pressure on the opposing quarterback again.
The Jets haven't made the playoffs since 2010; that was also the last time they had 40 sacks as a team.
Mingo has the skill set to make an impact in that area.
10. Tennessee Titans - Sharrif Floyd, DT, Florida
When your defense is ranked 27th in the NFL, it's pretty obvious you need to concentrate on improving that side of the ball.
Floyd is a talented and potential difference-making player on the line of scrimmage. This pick would make sense for the Titans.
11. San Diego Chargers - Lane Johnson, LT, Oklahoma
Johnson's proved he is a freakish athlete at the NFL Combine. That workout likely made him a top-15 pick.
He's a good fit for the Chargers' needs.
Philip Rivers was sacked 49 times in 2012, and like many teams in the NFL, the Chargers have to commit to protecting the quarterback better.
12. Miami Dolphins - Xavier Rhodes, CB, Florida State
The Dolphins have been busy improving their receiving corps. Mike Wallace signed and Brian Hartline re-signed with the team, and those transactions free the team up to improve other areas in the draft.
Shoring up the secondary is a smart approach, especially in light of losing Sean Smith to the Chiefs.
Rhodes is an excellent cover-corner prospect, and he could start immediately for the 'Fins.
13. New York Jets (via Tampa Bay Buccaneers) - Tavon Austin, WR, West Virginia
The Jets are in position to grab two players who could play a big role for the team as rookies. They parted with Darrelle Revis, and the move puts them in position to grab one of the draft's most exciting players.
Austin would not only be a valuable player in the slot, but as a kick returner, he could help provide invaluable field position for an underwhelming offense.
14. Carolina Panthers - Johnathan Hankins, DT, Ohio State
The Panthers were hot at the end of the 2012 season. They won their final four games, but a run-stuffing defensive lineman could go a long way in helping them take the next step.
The young linebacker group would benefit from a monster inside, like Hankins. He will command the attention of multiple blockers and free up Luke Kuechly, and others, to make plays.
15. New Orleans Saints - Ezekiel Ansah, DE, BYU
The Saints had just 30 sacks as a team in 2012. Adding pass-rushers should be paramount for them.
Ansah has looked good during the pre-draft process, and he seems like a solid pick for the Saints at No. 15.
16. St. Louis Rams - Chance Warmack, OG, Alabama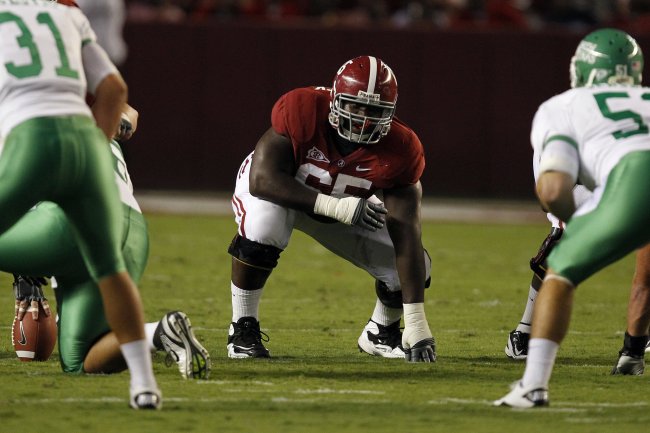 Butch Dill/Getty Images
Warmack is the one of the safest picks in the draft, and that's why he could go anywhere from No. 10 to the high 20s.
The Rams have been building a strong, physical and balanced team under Jeff Fisher. Warmack embodies all of those attributes.
A few teams are sure to have him on their radar. The Rams selection of him would start the wheels turning for other teams interested in a guard in the draft.
Warmack's selection will have a huge impact on where North Carolina's Jonathan Cooper will be selected. It is also significant because I believe that, in 10 years, Warmack will have played in the most Pro Bowls of any player in this draft.
17. Pittsburgh Steelers - John Jenkins, DT, Georgia
The Steelers' 3-4 scheme needs a new anchor in the middle. Jenkins makes me a little nervous because he played on a college defense that was extremely talented but less than dominant.
At 6'4" and 346 pounds, he does at least look the part. His size and strength combination would be a sensible selection for the Steelers.
18. Dallas Cowboys - Sheldon Richardson, DT, Missouri
Richardson is one of the most talented players in the draft, but he does have some character concerns.
He was suspended for missing class and subsequently refused to accept the punishment he received. That is a major red flag, and this behavior is probably keeping him from going higher in the draft.
The 6'4", 295-pounder has the versatility and power to rush the passer from the inside and outside. He could be a great fit for the Cowboys' defensive line.
19. New York Giants - Bjoern Werner DE, Florida State
The Giants need to get younger on the defensive line. Werner has a great motor and a high upside as a pass-rusher.
The G-Men are at their best when they have a deep stock of pass-rushers to throw at opponents. Werner would be great playing behind Jason Pierre-Paul and Justin Tuck.
20. Chicago Bears - Jonathan Cooper, G, North Carolina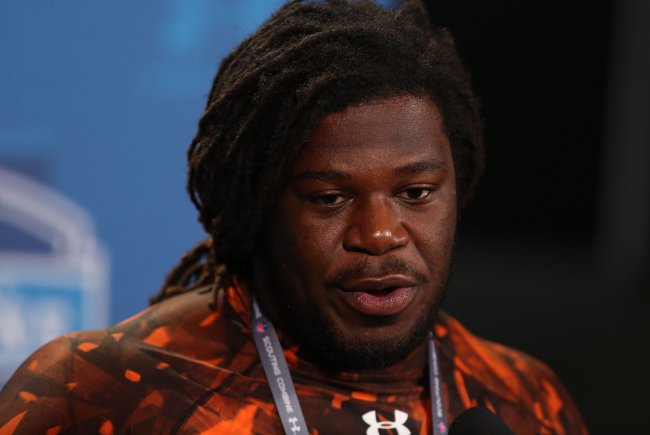 Brian Spurlock-USA TODAY Sports
The Bears made two big acquisitions by signing Jermon Bushrod to play left tackle and Martellus Bennett at tight end.
Those signings addressed two of the team's biggest concerns. At No. 20, the Bears will be in position to shift things for the remainder of the teams in the first round.
If they go looking for Brian Urlacher's replacement and tab Georgia linebacker Alec Ogletree, it will impact teams like the Cincinnati Bengals, Baltimore Ravens and Houston Texans, teams that also may be looking at him.
I think the Bears continue to improve their offensive line, and Cooper would help make the Bears' O-Line a quality unit in 2013.
This is an important pick because it keeps the top inside linebackers on the board for at least one more pick.
21. Cincinnati Bengals - Alec Ogletree, OLB, Georgia
Ogletree has game-breaking athleticism and he plays with fierce intensity. The ingredients are there for a future Pro-Bowl player, but we've seen other freakish athletes fail.
Still, I have high hopes for Ogletree.
The Bengals could have the makings of something special with Ogletree and Vontaze Burfict. The coaching staff has been great with getting the most out of talented, athletic players.
Ogletree probably couldn't find himself in a better position if this were to come to pass. This selection would define the ceiling of the inside linebacker crop in the draft.
As of this point, teams that are eyeing an inside linebacker would have to decide who they like the most between Manti Te'o of Notre Dame, Arthur Brown of Kansas State and Kevin Minter of LSU.
22. St. Louis Rams - Kenny Vaccaro, S, Texas
The Robert Griffin III trade has helped put the Rams in position to be a force over the next three or four years. This pick is a product of that deal, and Vaccaro helps to improve the team in an area of need.
Rams safeties had only one interception in 2012. This would be a smart pick to add a potential playmaker in the secondary.
23. Minnesota Vikings - Cordarrelle Patterson, WR, Tennessee
With Percy Harvin traded to the Seattle Seahawks, the Vikings have to draft a receiver.
Patterson is the best available, and it is possible he could go in the top 10. I think he falls here as many of the teams that have needs for a receiver have more pressing issues.
24. Indianapolis Colts - Jesse Williams, DT, Alabama
Williams fits the Colts 3-4 defensive system as a zero-technique tackle. It is exciting to think what the team will be able to accomplish once they actually get defensive players who fit their scheme.
Last season's success came with a ton of holdovers from the previous Cover 2 scheme.
25. Minnesota Vikings - Desmond Trufant, CB, Mississippi State
Having already, presumably, addressed the receiver position with the 23rd pick in the draft, the Vikings could start rebuilding their secondary.
The team had only 10 interceptions in 2012. They are still without a standout performer at cornerback. In a pass-happy NFL, that is not a good look.
I love Trufant's size, ability and ball skills. Drafting him would make the Vikes first round monumentally successful.
26. Green Bay Packers - D.J. Fluker, LT/RT, Alabama
The Packers can't allow Aaron Rodgers to be sacked 48 times again this season. Getting a young offensive tackle capable of keeping Rodgers upright should be their top priority.
Fluker is a mountain of a man at 6'6" and 335 pounds. He has the bulk to handle NFL pass-rushers. He has been a part a winning tradition in college as well.
As a major cog on the dominant Alabama offensive line, Fluker brings excellent intangibles. He can help the Packers immediately.
27. Houston Texans - Kevin Minter, LB, LSU
Which inside linebacker will be the best pro?
The Texans' lack of depth at inside linebacker was exposed once Brian Cushing was injured last season.
Minter was especially productive at LSU in 2012. He tallied 130 tackles for a very talented defense. He could be a dependable replacement or even play alongside Cushing in the Texans' 3-4 defense.
28. Denver Broncos - Tyler Eifert, TE, Notre Dame
Peyton Manning can always use more weapons. The team has some issues on defense, but one thing Manning didn't have at his disposal in 2012 was a stud TE.
Eifert could fit the bill and play a role similar to what Dallas Clark played during his time with Manning. The Notre Dame product would be a strong candidate for the Pro Bowl if he's selected here.
29. New England Patriots - Matt Elam, S, Florida
Elam is a physical, athletic safety who could ultimately be a key component for the future of the Pats defense.
He is a punishing hitter which could be a good and bad thing in today's NFL, but he would represent an upgrade at free safety for New England.
30. Atlanta Falcons - Margus Hunt, DE, SMU
The Falcons produced just 29 sacks in 2012, and that is the biggest weakness of the team. John Abraham is 34 years old, and the team needs to inject some youth and talent into the defensive line.
They did add Osi Umenyiora, but he's also on the wrong side of 30 (31 years old).
Hunt could spell Abraham or Umenyiora as a rookie and slide over to RE once Abraham has moved on.
31. San Francisco 49ers - D.J. Hayden, CB, Houston
The Niners have been active this offseason in free agency, but drafting Hayden could be their biggest offseason pickup.
San Francisco is understandably in a win-now mode having played in the Super Bowl in February. However, they must also balance that approach with the addition of solid young players like Hayden.
32. Baltimore Ravens - Datone Jones, DE, UCLA
The Ravens have lost Ray Lewis, Dannell Ellerbe and Paul Kruger from their defense. They need to get younger, but they still need talented players on defense if they hope to be anywhere close to the team they were in the postseason.
Jones is a talented pass-rusher who would add depth now and potentially be a future star.
Follow me for sports news, opinions and the like.