March Madness 2013: Who Needs a Big Win on Friday?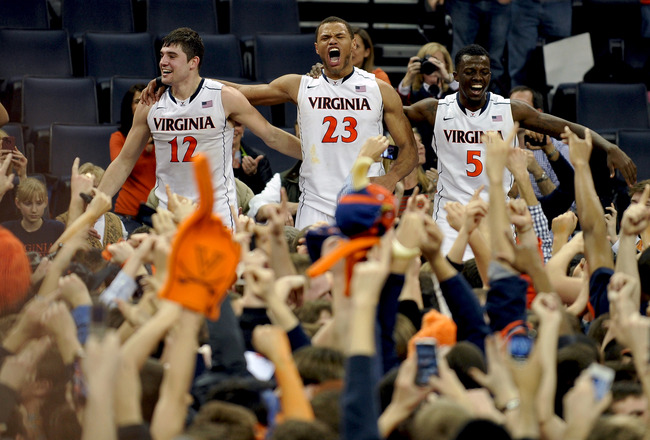 Lance King/Getty Images
The conference tournaments are in full swing, and on Friday we start to see elite teams perform against each other. There are also the underdogs of the conferences who sit on the bubble playing for their tournament lives over the next few days. Some teams would get into the big dance right now, while others need some help.
So, what teams need to pull off a victory, or simply avoid a loss, in order to get themselves an at-large bid?
Kentucky Wildcats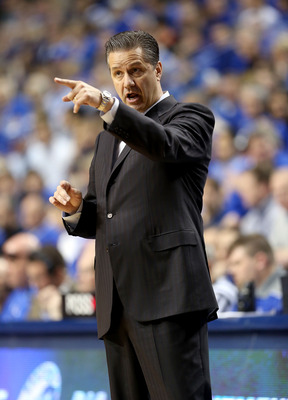 Andy Lyons/Getty Images
It's been a difficult year for the defending national champs. Coach John Calipari lost his best player, Nerlens Noel, and has failed to get his young group to play as a team. This has them waiting on the bubble as they fight through the SEC tournament in order to get a ticket to the big dance.
The Wildcats play Vanderbilt (15-16, 8-10 SEC), and a win doesn't necessarily put them into the NCAA Tournament, but a loss will have them on the outside looking in. Losing to a poor Vanderbilt squad in Kentucky's first game in the conference tournament would be the last impression the selection committee will have of them.
Kentucky shoots 47.8 percent from the field which is good enough to be 17th in the nation and to avoid an upset.
Archie Goodwin will have to play well. The freshman guard averages over 14 points per game and is great at getting to the foul line. Goodwin and the rest of the Wildcats can't come up short against Vanderbilt if they want to be dancing.
La Salle (21-8, 11-5)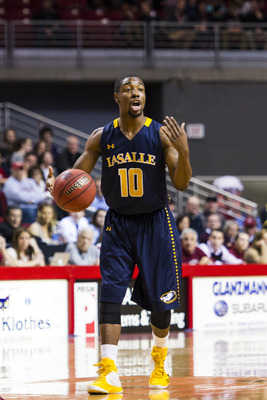 USA TODAY Sports
The Atlantic 10 has been great this year with teams like Butler, St. Louis, Virginia Commonwealth, Temple and others. La Salle's success within this strong conference has them on the verge of an at-large bid.
La Salle has the 38th best RPI and finished tied for third in the Atlantic 10 for the regular season. They are led by Ramon Galloway and Tyreek Duren, who average a combined 32.4 points per game.
The Explorers have a tough game on Friday against Butler (25-7, 11-5 A-10). A loss in the quarterfinals against a great team will not take La Salle out of tournament contention, but a win would most likely solidify a spot in the big dance.
Virginia (21-10, 11-7)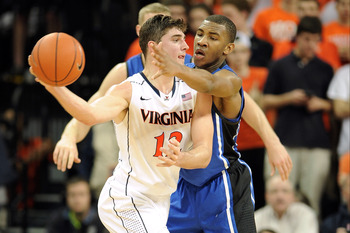 Lance King/Getty Images
The Cavaliers did finish tied for fourth in the ACC in the regular season, however, it was a down year for the conference.
Virginia's weak strength of schedule and average record makes them a bubble team that needs to work their way into the NCAA Tournament with a good showing in their conference tournament.
One of the few reasons they are even on the bubble is their big upset against Duke. They also beat North Carolina and North Carolina State, whom they face on Friday.
The two teams only met once in the regular season, and now they both are playing a crucial game. The Wolfpack is in right now, but a blowout loss to Virginia could send them to the bubble, anxiously awaiting their fate on Selection Sunday.
A loss for Virginia wouldn't count them out, but it would make things extremely difficult, and a win will probably award them with an at-large bid.
Iowa (21-11, 9-9)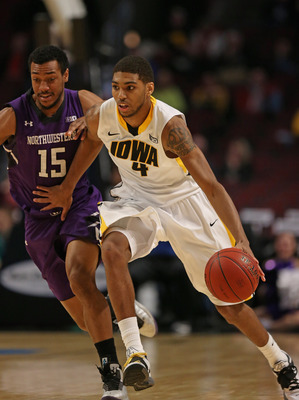 Jonathan Daniel/Getty Images
Nine wins in arguably the best conference in the country is pretty impressive, but Iowa still needs to pull off an upset against No. 8 Michigan State on Friday night.
The Hawkeyes easily disposed of Northwestern on Thursday and now sit on the outside of the bubble as they look towards the Spartans.
Iowa is a strong rebounding team pulling down 39.8 boards per night, which is 11th in the nation. They'll need this size to combat Michigan State's athleticism.
A victory over a top-10 opponent would send them to the tournament because they have no big, signature wins. They do have some quality wins against tournament teams in Iowa State, Minnesota, Illinois and Wisconsin, but that is not enough.
This is a clear must-win situation for the Hawkeyes as they attempt to take down the mighty Spartans.
Maryland (21-11, 8-10)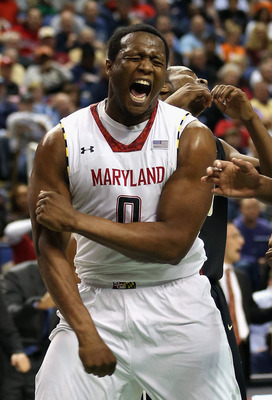 Streeter Lecka/Getty Images
Like Virginia, Maryland has a weak strength of schedule due to the poor quality of the ACC this season. They also took down Duke, which was their biggest win and their only victory against top-25 RPI teams.
Maryland has some very bad losses against Georgia Tech and Boston College, yet still has a chance to get an at-large bid to the dance.
The Terrapins took care of Wake Forest in the first round of the conference tournament and now face No. 2 Duke for the third time this season.
Currently, Maryland would probably not make it into the tournament with their resume, but a win over a projected No. 1 seed would certainly put them into the NCAA Tournament.
To have a shot at winning, Maryland needs to attack the glass, for they are third in the country in rebounding compared to Duke, who is 201st.
Keep Reading