25 Greatest Upsets in UFC History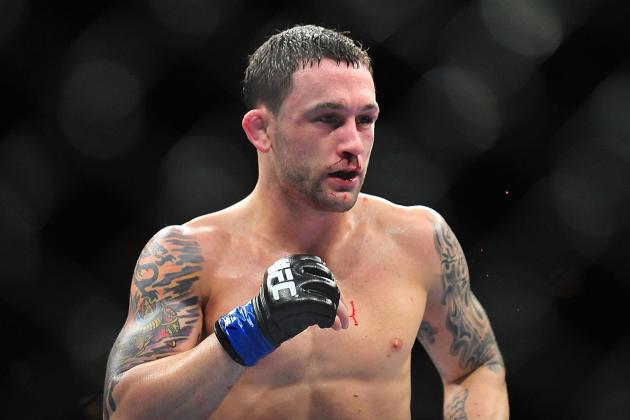 Gary A. Vasquez-USA TODAY Sports

The UFC history books are littered with stunning victories that few saw coming.
While many sports have their underdog stories, MMA gives those overlooked an opportunity to shock the world with a single punch. The unpredictability of UFC fights is part of what has helped the promotion explode in popularity over the past several years.
It's not as though low-profile fights are the only ones ending in major upsets, either. Several UFC championships have traded hands because of mind-boggling results.
Based on fight importance, grandeur of victory and matchup betting odds, these are the 25 greatest upsets in UFC history.
Begin Slideshow

»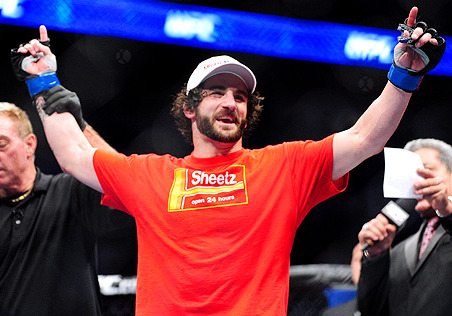 ESPN.com
Event: UFC Live on Versus 4
Result: Brenneman defeated Story by unanimous decision (29-28, 29-28, 29-28).
Riding a six-fight winning streak, which included victories over Johny Hendricks and Thiago Alves, Rick Story was booked to headline UFC Live on Versus 4 opposite veteran and debuting welterweight Nate Marquardt.
However, when Marquardt was pulled from the bout minutes before event weigh-ins, Charlie Brenneman stepped up to fight Story on extremely short notice in his home town.
Brenneman had been scheduled to fight at the event, though he was simply hanging around in the event that something crazy happened after scheduled opponent T.J. Grant was forced out of competition due to illness.
Though a heavy underdog against the surging Story, Brenneman shocked everyone by out-wrestling his opponent and taking a win on the scorecards. That would unfortunately be the high point of Brenneman's UFC career, as he lost three of his next four bouts and was released from the organization.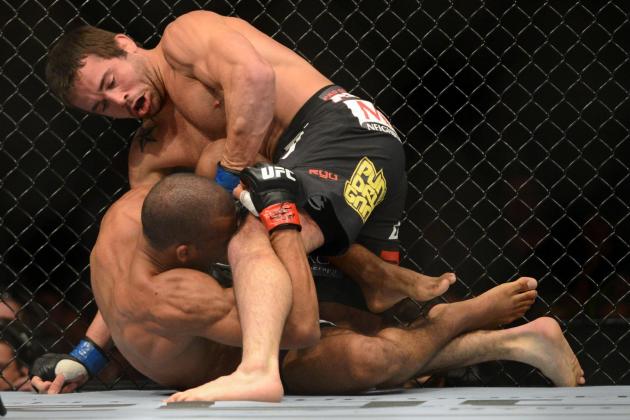 Ron Chenoy-USA TODAY Sports

Event: UFC 146
Result: Varner defeated Barboza by technical knockout (punches) at 3:23 of the first round.
When the WEC roster was absorbed by the UFC as part of a merger between the promotions, Jamie Varner was, surprisingly, omitted from the crossover. Over the 17 months that followed, Varner fought in regional promotions until a call came down from the UFC brass offering him a chance to return to the Octagon on short notice against Edson Barboza.
At the time, Barboza was undefeated in 10 career bouts and looked to be on his way toward becoming one of the world's top lightweights.
Varner had won three of his past four fights, but he was in need of a win to show he was truly back to his old winning ways. That victory came in a stunning first-round stoppage of Barboza.
After beating Barboza, Varner gave Joe Lauzon a tough fight and defeated Melvin Guillard, putting him on the edge of the top 10 lightweight rankings.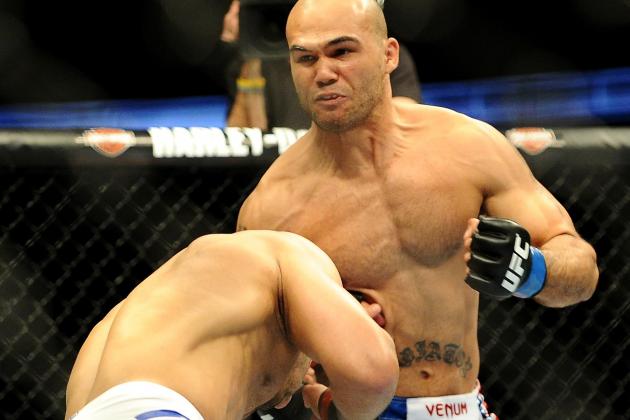 Jayne Kamin-Oncea-USA TODAY Sports

Event: UFC 157
Result: Lawler defeated Koscheck by knockout (punches) at 3:57 of the first round.
Robbie Lawler's time with Strikeforce did not go very well. During his tenure with the defunct promotion, Lawler lost five of his eight fights, fading slowly out of relevancy.
Despite his struggles, the UFC decided to bring Lawler in, along with almost all other Strikeforce competitors when the organization closed its doors.
Given a chance to fight a big name in Josh Koscheck, Lawler appeared re-focused on his career and fought better than he has in a long time. Lawler defended the NCAA champion wrestler's takedowns and put Koscheck away with punches in the opening stanza.
Lawler is now a top-10 welterweight and should have another big fight coming his way.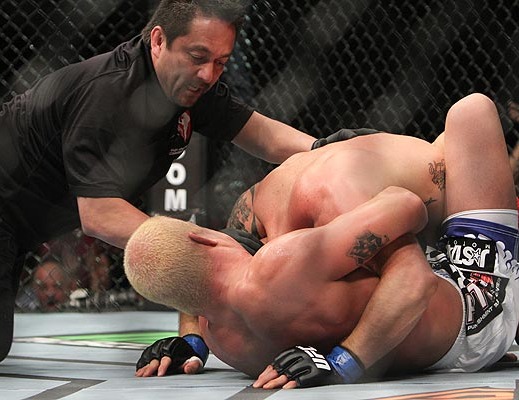 Scott Peterson/MMAWeekly.com
Event: UFC 132
Result: Ortiz defeated Bader by submission (guillotine choke) at 1:56 of the first round.
Tito Ortiz had gone winless in five straight fights heading into UFC 132. The former UFC champion was considered finished by many critics and was given little chance of beating Ryan Bader, who had only lost to Jon Jones at that point in his career.
Nonetheless, Ortiz caught Bader with an uppercut early in their bout and quickly locked up a guillotine choke while his opponent was still recovering.
While the result has been considered a fluke of sorts, as Bader returned to the top-10 light heavyweight rankings and Ortiz suffered three straight losses before retiring, the fight marked one of the few bright spots during the UFC Hall of Fame inductee's late-career decline.
UFC.com
Event: UFC 95
Result: Thiago defeated Koscheck by knockout (right uppercut) at 3:29 of the first round.
Paulo Thiago was undefeated in 10 career fights heading into his UFC debut against Josh Koscheck. That said, the Brazilian was a little-known prospect who had not previously fought outside of his home country.
Koscheck, meanwhile, was cemented into the UFC welterweight roster already with 10 victories inside the Octagon.
Coming off of a Knockout of the Night performance against Yoshiyuki Yoshida, Koscheck's confidence in his striking was high and he looked to stand with Thiago early. That turned out to be a mistake, as Thiago clipped Koscheck with an uppercut, forcing a stop to the fight.
While the knockout was a rough one to take for Koscheck, it seemed to turn a switch for him. The outspoken welterweight went on to win his next three fights and earned a shot at Georges St-Pierre and the welterweight belt.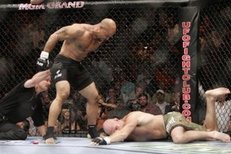 UFC.com
Event: UFC 71
Result: Alexander defeated Jardine by knockout (punches and knees) at 0:48 of the first round.
Despite scoring a surprise knockout against Forrest Griffin in his previous fight, Keith Jardine was interestingly paired with UFC newcomer Houston Alexander at UFC 71. Alexander had not lost since his MMA debut, but he was far from being as accomplished as Jardine in the sport heading into their bout.
Alexander made a big splash in his UFC debut, though, wasting little time in taking Jardine out with an aggressive flurry.
Jardine would bounce back to win two of his next three contests, while Alexander picked up another impressive knockout over Alessio Sakara that had some viewing him as a potential title threat. The wheels fell off the Alexander wagon, however, as he lost in his following four UFC appearances and hasn't returned to the Octagon since.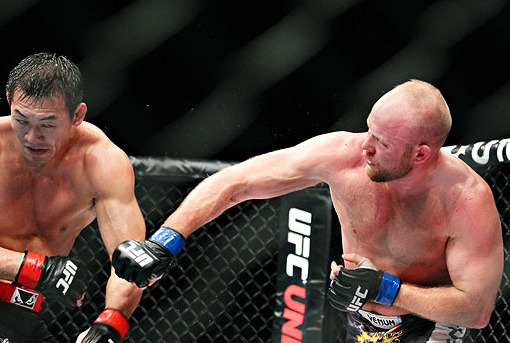 ESPN.com
Event: UFC 144
Result: Boetsch defeated Okami by technical knockout (punches) at 0:54 of the third round.
A move to middleweight seemed to revitalize Tim Boetsch's career, but a fight with Yushin Okami was a massive step up in competition from beating the likes of Kendall Grove and Nick Ring.
Okami was fresh off a loss to reigning champion Anderson Silva and was hungry to get back into the win column. That showed in the first two rounds of the fight, as Okami controlled the pace of the fight and appeared to be on his way to victory.
Boetsch came out firing in the third round. The underdog's aggression overwhelmed Okami and led to not only one of the biggest upsets in UFC history, but one of the greatest comebacks ever seen inside the Octagon.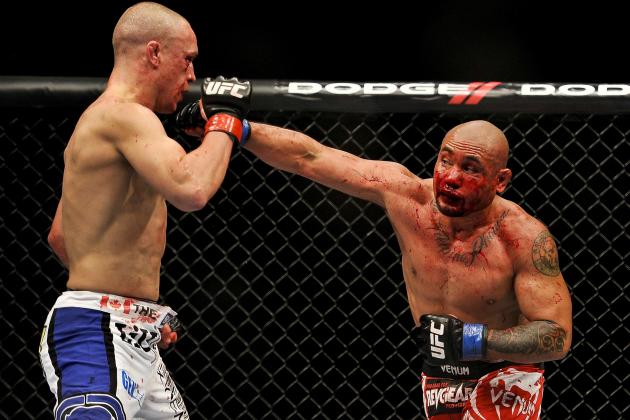 Paul Abell-USA TODAY Sports

Event: UFC 145
Result: Yagin defeated Hominick by split decision (29-28, 28-29, 29-28).
Mark Hominick was sputtering following back-to-back losses to Jose Aldo and Chan Sung Jung, but few believed losses to those competitors meant the Canadian was about to completely fall off of the featherweight map.
A matchup with Eddie Yagin, who was coming off a loss in his only UFC appearance, was expected to provide Hominick with a bounce-back win that would put him back on track toward contending for the 145-pound title again.
Instead, Yagin rocked Hominick multiple times in a stand-up battle that went the distance. Two of the judges saw the fight in Yagin's favor, giving him his first UFC win and one against a recent title challenger.
The 30-year-old Hominick then lost to Pablo Garza and announced his retirement from MMA.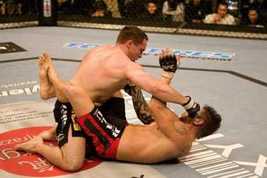 FightTimes.com
Event: UFC 68
Result: Lambert defeated Sobral by knockout (left hook) at 3:26 of the second round.
There was a period spanning 13 fights during Renato "Babalu" Sobral's career where he did not lose to anyone other than Chuck Liddell.
Following a loss to "The Iceman" in a UFC title fight, Sobral was handed a fight with journeyman Jason Lambert, who had just been knocked out by Rashad Evans months beforehand.
Sobral started off well, securing the top position against Lambert in the opening round. However, late in the first frame, Lambert knocked Sobral down and was prevented from finishing because of the horn signaling the end of the round.
That changed the tone of the fight and ultimately led to a knockout victory for Lambert late in the second stanza.
Though Sobral would get himself back on a winning track, he only fought once more under the UFC banner. Lambert, meanwhile, followed the biggest win of his career with five straight losses.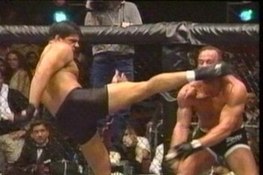 UFC.com
Event: UFC 17
Result: Williams defeated Coleman by knockout (right head kick) at 0:38 of the second round.
Mark Coleman had just lost the UFC heavyweight title, but he was given a step down in competition and matched up with debuting UFC fighter Pete Williams. Williams had a respectable 7-1 record heading into UFC 17, but he didn't hold any wins that turned heads.
Though Coleman figured to remain in the hunt for the heavyweight championship by disposing of his relatively unknown opponent, "The Hammer" was blasted with a head kick in the second round, resulting in one of the most brutal knockouts in UFC history.
Williams would later fight for the heavyweight title, but he lost to Kevin Randleman and had a mostly uneventful career otherwise. Coleman continued his downward trend until entering the 2000 Pride FC Openweight Grand Prix, which he won by upsetting Igor Vovchanchyn.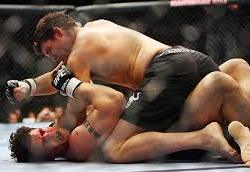 Susumug.com
Event: UFC 57
Result: Cruz defeated Mir by technical knockout (punches and elbows) at 4:15 of the first round.
An unfortunate motorcycle accident stripped Frank Mir of the UFC heavyweight title and kept him out of action for more than 19 months. Upon his return, Mir was matched with Marcio Cruz, an unproven heavyweight with only one professional MMA fight under his belt.
While the long absence was expected to have an effect on Mir, a bout with an unknown commodity like Cruz was supposed to ease him back into competition.
In a shocking upset, Cruz pounded away on Mir's face with elbows from the top position until referee Herb Dean was forced to step in.
Cruz would go on to lose his next two fights and was cut loose from the UFC roster. It took some time, but Mir eventually regained his form and became an interim champion.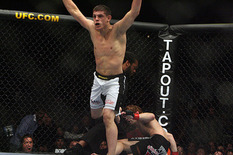 UFC.com
Event: UFC 63
Result: Lauzon defeated Pulver by knockout (left hook) at 0:48 of the first round.
Former UFC champion Jens Pulver returned to the Octagon at UFC 63 after leaving the promotion to fight overseas in Pride FC and other organizations. Despite his lack of notoriety, UFC rookie Joe Lauzon was pegged as Pulver's opponent.
Lauzon was not overwhelmed by the chance to compete against an opponent like Pulver, though, as he took less than one minute to put the former titleholder away.
Despite the monumental upset, Lauzon still had to participate in The Ultimate Fighter before being able to continue his long and successful UFC career. Pulver, on the other hand, continued to fade and lost seven of his following eight fights.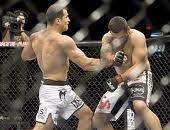 UFC.com
Event: UFC 90
Result: Dos Santos defeated Werdum by knockout (punches) at 1:21 of the first round.
Junior dos Santos was handed a tough task in his UFC debut. Not long removed from a submission loss in a Brazilian regional promotion, dos Santos was matched up with elite heavyweight grappler Fabricio Werdum, who had picked up knockout victories over Gabriel Gonzaga and Brandon Vera in his previous two outings.
Though he was a massive favorite heading into UFC 90, Werdum was caught with a powerful uppercut early on and could not recover. The loss hurt Werdum in contract negotiations and led to his move to Strikeforce, where he regained momentum by submitting Fedor Emelianenko.
Dos Santos, of course, went on to become UFC heavyweight champion. With both Brazilians being UFC heavyweight contenders right now, there's a good chance a rematch could come about at some point in the near future.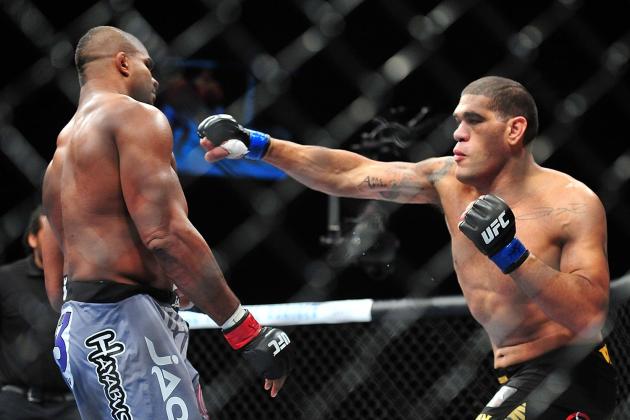 Gary A. Vasquez-USA TODAY Sports

Event: UFC 156
Result: Silva defeated Overeem by knockout (punches) at 0:25 of the third round.
Having gone undefeated for more than five years, Alistair Overeem only needed to beat Antonio Silva to earn a shot at the UFC heavyweight title and champion Cain Velasquez.
With a win over a common opponent in Fabricio Werdum, Overeem was a massive favorite heading into his bout with Silva. Overeem appeared to be aware of that as well, carrying his hands low and displaying an overall sense of cockiness throughout the contest.
In the third round, Overeem's lackadaisical approach backfired. Silva caught "The Reem" with a heavy punch and didn't let off the gas, dashing his opponent's hopes of fighting for the belt in the near future and taking them for his own.
Silva is now booked for a rematch with Velasquez, a fight that seemed almost impossible for "Bigfoot" not long ago.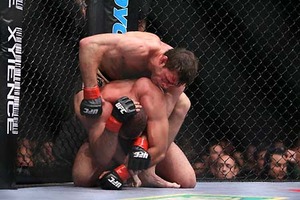 Susumug.com
Event: UFC 76
Result: Griffin defeated Rua by submission (rear-naked choke) at 4:45 of the third round.
When Mauricio "Shogun" Rua moved from Pride FC to the UFC ranks, many expected him to make a quick run at the light heavyweight championship. That run was supposed to begin with a win over Forrest Griffin at UFC 76, which marked the Brazilian's UFC debut.
Griffin was coming off a win, but he had recently been stopped by Keith Jardine and was still looking for his first win over a UFC contender.
When both fighters were locked inside the cage, though, Griffin's grappling was superior to Rua's. The TUF winner looked to be the better fighter through the first two rounds and ended up submitting the favored Rua in the third stanza.
Ultimately, both fighters would go on to become UFC champions, and Rua evened the score with a knockout victory over Griffin in August 2011.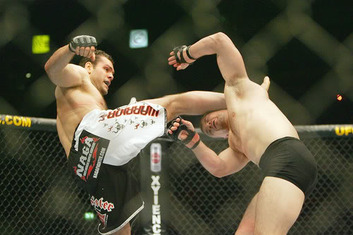 UFC.com
Event: UFC 70
Result: Gonzaga defeated Filipovic by knockout (right head kick) at 4:51 of the first round.
Like Mauricio Rua, Mirko "Cro Cop" Filipovic entered the UFC as a surging Pride FC fighter ready to wreak havoc inside the Octagon.
The Croatian was eased into the UFC with a knockout win over Eddie Sanchez, then found himself matched up against Gabriel Gonzaga in a fight that would earn the winner a title shot. Gonzaga had an impressive 8-1 record, but he hadn't beaten many big names and wasn't considered a serious threat to Filipovic's title run.
Not only did Gonzaga halt the rise of Filipovic, but he did so by recording the type of head-kick knockout that his opponent had become famous for throughout his career.
Filipovic would return to Japan temporarily after that loss and was never really considered a serious UFC title contender again.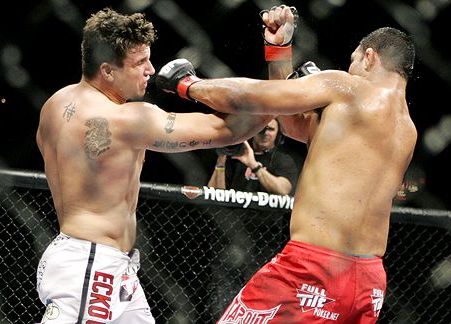 CagedInsider.com
Event: UFC 92
Result: Mir defeated Nogueira by technical knockout (punches) at 1:57 of the second round.
Former Pride FC champion Antonio Rodrigo Nogueira came into the UFC and won his first two fights to become the interim heavyweight titleholder. The first man to challenge Nogueira for his interim belt was Frank Mir, who was finally hitting his stride after a rough return from a motorcycle accident.
While Mir had won back-to-back fights, he earned his shot at Nogueira by beating the inexperienced Brock Lesnar via submission.
Heading into his title defense against Mir, Nogueira had only lost by split decision or against the great Fedor Emelianenko. However, Mir found a way to finish the previously granite-chinned Nogueira in the second round to steal the UFC interim title.
Nogueira has not won consecutive fights since, while Mir was dethroned by Lesnar in a rematch.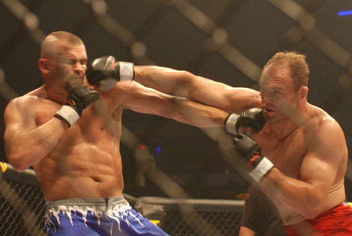 FCFighter.com
Event: UFC 43
Result: Couture defeated Liddell by technical knockout (punches) at 2:40 of the third round.
After being defeated in back-to-back heavyweight title fights, Randy Couture decided to make a move to the light heavyweight division, where he was given an immediate shot at an interim title against Chuck Liddell.
Liddell had not become a dominant UFC champion yet, but he did hold an excellent 12-1 record at the time and appeared to have his career going in a much better direction than Couture did.
Couture benefited from the move down in weight, however, and finished Liddell with ground-and-pound in the third round.
In his following fight, Couture beat Tito Ortiz to become undisputed light heavyweight champion, while Liddell turned things around and reached the top of the division in short order.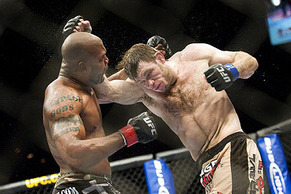 NewMexicoBoxing.com
Event: UFC 86
Result: Griffin defeated Jackson by unanimous decision (48-46, 48-46, 49-46).
Though he had just defeated Mauricio Rua, Forrest Griffin found himself as an underdog once again in the lead-up to his title shot against Quinton "Rampage" Jackson.
Jackson had dethroned Chuck Liddell and won a title-merging fight against former Pride FC champion Dan Henderson in his prior two outings. It appeared Jackson was on his way toward a long title reign until he met Griffin.
Griffin utilized leg kicks to neutralize Jackson's boxing and ended up taking the UFC light heavyweight title on the scorecards.
Rashad Evans dethroned Griffin before the latter could successfully defend his belt, and Jackson never seemed to regain the same level of motivation he had when the UFC gold was around his waist.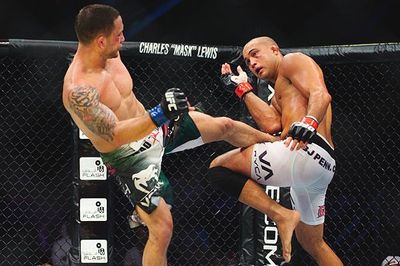 ESPN.com
Event: UFC 112
Result: Edgar defeated Penn by unanimous decision (50-45, 48-47, 49-46).
Frankie Edgar did have wins over Sean Sherk, Jim Miller and Tyson Griffin, but he ultimately earned his title shot against lightweight legend B.J. Penn by beating Matt Veach. The fact that Edgar was coming off a not-so-surprising win made him a sizable underdog heading into a bout with the best 155-pound fighter to ever enter the Octagon.
Penn had finished four straight lightweight title fights and was figured to have a good chance at putting Edgar away early as well.
Edgar's quick footwork and boxing gave Penn problems, though. While the decision was a controversial one, the judges awarded Edgar with the lightweight championship, which he defended decisively in an immediate rematch against Penn.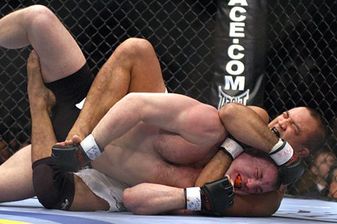 UFC.com
Event: UFC 46
Result: Penn defeated Hughes by submission (rear-naked choke) at 4:39 of the first round.
After B.J. Penn and Caol Uno fought to a draw in a lightweight title fight, the UFC would not hold another 155-pound championship bout for years. That led Penn to make a move to the welterweight division, where he challenged Matt Hughes for the 170-pound title.
While none doubted Penn's talent level, a move up in weight and the dominance Hughes had over the rest of the welterweight division left "The Prodigy" as a significant underdog.
Nonetheless, Penn stunned Hughes with a first-round submission and then left the UFC briefly to compete in K-1. Hughes regained the title in Penn's absence and held on to it for another lengthy reign.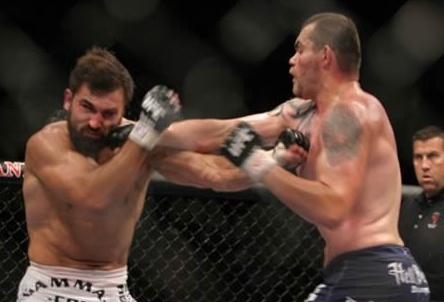 Sherdog.com
Event: UFC 59
Result: Sylvia defeated Arlovski by technical knockout (punches) at 2:43 of the first round.
Andrei Arlovski became UFC heavyweight titleholder by submitting Tim Sylvia in under one minute. After defending his belt with two more first-round stoppages, Arlovski met Sylvia in a rematch in which he was heavily favored.
Though Sylvia was defeated so decisively in his first meeting with Arlovski, he was able to land on the button in the first round of the rematch and put "The Pitbull" away with punches.
Sylvia and Arlovski met in an immediate rubber match following the upset, and Sylvia won in a much more cautious fight that went all five rounds.
The heavyweights recently competed against one another for a fourth time, though the bout was deemed a no-contest when Arlovski landed an illegal soccer kick after nearly having Sylvia finished.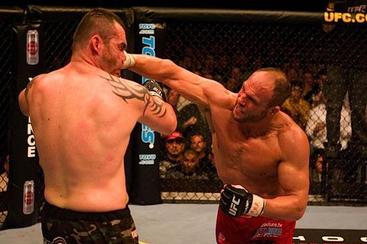 UFC.com
Event: UFC 68
Result: Couture defeated Sylvia by unanimous decision (50-45, 50-45, 50-45).
After losing two straight title fights at light heavyweight to Chuck Liddell, Randy Couture returned from a temporary retirement to fight heavyweight champion Tim Sylvia.
The 43-year-old Couture was understandably an underdog heading into the fight, but he rocked Sylvia early on and controlled the fight through the remaining rounds until having his hand raised with a decision win.
Shortly after the loss to Couture, Sylvia went on a skid and faded into regional competition rather quickly.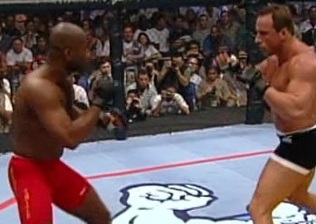 UFC.com
Event: UFC 14
Result: Smith defeated Coleman by unanimous decision.
Mark Coleman went undefeated in his first six MMA fights to become UFC heavyweight champion, submitting Dan Severn and knocking out Don Frye in the process.
So, Maurice Smith and his 4-7 record were not expected to pose much of a threat to Coleman in the champion's first title defense.
Though known as a kickboxer, Smith was able to shut down Coleman's devastating ground-and-pound with an active guard and strikes from the bottom. After wearing Coleman out, Smith was able to begin landing with frequency when standing and ultimately won a surprising decision.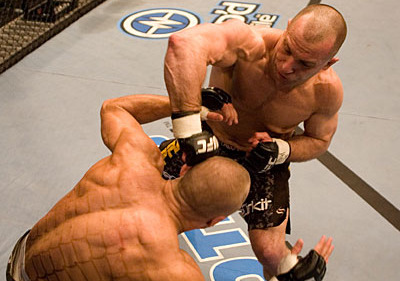 UFC.com
Event: UFC 69
Result: Serra defeated St-Pierre by technical knockout (punches) at 3:25 of the first round.
There may never even be another opportunity for a fighter to pull off the type of upset Matt Serra pulled off against Georges St-Pierre at UFC 69.
Nowadays, The Ultimate Fighter winners work their way up from the bottom of their divisions. However, Serra was given an immediate title shot after winning the reality show.
Coming off of a win over welterweight legend Matt Hughes, St-Pierre was expected to dominate and begin a long reign as champion. Instead, the Canadian's reign was put on hold by a shocking knockout win for Serra.
Serra would not fight again until meeting interim champion St-Pierre in a rematch. The second time around, St-Pierre came in and took care of business, taking the undisputed title that he holds to this day.