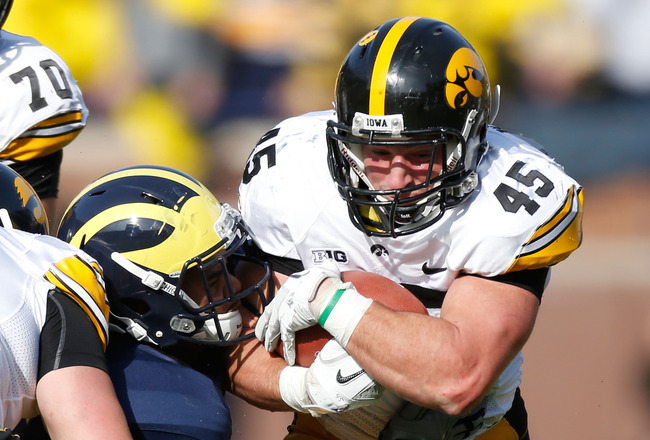 Gregory Shamus/Getty Images
The Iowa Hawkeyes and head coach Kirk Ferentz are scheduled to begin spring practices on March 27, and the Hawks need plenty of practice. 2012 saw them miss a bowl for the first time since 2007, and that is complicated by three consecutive seasons of a worse record than the previous season.
More than anything else, Iowa will need to get its one-year old offense in place—an offense installed last year by new offensive coordinator (OC) Greg Davis.
Typically, spring practice sees underclassmen get the lion's share of the work. But this year will be different. The older players have a ton to prove.
The following slides will break down what each scholarship athlete brings to his position group during spring ball.
Each player has his year of availability listed in parentheses next to his name.
A returning starter, for my purposes, started at least four games in 2012. The number of asterisks (*) next to a player's name indicates how many years he's been a starter.
Players with a pound sign (#) next to their names are experienced players, but didn't start four or more games in 2012. Players with exclamation points (!) next to their names will miss spring practices, via Kirk Ferentz and HawkeyeSports.com, due to injuries.
Kicking Specialists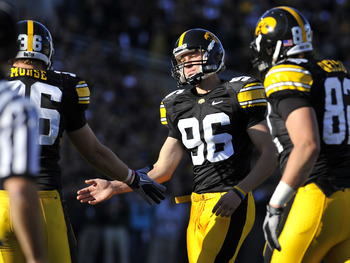 David Purdy/Getty Images
Returning Starting Kicker: Mike Meyer (Sr.)***
Returning Starting Punter: Connor Kornbrath (So.)*
Others in the Mix: Jonny Mullings (Jr.), Marshall Koehn (So.)
Meyer will look to put an exclamation point on what has been a solid, but at times inconsistent career.
His lifetime field-goal completion percentage is 77.6. However, over the last two years he has been weak down the stretch, converting only three of his final six attempts in 2012 and two of the final six in 2011. Moreover, his best overall year was his freshman year, in which he converted 14-of-17 (82.4 percent).
This will be the year where Meyer proves whether he is a great kicker or just a good one.
Meanwhile, Kornbrath had a tough freshman year, leading Iowa to the worst punting net average in the conference with 37.34 yards per punt. The Hawks will need him to grow from his experience.
Koehn will likely get as many reps as Meyer throughout the spring and summer, as how he looks will determine whether Iowa offers a scholarship kicker in the 2014 recruiting class.
It is doubtful that Mullings will ever suit up in an Iowa uniform. As Iowa blog BlackHeartGoldPants reported, the Australian hasn't been able to get the American punting technique down, and that is unlikely to change.
Kick Return Specialists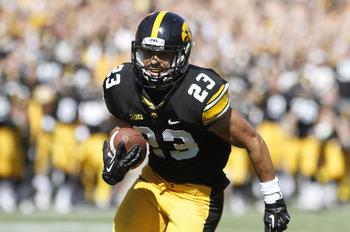 Matthew Holst/Getty Images
Kick Return: Jordan Cotton (Sr.)*
Punt Return: Open
Others in the Mix: Any receiver, defensive back or running back who proves he can be trusted with the ball
One of the few positives for the 2012 Hawkeyes was the emergence of Jordan Cotton, both as a receiver and return man.
He led the Big Ten in kick return average by almost five yards per return.
Iowa doesn't have anybody with college punt return experience. Nonetheless, as Troy Hyde of the Examiner.com noted, Kirk Ferentz historically favors "safe" punt returners who don't drop the ball over explosive but risky return men.
In effect, the job will be open to almost any relevant player (see "others in the mix").
Smart money is on Cotton ending spring practices as the top punt returner.
Safeties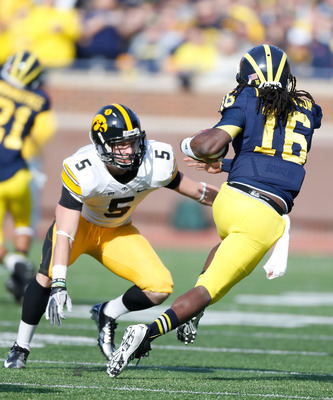 Denard goes one way, and Miller goes the other.
Gregory Shamus/Getty Images
Returning Free Safety Starter: Tanner Miller (Sr.)**
Returning Strong Safety Starter: Nico Law (Jr.)*
Others in the Mix: John Lowdermilk (Jr.), Anthony Gair (R.Fr.), Ruben Lile (R.Fr.)
Despite being a two-year starter, Miller's grasp on the No. 1 free safety spot can best be called tenuous. He was benched a couple of times late in the year, including the Michigan game where he was juked out of his cleats and repeatedly out of position.
Unfortunately, the options behind him don't look especially ready or impressive just yet.
Following last spring, Law was the front-runner to start at strong safety. But by the time the season began, senior Tom Donatell had taken the job.
As then-secondary coach Darrell Wilson said about Law, "Nico is extremely talented," but "still learning the game."
However, Donatell's lack of athleticism eventually cost him the job, and Law started the final four games of the season. What Wilson noted was evident to all Hawkeyes fans who watched Law—talented, but still learning, particularly in coverage.
Lile would have had a chance to burn his redshirt last year, but an injury (per Yahoo! Sports) kept him out for the season.
There is minimal depth at either safety spot, and freshmen will have a chance to compete for playing time when they report to camp at the beginning of August.
Cornerbacks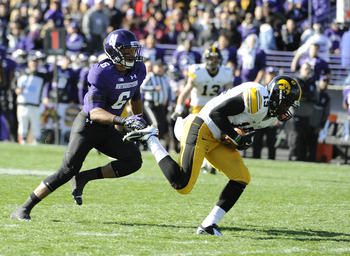 David Banks/Getty Images
Returning Starter: B.J. Lowery (Sr.)*
Others in the Mix: Sean Draper (So.), Jordan Lomax (So.), Kevin Buford (So.), Torrey Campbell (So.), Greg Mabin (R.Fr.)
Lowery is the position leader and will look to punctuate his career by extending Iowa's streak of putting every starting cornerback since 2008 into the NFL Draft.
The other starting position will be one of the hottest position battles of the spring and summer.
Lomax played during his true freshman year and, as Marc Morehouse of TheGazette.com noted, "had a shot at being Iowa's third cornerback" in his sophomore year. Nevertheless, a torn labrum ended his season before it began, and he took a redshirt.
That opened the door for true freshmen Buford and Draper, who took over the fourth and fifth cornerback spots, with Draper especially receiving playing time in dime coverages.
All three will begin the spring on an almost even playing field.
Campbell and recently converted wide receiver Mabin will also have opportunities.
Linebackers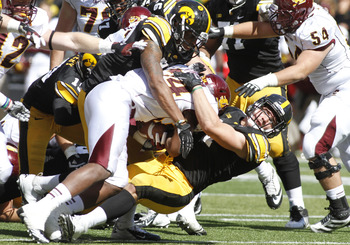 Matthew Holst/Getty Images
Weak-Side Returning Starter: Anthony Hitchens (Sr.)*
Middle Returning Starter: James Morris (Sr.)***
Strong-Side Returning Starter: Christian Kirksey (Sr.)**
Others in the Mix: Quinton Alston (Jr.), Marcus Collins (Jr.), Travis Perry (So.), Cole Fisher (So.), Laron Taylor (R.Fr.)
The three senior linebackers still have a lot to prove.
Per Steve Anderson of the QCTimes.com, Hitchens was benched late last year. Morris was adequate, but at times, he was slower in reacting than one would like from a two-year starter. Moreover, he didn't seem to improve on his 2011 performance.
Kirksey was the best and most consistent of the bunch. He was as solid as one could ask of a linebacker in coverage, recording two picks, both of which went for touchdowns. He also had 95 tackles, but was not as physical a tackler as he needs to be.
Alston is the only true middle linebacker on Iowa's roster—Morris is more suited to playing the strong side—and provides solid depth.
After Alston, the depth is largely unproven, and the Hawkeyes coaches will want to give the underclassmen a lot of reps this spring, as they prepare for the graduation of the three seniors.
Defensive Ends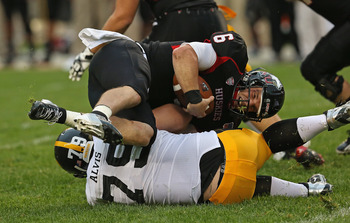 Jonathan Daniel/Getty Images
Returning Starter: Dominic Alvis (Sr.)**
Others in the Mix: Darian Cooper (So.)#, Riley McMinn (So.), Melvin Spears (So.), Drew Ott (So.), Dean Tsopanides (So.), Faith Ekakitie (R.Fr.), Daumantas Venckus-Cucchiara (R.Fr.), Nate Meier (R.Fr.)
The defensive end play in 2012 was less than stellar, at least as it concerned the pass rush. Iowa finished the season with a Big Ten-worst 13 sacks.
Alvis has a high motor but hasn't done anything to inspire confidence in his talent level. He has only recorded 5.5 sacks and 9.5 tackles for loss in 21 career starts. For comparison's sake, in 2009 alone, Adrian Clayborn more than doubled Alvis' career production.
In effect, the Hawkeyes' best chances for resurrecting their pass rush comes from one or more of the sophomores.
Cooper spent most of 2012 at defensive tackle, but his only start came at strong-side end in the Hawks' final game of the season. He is ESPN's Adam Rittenberg's prediction for Iowa's spring breakout player. The big question with Cooper isn't whether he'll be starting, but whether he'll be inside or out.
If he winds up inside, then it is likely one of the other sophomores or one of the redshirt freshmen had a breakout of his own. It is impossible to say who that might be, as none of them has done much to distinguish themselves thus far.
Defensive Tackles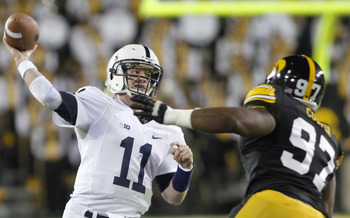 Matthew Holst/Getty Images
Returning Starter: Louis Trinca-Pasat (Jr.)*!
Others in the Mix: Carl Davis (Jr.)#, Darian Cooper (So.)#, Mike Hardy (Jr.), Dean Tsopanides (So.), Faith Ekakitie (R.Fr.), Jaleel Johnson (R.Fr.)
Trinca-Pasat's absence will give other defensive tackles a chance to get much-needed reps during spring.
Davis and Cooper gained a good deal of experience last year. Davis, who weighs in at 310 pounds, gives Iowa mass on the line, but he needs to work on technique and endurance.
Cooper has high expectations, and he will push hard for a starting spot inside or out.
Johnson and Ekakitie also have high expectations, though Hardy has the most experience outside of Davis and Cooper.
Offensive Line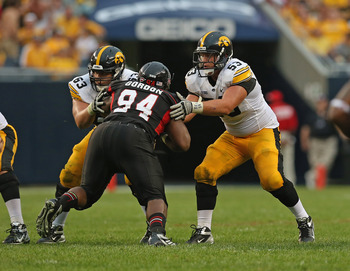 Jonathan Daniel/Getty Images
Returning Starting Tackles: Brett Van Sloten (Sr.)*, Brandon Scherff (Jr.)*
Returning Starting Guards: Conor Boffeli (Sr.)*, Austin Blythe (So.)*
Returning Starting Center: None
Others in the Mix: Nolan MacMillan (Sr.)#!, Andrew Donnal (Jr.)#, Drew Clark (Sr.), Tommy Gaul (Jr.), Eric Simmons (So.), Jordan Walsh (So.), Ryan Ward (R.Fr.), Mitch Keppy (R.Fr.), Reid Sealby (R.Fr.)
Scherff and Donnal will look to get the rust off after both missed the second half of 2012 with leg injuries.
Boffeli, Blythe and Simmons will have a tough battle for the starting center spot, while Van Sloten maintains his presence at right tackle.
Whichever players don't win the center spot will compete with Donnal for the guard positions.
Outside of the competition for starting center, the most interesting players to watch on the offensive line will be the youngsters—Walsh, Ward, Keppy and Sealby. Iowa has no immediate depth needs on the line, but a number of key contributors will graduate this year, and these players are the future.
Tight Ends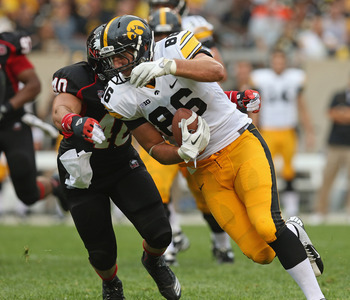 Jonathan Daniel/Getty Images
Returning Starter: C.J. Fiedorowicz (Sr.)**
Others in the Mix: Ray Hamilton (Jr.), Henry Krieger-Coble (So.), Jake Duzey (So.), George Krieger-Kittle (R.Fr.)
Perhaps the biggest mystery of Greg Davis' first year as offensive coordinator was his reticence to use the tight ends, despite it being one of the strongest and deepest position groups on the team.
In fact, Davis spent the entire summer talking the tight ends up, only to find production from the position "glaringly absent," as Susan Denk of TheHawkeye.com noted following the Michigan contest.
Hopefully, he makes use of them more often, more regularly and sooner than he did last year. It's still a talented bunch.
C.J. Fiedorowicz has one more year to live up to the promise that had Rivals rank him the No. 5 tight end in the country in 2010.
Hamilton also came out of high school highly touted—No. 8 in the country in 2011—but has yet to do much on the field. In fact, Duzey and Krieger-Coble saw more playing time late in 2012. Krieger-Coble caught all four of his receptions in the final two games of the year, while Hamilton had his only two in the first six games.
The No. 2 tight end position will be a key under-the-radar position battle that goes on through spring and into summer.
Wide Receivers
Matthew Holst/Getty Images
Returning Starter: Kevonte Martin-Manley (Jr.)*
Others in the Mix: Jordan Cotton (Sr.)#, Don Shumpert (Sr.), Jacob Hillyer (So.), Tevaun Smith (So.), Cameron Wilson (R.Fr.), Maurice Fleming (R.Fr.)
This summer, the Hawks will ready themselves for what Ryan Suchomel of HawkCentral.com referred to as a "pile" receivers who were specifically recruited to play the kind of horizontal passing game that Greg Davis wants.
Conversely, the receivers currently on the roster were not recruited to play Davis-ball. In effect, this will be a key spring for them to make strides in order to stay ahead of the true freshmen.
Martin-Manley, who refers to himself as a "possession receiver," is not ideal for Davis' offense. But he is experienced, adaptable and can fill a key role.
Cotton had a breakout year last year and needs to take steps this spring to become more than a third receiver.
Amongst the remaining players, Shumpert and Hillyer don't look like Davis receivers and will need to step far out of their comfort zones—and perhaps beyond their abilities—to become major contributors. The book is still out on Smith, Fleming and Wilson.
Fullbacks
Returning Starter: None
Others in the Mix: Macon Plewa (So.), Berkley Grimm (So.)
The recent announcement of Brad Rogers' retirement due to injuries leaves Iowa devoid of anybody at fullback.
It is possible Iowa is downsizing the role of the position, given the Hawks' lack of urgency in fielding more fullbacks.
That said, Iowa will still need a glorified battering ram in its short-yardage and goal-line sets.
As of now, the two most likely candidates are recent linebacker-turned-fullback Plewa and North Dakota State transfer Grimm.
Also, if all the tailbacks can stay healthy, Mark Weisman could double as a fullback; thus, giving Iowa two rushing threats in the backfield.
Tailbacks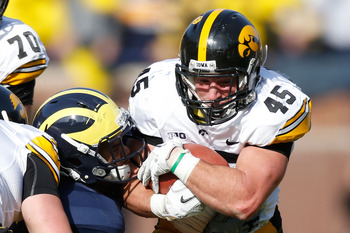 Gregory Shamus/Getty Images
Returning Starters: Mark Weisman (Jr.)*, Damon Bullock (Jr.)*
Others in the Mix: Jordan Canzeri (So.)#, Barkley Hill (R.Fr.), Mike Malloy (R.Fr.), Andre Dawson (Jr.)
Bullock began 2012 as the starter, but injuries left Weisman in the No. 1 role and he delivered, putting up 815 yards rushing, 5.13 yards per carry, eight touchdowns and 15 receptions. Unfortunately, his year was also marred by injuries.
Canzeri would have probably entered 2012 as the top back, but he tore his ACL last spring. However, the work ethic that left Canzeri cleared to play after only six months of rehab—ACL tears typically require at least nine months and usually a year off—will make it hard to keep him off the field in 2013.
In effect, the spring will see a fierce battle for carries if all of the Hawkeyes running backs stay healthy.
Quarterbacks
Returning Starter: None
Others in the Mix: Cody Sokol (Jr.), Jake Rudock (So.), C.J. Beathard (R.Fr.)
According to Mike Hlas of the Cedar Rapids Gazette, Iowa was the only FBS team that gave every single 2012 snap to one quarterback. Therefore, none of the players who will be competing for a starting spot have taken a single FBS snap in their careers.
The quarterback race is as wide open as it has ever been. All three of the prospects will have a realistic shot to move to the top of the depth chart.
The first of those prospects is third-year sophomore Jake Rudock, who spent all of 2012 as the backup. After that, JUCO transfer Cody Sokol and redshirt freshman C.J. Beathard will get a shot.
Rudock seems to be the favorite, but it's hard to believe he had any advantage over the other two, given Ferentz's reticence to put him in even when the game was out of hand.
In effect, look for a tight battle that goes right up to the first game of the season. However, the signal-caller who ends spring in the No. 1 position will have a decided advantage over the others.
Keep Reading

Iowa Hawkeyes Football: Like this team?
Load More Stories