Washington Redskins Mock Draft: Predicting All 7 Rounds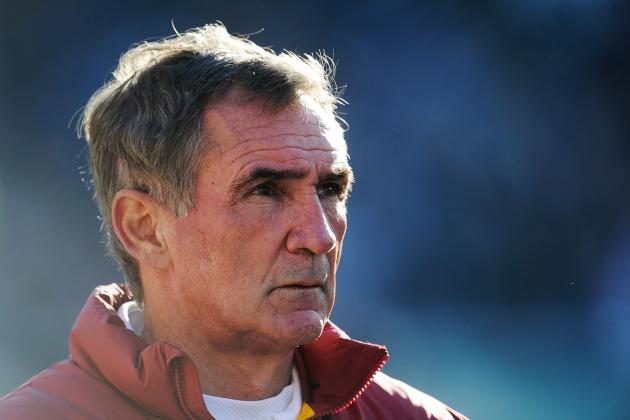 Patrick McDermott/Getty Images
Mike Shanahan will be looking for players who can make an immediate impact.
The Washington Redskins have been incredibly quiet during free agency, which makes some people sad and some people happy. They have concentrated on signing their own free agents, but the salary cap penalty has claimed victims nonetheless.
No one blames Lorenzo Alexander for leaving. He's finally at a place where he can be offered starter money, so he took it. If the Redskins were close with their offer, he would have stayed, but they just don't have money to spare.
This means that the draft remains the focus of the front office, and rightly so. Since his arrival, Mike Shanahan has made a conscious effort to reduce both the age and wage of the roster. This culminated in the team claiming the NFC East and a home playoff game for the first time in a decade.
On to the draft, then.
In a previous article, I put together a mock that drew influence from the Senior Bowl, incorporating those performances into the final selection. Since then, there has just been the combine and a whole lot of time to go over the draft again, which leads us to the mock that sits in front of you now.
Following my revised picks, I've noted who my previous selection was, and the reasons for changing my mind.
Begin Slideshow

»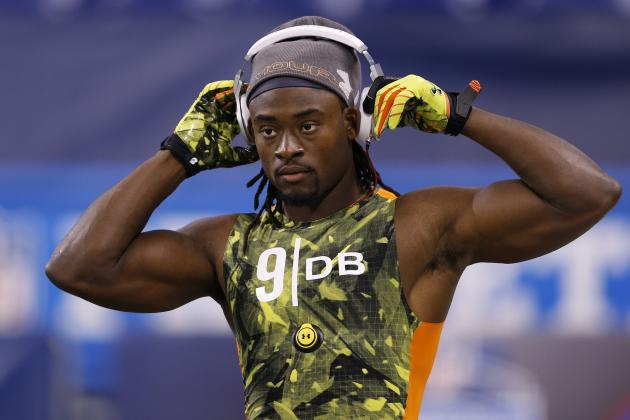 Joe Robbins/Getty Images
Jonathan Cyprien is rising up draft boards.
From wondering if the Redskins could take a punt on him in the fifth round, we're suddenly left wondering whether he'll fall past San Francisco picking at 31 or 34. However, if he does, there's absolutely no question that Washington should pull the trigger.
Although there is actually a bigger need for a free safety, Cyprien has the versatility to play that position at the next level.
He's a huge hitter, but is also reliable in coverage and has the speed to keep with receivers. His anticipation is good and he has the size to cope with the emerging trend for big tight ends. There's absolutely no reason why he can't cause havoc in Jim Haslett's system, and right away, too.
Except for the fact that he's getting so much hype that he might not fall to the second round, that is.
In my previous mock I selected Fresno State safety Phillip Thomas, who remains a bit of a draft crush. If Cyprien isn't available, I'd take Thomas.
With DeAngelo Hall gone, the Redskins have an even more pressing need for a cornerback. At the time of writing, Washington is being priced out of the free-agent market, so it looks increasingly likely that there will be some inexperience among the starting cornerbacks this year.
Leon McFadden has built his reputation on being an impressive cover corner. With the Redskins likely to seek help from the draft at safety, that's going to be a huge help.
Too many times in 2012 were the corners let down by poor safety play, so the ability to stick to receivers is going to matter.
At 5'10" and 193 pounds, McFadden isn't the biggest of corners, but he makes up for it with excellent technique, fluidity of hips and quick feet. He's also a fierce competitor, and his background as a receiver gives him good knowledge of receiving routes.
Inevitably, his size means he can get pushed around by some of the bigger receivers, and his tackling could use some finesse, along with his abilities at the line of scrimmage.
These inconsistencies mean he is likely to fall to the Redskins, but they certainly wouldn't be settling for less of a player by picking him up.
I previously picked Blidi Wreh-Wilson at this position, but the more film I watch of McFadden, the more I'm convinced of his suitability within the Haslett/Raheem Morris scheme.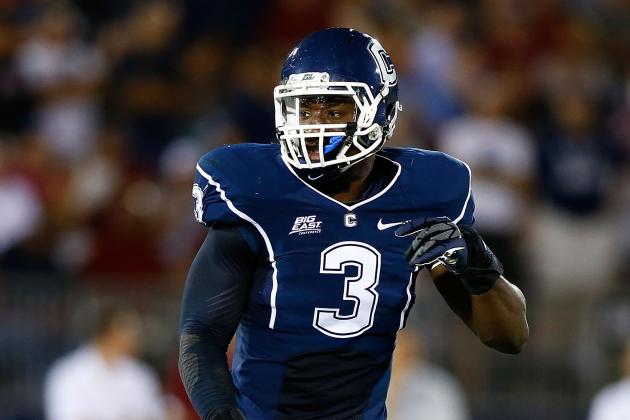 Jared Wickerham/Getty Images
Sio Moore would be a great addition in the fourth round.
If you're screaming at the screen that Moore won't last until the fourth round, you've got a point. There's a chance that he gets picked up two rounds earlier, in fact. However, after the top four or five linebackers in this draft, there's a chance that the rest could fall pretty far.
Moore has helped his stock with strong performances in the East-West shrine game, as well as at the Senior Bowl and combine. He's peaked at the right time, but I don't believe a lot of teams will reach for him.
He's got a quick first step and is a disciplined defender. He'll stick with his assignments, but also has the ability to read the play and make adjustments on the fly. He possesses good sideline-to-sideline speed and can be disruptive in the passing lane.
The reason I'm not as high on Moore as everyone else seems to be is that I can't shake the feeling that his ceiling isn't as high as that of some other players. His short area game hasn't improved much over his college career, and he still has a lot of work to do when shedding blockers.
He's arguably more suited to a 4-3 scheme, but he's been moved all over the place at Connecticut and shown he has the tools to succeed. Moore is a smart football player and there's no doubt that he would acclimate himself to the 3-4 that the Redskins run.
He's a great athlete; he just doesn't project as a star in the NFL. In the fourth round, however, he would rank as a great pickup and the 'Skins would be wise to make the move.
I'd previously picked an OT here—Jordan Mills—but the recent veteran moves in free agency indicate that Shanahan is opening up the competition at right tackle, leaving Tom Compton to compete for a starting role.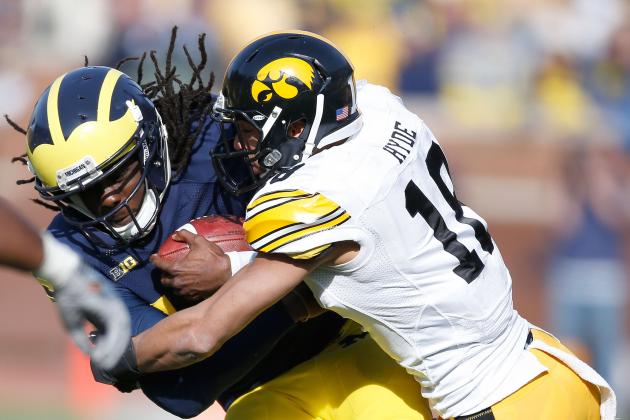 Gregory Shamus/Getty Images
Micah Hyde is a versatile, strong defensive player.
Hyde is a versatile player who has done pretty much everything in his career so far. A high school quarterback who played corner and free safety in college, he's got good size—6'0", 197 pounds—and isn't afraid to throw himself into tackles on big receivers or running backs.
He's played in zone, man, off-man and press coverage, showing good instincts and technique in all of them. He'll need safety help over the top, but the doubts about his recovery speed were somewhat assuaged with his performances at the combine. Although Hyde ran a middling 4.56 in the 40-yard dash, he fared much better in drills and is a player whose game speed is quicker than his time would indicate.
A notable example occurred in October, when he ran down Northwestern running back Venric Mark on a 72-yard run that most people had already given up for a touchdown.
Some teams may try to move him to free safety, and that could work out, but he's got the skills to make it as a corner. Hyde is definitely a player to keep an eye on as the draft progresses.
I took running back Dennis Johnson in my previous draft, but it's now looking unlikely that he'll be available for the Redskins at this point, so I switched focus and opted for versatility instead.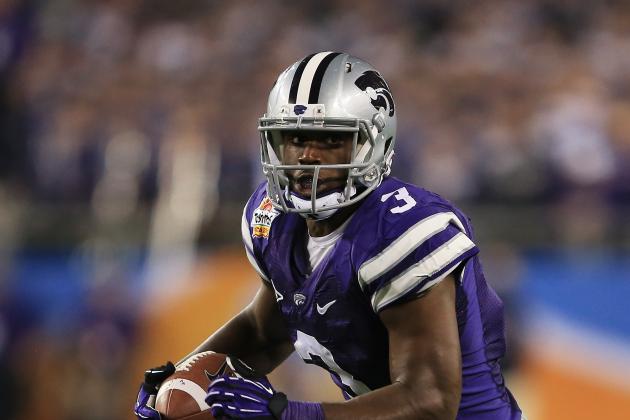 Doug Pensinger/Getty Images
Chris Harper would be a good asset to the Redskins' receiving corps.
Harper was taken in this position on my previous mock and remains a player I'd like to see in a Redskins uniform.
At Kansas State, despite its run-first offense, Harper still hauled in 50 passes, 786 yards and two touchdowns. He's got great size (6'1", 229 lbs), ran a 4.55 40-yard dash at the combine and takes good routes—especially when considering his relative inexperience.
It's easy to see him getting results in the Redskins offense, both as a blocker and a pass-catcher. He has the potential to create mismatches and work as the "Z" receiver out of a lot of the sets we saw from Washington in 2012.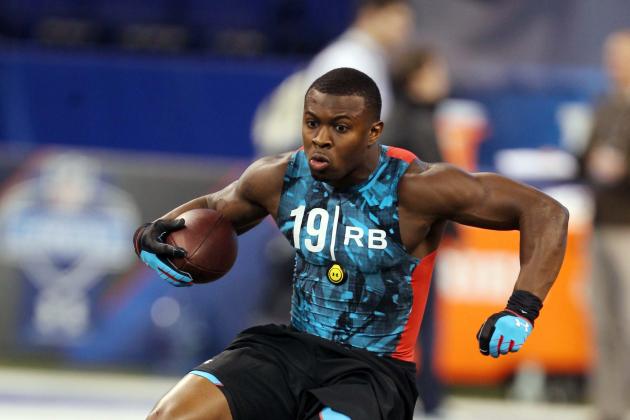 Brian Spurlock-USA TODAY Sports
Jefferson could be this year's Alfred Morris.
Mike Shanahan is going to take a running back in this year's draft, and Jefferson could be this year's Alfred Morris. Therefore, it makes sense to bring him to the Redskins.
Although Jefferson only started two games in his first two seasons for Nevada, he rushed for 1,883 yards last year, along with 175 yards receiving and 25 total touchdowns.
He comes from Nevada and head coach Chris Ault, who made extensive use of the pistol formation with Colin Kaepernick. With teams like the Redskins and 49ers running that formation to great effect in the NFL, it's of great help to have a back on the roster who is already up to speed in this area.
He doesn't have elite speed, but he has a good initial burst that can get him separation. The Redskins could use a change-of-pace back to complement Morris, but it would also be useful to have someone who has shown he can handle a heavy workload, as Jefferson—and Morris—did last year.
I took Ray Ray Armstrong here in my previous mock, but his solid showing at his pro day means that he'll likely be taken earlier, and I just don't see the Redskins making the move.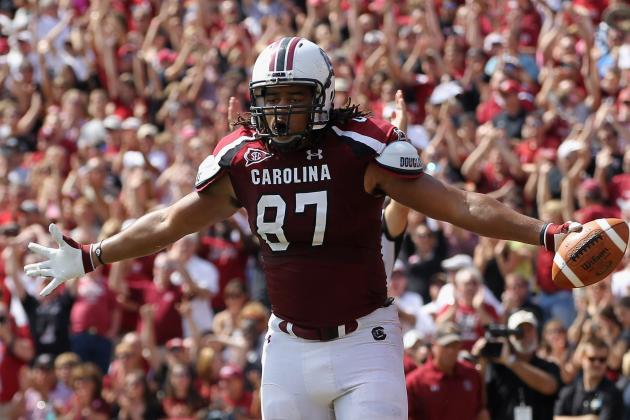 Streeter Lecka/Getty Images
Justice Cunningham excels as a blocker and would fit into Shanahan's offense.
Cunningham makes this list almost entirely due to his blocking. South Carolina trusted him to block defensive ends at times, dropping him in on passing situations and letting him disrupt the defense.
Shanahan's offense requires solid blocking ability on the offensive side of the ball, and any additional protection given to Robert Griffin III will rank as a positive. Cunningham doesn't possess breakaway speed, but he has the ability to get separation and runs crisp routes.
With reported interest in Fred Davis from Cleveland (via NFL.com) there may yet be reason to draft a tight end in the earlier rounds. If he re-signs, however, then a specialist blocking TE would be a useful pickup.
My earlier mock took Florida State linebacker Vince Williams, but the departure of Lorenzo Alexander reduces the linebacker options, so I addressed the need earlier.