New York Mets' 3 Most Pivotal Bench Players in 2013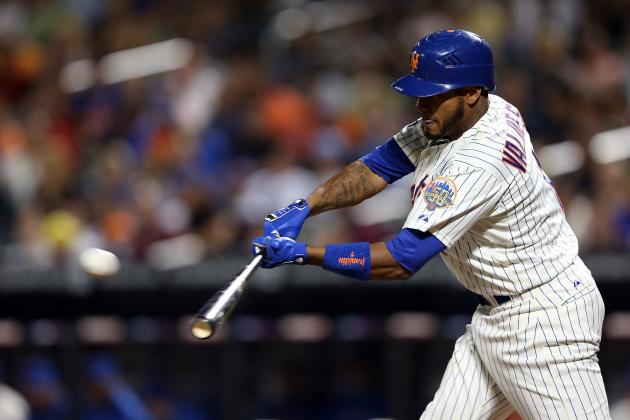 Elsa/Getty Images
Jordany Valdespin is a great athlete with the ability to turn on a fastball, plus play both infield and outfield.
What do you get when a team mixes a good amount of young talent with a relative lack of established superstars? The result is a "win" for the fans—healthy competition that adds spice to a time of the year that the more casual baseball enthusiast would prefer to ignore.
Three players who are fighting it out for spots on the New York Mets roster will see their share of playing time in 2013. Although it won't be on an everyday basis, these youngsters will make their presences felt. In fact, they can be key to whatever this lost franchise defines as "success" in a season that's not expected to have a lot of it.
Begin Slideshow

»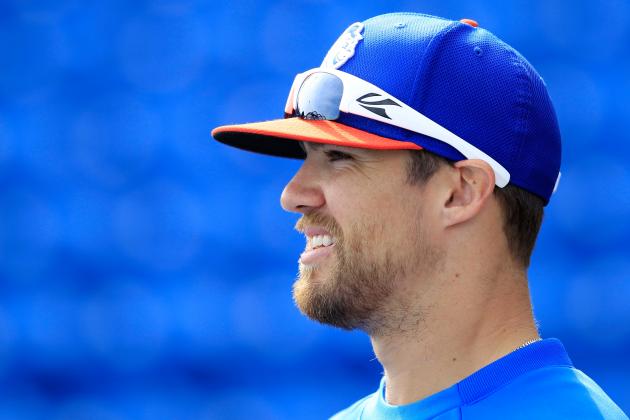 Chris Trotman/Getty Images
For Mets outfielder Colin Cowgill, the future may be bright enough for him to don his shades.
At 5'9" and 185 (or so) pounds, Colin Cowgill isn't large in physical stature. However, his production during the spring has been pretty big: hitting .355 through 13 games with 2 HR and 11 hits. He's a "make things happen" type player—both at the plate and on bases.
Manager Terry Collins would get a power threat anytime Cowgill's name is written on the lineup card. Cowgill is also fleet of foot on the basepaths. We're not saying he's the second coming of Vince Coleman; Cowgill possesses first-to-third-on-a-single speed. The outfielder, acquired from Oakland during an offseason trade, has been seeing the payoff from his hard conditioning work.
"I feel like I came in in shape and did everything I can do so that I am ready to play ball," Cowgill said, per the New York Daily News. "It's an incredible feeling to know you did everything you can in the offseason to be ready and to start spring training well. Hopefully it translates on the field."
When Cowgill came into camp, the expectation was that he would platoon with Kirk Nieuwenhuis, starting mostly against left-handers.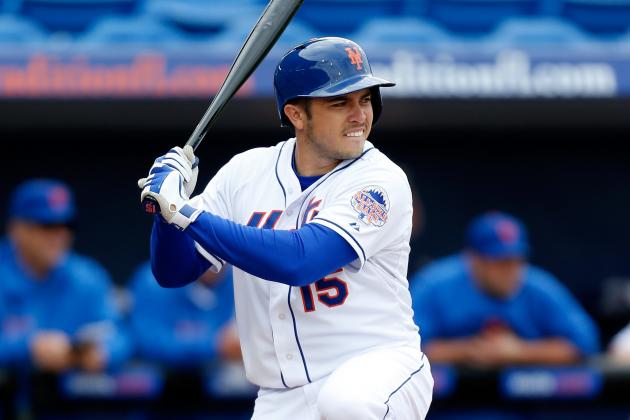 Chris Trotman/Getty Images
Catcher Travis d'Arnaud came to New York when the Mets unloaded R.A. Dickey to Toronto.
Imagine that a team trades away a Cy Young Award winner and gets you; the expectations on your performance are going to be high. That's the situation for 24-year-old catcher Travis d'Arnaud.
He has been compared to Mike Piazza (not hanging a lot on this kid, are we?)—a catcher who could routinely hit 20-plus home runs per season. While he's good defensively, that skill is undervalued in conversations relative to his offensive prowess. As a plus, he can hit for both power and average.
But he's not quite ready for primetime and is expected to start the season at Triple-A Las Vegas. He would be wasting his time by shopping for a house, as he could soon wind up at Citi Field as the backup for John Buck. With the right breaks, he might even have a shot at the No. 1 catching spot.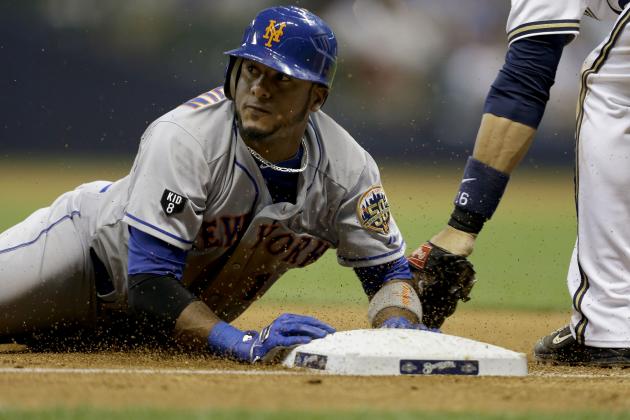 Mike McGinnis/Getty Images
Jordany Valdespin can land on his groin now without pain. Who'd be crazy enough to play without a cup, anyway?
Getting hit in the 'nads with a Justin Verlander pitch doesn't make for a good day at the ballpark. But if it's the worst thing to happen all spring, that may well be a good sign.
Jordany Valdespin has also attracted attention for the right reasons because of his potential for explosive offensive production and ability to turn on a fastball. Let's face it—the Mets aren't expected to put up big numbers at the plate this year, so any assistance in this area would be more than welcome.
When the Mets face right-handed pitching, Valdespin should be able to rise to the occasion.
The big challenge for Terry Collins will be figuring out the optimal defensive spot for Valdespin. It's almost a case of "jack of all trades, master of none" as Valdespin's athleticism offers up interesting possibilities in both the infield and outfield, yet he's not awesome in either place.