WWE SmackDown: Biggest Hits and Misses from March 15 Edition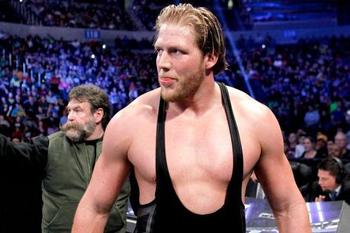 Source: WWE.com
Still several hours away in the US, Friday Night SmackDown has just finished airing in Australia.

As has been the trend in WWE for some time now, Raw was a more explosive show than SmackDown.

As a result, the highs weren't quite as high, but thankfully the lows weren't as low, either.

We got some solid story progression and one exciting television match, though there was certainly some filler to get through.

The following are the biggest hits and misses from the March 16 episode of Friday Night SmackDown.
Miss: Orton and Sheamus vs. Rhodes Scholars, Again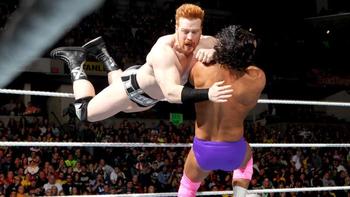 Source: WWE.com
One of the biggest flaws in WWE television right now is the amount of rehash.

The audience is given the same match once, twice, even three times over the course of a week.

This trend continued here, as we were fed the same dish we were served on Raw with Rhodes Scholars vs. Orton and Sheamus.

The problem with this matchup is that we already know Orton and Sheamus will win, so there's no drama whatsoever in the rematch.

One thing worth noting, however, is how over the two babyfaces were.

The match ended with Sheamus and Orton hitting a Brogue Kick and an RKO in quick succession of each other, which garnered a huge pop from the crowd.

Over or not, unless you really loved their match on Raw, there's really no reason to watch this match.
Hit: Dolph Ziggler vs. Kane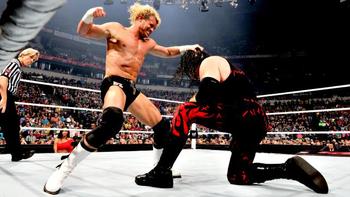 Source: WWE.com
Following Dolph Ziggler and Big E Langston's attack on Daniel Bryan at Raw, The Show Off had another strong showing on SmackDown.
At times, it seemed like Kane was a little too big for Dolph to maneuver around, and some spots looked sloppy as a result.

The match was good regardless, and featured interference from AJ and a minor scuffle between Daniel Bryan and Big E Langston.

Dolph Ziggler hit Kane with a fame-asser (how has WWE not reassigned a name to this move?) and then a Zig-Zag for the win.

The Show Off got in Kane's face after the match and was about to get chokeslammed before Langston bulldozed through The Big Red Machine.

Langston hit his finisher on Kane and for the second time in a week, Dolph Ziggler and Co. got the better of Team Hell No.

It was nothing groundbreaking, but the match was solid and the segment laid the foundation for what could be an exciting rivalry.
Hit: Chris Jericho Bounces Back from Raw Misstep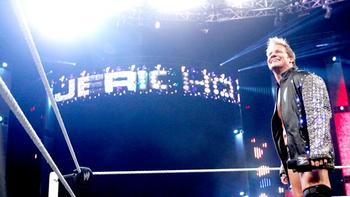 Even the best have their bad nights. Source: WWE.com
Chris Jericho will be remembered as a performer that consistently cuts outstanding promos, but he was definitely off his game on Raw.

Thankfully, Y2J had a backstage run-in with Jack Swagger on SmackDown and was back to his usual charismatic self.

Just to clarify; it wasn't anything amazing as their short segment was a fairly insignificant part of the show.

However, Jerichoholics who were disappointed and confused by his lackluster mic work on Raw will breathe a sigh of relief as Jericho returns to good form.
Miss: Fandango Is Getting Old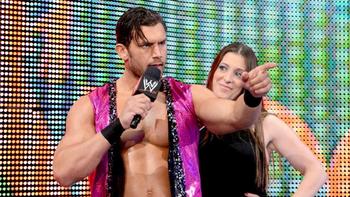 Source: WWE.com
Fandango was promoted to debut but pulled what has become his shtick and refused to compete because no one can pronounce his name.

That would normally be fine, as it's clear that WWE is building to something, most likely a post-WrestleMania debut.

What made this segment embarrassing was its length.

The fact that Great Khali was involved probably didn't help.

Poor Khali gets blamed for a lot of bad segments, but this was just never going to work.

When Fandango came out to the stage Khali and Natalya tried to mimic his salsa dancing, which was about as bad a way to start a segment that you can think of.

Fandango then demanded Khali pronounce his name properly. Khali, unable to pronounce anyone's name properly, failed.

Fandango then tried to teach him, syllable by syllable. It wasn't a terribly long segment but it sure felt like one.

To be fair, it was far from the most embarrassing thing Khali has been involved in.

The problem is that it's a bad start for poor ol' Fandango, who may just be doomed from the very beginning.
Hit: The Shield Rules SmackDown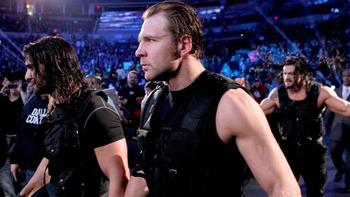 Source: WWE.com
The Shield was all over SmackDown and made a good impact.

Following Orton and Sheamus' match with Rhodes Scholars, The Shield appeared on the titantron and cut a promo about WrestleMania.

It all led to them challenging Orton and Sheamus to find a partner for a three-on-three match at the Showcase of Immortals.

Big Show would later approach the duo and ask to join their team, but was informed that they had already enlisted the help of Ryback.

Sheamus and Orton were later attacked by The Shield while they were being interviewed by Matt Striker.

This may sound fairly pedestrian, but make sure you watch the backstage interview; Roman Reigns hits a mega-spear out of nowhere which really makes the segment.

The destructive trio then interfered in Ryback's match with Mark Henry, dismantling Big Hungry.

The Shield had a big presence on this week's SmackDown, and the show certainly benefited from it.
Hit: Mark Henry Decimates Ryback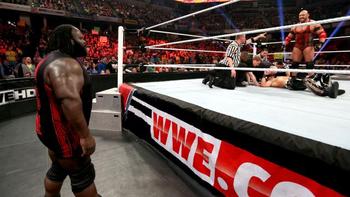 Source: WWE.com
When it was announced on Raw that Mark Henry would face Ryback on SmackDown, many quickly assumed the match would end prematurely.

Henry vs. Ryback is a surefire WrestleMania match, an idea which was reinforced on SmackDown.

The two powerhouses only locked up for a few seconds before The Shield's music hit.

After Reigns, Rollins and Ambrose hit Ryback with a triple powerbomb, Henry would return to the ring to pick apart Big Hungry.

The World's Strongest Man hit Ryback with his World's Strongest Slam not once, not twice, but three times, scoring himself some nuclear heat in the process.

This segment did a good job at progressing what could be WrestleMania's most intriguing undercard feud.
Miss: World Heavyweight Champion Absent?
Source: WWE.com
The Rock is the WWE champion and wasn't on Raw.

Alberto Del Rio is the World heavyweight champion and wasn't on SmackDown.

Regardless of how you feel on The Rock and his feud with Cena or Del Rio and his feud with Swagger, world champions need to be on television representing their brand.

Del Rio technically was on SmackDown in a pre-taped "We The People" parody video, similar to the one we saw last week.

As we know though, pre-taped segments just aren't the same as live appearances.

It's not as though the show crumbled without the presence of the Essence of Excellence, but it's very odd that he wasn't there.


Hit: Chris Jericho vs. Jack Swagger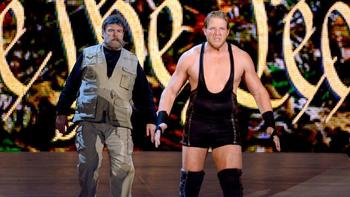 Source: WWE.com
This week's SmackDown was closed by a match between Jack Swagger and Chris Jericho.

Swagger is a talented performer and Chris Jericho is one of the best ever, and many who read the spoilers for the show have no doubt been anticipating this match.

It wasn't as good as some of Jericho's recent matches with CM Punk or Daniel Bryan, but it was certainly an exciting television match.

The two went back and forth and at one point Y2J had Swagger locked in the Walls of Jericho, though Swagger was freed after interference from Zeb Colter.

The Real American scored the victory after a vicious-looking counter to an attempted Code Breaker, followed by a Gut-Wrench Powerbomb.

The big win over Jericho is the latest in a strong streak for Swagger, who's gained some serious momentum going into WrestleMania XXIX.

It's not CM Punk stealing Paul Bearer's urn, but SmackDown ended on a high note with this entertaining match.

Follow Daniel on Twitter for more wrestling ramblings @dvanboom
Keep Reading