Dana White Looking to Sit Down with Dominick Cruz to Discuss His Future
Use your ← → (arrow) keys to browse more stories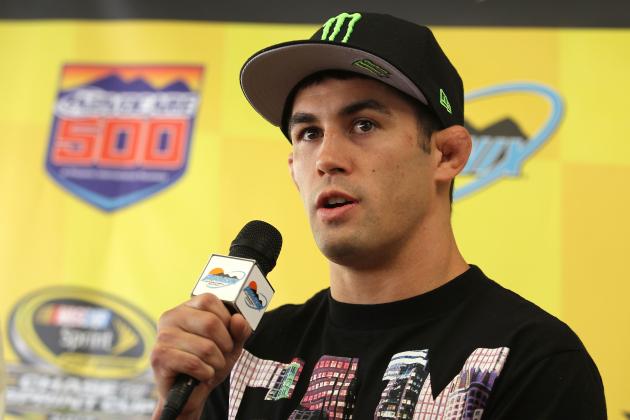 Todd Warshaw/Getty Images

Montreal—The last time we saw Dominick Cruz inside the Octagon was October 1, 2011 when he defeated Demetrious Johnson via unanimous decision, defending his UFC bantamweight title. Cruz was then booked as a coach for The Ultimate Fighter alongside his longtime nemesis Urijah Faber, a fighter he was then supposed to meet at UFC 148.
That fight never came to be as Cruz blew out his ACL during the filming of the show.
That injury resulted in surgery for Cruz and the expectation that he would be out for a lengthy rehab. Things then became even more complicated for Cruz when his body rejected the ligament and he was forced to undergo another operation, putting him on the shelf for an even longer rehab.
While Cruz has been out of action, the UFC has seen Renan Barao capture the interim UFC bantamweight title and defend it once. Barao is now set to defend the title a second time, leaving a lot of questions as to Cruz's status when he does return to UFC action.
UFC president Dana White addressed the issue on Thursday, saying, "We need to get Dominick into Vegas and sit down and talk to him and see what's up."
When pushed on the issue White wouldn't go into specifics, "There's a lot of stuff we need to talk about with him," White said. "He's our champ, he's our guy, but we're getting to the point now where we really need to make a decision."
That decision may very well come down to what the UFC does with Cruz's title. Do they relieve him of it with some sort of stipulation that he gets a shot at the belt when he returns? Do they keep him as the champion and throw him right into a title defense in his first fight back with the promotion? Do they keep him as champion and let him get a non-title warm-up fight under his belt before he defends the title?
Like White said, there's a lot to discuss.
One thing White did make clear was that he feels horrible about the situation Cruz finds himself in, "This poor kid, I've never seen anybody with more bad luck than this kid. I like the kid so much and have so much respect for him. I couldn't feel worse for the guy."
**All quotes obtained first hand.