A Look at the MLB's Batting Stances: Milwaukee Brewers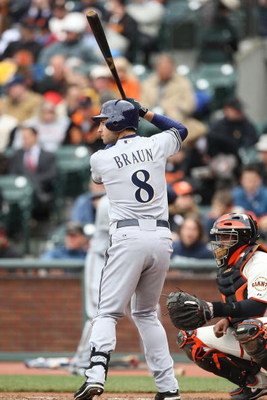 Major League Baseball has many different and unique batting stances. This series will take a look at each team's different batting stances.
The Milwaukee Brewers open up the series with an interesting lineup of stances to look at. The lineup goes as follows: Rickie Weeks, J.J. Hardy, Ryan Braun, Prince Fielder, Mike Cameron, Bill Hall, Jason Kendall, and Craig Counsell.
Grab a bat and get each player's batting stance down. Before you know it, you may have the whole league memorized.
Rickie Weeks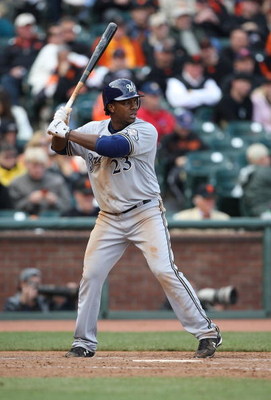 Rickie Weeks leads off in the Brewers lineup and brings his unique batting stance with him.
Weeks steps in and waits for the pitcher to get set. When this happens, Rickie twitches his bat back and forth until the pitcher throws the ball. He then balances his weight and swings away.
J.J. Hardy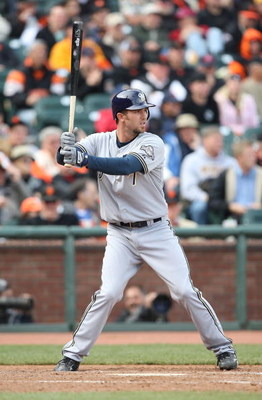 Hardy is the Brewers' shortstop and heartthrob of the lady fan base in Milwaukee.
Hardy begins his stance by digging in his back spike and taking a breath. Then does whatever he feels like with the bat before becoming slightly open. Finally, he then sticks his arms out at about a 135 degree angle at slowly churns them before bringing his left foot in and unwinding a sweet swing.
Ryan Braun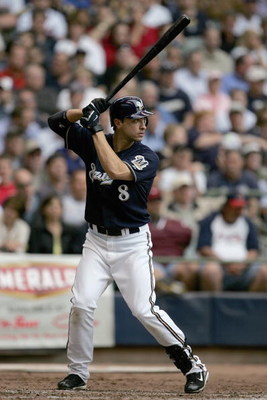 Braun, the other heartthrob, has a stance that critics said "wouldn't get the job done at the Major League level." Looks like somebody was wrong.
Ryan Braun has a long and complex routine that begins by grabbing some dirt and taking a swing.
He then steps in, toys around with his jersey and holds his pant leg up until the pitcher sets. Next, Braun puts the bat tilted above his head and rocks it up and down. Then BANG!
Prince Fielder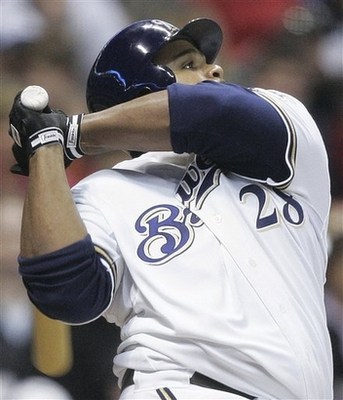 Prince Fielder has one of the most violent and aggresive swings in the Majors. Fielder steps into the left-handed batter's box and stares away at the pitcher.
His large figure patiently waits for the pitch, bat slowly moving slightly above his left shoulder.
He then puts his feet close together, steps with his right foot, and unwinds a violent swing that can send any pitch out of the park.
Mike Cameron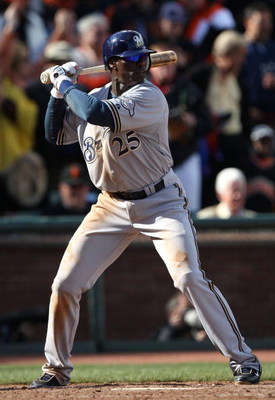 Cameron's stance doesn't require much study to figure out.
The Brew Crew's center fielder enters the right-handed batter's box and waggles the bat below his waist. He then raises it above his shoulder and moves it up and down before swinging.
Bill Hall
Hall doesn't do much before the pitch, but his stance is unmistakable. He crouches and stands wide open with his bat rested on his shoulders. Billy steps toward the pitcher and swings to finish off his swing.
Jason Kendall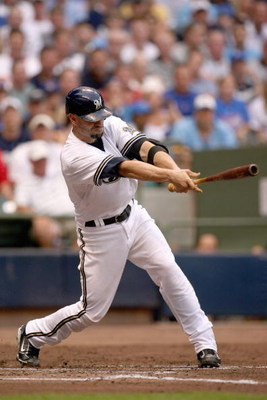 Kendall is the only regular for Milwaukee that doesn't use batting gloves at bat.
He bats open and crouches over the plate, waving the bat over his helmet. Kendall has been well known for this next part; the twitches his fingers on the bat until the pitcher throws the ball.
Craig Counsell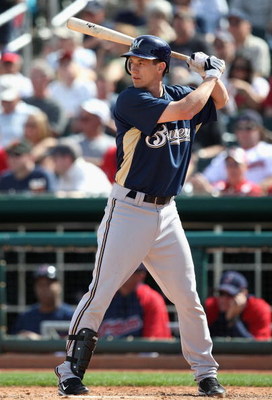 In case you haven't heard, Counsell DOESN'T DO ALL OF THE QUIRKY BAT-WAVING, ANYMORE!
Craig Counsell was best known for his flaring of the bat above his head, appearing as if he was attempting to reach the sky. Now, Counsell dropped the bat down to his shoulder, fairly common for hitters. This allows him to have greater bat speed and hit for more power.
Keep Reading

Milwaukee Brewers: Like this team?