Indiana Closes Out Illinois at Big Ten Tournament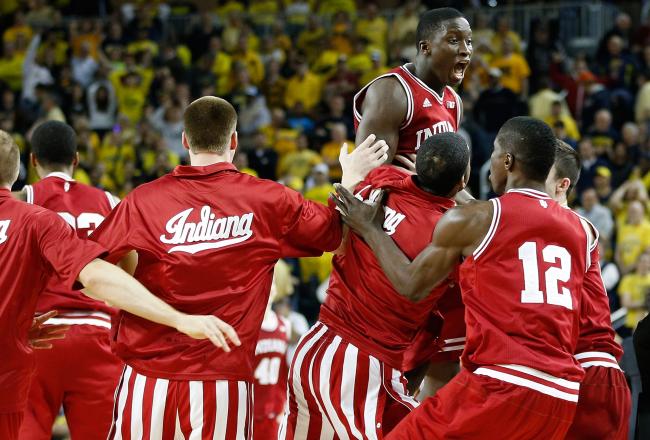 Gregory Shamus/Getty Images
The top-seeded Indiana Hoosiers extracted a measure of revenge for one of the college basketball season's most surprising upsets, defeating the Illinois Fighting Illini 80-64 in the quarterfinals of the Big Ten tournament.
Indiana center Cody Zeller packed his stat line to the tune of 24 points, eight rebounds, three steals, two assists and two blocks, leading all scorers. Four other Hoosiers joined him in double figures.
Victor Oladipo struggled through the first half, but still finished with a double-double of 12 points and 11 rebounds. He put the exclamation point on the day with a vicious 360 dunk in the final two minutes to cement the victory.
Illinois once again lived and died with Brandon Paul's shooting, and today, both died. Paul made only 2-of-13 from the floor for 14 points. Tracy Abrams led Illinois with 16. As a team, the Illini shot only 34.5 percent (20-of-58) from the floor.
The Hoosiers move on to face either Wisconsin or Michigan in the semifinals. Illinois heads home to await Sunday's NCAA tournament selection show.
After defeating Minnesota yesterday, the Illini should be relatively confident of a bid, while Indiana's win today may have cemented that coveted Midwest top seed.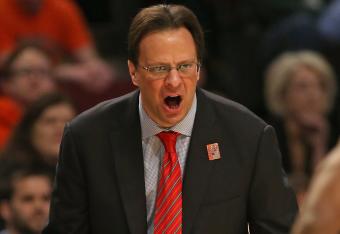 Indiana 80, Illinois 64 (FINAL)
In the category of relatively pointless good news for IU, Yogi Ferrell finished 5-of-10 from the floor, making this Indiana's first win when Yogi shoots 10 or more times.
He was, however, 0-5 from long range. The 5-5 from two-point range is nice, but that outside shot is the one thing keeping him from being one of the Big Ten's top three point guards.
Bench production for IU was reasonable today, with Sheehey knocking in 11 and Remy Abell adding five.
And, finally, a handshake line in which Tom Crean doesn't scream at someone. Tomorrow, who knows? He either meets Wisconsin boss Bo Ryan or Michigan assistant Jeff Meyer again.
Good afternoon, all. Carry on in the comments.
Indiana 78, Illinois 60 (1:35 2nd Half)
Victor Oladipo just went 360. Sadly, there was no one there to posterize.
The junior now has his double-double, at 12 points and 11 rebounds.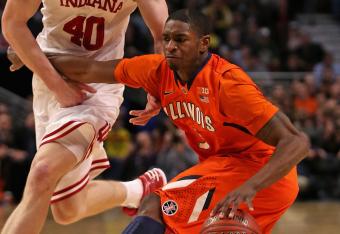 Indiana 70, Illinois 58 (3:10 2nd Half)
Jordan Hulls finally gets off the donut, making a free throw for his first point.
In Brandon Paul news, he's 2-10 from the floor. He hasn't had back-to-back 50-percent shooting days since the Illini's first two Big Ten games against Purdue and Ohio State.
Indiana 69, Illinois 56 (3:39 2nd Half)
Seemed like we were getting deep into this game without a Victor Oladipo highlight dunk. Illinois defenders don't make it their job to get between V.O. and the basket, and the result is a thunderdunk off a smooth dish from Zeller.
Oladipo's up to eight points and 10 rebounds and oh by the way, he's only five steals shy of Isiah Thomas' IU single-season record.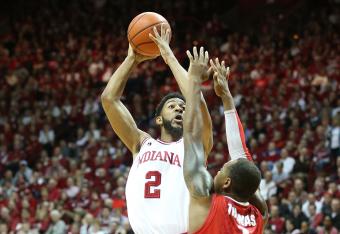 Indiana 65, Illinois 52 (5:25 2nd Half)
Watford up to 15 points after a three. His last such game was his 20-point day at Ohio State more than a month ago.
It's too early still to call that shot a dagger, but it certainly could be a needle under Illinois' fingernails. John Groce looks to be in pain as he calls timeout.
Indiana 62, Illinois 52 (6:15 2nd Half)
Why yes, Jordan Hulls can play point guard. Beautiful pass in traffic to Oladipo. Hulls is up to six assists, Oladipo to only four points.
Indiana 60, Illinois 52 (7:03 2nd Half)
IU fans, if you're not nervous, Rick Bozich wants you to be:
Game on. Indiana 60, Illinois 52, 7:32. It was 62-52 Indiana at same point in game Feb. 7. Illini won 74-72. Gotta close games in March.

— rickbozich (@rickbozich) March 15, 2013
Indiana 60, Illinois 52 (7:36 2nd Half)
The Illini are in the bonus, and they've hit 13-of-15 from the line so far.
Good thing for them, because leading scorers Paul and Abrams are a combined 7-of-22.
IU is helping to keep Illinois in the game with some ugly three-point shooting. Oladipo, Hulls and Ferrell are a combined 0-10 from deep.
Indiana 60, Illinois 52 (8:17 2nd Half)
The Illini finally cut it to single digits. Are IU fans getting nervous yet?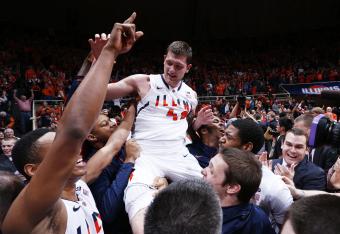 Indiana 58, Illinois 48 (9:06 2nd Half)
Deja vu for Hoosier fans, as Tyler Griffey gets a wide-open finish. Thankfully for IU, there's still lots of time and Illinois is still behind.
Griffey's up to five points after not even getting a look in the first half.
Indiana 56, Illinois 46 (9:36 2nd Half)
The Indianapolis Star's Terry Hutchens reminds us of the gulf Illinois hasn't been able to cross in a long time:
Illinois is hanging around but can't get closer than 10. IU has led by 10 or more since 9:16 to play in first half.

— Terry Hutchens (@indystar_hutch) March 15, 2013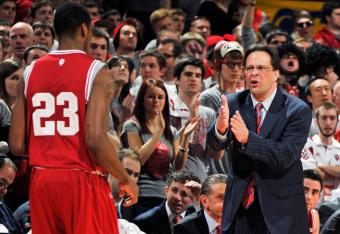 Indiana 56, Illinois 43 (10:59 2nd Half)
Only two three-point makes in conference play for IU's Remy Abell, but he made an important one here. He's up to five points, and the only other times he broke five in conference play were blowout wins against the dregs of the league.
Likewise, Watford is finding the range, with his first two baskets in the last three minutes.
Illinois can't stop hitting shots, unless they can somehow slow the Hoosiers down again. IU's up to 52.5 percent from the floor. Illinois, for its part, is nudging 35.
Indiana 48, Illinois 36 (14:42 2nd Half)
Oladipo, Christian Watford and Jordan Hulls are a combined 1-10 from the floor. If they don't improve and the Hooisers still win, Cody Zeller should demand that they take him to St. Elmo's for dinner.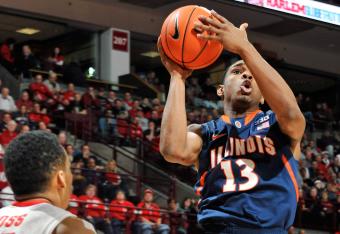 Indiana 45, Illinois 33 (15:40 2nd Half)
The Illini are on the warpath out of the locker room. Tracy Abrams finally found the key to take the lid off the rim, making three shots for seven points. He's now tied for the team lead with nine points.
Cody Zeller leads everyone with 20.
Indiana 41, Illinois 29 (17:10 2nd Half)
It took almost 13 minutes in the first half for Illinois to score eight points. They're there two-and-a-half minutes into the second.
Tyler Griffey got off the donut immediately with his first score.
After consultations with IU radio voice Don Fischer, Dan Dakich issues a proclamation:
Don Fischer and I agree..that was IU's best defensive half all year.we have spoken..

— Dan Dakich (@dandakich) March 15, 2013
Carries the air of a papal decree, doesn't it? Rumor has it that Dakich was in the conclave's "first four out."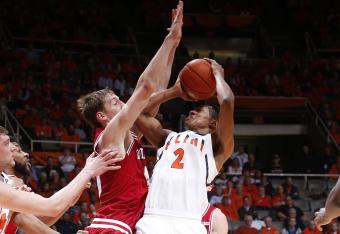 Indiana 35, Illinois 21 (Halftime)
We've seen a bit of everything in the first half. Cody Zeller running the break, Victor Oladipo Hoovering as many rebounds as the entire Illinois team and Tracy Abrams leading Illinois in field-goal attempts.
If all of those things continue happening, Indiana may cruise to the win.
IU has 11 first-half turnovers, but holding an opponent to 25-percent shooting and outrebounding them 20-7 is still a good recipe for success.
Brandon Paul and D.J. Richardson are a combined 2-12, and February hero Tyler Griffey hasn't even gotten a shot off.
Indiana 31, Illinois 19 (2:06 1st Half)
Very rare sight: Oladipo got beat on a back-door cut by Paul.
Both Paul and the Illini are beginning to show signs of life, as the FG% is up to 26.9.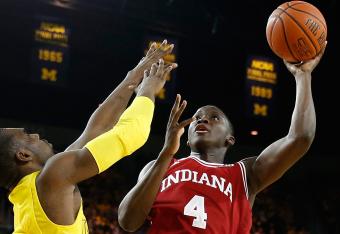 Indiana 27, Illinois 12 (3:57 1st Half)
The Hoosiers are still owning the glass, up 17-7 according to ESPN's boxscore.
Victor Oladipo has seven rebounds by himself. The Hoosiers' dynamic duo is giving voters grief over Trey Burke winning Big Ten Player of the Year.
WDRB Louisville's Rick Bozich tells us that Brandon Paul's getting a little frustrated:
Brandon Paul just yelled at Mike Kitts to get Will Sheehey "off me." Used a word that started with an M before that.

— rickbozich (@rickbozich) March 15, 2013
Marmalade? Mango? Muttonchop? Be specific, Rick.
Indiana 26, Illinois 12 (5:18 1st Half)
Cody Zeller's been working 94 feet, so it's time for him to take a rest.
In other news, Brandon Paul finally made a field goal. Illinois is still shooting 26 percent.
For those who didn't notice, Inside the Hall's Justin Albers reminds us that Zeller's doin' work:
Cody Zeller: 10 points, three rebounds, two steals and a blocked shot. In less than 13 minutes. #iubb

— Justin Albers (@Justin_Albers) March 15, 2013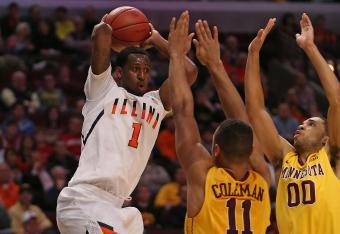 Indiana 20, Illinois 7 (7:49 1st Half)
Brandon Paul and D.J. Richardson both have two fouls for the Illini, but if both are on the bench, Illinois won't ever score. So, Paul is on the court, but still has only one point.
Illinois is shooting 3-13 from the floor and has been outrebounded 12-4. Indiana's already in the bonus.
Of course, the Hoosiers know what happens when they start coasting against Illinois.
Indiana 16, Illinois 5 (9:14 1st Half)
Cody Zeller, the biggest man on the court, beats everyone down for a basket. That's why he's dangerous.
Illinois coach John Groce is expressing his displeasure forcefully as he calls for a timeout.
Indiana 12, Illinois 5 (10:25 1st Half)
Best of shots, worst of shots: As alluded to in previous post, Yogi Ferrell is looking for his shot. First, a defective play out of a time-out leads to an airball, then Yogi drives for a layup for his first points.
Ferrell is now 1-4, and no other Hoosier has taken more than two shots.
This article is
What is the duplicate article?
Why is this article offensive?
Where is this article plagiarized from?
Why is this article poorly edited?

Indiana Hoosiers Basketball: Like this team?