Why the Baltimore Orioles Will Run Away with the American League East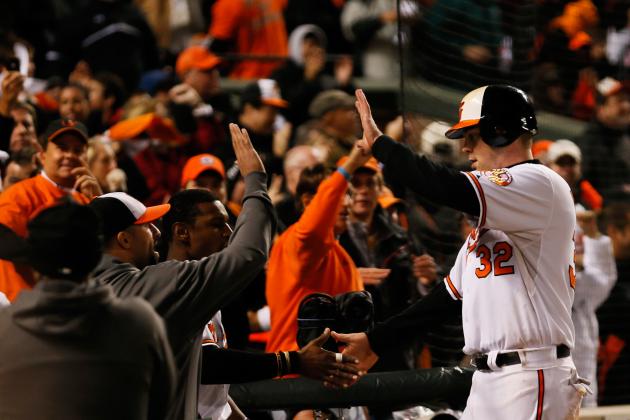 Rob Carr/Getty Images

As the Orioles head into the 2013 season, there's no doubt that they have to be feeling pretty darn good about their situation.
Yes, they still reside in the American League East, home to a collection of 20-something All-Stars and one of baseball's top hitting prospects (Wil Myers) in Tampa, a who's-who of former award winners (Mark Buehrle, R.A. Dickey, Jose Bautista) in Toronto, and of course, the Yankees and Red Sox.
Still, when one takes into account the team that Baltimore will be fielding this year, it's kind of hard not to gush with optimism.
For starters, they return the majority of a squad that won 93 games in 2012.
The only major piece from last year's team that didn't return was Mark Reynolds, and that might very well be a good thing considering his strikeout-to-contact rate.
And while the team didn't make any flashy moves in free agency this offseason, the front office slept soundly knowing they get fully healthy versions of Nick Markakis and Brian Roberts, an impressive offensive/defensive duo that combined to miss 203 games due to injury last year.
Toss in a completely healthy Jason Hammel, an established big league slugger (Chris Davis), a legitimate MVP candidate (Adam Jones), a two-time Gold Glove winning catcher (Matt Wieters) who has yet to reach his offensive ceiling, a full season's worth of sophomore Manny Machado and baseball's best bullpen, and it's a wonder no one is chatting up the Orioles as the cream of the crop of the American League.
As if those reasons aren't enough, here are a few more that give credence to the Orioles' rise to the top of baseball's toughest division.
Begin Slideshow

»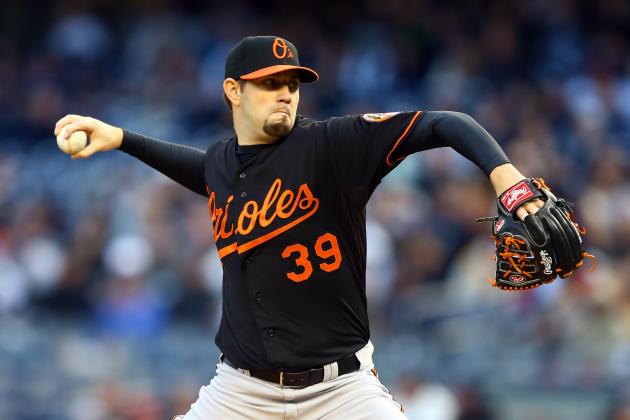 Al Bello/Getty Images

The Orioles bats face a tough task in 2013, as they will be pitted up against both of last year's Cy Young winners, R.A. Dickey (Toronto) and David Price (Tampa Bay).
The real question, however, is how the Orioles' own starting rotation stack up against the opposing hitters in the American League East.
Luckily for Buck Showalter, the team has plenty of options.
As of right now, four of the spots have been locked down, by Jason Hammel (8-6, 3.43), Wei-Yin Chen (12-11, 4.02), Miguel Gonzalez (9-4, 3.25) and Chris Tillman (9-3, 2.53).
There are no fewer than five candidates fighting for the fifth and final spot, including Steve Johnson, Zach Britton, Jake Arrieta and Brian Matusz. That doesn't even include the organization's two prized arms, Dylan Bundy and Kevin Gausman, or the team's one free-agent pitching acquisition, Jair Jurrjens.
If last year is any indication, the Orioles will likely need to call on a few of the aforementioned names for some spot starts. Of all of the Orioles' starter candidates, only Chen made more than 20 starts in 2012 and Hammel, Britton and Arrieta all missed huge chunks of the season with injuries.
Luckily for Baltimore, each of the names mentioned above has shown flashes of brilliance this spring. Bundy allowed just one run in eight innings before getting optioned to minor league camp, Matusz and Gausman both have 11 punch-outs in 10 innings, and Britton has allowed just two runs in 8.2 innings.
Also, aside from Bundy and Gausman, each pitcher has considerable big league experience, making the added depth even more valuable.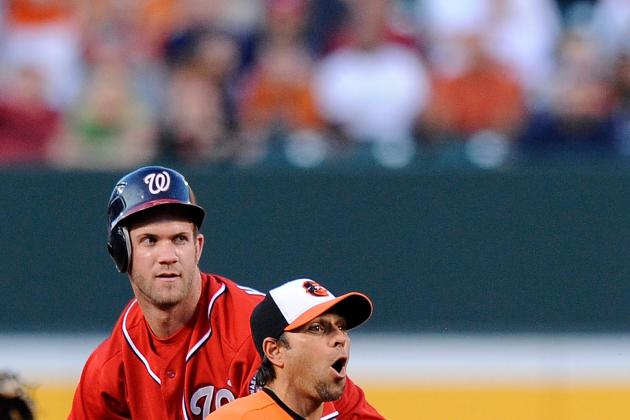 Patrick McDermott/Getty Images

It had to have been as frustrating for Brian Roberts to sit on the sideline as the O's marched toward a playoff spot late last season as it was sad for us to watch the dozen or so camera shots of him each game lamenting that same fact.
Well guess what, boys and girls?
B-Rob is back, he's healthy and it seems like he's good to go for 2013.
Considering the Orioles' struggles to find a capable leadoff hitter in his absence, that pretty much counts as a godsend.
In his last healthy year (2009), Roberts paced the O's offensive effort with a .283/.356/.451 line, a career-high 56 doubles, 16 homers and a personal best 79 RBI. He also swiped 30 bases with an 81 percent success rate.
And don't forget those numbers were produced hitting ahead of offensive juggernauts like Melvin Mora, Ty Wigginton, Cesar Izturis and Felix Pie. Not exactly Murderers' Row.
There are few leadoff men in baseball today capable of producing those kind of numbers, and if B-Rob can stay healthy through the entire season and produce at a level approaching 75 percent of that, the Orioles will be in great shape.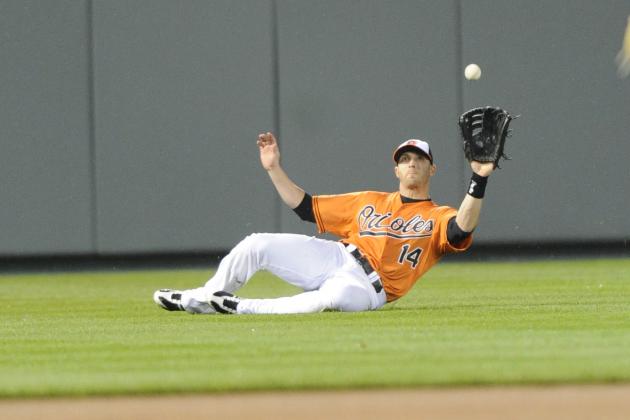 Mitchell Layton/Getty Images

The Orioles' front office felt they were really onto something last season with the introduction of Nolan Reimold to the lineup on a full-time basis.
For a while, things were looking great.
The third-year pro let loose on big league pitching, slugging five homers, driving in 10 runs and hitting .313/.333/.627 before a herniated disk caused him to miss the rest of the 2012 season.
Like Roberts, Reimold appears to be back and (almost completely) healthy to start the 2013 campaign.
Reimold developed a reputation as a heavy hitter in the minors, racking up 95 homers in seven minor league seasons, including 25 as a 25-year-old in Double-A back in 2008.
There's no question, Showalter would love to see that same kind of production out of a left-field spot that hasn't produced too much over the past two seasons.
Factoring Reimold into a lineup that already features five players who have slugged more than 20 homers in a single season, plus a healthy Brian Roberts seems almost unfair.
Now they just need the injury-plagued Reimold to stay healthy for the remainder of the season. He's already been beset with some nagging ailments this spring, but they don't appear to be anything too serious.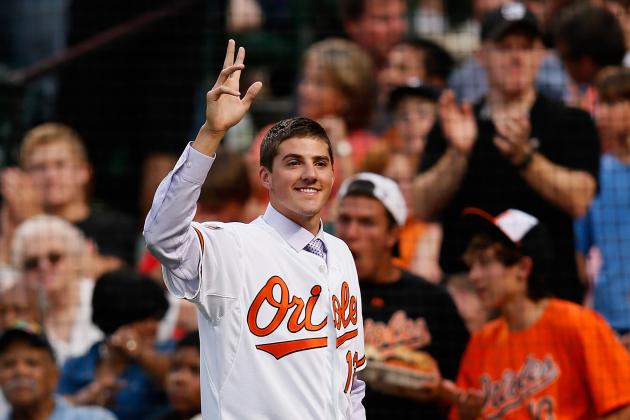 Rob Carr/Getty Images

Bundy and Gausman.
Gausman and Bundy.
One really can't be mentioned without the other these days, and despite the fact that Bundy was recently optioned to minor league camp, it won't be long before Gausman joins him there, and then the boys will reunite once again, likely at Double-A Bowie.
The real question, however, is how long it will take for the Orioles' past two first-round picks to hold a reunion at Orioles Park at Camden Yards.
While the reports on both pitchers have been glowing, it's actually Gausman who's received the most love this spring, generating some speculation that he could be the first one called forward to insert himself into the rotation should an injury fell one of the O's starters.
Then again, both pitchers could end up getting the call late in the season to work out of the pen should the O's once again be in playoff contention.
Either way, it's a great problem for the O's to have.
These two should anchor the Orioles rotation for the next five to seven years and usher in the new golden era of pitching in Baltimore.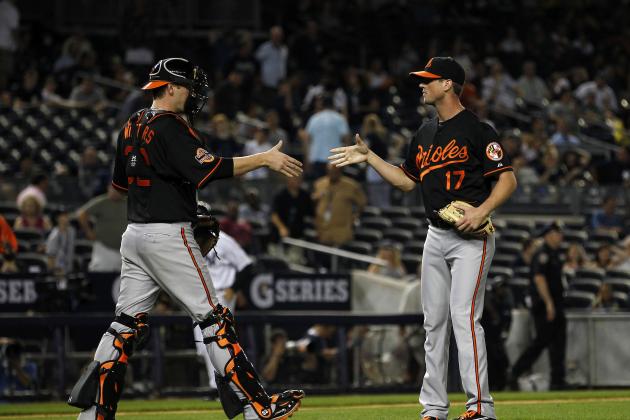 Jeff Zelevansky/Getty Images

Anyone who watched Brian Matusz last September and October witnessed a different pitcher than the one that began the 2012 campaign in the Orioles rotation.
After scuffling to a 5-10 mark and a 5.42 ERA during the first half of the season, the O's removed the 25-year-old from the rotation and sent him down to Triple-A Norfolk to begin the transition to relief work. He was recalled not too long after and went to work mowing down hitters.
In 18 relief appearances, Matusz struck out 19 batters in a mere 13.1 innings and held batters to a .114 average.
Situation resolved right? A shutdown lefty reliever is born.
Not so fast.
While Matusz hasn't received a lot of love for the Orioles' fifth rotation spot, he's quietly put together a tour-de-force performance this spring and opened a ton of eyes.
In his most recent start, he was particularly impressive, striking out seven in four innings of hitless ball against Minnesota. Twenty-six of his 30 pitches went for strikes! And if that sounds impressive, take into account that in his four outings this spring, he's only thrown nine pitches that were not strikes.
If there's one thing that's well known about Buck Showalter, it's that he appreciates starters who throw strikes, which means it might not be long before Matusz finds his way back into the rotation.
More encouraging news about Matusz is that his velocity, which was down into the mid-80s at points during 2012, has ticked back up into the 89-92 range, or roughly where he sat coming out of college and during his first season with the Orioles.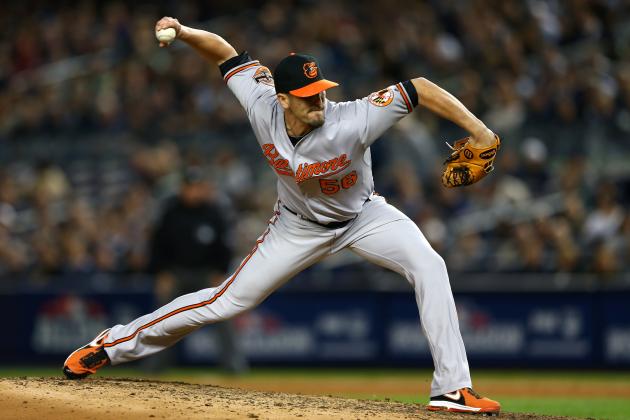 Elsa/Getty Images

The O's didn't make any super-splashy acquisitions during the offseason, but they made a few under-the-radar moves that should help them continue to have one of baseball's best bullpens.
First, they reached deals with two of their top arms from 2012, Darren O'Day (7-1, 2.28, 0.940 WHIP) and Tommy Hunter (7-8, 5.45). O'Day was as steady as can be the entire season, and while Hunter's numbers don't look so good, keep in mind that once the O's moved him to the pen, he was lights-out. His numbers from just September and October alone speak for themselves (3-0, 0.71 ERA, 12 IP, 12 K, 2 BB).
Furthermore, he gave the Orioles a third power arm out of the back of the bullpen, joining Jim Johnson and Pedro Strop.
Speaking of Strop, it would have been easy for the O's to cut ties with the 27-year-old, who was easily the team's worst reliever down the stretch. Fortunately, he earned a ton of goodwill during the first four months of the season, during which he never posted an ERA over 2.08.
The O's stuck by Strop, even as they limited the damage he could inflict on them down the stretch, and now he appears to be back in form, dominating hitters as the Dominican Republic's top reliever in the World Baseball Classic.
O'Day, Hunter and Strop give the Orioles an intimidating one-two-three combo, and that doesn't even include the 2012 Major League saves leader, Johnson, who has finally grown into his role as the dominant closer he was born to be.
There's no doubt that if they stay injury-free, the Orioles should have one of the top relief corps in the league.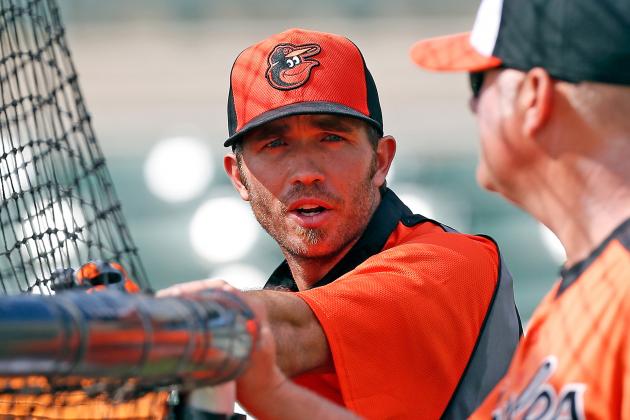 J. Meric/Getty Images

It's hard to call a season in which Hardy won a Gold Glove for his stupendous play at shortstop anything but a success, but the simple truth is that the good work he did in the field overshadowed his down year at the plate.
Yeah, the 29-year-old slugged 22 homers and drove in 68 runs. But he also hit a meager .238/.282/.389. That average was Hardy's lowest since 2009, and far and away the worst number he's put up in a season that he's played more than 120 games in. He also set career-highs with 106 strikeouts, leading to a career-worst on-base percentage and double plays grounded into.
It seems safe to assume that Hardy will bounce back at the plate in 2013. If he can manage to boost his average back up to his career mark of .259, he'd be doing the Orioles a tremendous favor and likely boosting their run production as well.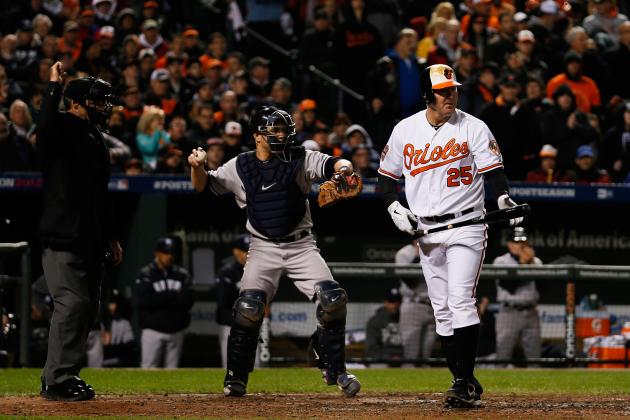 Rob Carr/Getty Images

The Baltimore Orioles struck out an astounding 1,315 times over the course of the 2012 season.
That's an average of just more than eight punch-outs per game.
By severing ties with Mark Reynolds, Jim Thome and Robert Andino, however, the Orioles were able to clear nearly 300 strikeouts off their book, or close to two per contest.
That's not to say that the trio's free-swinging ways were solely responsible for the Orioles' loss at the hands of the Yankees in the ALDS.
Still, it's hard to imagine this team not getting better by subtraction.
And while the team will miss Reynolds' defense at first base, the drop-off from him to Chris Davis isn't that substantial.
Thome, aside from his strikeouts and the occasional home run, didn't offer anything on defense.
Andino turned out to be quite the player for the O's, but the combination of Brian Roberts finally back and healthy and the show that Ryan Flaherty has put on this spring should make that loss bearable as well.