Bracketology Predictions 2013: 5 Sleepers That Will Make You Look Brilliant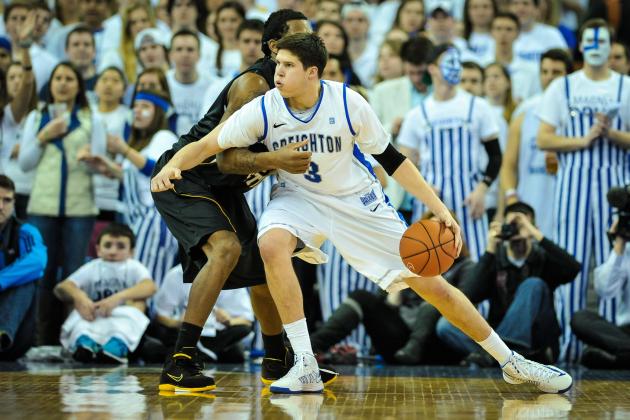 Eric Francis/Getty Images

March Madness is all about sleepers, and the 2013 NCAA Tournament field is littered with both favorites and sleepers that you should be paying attention to as you fill out this year's bracket(s).
Cinderella stories like Butler, Gonzaga and VCU have captivated national audiences each year, and in the process fostered the belief that there are at least a few teams that will fall through the cracks each year and provide us with something special in March.
This year is no exception.
Gonzaga topped the AP poll after a brilliant season in the WCC, and that success has given way to other mid-majors entering this tournament with a lot of confidence, quality wins under their belts and players who could have been at bigger programs coming out of high school.
Add it all up, and sleepers are destined to emerge in this year's brackets. Take a look at these five schools that will be dancing well past the projections come March 19—and the start to this year's greatest two-week run in sports.
Begin Slideshow

»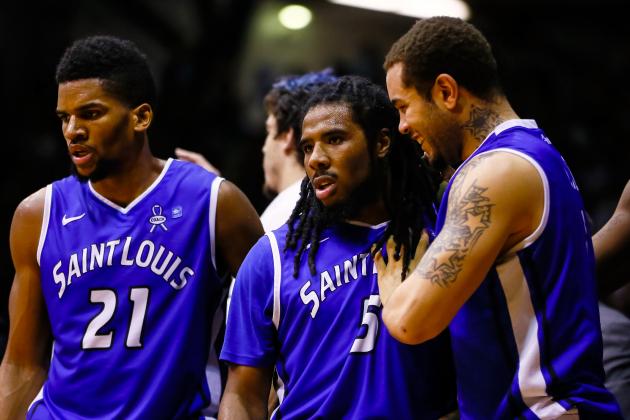 Michael Hickey/Getty Images

If you haven't familiarized yourself with Saint Louis or the style of play that the Billikens employ, you'd better start.
This team is for real.
Playing in the Atlantic 10, the Billikens have wins over Butler (two, actually), VCU, Texas A&M, Valparaiso and New Mexico this season. Three of those teams (except the Aggies and Valpo) have a higher RPI than the Billikens at this point (via ESPN).
While all that is impressive, Saint Louis is also hurting in trying to overcome the tragic death of former head coach Rick Majerus.
Shane Ryan of Grantland.com wrote a great piece earlier in the week about the rise of Saint Louis, and why you should pay attention to this team during the NCAA tournament. It mentions Majerus' impact on the school—and how Jim Crews has managed to keep things alive in the wake of what could have been an excuse.
Instead, the team's reaction has been a triumph.
Crews has taken over in Majerus' stead, and all he's done is coach this team to a 25-6 record, an Atlantic 10 title and a high seed in the NCAA tournament—special for some of these players because of last year's tournament run that culminated with a loss to Michigan State.
Crews has the Billikens ranked in the Top 20 in the nation in turnover differential per game. The team had a nine and an 11-game winning streak at different points this season and has passed all the necessary components of the "eye test" of a sleeper team in March.
Get ready to put the Billikens through at least a couple rounds in your brackets if the matchups feel right.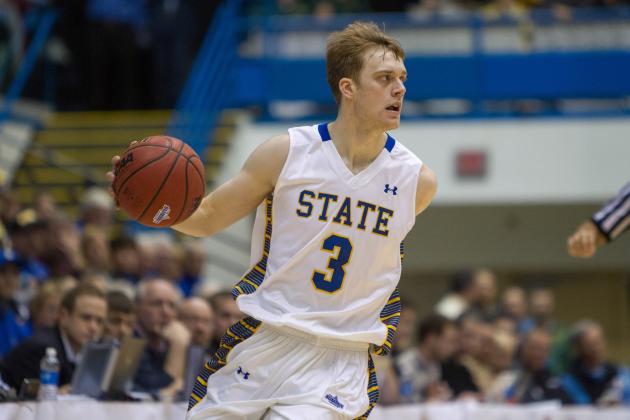 Brace Hemmelgarn-USA TODAY Sports

South Dakota State had the thrill of making the tournament in 2012, but this time the Summit League champs are aiming to get out of the Round of 64.
The Jackrabbits have the tools to do so.
Led by standout guard Nate Wolters and his 22 points per game, this South Dakota State team is dangerous—and has the stats to prove it. Although the RPI and strength of schedule do not provide us with any clues to how good the Jackrabbits can be, the national leader boards do.
South Dakota State ranks in the Top 15 in three-point field goal percentage per game (39.1), and near the top in free-throw percentage (75.3). If you know anything about the tournament, getting hot from three and making free throws late are two hallmarks of teams that can travel a long way through the opening rounds.
Three other guys (Jordan Dykstra, Tony Fiegen and Chad White) all average double figures, and this team can score with the best of them.
The Jackrabbits made the tournament as a No. 14 seed last year but fell victim to the Baylor Bears in the second round. Wolters had 19 points, but the rest of the team went silent, as White was the only other player to score in double figures.
The Jackrabbits haven't changed much from 2012 to 2013, only losing one starter (Griffin Callahan) from last year's team. Hungry and ready to prove it is a mid-major to look out for with senior guard Wolters as the catalyst, this is a squad that won't get much respect on paper.
Don't pass over the name on your bracket because it's not familiar. Get familiar with South Dakota State, and check the matchup first before sending the Jackrabbits home early—that could be a mistake.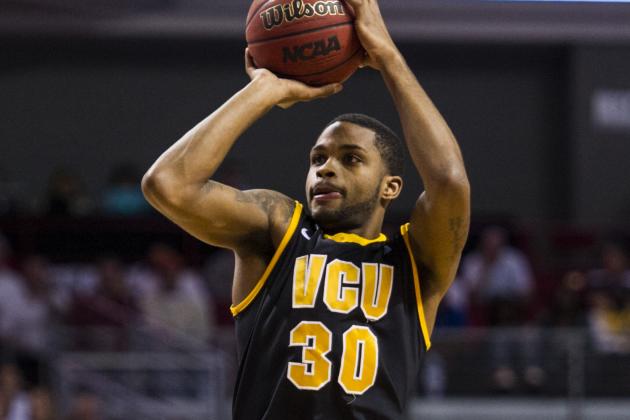 USA TODAY Sports

Virginia Commonwealth might not be a sleeper because of 2011's performance, but Shaka Smart's team is just as dangerous in respect to a Final Four appearance this season as it was back then.
The Rams have a 12-game winning streak this season and have seen their share of ups and downs. Losses to Duke, Missouri, Richmond and Temple all hurt, but the Rams have taken care of business enough to earn the No. 2 seed in the Atlantic 10 tournament and a more-than-good chance of making the NCAA tournament before the conference ones were ever over.
Most teams have a strength that they play to when times get tough, but the Rams are talented and committed enough to use both offense and defense to their advantage.
At 78.1 points scored per game, VCU sits at No. 11 in the nation in that category. Four players average double figures, led by Treveon Graham and Juvonte Reddic—both underclassmen.
The offense has been great, but what about the defense? Oh yeah, the Rams are first in the NCAA in turnover margin (plus-8.0)and steals (11.9) and aren't bad when it comes to assist-to-turnover ratio, either (1.26).
VCU is peaking at the right time, winners of nine of its last 11—and if you go by RPI, it's a a Top 25 team. While the Rams will have a tough road to another Final Four appearance, don't sleep on the Rams because you think they can't catch lightning in a bottle twice.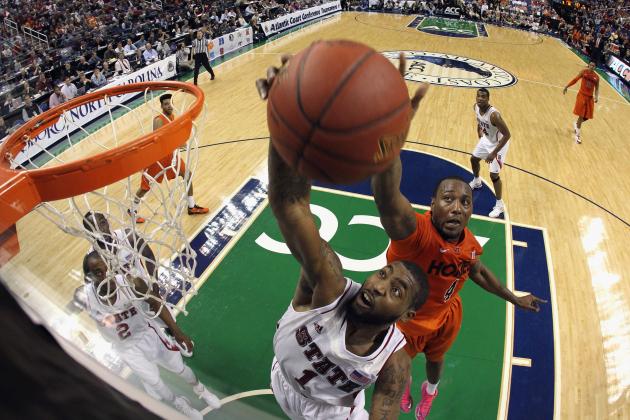 Streeter Lecka/Getty Images

Mark Gottfried's team has all the right pieces, play in a power conference and have tournament experience on all sides. Yet still the team hasn't impressed anyone with its ACC conference record and impending tournament resume.
However, when you have three guys (Richard Howell, C.J. Leslie and Lorenzo Brown) who could be in the pros next season, you start to take notice of what a team can accomplish, and not what it has accomplished so far.
North Carolina State fits that bill.
Led by Brown's smooth passing ability and a first-team All-ACC season from Howell, the Wolfpack have the kind of talent it takes to upset anyone in the tournament. That includes a No. 1 or No. 2 seed, likely the Round of 32 opponent for NC State, but seedings shouldn't scare you off from how dangerous the Wolfpack can be.
If C.J. Leslie, who is currently leading the team in scoring, turns it up a notch from what has otherwise been a wildly disappointing season, don't be surprised if NC State turns some heads in the second round. That could lead to a lot of momentum coming down the stretch, and the Wolfpack have the guns to compete with almost any team in the country.
Add in Scott Wood's three-point shooting and timely defensive stops (something NC State has lacked this year), and the Wolfpack are a big sleeper to take this thing to the Elite Eight. Don't give up on the Wolfpack for struggling out of the gate—this team has tournament experience, veteran leadership and NBA talent.
Those are three things that equal tournament wins, as does a 4-1 record in neutral site games (as of March 15) and a win over Duke in January. Chalk up the first part of this season to what it was—a disappointment—and trust that the big moment will bring out the best in this team.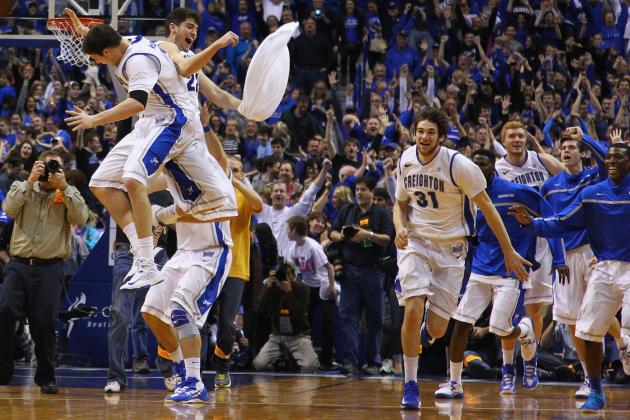 Dilip Vishwanat/Getty Images

The Creighton Bluejays have a Player of the Year candidate, shoot the ball from the outside better than almost any team in the country and have quietly (albeit it with a little bit of press) flown under the radar as the Missouri Valley Conference champions.
Doug McDermott is clearly the biggest draw for the team, and for good reason.
The head coach's son has steadily increased his scoring average and his value through three seasons of college play, culminating with this year's 23.1 points and 7.5 rebounds per game—numbers that put him in an elite class of college basketball players.
However, McDermott isn't the only weapon Creighton will use to make a deep run this postseason.
As noted by Mike Lopresti of USA Today, the Jays have the mark of a team that will be able to handle the highs and lows of the NCAA tournament—no matter what seed the selection committee assigns.
They were able to weather the storm against fellow tournament team Wichita State and have the depth (Grant Gibbs, Gregory Echenique) to weather a McDermott off-night. The Jays currently shoot 42.1 percent from the three-point line per game—good for second in the nation behind Weber State.
Sure there have been some bumps along the road. A loss to Saint Mary's stands out, but wins against California and Wisconsin helped us realize that this Creighton team is more than a one-and-done squad this season. It starts with McDermott, but don't sleep on any of these Jays as they fly towards being one of the sleeper picks that could make you a lot of money in a bracket pool.