NASCAR'S Most Overrated Drivers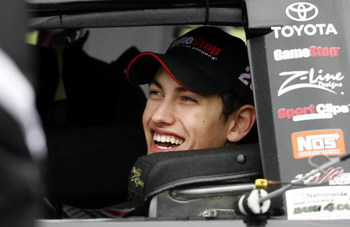 This will be a list of NASCAR'S five most overrated drivers. Let's face it, whatever series these guys are in is clearly the wrong series. They can't produce the results that are required with big time auto racing and need to go down a level or two and get their head on straight and learn to finish some races before jumping in way over their head.
No. 5 Overrated Denny Hamlin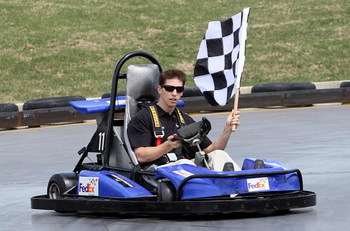 Here is a picture of Denny Hamlin's last victory. As you can plainly see, it's in a go kart, which might as well be where Hamlin should be driving.
He blew minds as a rookie sweeping Pocono, one of NASCAR's hardest tracks, and has thrown in a win here or there, but Hamlin has made a habit of losing more races he can win than actually winning them, and if you want to stay in the big leagues Hamlin, then actually fight Kyle Busch for a win every now and then or heck even if you showed up in the top-five it probably wouldn't kill ya.
No. 4 Overrated Justin Allgaier
The only reason I say Allgaier is because people are starting to do the same thing with him as they did with Logano, and I hate to see that because Allgaier seems like a very humble kid with plenty of talent to possibly one day drive in the Cup Series.
Allgaier, just keep doing what you're doing, ignore the headlines, win yourself a few races and we hope to see you in the Cup Series around 2012.
No. 3 Overrated Casey Mears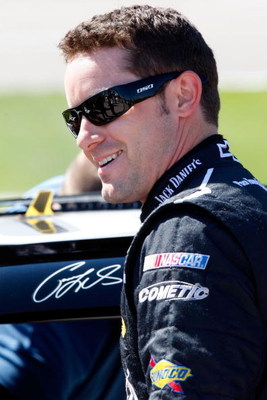 I still have to remind myself Casey Mears somehow found a full-time ride for 2009, although I don't understand why Richard Childress decided to move Boywer into a start up team so Mears could have the established No. 07 team and crew.
Mears started in Ganassi equipment, which I can understand why he wasn't so competitive because Chip is an open wheel guy first, NASCAR second.
Then he went to Hendrick Motorsports and won the Coca-Cola 600 on complete strategy and never really was competitive the few years he was there, not even at the plate tracks where Hendrick has historically been very very good.
I hope Mears can somehow turn it around for Childress, but I think we're all in for reading the same book and we're watching chapter three unfold before our eyes.
No. 2 Overrated Steven Wallace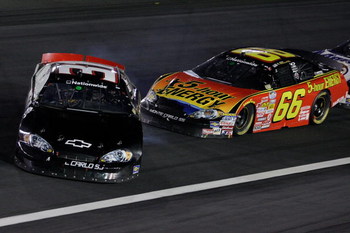 I know there's the old saying "Like father like son," but somebody forgot to give Steven Wallace the memo.
The youngest Wallace boy in NASCAR has made quite a reputation for ruffling feathers, and even though Rusty had his fair share of confrontations, he had the credentials to back it up.
When the only thing you're known for is constantly putting yourself three-wide in corners only wide enough for two cars and taking out contenders, it's time to go back to school Steven.
He better be kissing the ground Rusty walks on because if it were any other owner, I doubt Steven would even be in NASCAR.
No. 1 Overrated Joey Logano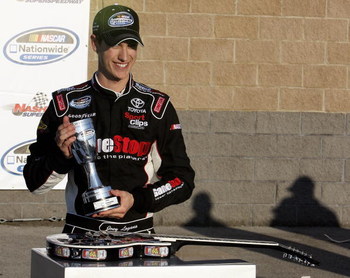 Let's all give a huge round of applause to NASCAR's most overrated driver Joey Logano.
Look at that he took a photo when he received his award, although I don't know why he's smiling about it.
Logano, you are by far the biggest bust we have seen in quite some time.
Way to overhyped for an 18-year-old kid that did not even compete in a full Nationwide season in 2008 and you win one race and everybody thinks you're the next Jeff Gordon.
It doesn't take a whole lot to be competitive in JGR equipment in the Nationwide Series, I'm pretty sure a 13-year-old kid could drive those cars as long as his feet could reach the pedals.
Your attitude is as sour as your teammates in the Cup level, when things are great you're great, when you get wrecked, we can't talk to you.
Well you've caused your fair share of wrecks, and all you are is a liability to the other guys on the track who lap you before lap 30 on a good weekend.
Look at Brad Keselowski, you should be running a very limited schedule and come to the Cup Series in a few years, but this was way too overhyped and way too soon.
Keep Reading