Boston Red Sox Mid-Spring Check In: The Good, the Bad and the Ugly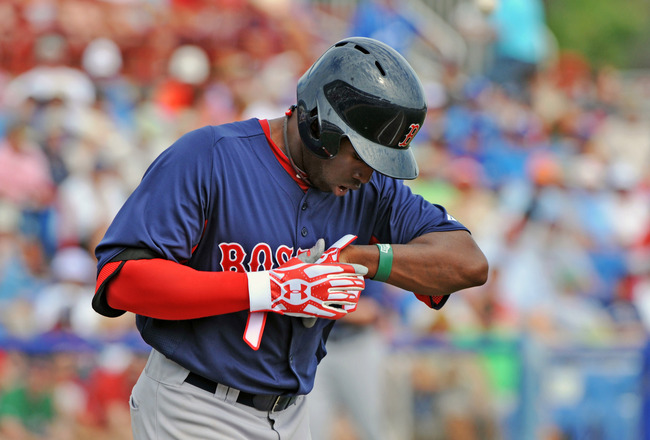 Jackie Bradley has been one of Boston's most impressive performers this spring
Al Messerschmidt/Getty Images
We're right at the midpoint of spring training. This is as good a time as ever to break down the team to analyze how each player is handling their spring duties thus far.
There've been some pleasant and alarming surprises on the spring roster, as well as some consistent performers who continue to produce.
Here are some of the Red Sox most notable contributors broken down into three distinct categories: good, bad and ugly.
Be aware, many of the players omitted from this list are either injured or have not had enough playing time to be effectively sorted into a category.
Good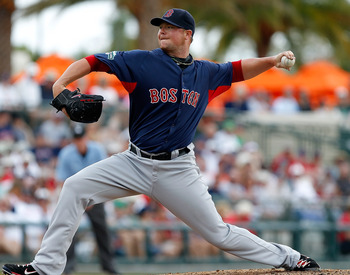 Lester has been red hot in Fort Myers
J. Meric/Getty Images
Jon Lester
Boston's ace has done all he can to quiet any whispers concerning his poor 2012 season. In 14 innings of work this spring, Lester has allowed only two runs, and has posted a marvelous 0.714 WHIP. With any luck at all, Lester's strong performance thus far is a good sign of things to come for the young staff ace.
Dustin Pedroia
Ho-hum, Pedroia is hitting the cover off the ball. What a surprise. The second baseman's slash line this spring of .320/.414/.480 is always nice to see. I'm sure I don't need to say much more here. Pedroia is simply an animal.
Allen Webster
Acquired last year in the mega deal with the Dodgers, Webster is now ranked as the fourth best prospect in the Red Sox system. While few doubt his enormous potential, his performance this spring has been so good that he's caught even the most optimistic scouts off guard.
In 11 innings of work, Webster has racked up 14 strikeouts, issued just one walk, and posted a brilliant 1.64 ERA. Webster's sinking fastball has clocked in near triple digits and his changeup has devastated opposing hitters. While I wouldn't expect him to pitch with the team on Opening Day, Webster may force the Red Sox to call him up if his success continues at Triple-A Pawtucket.
Jackie Bradley Jr.
One of the Red Sox most exciting prospects, Bradley has done nothing but impress in big league camp this spring. In 35 plate appearances, he has registered 15 hits, five walks and a stolen base, good for a ridiculous 1.343 OPS. Bradley's spring performance is just another pit stop in his meteoric rise through the Red Sox system. Expect him to start the season in Triple-A and earn a call-up in short order.
Clay Buchholz
Although he's only thrown eight innings of work, Buchholz's small sample size looks promising. He hasn't allowed a run yet, and has retired 24 of the 32 batters he has faced, striking out seven. After a rocky start to last season, where he posted an ugly 5.53 ERA before the All-Star break, Buchholz settled down and posted a cool 2.43 ERA through June and July, and finished the year with a strong 3.76 ERA in post-All-Star break play. With any luck at all, Buchholz will pick up right where he left off.
Ryan Dempster
The Red Sox newest pitcher, Dempster was signed to a two-year deal after a strong year with the Cubs and Rangers. The seasoned veteran has been very reliable thus far in Fort Myers, posting a cool 2.08 ERA over nine innings of work. Dempster has not issued a walk this spring, retiring 26 of the 32 batters he has faced. Dempster is hot.
Jarrod Saltalamacchia
After rumors spread that he may be traded before spring training even started, Salty ended up joining the club in Fort Myers. And he has responded with some impressive numbers. In 24 plate appearances, Salty has cracked five doubles and posted a cool 1.077 OPS. Salty started to show signs of tapping into his immense power last season. Perhaps 2013 will be the season where he pulls it all together.
Koji Uehara
The veteran reliever Uehara has proven a worthy investment thus far. In five spring appearances, he has struck out five batters and not allowed a single baserunner let alone any runs. Uehara's dominance will be a valued asset for the Red Sox this year.
Mike Napoli
Although Napoli got a late start in spring training due to injury concerns, you'd never know it watching him play now. In 14 at-bats, Napoli has hit .429/.500/.929 with two home runs and six RBI. Trusting Napoli's hip to hold up for 162 games may be akin to playing with fire, but for the moment, Napoli's power bat is a force to be reckoned with.
Alex Wilson
Wilson is just the sort of pitcher people tend to forget about. With such a stacked bullpen, the Red Sox have no need for a minor league power reliever. Just the same, Wilson has been brilliant. In six innings of work, he's recorded seven punch-outs, allowed just one walk, and hasn't given up a run. There isn't room for him in the bullpen now, but expect to see Wilson at some point in 2013.
Bad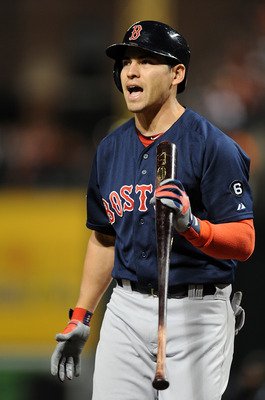 Ellsbury has had a rocky spring
Greg Fiume/Getty Images
Stephen Drew
Signed to a one-year deal this winter, the former 15th overall pick hasn't been all that impressive so far in Fort Myers. In 18 plate appearances, he's managed just a .188 batting average and a meager .528 OPS. With such a short contract, it's unlikely that Drew will be nearly as hated in Boston as his brother was, but things aren't looking too good for him at the moment.
Andrew Bailey
The former All-Star closer hasn't had too much fun in Boston so far. Almost his entire 2012 season was marred with injuries, and he wasn't very effective when he was briefly healthy. Losing the closer role to Joel Hanrahan couldn't have improved his confidence either. In the five innings he's pitched this spring, Bailey has posted a weak 5.40 ERA. Granted, this is a miniscule sample size, and he has managed to strike out more than a better per inning, but he needs to keep the ball in the infield if he wants to find success in 2013.
Jacoby Ellsbury
Ellsbury has had a dull first few weeks of baseball. In 29 plate appearances, he has posted a .200/.310/.240 slash line with no stolen bases, and no runs batted in. Ellsbury has never been one for spring heroics, so his numbers shouldn't be taken too seriously. Hopefully he hits his stride by opening day.
Brock Holt
Holt was brought in as part of the Hanrahan deal to compete for the utility infielder spot. Holt is a reliable defender and a patient hitter who has hit for average throughout his career. Unfortunately, the same cannot be said about his performance this spring. In 34 plate appearances, Holt has only managed five hits, two walks and a very weak .454 OPS. With any luck, he can turn things around in Triple- A Pawtucket.
Mike Carp
Carp was acquired from the Mariners as insurance against Mike Napoli's uncertain health. The formerly promising first base prospect is purely a backup at this point. So while his .217/.280/.391 slash may not be anything to write home about, it should suffice for a reserve infielder.
Ugly
Alfredo Aceves has reason to hang his head low in spring training
Jim Rogash/Getty Images
John Lackey
You would think that any change for Lackey would be a good change at this point. Not so. In his first two years in Boston, he posted a combined 2.39 spring training ERA. This year, he's posted an 8.10 ERA. While that number comes from only six innings of work, it is certainly ugly.
Shane Victorino
It's terribly ironic that two of Boston's highest paid players are the first to take the walk of shame onto the "ugly" list. In 16 spring plate appearances, Victorino did not register a single base hit, good for a .000 batting average. The ugliness of that cannot be fathomed. At least he literally cannot get any worse. The one shred of good hope is that Victorino is currently hitting .316 for Team USA in the World Baseball Classic. Hopefully, the spring debacle was an isolated incident.
Joel Hanrahan
The former All-Star closer has hit a rough patch this spring. In four innings pitched, Hanrahan owns an inflated 13.50 ERA. He has managed to post a 13.5 K/9 rate, but his command has been non-existent so far. Given time, and a larger sample size to draw from, Hanrahan should settle down into his new ball club.
Ryan Lavarnway
Long touted as heir apparent to Jarrod Saltalamacchia, who will be a free agent by the end of the season, Lavarnway is struggling to live up to that title at the moment. In 24 at-bats this spring, Lavarnway has managed a horrendous .167 batting average and only one extra base hit. His defense has shown steady improvements, but he needs to start hitting major league pitching before he locks down an everyday role.
Mauro Gomez
Gomez turned some heads last year when he managed a solid .275 batting average with the Red Sox in a brief call-up. Some fans hoped he could serve as a viable backup corner infielder. However, this spring, Gomez has posted an ugly .160/.276/.200 batting line. He will likely be in Triple-A before long. Despite his immense power, he's effectively a career minor leaguer at this point.
Alfredo Aceves
The ugliness of Aceves' spring is two-fold. First, his problematic live batting practice during the first week of training led coaches to question his seriousness. Second, his stats haven't been so hot.
In five innings of relief work, Aceves has managed a 4.76 ERA and has surrendered more than a hit per inning. Just when you thought he couldn't do anything else to force Sox fans and media to hate him, he goes and has a train wreck of a spring. Unless he finds his mojo fast, Aceves could be demoted to the minors or traded away for a box of scraps.
All statistical information obtained from baseball-reference.com
Keep Reading

Boston Red Sox: Like this team?