Best and Worst NBA Bobbleheads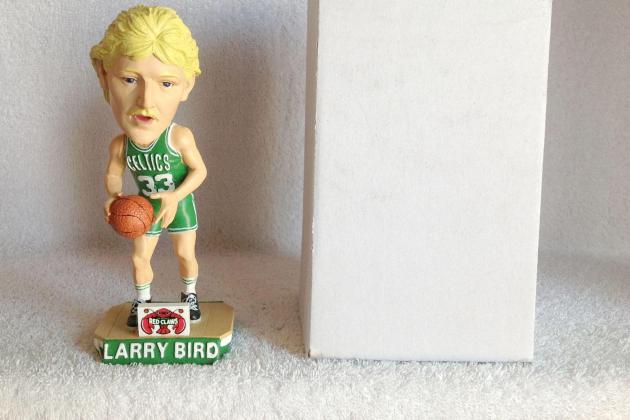 Norm Hall/Getty Images
Photo courtesy of BobblesGalore.com
Bobbleheads are the crown jewel of NBA giveaways. You might skip the game that would net you a foam finger or some kind of refrigerator magnet, but you're at the arena on the night they're giving out the plastic statues with giant heads.
The best thing about bobbleheads: They're all great. Some are enjoyable because of their realism, some bring back great memories and some are entertaining for other reasons (and by that, I mean because of how terrible they are). But from best to worst, they're all fun in their own way.
Begin Slideshow

»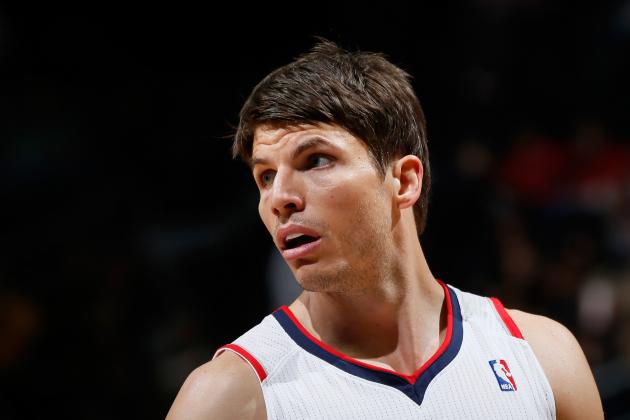 Kevin C. Cox/Getty Images
Kyle Korver's hair in this picture looks almost as good as his bobblehead's does.
The Bad
"I've always felt like my collection was missing an autographed Stromile Swift bobblehead." —No one ever.
The golden ball and the fact that his hair and headband are the exact same color and texture make this bobblehead less than successful.
The Good
Red Auerbach is holding a cigar in roughly 50 percent of the pictures he's in. This bobblehead captures that nicely.
BobblesGalore.com advertises this bobblehead by saying that it features "realistic hair." Sounds amazing.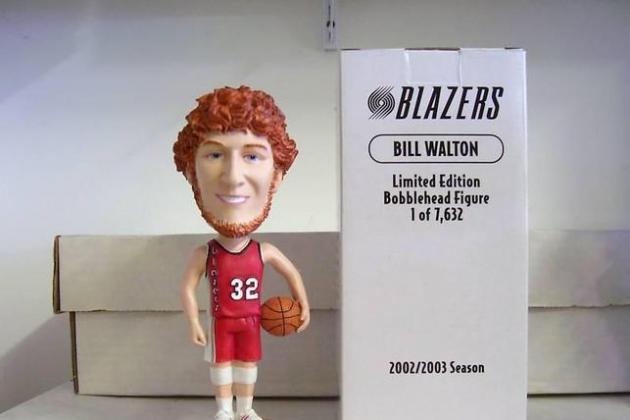 Photo courtesy of BobblesGalore.com
Bill Walton's bobblehead makes the cut simply for being so accurate.
The makers nailed the crazy red hair and the mountain man-esque beard. The fact that Walton's wearing a sleek, retro uniform with "Blazers" running down the side only makes things better.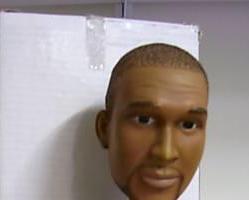 Photo courtesy of BobblesGalore.com
The description may say "Tim Duncan Bobblehead," but let's just assume it was supposed to say "Generic NBA Bobblehead." Because that definitely does not look like Tim Duncan.
But you know who it does look like? Every single computer-generated player in the NBA2K series. Seriously, how hard would it have been to make a bobblehead with Duncan's patented "A foul? On me?" face. If the bobblehead had just been bug-eyed, everyone would have known it was Duncan.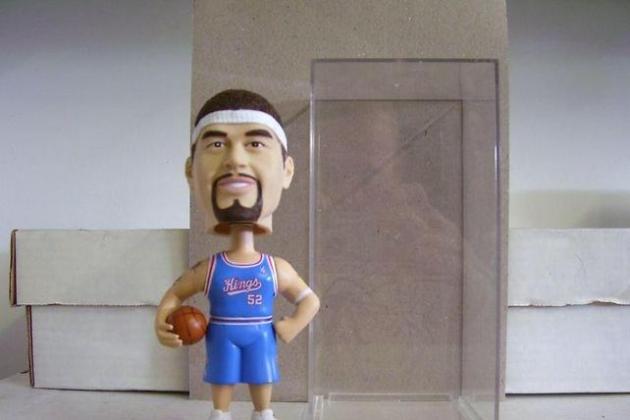 Photo courtesy of BobblesGalore.com
Brad Miller's bobblehead looks stellar. The all-important headband is front and center, not a hair in his goatee is out of place and he's even wearing a retro jersey.
Honestly, the only thing that prevents Miller from climbing higher in the rankings is that he's missing the sweet cornrows. Big oversight.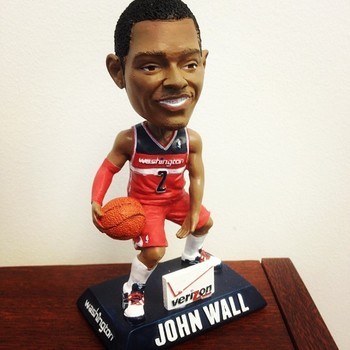 Photo courtesy of Jose 3030 Instagram (via BleacherReport.com)
You know how you sometimes see a painting that's supposed to be an incredible work of art, but it really just looks like paint thrown on canvas and secretly leaves you thinking you could have done it?
That's what this bobblehead of John Wall is like. If you gave anyone in the world two hours, some clay and a picture of John Wall, they could definitely sculpt a better face than what's on this bad boy. The body is fine, but that face...wow. It's actually impressive how little it resembles him.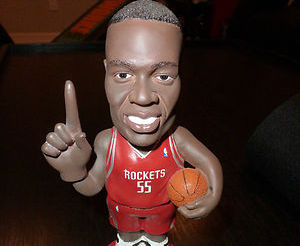 Photo courtesy of Seikamon.com
Ready for a shocker? This bobblehead of Dikembe Mutombo isn't actually a bobblehead at all. It's a bobblefinger. Brilliant.
There was nothing quite like seeing Dikembe give the finger wag after he threw a shot into the third row. The makers of the Dikembe bobblefinger apparently knew that and gave us all another way to relive it. And we thank them.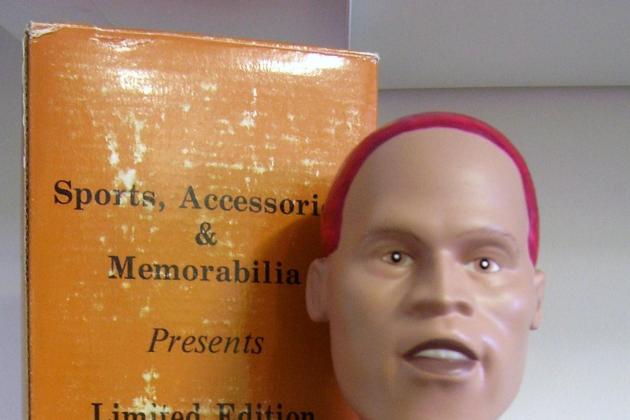 Photo courtesy of BobblesGalore.com
Dennis Rodman's bobblehead must have been mislabeled at the same time that Tim Duncan's was. What we have here appears to be Charlie Villanueva in Dennis Rodman's clothes and hair. Very peculiar.
Here's Dennis Rodman. And here's Charlie Villanueva. Which one looks more like the bobblehead? (Hint: It's not Dennis Rodman).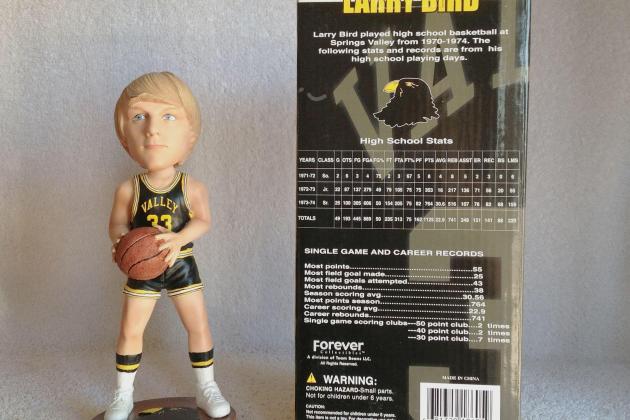 Photo courtesy of BobblesGalore.com
First off, the very existence of a high school Larry Bird bobblehead is amazing. Sure, high school Larry doesn't have the signature blonde mustache, but that's the only possible criticism of this bobble.
Plus, the fact that the makers decided to put Larry's high school stats on the back of the box is brilliant. Thirty-eight rebounds in one game? That's Wilt Chamberlain-like!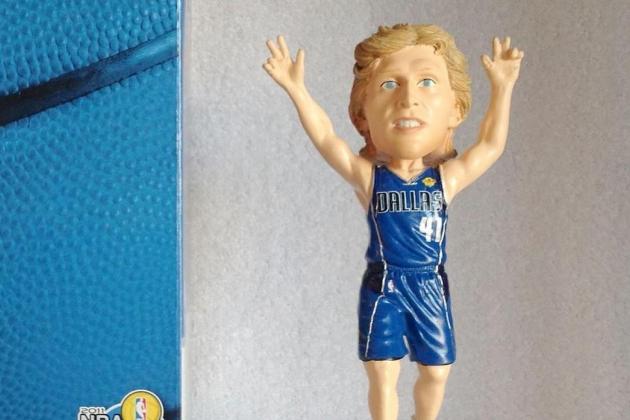 Photo courtesy of BobblesGalore.com
I love everything about this bobblehead and went back and forth on which list to put this on. I ultimately settled on "worst" mostly because this bobblehead is hilarious, and that's probably not a good sign.
First off, it makes Dirk Nowitzki look like a girl. If his jersey didn't have "Dallas" across the front, you could absolutely mistake Dirk for a WNBA star.
To make matters worse, the makers clearly tried to put him in some kind of celebratory/defensive pose, but he just looks like he's in one of those cheesy photos where everyone jumps at the same time.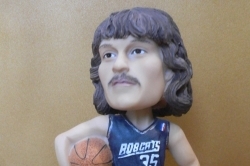 Photo courtesy of SB Nation's Dan Grunfeld
Say what you will about Adam Morrison's NBA career—the man looks good as a bobblehead.
Honestly, this has to the most accurate bobble ever made. Any depiction of Morrison will inevitably be judged on the thick curls and the wispy mustache, and whoever made this one nailed it.
Compare this picture of Morrison with the bobblehead. It's uncanny.
Photo courtesy of ClarkToys.com
Here's a tip for the makers of this LeBron James bobblehead: Any design feature that results in the player looking toothless is probably not a good idea.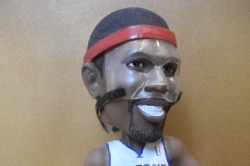 Photo courtesy of SB Nation's Dan Grunfeld
Rip Hamilton's NBA career has pretty much been defined by two things: his face mask and his knack for using screens to get open.
It's pretty tough to depict "getting open" with a bobblehead, but giving Rip's bobble a detachable face mask is about as cool as it gets.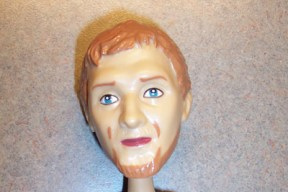 Photo courtesy of Basketbawful.
This isn't just a bobblehead—it's a bobblepop. Remove Dirk Nowitzki's legs and you'll find a lollipop. So, there's that.
The downside to the bobblepop idea: It's very, very strange. The upside to the bobblepop idea: If the lollipop's out, it means you don't have to look at Dirk and his weird cheek hair.
It looks like someone accidentally dripped paint on one side of Dirk's face, thought about fixing it and instead opted to just drip paint on the other side, too. Yay, symmetry!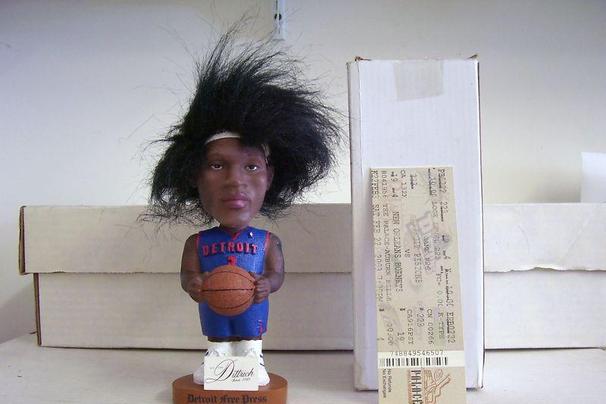 Photo courtesy of BobblesGalore.com
Oh my God, that hair.
With the Rip Hamilton and Ben Wallace bobbleheads, the Detroit Pistons have proved that they're the king of stadium giveaways. Some people might say that Wallace's hair makes him look like those creepy old troll dolls, but hey, not everything can be perfect.
Plus, have you seen any other Wallace bobbleheads? They make him look like Aunt Vivian from The Fresh Prince of Bel-Air. And that's no good.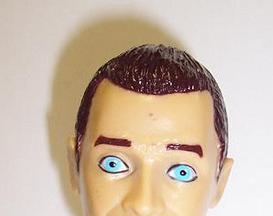 Photo courtesy of Basketbawful.
Here's my theory.
A few years back, a low-budget horror film about dolls coming to life (like the Child's Play series) was being shot in Phoenix. The guy in charge of movie props accidentally ordered far too many of one doll but noticed that the doll had a very slight resemblance to Steve Nash.
The guy contacted the Phoenix Suns organization, and they decided to create a lower-half to go along with the doll head, eventually giving it away as a Steve Nash bobblehead.
Just kidding. In reality, this is another bobblepop from the same people that made the Dirk Nowitzki version (per Basketbawful). But the idea that this bobblepop's face was originally a horror movie prop sounds more believable than the idea that someone was trying to make it look like Steve Nash, right?
Look at the head alone and you would never think that was supposed to be an NBA player. Not in a million years. How this was officially sanctioned merchandise, we may never know. Remember when I said that all bobbleheads were fun? Strike that. This thing is a nightmare.