Things That Have Happened in the NBA Since Miami Heat Lost Last Game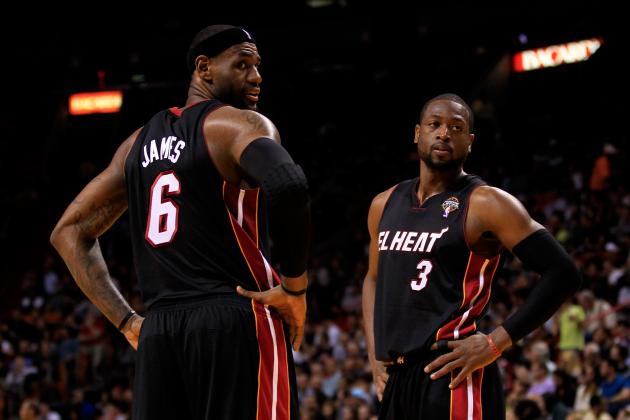 Chris Trotman/Getty Images

In case you missed the Miami Heat's historic 20-game winning streak, then allow me to lift that boulder off of your head and fill you in on all the goings-on in the NBA since Miami's last defeat—a 102-89 loss to the Indiana Pacers all the way back on February 1.
The Heat couldn't have timed their torrid stretch any better. They started their winning ways with a 100-85 victory over the Toronto Raptors on Super Bowl Sunday. Before March Madness and spring training could gain hold over the professional sports spectrum, Miami had already wrestled away front-page coverage.
But the rest of the basketball world didn't stand idly by while the defending champs regained control. The Heat dominated hoops coverage, but they were hardly the sport's only story.
From potential season-derailing injuries to playoff hopes both lost and realized, there have been a number of notable happenings.
Begin Slideshow

»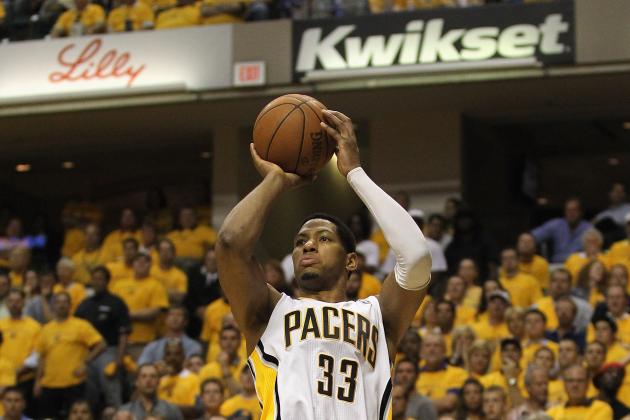 Jonathan Daniel/Getty Images

After a strong 2011-12 campaign that saw them push the eventual champions to six games in the Eastern Conference semifinals, coach Frank Vogel's Indiana Pacers entered the season with lofty expectations.
But any hopes of building off of last season's success appeared to be dashed when word broke just weeks before the season that former All-Star Danny Granger was out indefinitely with a knee injury. Despite that knee keeping him sidelined for the first 55 games of the season, though, the Pacers continued to evolve into one of Miami's biggest conference threats.
Once Granger finally returned to action on February 23, everything seemed to be falling in place for a strong postseason run.
Those jubilant feelings would prove short-lived, however, when Granger's knee forced him right back off the floor just five games later. He has yet to see action in a game since.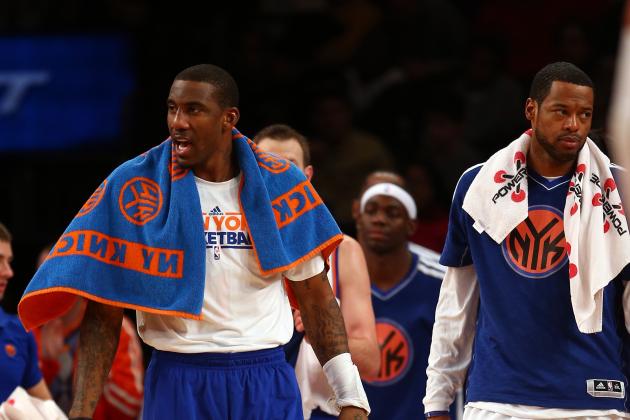 Elsa/Getty Images

Like the Pacers, the New York Knicks were forced to start the season without an All-Star plagued by knee injuries—in this case, Amar'e Stoudemire.
"STAT" underwent a knee debridement (a knee cleaning, in layman's terms) at the beginning of November. He finally made his 2012-13 debut in the Knicks' 105-100 loss to the Portland Trail Blazers on New Year's Day.
Although limited to just 23.5 minutes per game, Stoudemire shone as well as any player could under the circumstances (14.2 points per game on 57.7 percent shooting, 5.0 rebounds per game). The six-time All-Star even looked well on his way to adding a new title to his storied career—Sixth Man of the Year.
While he lasted on the floor longer than Granger (29 games to be exact), he too was twice bitten by the injury bug. He found himself back on the surgical table for another debridement (via ESPNNewYork.com) and is expected to miss the remainder of the regular season.
Ronald Martinez/Getty Images

The NBA trade deadline has transformed into an annual series of frenzied trade rumors that has seen some of the sport's biggest stars bandied about in trade talks.
The 2013 version was no different. The Los Angeles Lakers twin towers (Dwight Howard and Pau Gasol), a pair of Boston Celtics legends (Kevin Garnett and Paul Pierce) and a versatile Atlanta Hawks forward (Josh Smith) were among the names rumored to be headed toward a possible February change of address.
Once the clock struck 3 p.m. ET on Thursday, February 21, though, all of the aforementioned players stayed with their respective clubs. Despite some late-stage juicy rumors, the biggest name moved that day wound up being Orlando Magic guard J.J. Redick.
Not to take anything away from the sharpshooter (who had posted a career-high 15.1 points per game in his first 50 games with the Orlando Magic this season), but he wasn't quite the impactful transaction fans had been hoping to see lead the way.
The Duke product landed with the Milwaukee Bucks by way of a six-player trade.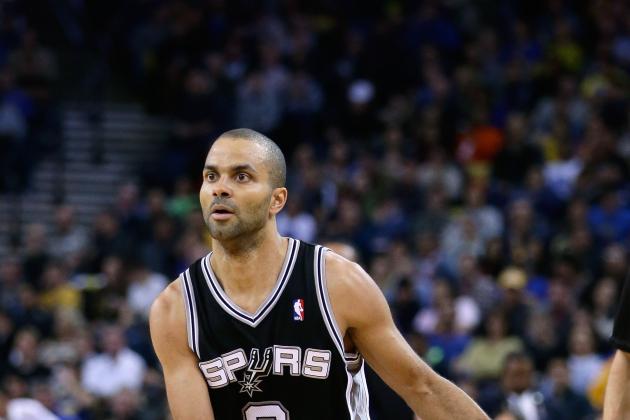 Ezra Shaw/Getty Images

The San Antonio Spurs had heard all of the rumbling talks of vulnerability before: They were too old and too slow to compete on the game's biggest stage.
Yet here they stood atop the basketball world, holding the league's best record at the end of February (45-14). A March 1 game against the lowly Sacramento Kings figured to only bolster the Spurs' growing stock.
And in a sense it did. The Spurs bullied the Kings in a 130-102 rout that night.
But Spurs point guard Tony Parker (a legitimate MVP candidate with 21.0 points and 7.6 assists per game) was limited to a hair over 25 minutes that night—and that had nothing to do with the lopsided score.
With the Spurs nursing a 20-point lead and less than five minutes left in the third quarter, Parker went coast-to-coast for a layup but came down awkwardly on the left foot of Kings guard Isaiah Thomas.
Initial reports pegged Parker to miss four weeks (via Yahoo Sports).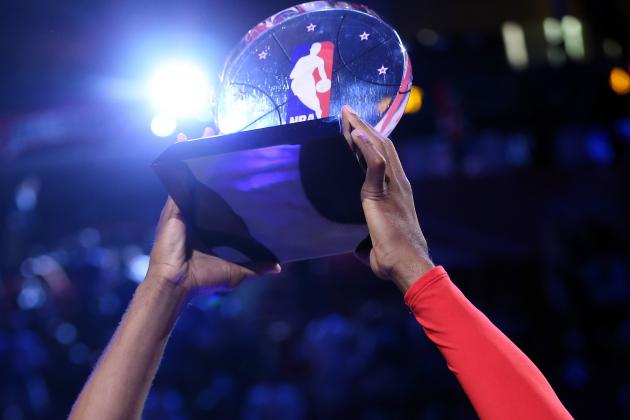 Ronald Martinez/Getty Images

After seven straight victories, the Heat broke away for the annual midseason reprieve known as the NBA All-Star Weekend. At least that was the plan before three of their starters (LeBron James, Dwyane Wade and Chris Bosh) were tabbed for coach Erik Spoelstra's starting lineup for the East All-Stars.
But the Houston-based festivities were one of the events of the season not dominated by the Heat.
TNT analyst Charles Barkley looked like a genius when his underdog squad dominated the team assembled by fellow analyst Shaquille O'Neal in a 163-135 rout. A big reason for Barkley's success was Denver Nuggets high-flier Kenneth Faried, who captured MVP honors for his 40-point night.
When the sport's biggest names came together for Sunday's All-Star Game, Los Angeles Clippers point guard Chris Paul outshone his peers. He won the MVP award and became just the third player in the event's history to tally 20 points and 15 assists (via SI.com).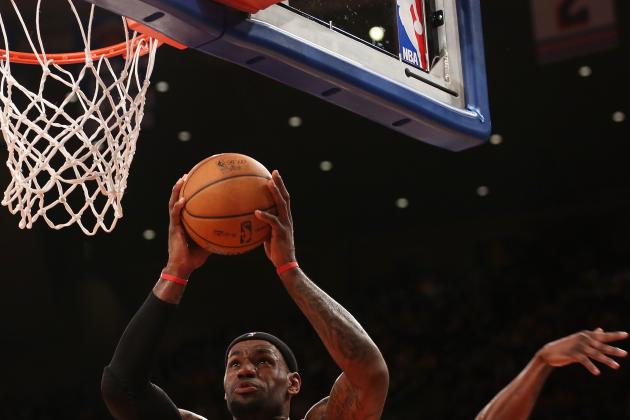 Nick Laham/Getty Images

If last season's championship run, the first of LeBron James' career, started the James-Michael Jordan whispered comparisons, the last couple of months have brought those talks to at least a regular conversation level.
While James will ultimately make his loudest argument with multiple championships, he did reach a few heights recently that Jordan never did.
After Miami's 98-81 win over the Atlanta Hawks on March 12, James had helped orchestrate a longer winning streak than had ever been realized by a Jordan-led team.
But it was the way that James opened the winning streak that not only built his case but also gave hoops fans something they'd never seen in NBA history.
He became the first player in NBA history to score at least 30 points and shoot at least 60 percent from the field in six consecutive games. He poured in 185 total points and shot a blistering 71.7 percent in Miami's first six games of the streak.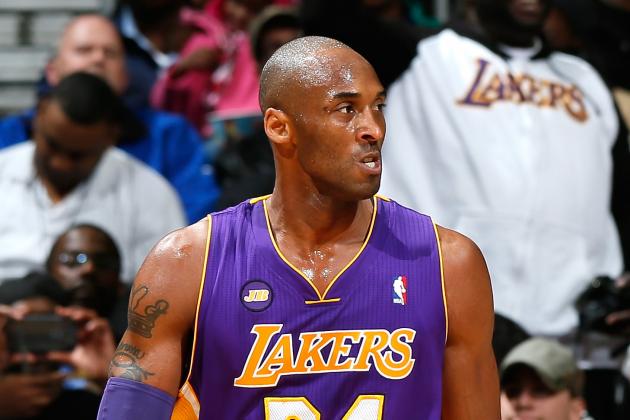 Kevin C. Cox/Getty Images

After three months of frustrations, the Lakers embarked on what appeared to be a season-saving journey at the start of February.
L.A. has played 19 games since Miami's last loss. The Lakers won 13 of those games, including six of their past eight. They crept ahead of the struggling Utah Jazz for sole possession of the eighth seed in the Western Conference.
And no player held a greater responsibility for that relative success than the legendary Kobe Bryant.
He averaged 26.4 points, 6.8 rebounds and 6.2 assists over that stretch (via basketball-reference.com). Despite taking nearly 20 shots per game, he managed to shoot nearly 48 percent from the field.
When his slumbering teammates threatened to give away games against the New Orleans Hornets and Toronto Raptors, the 34-year-old made his strongest MVP claim of the season. He scored 83 points in those consecutive games, stuffing his stat sheet with 24 assists and 13 rebounds in the process.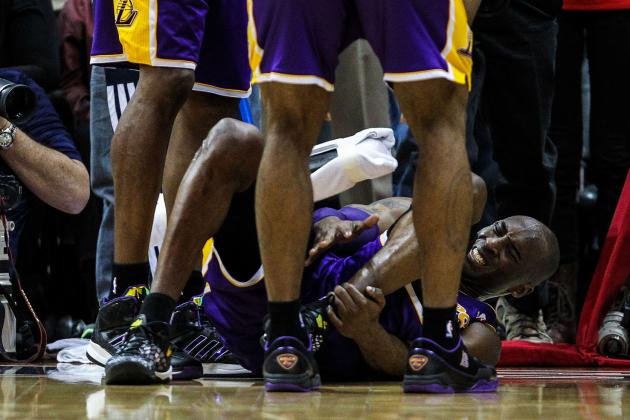 Daniel Shirey-USA TODAY Sports

The Lakers' stretch of their best basketball of the season was tragically disrupted against the Atlanta Hawks on March 13.
And that had nothing to do with the fact that their 96-92 loss meant they would not gain any ground after yet another Jazz loss (the eighth in their past 10 games).
A four-point loss will inevitably bring some heartbreak with it, but this feeling of loss was far greater. Bryant misfired on a potential game-tying jumper in the final seconds, then crumbled to the floor after landing awkwardly on the foot of his defender, Dahntay Jones.
Bryant remained on the floor for several seconds and then hobbled to the L.A. bench with the help of a trainer. The initial diagnosis was a severe ankle that left the superstar sidelined indefinitely (via Dave McMenamin of ESPNLosAngeles.com).
Bryant's played through injuries throughout his career. But a photo of the grisly injury that he tweeted on March 14 suggested he may be out of action for a while:
17yrs. Countless fades. This has happened TWICE. Jalen and Now Ankle still very swollen. Treatment all day #focus twitter.com/kobebryant/sta…

— Kobe Bryant (@kobebryant) March 14, 2013