Green Bay Packers Mock Draft: Predicting All 7 Rounds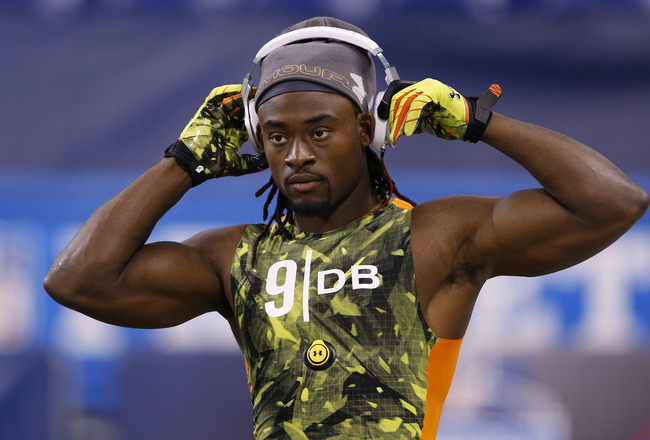 Joe Robbins/Getty Images
The Green Bay Packers enter the draft looking to re-shape their team in order to get back to Super Bowl quality after coming up short the last two seasons. Thus far in free agency, the Packers have been extremely quiet as general manager Ted Thompson has refused to bite on expensive contracts for veteran players.
With fairly solid depth at most positions, the Packers find themselves without major pressing needs. They have some areas that they must address, but they can largely afford to use their draft picks to grab the best player available.
This mock draft includes one pick per round without trades and doesn't account for compensation, which hasn't been announced at this time.
Round 1: Jonathan Cyprien, S, Florida International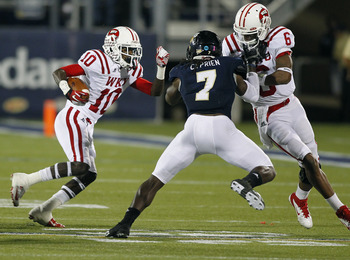 Robert Mayer-USA TODAY Sports
The Packers have struggled to find a replacement for Nick Collins following his career-ending injury in 2011. Players such as M.D. Jennings, Jerron McMillian and even Charles Woodson have unsuccessfully paired with Morgan Burnett to give the Packers a formidable duo in the secondary.
Jonathan Cyprien has the potential to be that guy. His great range and big-hit ability will fit in nicely with a Packers secondary that has solid, young cornerbacks. One of the biggest features that the Packers defense is missing is physicality. Cyprien should come in right away with his punishing ability and make a difference.
Adding Cyprien to a secondary group with Casey Hayward, Sam Shields, Davon House and Morgan Burnett should give the Packers the foundation for an elite defense in the future. The Packers still need a consistent pass rush to make them dominant, but this would be a great step.
Round 2: Da'Rick Rogers, WR, Tennessee Tech

Da'Rick Rogers NFL Player Comparison

With Greg Jennings likely gone and James Jones heading to free agency after this season, the Packers now have a need at the wide receiver position. Ted Thompson has had plenty of success drafting wide receivers and the trend should be expected to continue with Da'Rick Rogers in the second round.
Rogers will give the Packers a dominant wideout with a great blend of size, speed and athleticism, which makes him a legitimate threat. His versatility will fit nicely with the Packers as Rogers can line up in any of the receiver positions. He attacks the ball and is capable of making big plays after the catch. This pick would give the Packers another a weapon and make them quickly forget Greg Jennings. Another plus, Rogers turns 22 in June.
There are some off-the-field issues with Rogers failing drug tests and getting suspended by Tennessee before transferring to Tennessee Tech. According to a Yahoo! Sports article, Rogers has handled questions about his suspension and drug-use extremely well, accepting responsibility for the incidents.
Round 3: Gavin Escobar, TE, San Diego State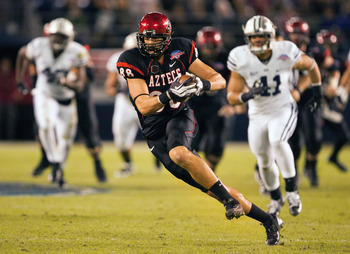 Kent Horner/Getty Images
The Packers tight end position has been thrown into question with Tom Crabtree unsigned as of this article, Jermichael Finley entering the last year of his contract and Andrew Quarless coming off a leg injury that cost him all of last season. The Packers can solidify the position by drafting Gavin Escobar with this pick.
The 6'6", 254-pound Escobar possess a nasty mix of size and speed that will allow him to get out of his breaks and stretch the field for the Packers offense. Also, Escobar is a capable blocker. With Crabtree and Finley, the Packers haven't exactly had a dual-threat tight end.
Drafting Escobar also makes Finley expendable, which would help clear up some cap room or give the Packers more draft picks this year or next.
Round 4: Kenjon Barner, RB, Oregon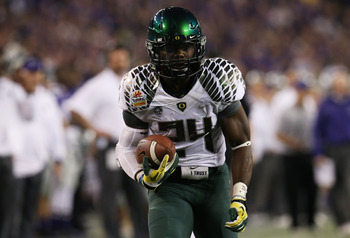 Stephen Dunn/Getty Images
The Packers missed out on Steven Jackson, but that wouldn't have been the best fit anyway. Jackson, albeit talented, is 30 years old with a large number of carries on his resume. He's a physical back that needs many touches throughout the game. In the Packers offense, that's just not going to happen.
The Packers need a running back that is quick in space and good catching the football. That's where Oregon's Kenjon Barner comes in. The 5'9", 196-pound speed back excelled in Oregon's zone-read offense, both rushing and receiving the ball in the flats and down the field.
To play in the Packers offense, Barner needs to improve his pass protection. It's not something he's terrible at, but rather something he just doesn't have much experience doing. Barner would give the Packers a great option to get even more creative on offense.
Round 5: William Gholston, DE, Michigan State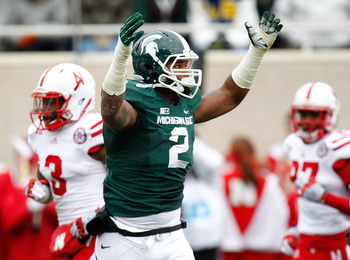 Gregory Shamus/Getty Images
A Michigan State lineman to replace another Michigan State lineman, Jerel Worthy. The Packers need help on the defensive line as they haven't been able to find a consistent player to pair with B.J. Raji and Ryan Pickett. William Gholston has the physical gifts to be a force at 6'6", 281 pounds, but needs to be shaped into a complete player.
The Packers defensive line could be the key to solving many of the problems with the defense. If the Packers are able to get a solid push with their front three, it should free things up for Clay Matthews and Nick Perry to harass opposing quarterbacks. Getting more pressure on the quarterback would also make things much easier for the secondary.
Gholston has incredible strength and speed on the edge to be successful, but needs to work on his agility and consistency. If the Packers can help Gholston bring it all together, they might get the guy they have needed.
Round 6: Garrett Gilkey, OG, Chadron State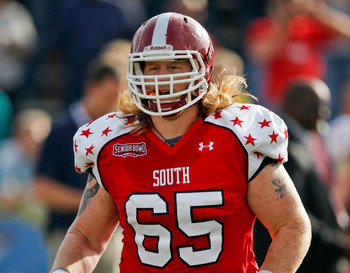 Derick E. Hingle-USA TODAY Sports
The Packers offensive line situation remains in flux with injured players like Derek Sherrod and Bryan Bulaga coming back into the mix. If those guys are healthy, the Packers actually have a decent outlook heading into the season. They could use depth on the line and Garrett Gilkey gives them a good prospect for the entire line.
The small-school prospect is massive at 6'6", but uses his body well and could grow into a strong guard in the league. The Packers didn't get the best out of T.J. Lang at all times and it's worth it getting somebody into the mix to push him.
Round 7: Jordan Rodgers, QB, Vanderbilt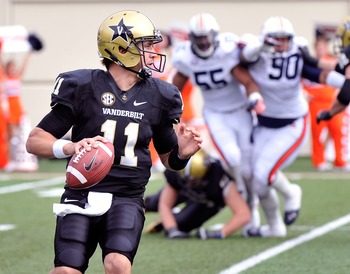 Frederick Breedon/Getty Images
With Graham Harrell and B.J. Coleman backing up Aaron Rodgers, the Packers could be in the market to get a better prospect. Aaron's little brother, Jordan Rodgers, could be the pick in the seventh round to come in and compete for a backup or practice squad role.
Rodgers is slightly undersized, but has a quick, smooth throwing motion that isn't too far away from his brother's. Other than that, it's unfair to the younger sibling to compare him too much to his big brother. Rodgers showed some escapability in the pocket and ability to keep plays alive.
Rodgers needs to improve his footwork and balance when he gets into the league. The Packers coaching staff should be able to work with Rodgers and get that figured out to improve his overall accuracy and consistency.
Keep Reading

Green Bay Packers: Like this team?