25 Most Memorable Plays from the 1st Half of the NHL Season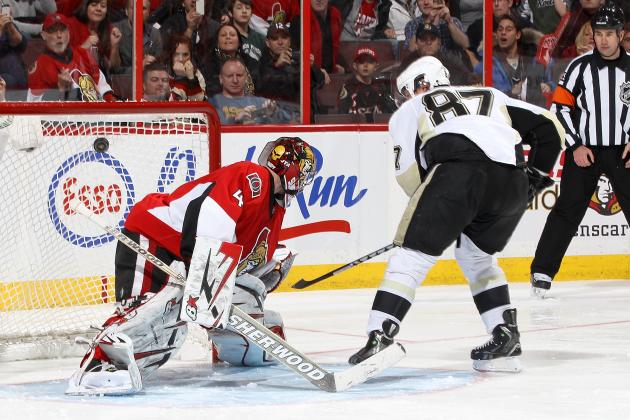 Jana Chytilova/Freestyle Photo/Getty Images

Last weekend marked the midway point of the 2012-13 NHL season, an appropriate time for carpet cleaners to break out their answer to the Zamboni and zap the ginger ale stains left by amazed TV viewers.
Due to the lockout-induced delay to this campaign, the league's landscape has started taking shape concomitantly with baseball players reconvening to tune up for their own 2013 itinerary. But devout puckheads might just ask "Who needs home runs when hockey players are batting pucks out of the air and into the net? And who needs too-close-to-call footraces to first base when goalies are grabbing the puck right along the goal line?"
Just the same, the recent conclusion of football season may deliver a necessary breather from that game, but not all of its aspects. The NHL has delivered some its own kinds of long-range passes to spoil sports fans' eyes.
And with all due respect to basketball buffs, isn't hitting the net just as the clock strikes zero a tad more special in a sport where scoring is immensely less commonplace?
Rewinding back to opening night, here is a retrace of the 25 best on-ice moves taking place in NHL games between Saturday, Jan. 19 and Sunday, March 10.
Begin Slideshow

»
In his first game since accepting the 2012 Vezina Trophy, New York Rangers netminder Henrik Lundqvist took full advantage of one of the best perks of his position. The overhead replay of his diving glove save on David Krejci could not conclusively determine whether the trapped biscuit was hovering completely over the goal line or not.
In that situation, since the biscuit is not visibly over the red line, the benefit of the doubt goes to the goalie. Accordingly, Lundqvist was rewarded with the save for his demonstrated combination of physicality, flexibility and persistence.
Everybody needed more than one look at this play after it happened, including the on-ice officials, who ruled new Detroit forward Damien Brunner's wily move perfectly legal on this shootout decider.
The celebration doesn't even factor into this play's inclusion. Nail Yakupov earned a spot on this list through positioning and precision, without which neither he nor any member of the Oilers faithful would have been entitled to a celebration on this night.
To employ two adages for the price of one, two is better than one, especially when a player does not take one for the team, but two for the team.
That was what Jacob Josefson did on this rush, drawing a pair of Washington backcheckers in Troy Brouwer and Tomas Kundratek to him as he pushed the puck up the lane. As they both closed in on him, he still managed to make a crisp lateral feed to an open Stephen Gionta, who polished the play with a low-riding wrister.
The camera caught at least three of the Blue Jackets' skaters raising their sticks while Stars stopper Kari Lehtonen rewarded his own refusal to throw his hands up on this shot.
If L.A. Kings goaltender Jonathan Quick had managed to smother this wraparound bid by Nick Bonino, the Anaheim forward's effort would have been quickly forgotten. Instead, even while being shadowed and thrown off balance by Drew Doughty after winning a battle in the corner, Bonino put enough into his shot to fire it between Quick's boots.
Noticing an opening in the red-shirt forest in center ice and teammate Jakob Silfverberg at the other end, Senators defenseman Patrick Wiercioch let his feed fly up the center alley from the hashmarks in his own zone to the Montreal blue line.
All of that just made Silfverberg's breakaway and bar-down connection over Carey Price's trapper look easy by comparison.
Florida Panthers forward Jonathan Huberdeau kept up his hypnotic stick-handling long enough to lure Flyers goalie Ilya Bryzgalov out of position. But he was also quick enough to pull the puck away from the stopper's line of vision when the time was right and, in turn, lace it home.
Like Lundqvist before him, Avalanche goaltender Semyon Varlamov made a valiant dart to his left to negate any chance of Kyle Palmieri's bid looking like an indisputable goal.
This was more or less an amalgam of the previously mentioned Josefson pass and Bonino goal. Rick Nash was ostensibly overwhelmed by both halves of the active Boston Bruins' defense and blew a tire, but still dished a sharp backhander to teammate Carl Hagelin for easy burial into a vacant cage.
Whereas Lundqvist had a hole to hurriedly plug on his glove side, Anders Lindback needed to recover on his stick side for this play after Andrei Markov vacuumed a rebound at the bottom of the circle and snapped it back at the net.
Lindback's first season as Tampa Bay's new starter has yielded a disappointing output on the whole. But for at least one play, he personified the franchise's symbol with a quick glance, quick thinking and quick action to get his paddle in the way of Markov's shot.
Looks like NHL fans do not need to wait for PK Subban's younger brother, Malcolm, to break into The Show before a member of that family makes a highlight-reel save.
A commendably crisp pass that leaves the ice during its trek to a teammate's blade is difficult enough to pull off on the forehand, never mind the backhand. But Henrik Zetterberg pulled off the latter in his cross-ice feed to Pavel Datsyuk, who sent the puck airborne his own way into the upper right shelf of the Minnesota Wild cage.
Alexander Semin's behind-the-back pass looks daring enough, but he appears to know where he is aiming as he centers it to the porch of the Winnipeg Jets net. Recipient Jiri Tlusty makes it work with his own alertness and, conversely, makes goaltender Ondrej Pavelec pay with a sweep into the vacant slab of the cage.
Brandon Saad better ensured Chicago's point-getting streak with this momentous tiebreaker, one that packed a pungent recipe of a shorthanded sprint garnished with a diagonal dinger off the post and in.
Upon absorbing Brad Marchand's feed, Bruins captain Zdeno Chara improvised a skating pattern that carved his last initial and the letter over his heart. That helped give him the space to venture out of position to the depths of the Florida Panthers zone and roof a backhand bid over the almost equally towering goaltender Jacob Markstrom.
The notorious walls of Joe Louis Arena worked to the advantage of an opportunistic visitor here and formed a highlight-reel collaboration between Vancouver's Sedin twins.
Henrik Sedin fired the puck on a diagonal path from behind the center to behind the Red Wings' goal line in the far alley. Daniel Sedin won the ensuing race to a would-be icing virtually uncontested and let the Superballing disc come to him before he thrust it by goaltender Jimmy Howard.
How Jets forward Evander Kane was not credited with a takeaway at about the 17:42 mark of the second period in this game boggles the mind. But he rendered that a negligible detail when his meticulous stick-work led to a back-and-forth rush with Alexander Burmistrov, culminating in his deceptive and deft deposit of the go-ahead goal and eventual game-clincher.
With a .899 save percentage and 2.92 goals-against average through his first 21 outings of 2013, Phoenix goalie Mike Smith is hardly matching the new standards he set for himself during last year's regular season and playoffs.
But on this play, anyway, Smith managed to bring back memories of another notable netminder from the 2012 tournament.
On that note, when is a YouTube user going to give this move a Scorpions music video? It applies more appropriately to Smith considering he caters to a fanbase in the desert.
Those who have seen the much-maligned Slap Shot 2 just might have watched this play and promptly concluded that Patrick Kane would make a perfect Omaha Icebreaker.
No? Well, the main point is he went out of his way to befuddle Detroit goaltender Jimmy Howard and stuff home a shootout conversion.
Compared to the aforementioned Lindback save, this block by Hurricanes goaltender Justin Peters is worth a few extra points in that he closed a bigger hole and dealt with a shooter, Buffalo's Thomas Vanek, who fired from a better angle.
How is this for poetic justice? Exactly 39 nights after Josefson made his spectacular setup at the expense of two Capitals who were sandwiching him, Eric Fehr gave Washington a goal executed in a similar fashion.
The congestion issued by Boston blueliners Dougie Hamilton and Dennis Seidenberg was not enough to impede Fehr from unleashing a quality overtime shot, let alone a walk-off strike into the top shelf.
The Bruins' statistical leader last season with 29 goals and 242 shots on net, Tyler Seguin has more recently proven that his successes and shortcomings have taught him one or two pointers about playing the other side.
That came into full view here when he bailed out goaltender Tuukka Rask with a classic two-pad stack and a let a Max Talbot shot bank off his skates.
Colorado Avalanche forward Matt Duchene emerged from San Jose defenseman Justin Braun's shadow to slug a sufficiently spectacular sudden-death strike into the upper right corner.
That is, at the very least, enough for top-play candidacy. The fact that this was executed in Mark Johnson fashion on the cusp of the buzzer cements its inclusion.