Inter Milan vs. Tottenham Hotspur: 6 Things We Learned in Europa League Clash
Andre Villas-Boas presides over an awful Tottenham Hotspur performance against Inter Milan.
Michael Regan/Getty Images
Not since Adolf Hitler decided the German army should invade Russia in World War II has one man so inadequately set up his men for a foreign mission than how Andre Villas-Boas did for his Tottenham Hotspur team out in Italy on Thursday night.
As comparisons go, a bit over the top perhaps. The Tottenham manager's lineup and tactics in taking on Inter Milan were just that misguided though, just that perplexing. Disappointing from a manager who has done so much great work in recent months.
After losing 4-1, drawing 4-4 on aggregate, the Premier League club progressed to the quarterfinals on away goals. It was a close call to say the least. Villas-Boas will be breathing a sigh of relief if Spurs are are in Friday's draw and will be hopeful it has not taken too much out of them ahead of Fulham on Sunday.
After 120 minutes plus of action in the San Siro, here are some things learned from an eventful night of Europa League football.
Villas-Boas Needs to Stick to What He Does Best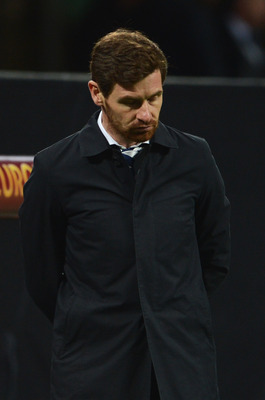 Andre Villas-Boas got lucky in the end.
Michael Regan/Getty Images
Some of the particulars will be explored over the next few pages, but one thing Andre Villas-Boas has to have learned is that he is better off keeping things simple.
Playing two upfront, the Portuguese's intention was to to try and put Inter Milan under pressure and grab a goal quickly. Reasonable in general theory, this idea did not consider the difficulties that come with playing Inter at the San Siro.
As bad as the Nerazzurri were at White Hart Lane, they were always going to be more capable of hurting Tottenham at home. The ironic thing is if Villas-Boas had set up Spurs in the 4-2-3-1 formation they generally play (or more similar to that at least), it would be hard to see them being hit as often as they were by Inter.
They would have been sturdier and still could have selected players to try and get at the opposition.
Instead Villas-Boas chose to change tactics and personnel, overlooking the experience and qualities of this Inter team when he would have been better served sticking to a tried and tested formula.
The decision to play the inexperienced Kyle Naughton at left-back instead of Benoit Assou-Ekotto most specifically represented their manager's naivete.
Assou-Ekotto has twice played for Spurs in this stadium. No matter what Villas-Boas had in mind tactically, to drop him in favor of a comparatively inexperienced full-back who has not played in weeks was over-thinking things to say the least.
Spurs Are Worse off When Dembele Is Played out of Position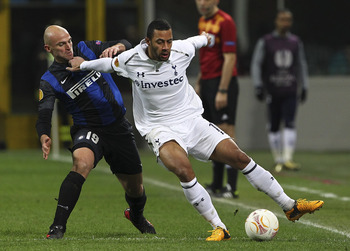 Mousa Dembele.
Marco Luzzani/Getty Images
Villa-Boas made a call to play Mousa Dembele in right midfield against Liverpool. In the absence of the injured Aaron Lennon, the Belgian played well, though in hindsight Tottenham would probably have fared better with him in his usual position of central midfield.
You live and learn. Though Spurs lost, it was something they tried and that is part and parcel of a team's development.
Dembele's selection on the right flank against Inter was a little less understandable. Once again he gave a decent effort. But even if Lennon was not deemed fit enough to start (he later came on), there were other options for Spurs that would have allowed them to play their best midfielder in his best position.
That is where Dembele probably should have been on Thursday, and he definitely should be from here on out. Not only does he drive his team forward from central midfield in an effective and (generally) intelligent manner, Dembele also sets the tone defensively.
Scott Parker and Jake Livermore are just too reactive. While having one of them in there is fine, without the more dynamic Dembele to judge when to close down and up the tempo sufficiently, Inter were allowed to gain the impetus too often from central areas.
At least so long as Sandro is injured, Spurs need Dembele at the heart of their midfielder.
Dawson Has to Play Every Game from Now on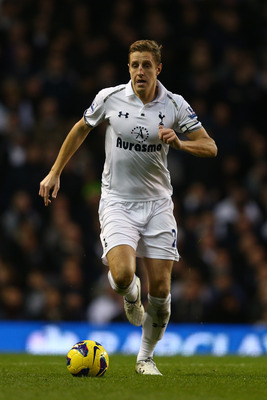 Michael Dawson.
Clive Rose/Getty Images
If there was any lingering doubt, it has been eradicated now—Michael Dawson has to play whenever possible. Tottenham are just not a viable concern defensively without him, certainly against stronger opponents.
Villas-Boas has gone with a central defensive pairing of William Gallas and Jan Vertonghen of late in Europe, and considering they have not let him down it was unlikely he was going to change it. Once again (and it was exacerbated by disappointing showings from full-backs Kyle Walker and Kyle Naughton) they were just so embarrassingly disorganized without Dawson there to coerce, command and stop the opposition before they hurt them first.
Given the way Spurs were set up, they might have had difficulties regardless of who played in defense. But the last time they were this erratic at the back was in the first half of the loss to Arsenal last November, the last time Dawson did not start in the league when fit.
Whatever attributes Gallas and Vertonghen possess individually, without a tough and committed presence besides them like Dawson, they look soft. For defenders, there are few worse things to be labelled than that.
Spurs Need More from Their Frontmen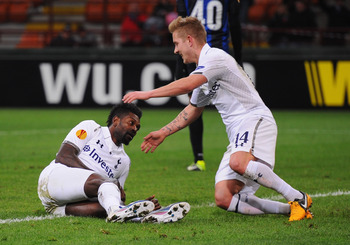 Adebayor got Spurs' vital goal but was woeful besides.
Michael Regan/Getty Images
Briefly touched on a few pages back, the decision to play two strikers against Inter was the wrong one by Villas-Boas, especially given the poor form of Jermain Defoe and especially Emmanuel Adebayor.
Tottenham could still have effectively attacked with one forward backed by sufficient support from midfield. They would have had more bodies to fend off Inter's own advances too.
Instead, as has been their way of late (in 2013 at least), Defoe and Adebayor struggled to impact the game.
Adebayor deserves minimal credit for his goal because he was just so awful otherwise. His work rate was appalling, and it will not have pleased Spurs fans to see him lumbering about aimlessly late on and then getting booked for kicking out too.
Defoe was not any better. Given his good form prior to Christmas (and sporadically since) there is still the hope a goal for him could see him find his range and touch again. Spurs need to see more from him than he showed on this occasion though. It was probably his most lethargic display of the season, and it is worrying how he often looks worse with Adebayor beside him.
All of this goes to show just how good Gareth Bale has been playing. The Welshman may not always be sensational, but more often than not he tries to make things happen. For players as talented as Defoe and Adebayor are (no, really), it would be nice to see this from them in such a big game.
Inter Really Blew It in the First Leg
Antonio Cassano.
Michael Regan/Getty Images
There was more evidence on Thursday as to why Inter Milan are currently having difficulties qualifying for next season's Champions League through their Serie A position. However they were also engaged, creative and full of spirit as they sought to overturn Tottenham's lead.
If they had been anything close to this in the first leg at White Hart Lane, they may have been the team celebrating progress to the next round right now.
Antonio Cassano's performance most summed this up. Disinterested and barely a passenger in the first leg, he was at the heart of so much of what was good about Inter this time around.
It emphasized the Jekyll and Hyde nature of Andrea Stramaccioni's team right now. Lose at home to Bologna on Sunday, then beat Spurs 4-1 days later. If Inter can get it together consistently, they still have more to play for this season.
This Could Be a Valuable Learning Experience for Villas-Boas and Spurs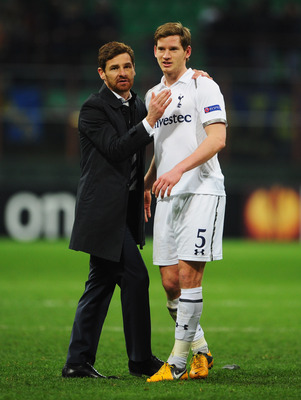 Close call for Villas-Boas and Vertonghen.
Michael Regan/Getty Images
When Tottenham played Inter Milan in the San Siro in the Champions League in 2010, Harry Redknapp screwed up tactically. He took on an Inter Milan team possessing attacking talent like Wesley Sneijder, Dejan Stankovic and Samuel Eto'o with a midfield that consisted of Aaron Lennon, Luka Modric, Jermaine Jenas and Tom Huddlestone.
This was particularly baffling considering that Wilson Palacios, a defensive midfielder capable of closing down and harrying these Inter stars, was left on the substitute bench. The Nerazzurri proceeded to rip this soft Spurs midfield to shreds, with no-one there to get in amongst their creative players and stop them from playing.
Although against AC Milan rather than Inter, when Tottenham returned to the San Siro a few months later Redknapp had learned his lesson. Palacios and fellow stopper Sandro were immense. They gave the Milan of Alexandre Pate, Zlatan Ibrahimovic and Robinho everything they had. Along with other concessions to these threats, Spurs were disciplined and geared up to stifle them, and won 1-0.
Andre Villas-Boas, his coaching staff and his players got a lot of things wrong against Inter this time around. But at the end of the day, they have progressed to the next round. They must make sure to learn from their mistakes. If they do, just like Harry and the boys did back in 2011, they might see the benefits of their lessons before the season is out.
Keep Reading

Tottenham Hotspur: Like this team?