Ranking the Biggest Prospect Studs, Duds Halfway Through Spring Training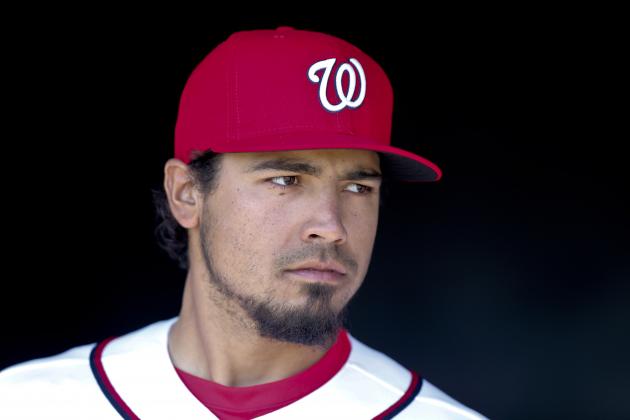 Derick Hingle-USA TODAY Sports
Anthony Rendon: Despite being optioned to Double-A on Wednesday, the 22-year-old is nearly ready to make an impact in the major leagues.
Spring training statistics can be horribly misleading. With so many young, inexperienced prospects in big-league camp, it's imperative that all gaudy numbers be analyzed within context.
Now, deeming a prospect to be a "stud" has nothing to do with the likelihood of them making the Opening Day roster. Rather, the label is derived from a player's spring performance relative to their future projection in the major leagues. On the contrary, a "dud" prospect has more to do with failed expectations and is supplemented by the player's spring statistics.
Here's a look at the biggest studs and duds halfway through spring training.
Begin Slideshow

»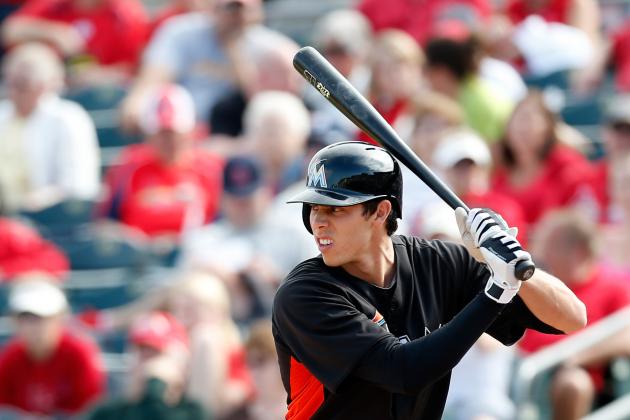 Chris Trotman/Getty Images

1. Christian Yelich, OF, Miami Marlins
As I mentioned yesterday, Yelich has been the most impressive prospect in big-league camp this spring. After batting .330/.404/.519 in 2012 as a 20-year-old in the pitcher-friendly Florida State League, the lanky outfielder has established himself as one of the best pure hitters in the minor leagues.
Therefore, it's far from surprising that the left-handed hitter has continued to rake this spring, as he enters Thursday's games with a .361/.465/.750 slash line with six extra-base hits (three home runs) and five walks in 16 games.
2. Jackie Bradley, Jr., OF, Boston Red Sox
Bradley raced through Boston's system last year, as the 2011 supplemental first-rounder batted .315/.430/.482 with 65 extra-base hits (42 doubles), 24 stolen bases and 89/87 K/BB in 128 games, and spent the second half of the season at Double-A.
In addition to his projectable hit tool from the left side, the 23-year-old's plate discipline ranks among the best in the minor leagues and has him poised to hit at the top of the Red Sox's lineup for years to come.
Despite the fact that he's batting .536/.629/.714 through 13 games this spring, it's highly doubtful that Bradley will make the Opening Day roster. However, given his mature bat and secondary skills, not to mention the plus defense he provides in the outfield, it's only a matter of time until he reaches the major leagues.
3. Julio Teheran, RHP, Atlanta Braves
After a terrible 2012 season back at Triple-A Gwinnett, I think it's safe to say that Julio Teheran is finally back. In his fourth start of the spring on Tuesday, the 22-year-old right-hander continued his early string of dominance by firing five no-hit frames (with six strikeouts) against the Cardinals.
That brings Teheran's overall spring line to a 1.29 ERA with 18/4 K/BB in 14 innings, and he's only allowed four hits during that span.
With Tommy Hanson and Randall Delgado out of the picture, it's difficult to imagine the Braves not breaking camp with Teheran as their fifth starter.
4. Anthony Rendon, 3B, Washington Nationals
Yes, the Nationals assigned Rendon, the sixth-overall selection in the 2011 draft, to Double-A Harrisburg on Wednesday. However, that shouldn't detract from how well he's swung the bat this spring.
Before the re-assignment, the 23-year-old right-handed hitter was batting .375/.412/.875 with eight extra-base hits (four home runs) through 13 games. Unfortunately for Rendon, he's blocked at every position in the major leagues.
But in the event of an injury, the Nats sure have one hell of a hitter waiting in the wings.
5. Nolan Arenado, 3B, Colorado Rockies
After batting .298/.349/.487 with 20 home runs and 122 RBI in 2011 for High-A Modesto in the hitter-friendly California League, Arenado came back to earth last year in his first season at Double-A.
Though a regression was expected, the 21-year-old's production fluctuated throughout the season, though he ultimately finished with a respectable .285/.337/.428 slash line in 134 games. This spring, Arenado has swung the bat as he did in 2011, as seven of his eight hits (3 2B, 4 HR) have been for extra bases.
Al Messerschmidt/Getty Images

1. Jarred Cosart, RHP, Houston Astros
Honestly, is there a more frustrating pitching prospect than Jarred Cosart?
At 6'3", 180 pounds, the right-hander has always showcased excellent stuff, but he never missed the amount of bats that he theoretically should. And as he's moved up the ladder, Cosart's strikeout and walk rates have steadily converged.
His struggles have been amplified this spring, as the 23-year-old has registered an 8.22 ERA with 4/6 K/BB in 7.2 innings. While the Astros are still intent on developing him as a starter, it's looking like Cosart's only future may be in the bullpen.
2. Darin Ruf, 1B-LF, Philadelphia Phillies
An older prospect who lacks projection, Ruf, 26, led all minor-league hitters last season with 38 home runs in 139 games for Double-A Reading. Serving as a September call-up, he concluded his breakout campaign by adding three more home runs in 12 games with the Phillies over the final month of the season.
Competing for a spot in the team's outfield this spring, even if only as a platoon player against left-handed pitching or perhaps a spot on the team's bench, Ruf's future value is tied to his ability to hit major-league pitching. However, the right-handed hitter has continued to squander opportunities this spring, as he's batted .200/.317/.371 with one home run and eight strikeouts through 12 games.
3. Cody Buckel, RHP, Texas Rangers
Despite being an undersized right-hander, Buckel's deceptive delivery and deep arsenal have helped him emerge as a legitimate top-100 prospect. Last season, the now-21-year-old was highly impressive at both High-A Myrtle Beach and Double-A Frisco, as he finished the year with a 2.49 ERA and 159/48 K/BB in 144.2 innings.
However, the same praise doesn't apply to his performance this spring, as Buckel has allowed seven earned runs on four hits, five walks and two hit batters over one inning spanning two appearances.
4. Mike Montgomery, LHP, Tampa Bay Rays
Once considered one of the top left-handed pitching prospects in the game, Montgomery's massive regression with the Royals over the last two seasons was unexpected and even resulted in a demotion to Double-A last season.
Despite the relegation, Montgomery failed to right the ship at the lower level.
The Royals essentially cut their losses with the southpaw when they packaged him with three other prospects (including Wil Myers) to land James Shields and Wade Davis from the Rays.
Although he'll have a fresh start with his new organization, Montgomery has a lot of work to do to regain his once-favorable prospect status. So far this spring, his inability to get outs has been amplified, as he enters Thursday's games with an ugly 12.00 ERA, as well as three walks and two wild pitches.
5. Chris McGuiness, 1B-DH, Cleveland Indians
Selected by the Indians during the Rule 5 draft (from the Rangers) in early December, McGuiness batted .268/366/.474 with 23 home runs in 123 games last season at Double-A Frisco and followed it by capturing MVP honors of the Arizona Fall League.
Considering he's already on the team's 40-man roster and has a track record of mashing right-handed pitching, the 24-year-old first baseman will likely reach the major leagues this season. However, he certainly hasn't helped his cause by batting .115/.207/.115 with eight strikeouts over 15 games.