NBA Teams Who Have Been Searching for a True Star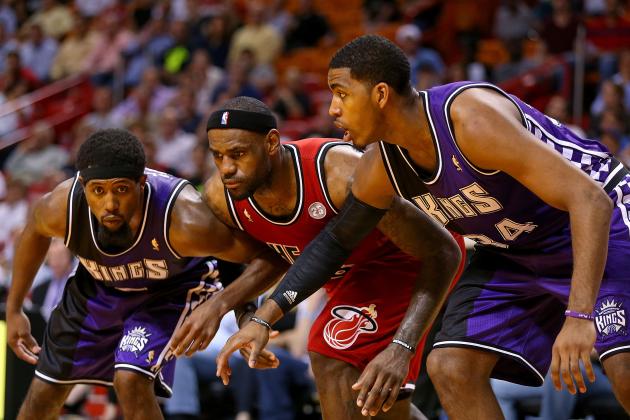 Mike Ehrmann/Getty Images

I know, I know. Star power isn't everything in the NBA.
The Nuggets, Pacers and Grizzlies have, in the eyes of many, proven that a team can dominate without dominant players. These teams that win without superstars are praised for it, almost as if the franchises' lack of star power is by choice.
The fact is that any general manager who truly believes in not having a superstar should immediately be fired.
Besides the freakish 2004 Detroit Pistons—who had near-superstars everywhere—every NBA Champion over the past 30 years has been lead by at least one surefire Hall of Fame talent, oftentimes two or three.
That isn't to say every team needs to be on the hunt for this star at all times.
For franchises like Indiana, Memphis and Denver, their current relevancy is something to be proud of, and all have compiled such deep, strong-identitied rosters with so much youth and talent that they are one young player's blossoming away from becoming true championship threats.
Of course, most starless teams are currently struggling, but many of them have young players with the potential to one day lead a better-built team to a title.
That being said, there are several teams out there that stardom has simply eluded for far too long.
Begin Slideshow

»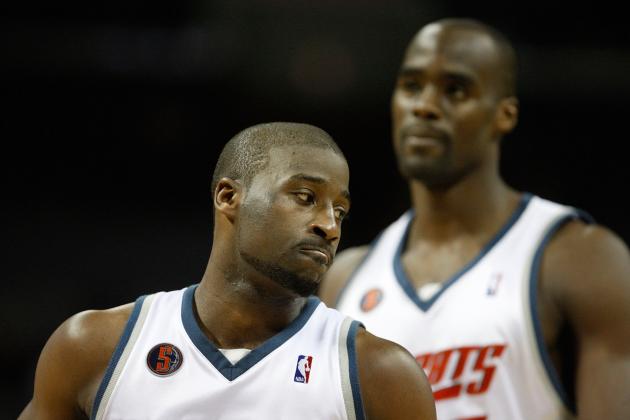 Streeter Lecka/Getty Images

Maybe we shouldn't feel bad for them. They've only been in the league nine years; some teams have gone far longer without success. They also play in front of one of the most lackluster fan bases in the NBA and in a state where college basketball is king.
Still, one can't help but feel bad for the Charlotte Bobcats.
The Bobcats finished second in the draft lottery in 2004, the year they were added to the NBA. The Magic took Dwight Howard first. Charlotte took Emeka Okafor.
In 2005, the Bobcats finished with the league's second-worst record, but finished fifth in the lottery. Andrew Bogut, Deron Williams and Chris Paul went in the top four. Charlotte drafted Raymond Felton at No. 5.
In 2006, the Bobcats drafted Adam Morrison third overall, right beneath LaMarcus Aldridge and in front of guys like Brandon Roy and Rudy Gay.
The Bobcats traded their first-rounder in 2007 for Jason Richardson, and should have continued this strategy.
In 2008, they drafted D.J. Augustin at No. 10, after guys like Derrick Rose, Russell Westbrook, Kevin Love and Eric Gordon and before guys like Brook Lopez, Roy Hibbert and Serge Ibaka.
In 2009 The Bobcats were a little too good to land a top-10 pick. It was a bad year to get better, as they missed out on Blake Griffin, Stephen Curry, Ricky Rubio, Brandon Jennings and DeMar DeRozan.
The last couple draft picks Charlotte has made haven't been dreadful—Kemba Walker and Michael Kidd-Gilchrist are good players who can be important pieces on a winning team one day.
Of course, they did miss out on the No. 1 pick and Anthony Davis last season, despite the league's worst record.
Neither Walker nor Kidd-Gilchrist, is going to turn the Cats into a winner. Similarly, no star free agent would, in their right mind, sign in Charlotte.
The Bobcats are on track to finish with the No. 1 position in the draft lottery for the fourth time in 10 years. Even if they win it this year, this class lacks anyone with "future superstar" written all over them.
Maybe they'll get lucky.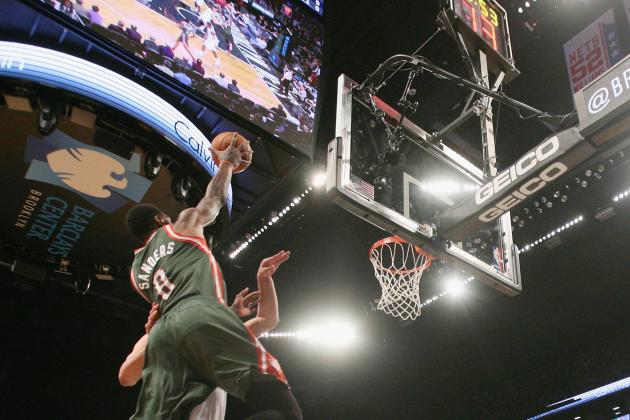 Bruce Bennett/Getty Images

Unlike the Bobcats, Milwaukee isn't bad enough to warrant pity.
They will be in the playoffs this year. They once made 12 straight postseason appearances.
At one point in time, they had Kareem Abdul-Jabbar and Oscar Robertson on the same team.
Even in recent years, All-Stars such as Andrew Bogut and Michael Redd have played in Milwaukee.
They currently have a lethal backcourt with Brandon Jennings and Monta Ellis, not to mention the league-leading shot blocker, Larry Sanders, playing center..
The Bucks have great depth, with complimentary pieces such as Ersan Ilyasova, Ekpe Udoh, J.J. Redick, Samuel Dalembert, Luc Mbah a Moute, Mike Dunleavy and John Henson.
By all accounts, they are a well-built team doing all the right things.
Yet, when one asks the question "where is this team going?" there is no good answer.
The Bucks don't appear ready to become a contender, joining the ranks of Miami, Indiana, New York, Brooklyn and Chicago. They aren't headed downhill, either, as they have young talent that figures to be around for a while.
Essentially, in the upcoming years they should be the team the Atlanta Hawks have been for the past few—they'll be in the playoffs every year, maybe win a series once in a while, but never really contend for a title.
Unless everything magically clicks for Brandon Jennings or Monta Ellis within the next season, the Bucks would be wise to go all-in and move several quality assets for a true star.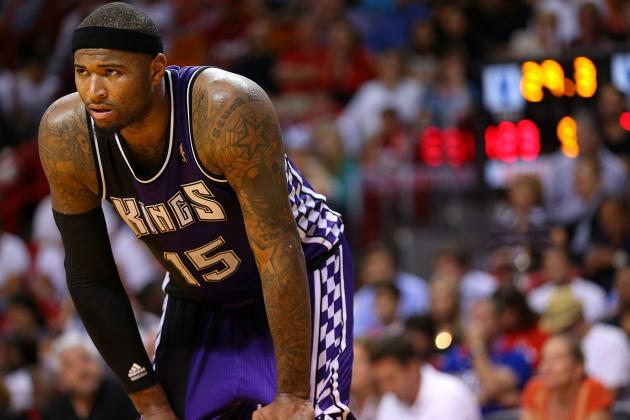 Mike Ehrmann/Getty Images

The Bucks are an average combination of good-but-not-great talent. The Kings are a bad combination of great-but-not-good talent.
Huh?
DeMarcus Cousins. Tyreke Evans. Thomas Robinson (until recently). Marcus Thornton.
If all of these players played in the right system and had their heads on straight, this would be one of the most dangerous corps in the NBA.
Part of the problem is that there's too much young talent. Isaiah Thomas, Jimmer Fredette and Jason Thompson cloud the picture for Sacramento. Keith Smart is certainly not doing his part to establish roles for all these pieces, nor is he teaching them the defensive and disciplinary habits they need to succeed in the NBA.
Then there's the whole moving drama.
Ultimately though, it comes down to the players. The fact is that, talent-wise, there is not a better big man in the NBA than DeMarcus Cousins. Tyreke Evans was, only a couple of years ago, the best young point guard in the NBA. Unfortunately, something just won't click with either of them.
The Kings franchise is the definition of dysfunctional. The best cure for chaos and negativity is, of course, a star player that everyone can get behind. A player that brings not only hope for a bright future, but actually leads the team to a brighter present.
The Golden State Warriors were in a similar place a couple seasons ago, with Monta Ellis, Stephen Curry, Jamal Crawford, Al Harrington, Stephen Jackson, Corey Maggette, Anthony Randolph, Anthony Morrow, Brandan Wright and a whole lot of losses.
It wasn't until the Warriors started moving out these pieces in bulk and adding guys like David Lee and Andrew Bogut in return that things started to turn.
It's time for Sacramento to give up on their high-ceiling youngsters and receive some all-star talent in return.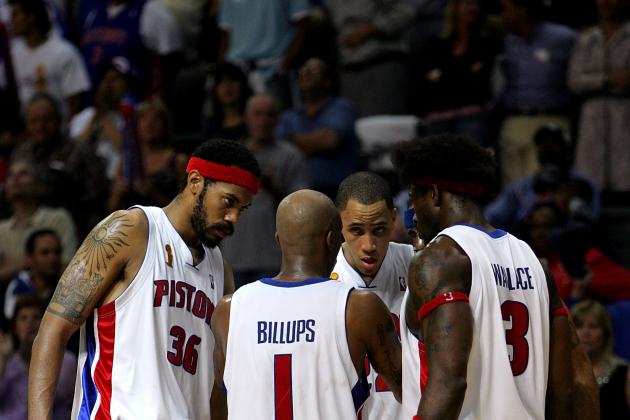 Ronald Martinez/Getty Images

The Pistons have, historically, gotten it done by committee.
There's the 2004 team, which featured Chauncey Billups, Rasheed Wallace, Richard Hamilton, Ben Wallace and Tayshaun Prince. This team beat out Kobe Bryant, Shaquille O'Neal, Karl Malone and Gary Payton for a title.
Then there's the 1989 and 1990 Pistons, who used Isaiah Thomas, Joe Dumars, Dennis Rodman and Bill Laimbeer to win back-to-back titles, catalyzed by the trading of Adrian Dantley.
The Pistons have now what looks like a solid young frontcourt with Greg Monroe and Andre Drummond.
They do not, however, have the complimentary backcourt to win by committee. Brandon Knight, Rodney Stuckey and Jose Calderon are all nice players, but unless Detroit strikes gold in the draft, they will likely have to blow everything up again before returning to greatness.
In order to expedite this process, the Pistons should strongly consider moving some tough-to-part-with pieces—even Monroe and Drummond—in order to land a real star.
Because let's face it: Those championship Piston teams may not have had the superstar power of the Lakers teams they beat or even of almost every NBA Championship club, but it's not as if Isaiah Thomas, Joe Dumars and Dennis Rodman aren't all in the Hall of Fame.