Picking a UEFA Champions League Quarterfinals Best XI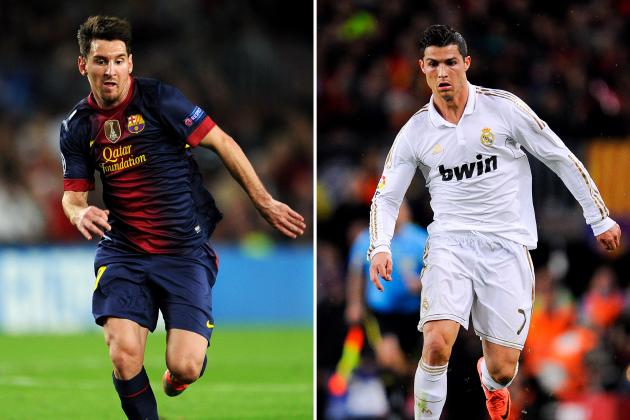 Getty Images/Getty Images

The Champions League quarterfinals are upon us. Each team has had its chance to show the world what it has and more importantly who it has.
There have been a number of outstanding performances from the likes of Barcelona, Real Madrid and Juventus while Paris Saint-Germain, Borussia Dortmund and Bayern Munich must not be discounted. Not to mention the surprise packages of the Isco-led Malaga and Galatasaray.
But no team has been consistently brilliant—yet. A number have built momentum, and as the quarterfinals roll around, a large number of players—including Andrea Pirlo, Xavi Hernandez, Lionel Messi and Cristiano Ronaldo—are looking to lead their team to victory.
Which players have captured the eye and stood tall when others around them have wilted?
Who had the strength of character to lead his team to the quarterfinals when all else had failed?
And who has just been brilliant?
Read on for the complete rankings, and be sure to leave your top stars, suggestions and tactics in the comments below.
Begin Slideshow

»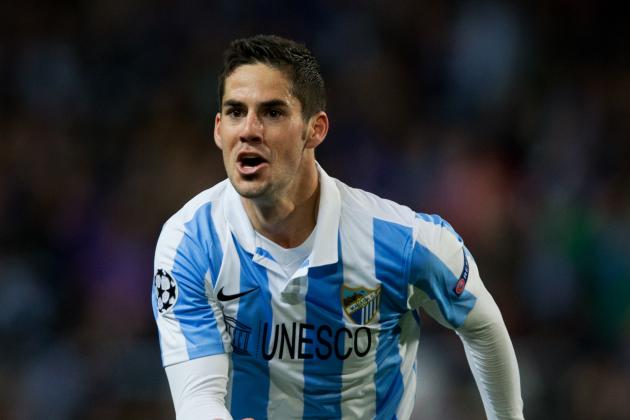 Jasper Juinen/Getty Images

There will always be a select few who miss out.
They may not fit into the starting XI but would certainly make a 23-man squad. Or through just bad luck, they won't get selected. All the same, they should be honoured for their superb contributions to the Champions League.
Goalkeeper
As far as the final eight teams are concerned, the two other best 'keepers in the tournament are Iker Casillas and Bayern Munich's Manuel Neuer. Both are superb shot-stoppers but miss out on selection because of Buffon's incredible consistency. Casillas also falls behind a bit for being absent for each of Real Madrid's ties against Manchester United.
Defenders
There are quite a few defenders who deserve special mention. Alex has been brilliant for PSG so far, as has Dortmund's Lukasz Piszczek and Bayern's David Alaba. Add in Juve's Andrea Barzagli, and you have four of the best defenders in the world at the moment.
Midfield
The biggest casualty of all is probably Malaga's Isco. The little midfielder has been incredible in leading his team to the quarterfinals. Expect him to move on to bigger and better things next season. The same could be said of Juve's Arturo Vidal and Bayern's Toni Kroos, although they won't go anywhere next year.
Forwards
Zlatan Ibrahimovic has been brilliant in guiding PSG so far in the competition, as has Galatasaray's Burak Yilmaz, who is joint top scorer with Ronaldo. Ibra's partner, Ezequiel Lavezzi, has been no slouch either, and PSG are real dark horses for the competition with players like them up front.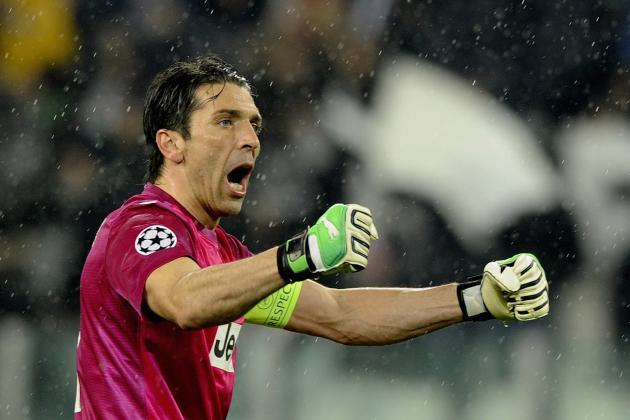 Claudio Villa/Getty Images

For the position of goalkeeper, there can be only one: Gianluigi Buffon.
The Italian shot-stopper is one of the best 'keepers the game has ever seen, if not the best. At 35 years old, he still defies the years with almost cat-like reflexes and a telepathic understanding of his own defence as well as what hopeful strikers have in mind.
Supremely influential at the international level, Buffon is equally as important for Juventus and has been a key figure in their revival after Calciopoli.
He has featured in all eight of the Old Lady's games this term and is easily the top goalkeeper in the Champions League. For evidence, note that Juventus have not allowed a goal in their last five matches in the tournament.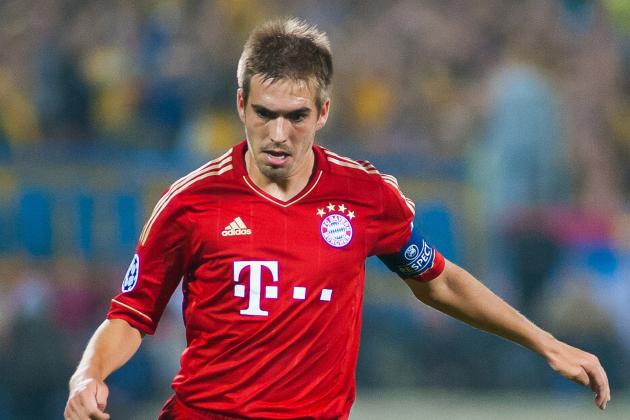 EuroFootball/Getty Images

Philipp Lahm is easily the finest full-back in the game today. The ultra-cool, ultra-consistent Bayern Munich and German captain is the very prototype of a defender in the modern game.
Quick, intelligent in attack and defence and superbly disciplined, Lahm has, once again, been at the forefront of all that is good about Bayern in the Champions League this term. He has played in seven Champions League games and contributed four assists with a passing average of 89 percent.
He also averages 2.7 tackles and 2.7 interceptions per game, making him a real all-arounder on defence. Lahm is comfortable on either side of the pitch, but in 2012-13 he has made the right side of defence his own.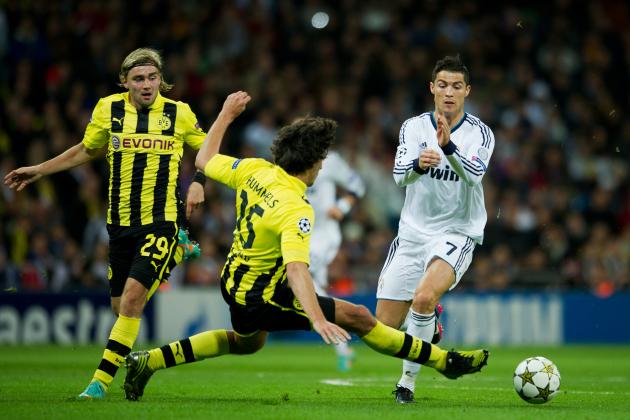 Jasper Juinen/Getty Images

The hulking figure of Mats Hummels is fast becoming a regular feature in any article on the top defenders in the game.
While Dortmund have become the darlings of European football with their silky style, their defence, led by Hummels, is one of the main reasons for their success.
The 6'3" 24-year-old was one of the best defenders at Euro 2012 with Germany and has carried his form into this season. In his seven Champions League matches, he has contributed 22 tackles, 17 interceptions and a gargantuan 76 clearances, which places him atop the defensive statistic charts.
However, his intelligence and consistency really separate him from the also-rans. A competent passer out of defence, Hummels is also known to dribble the ball into midfield, which commits opposing players to uncomfortable areas of the pitch.
For a team like Dortmund, this simple but effective tactic creates all manner of space across midfield, which they can and usually do expose.
The very fact that Hummels is still learning his trade should not be lost on anyone. He has the potential to one day be talked about in the same breath as Paolo Maldini and Franco Baresi.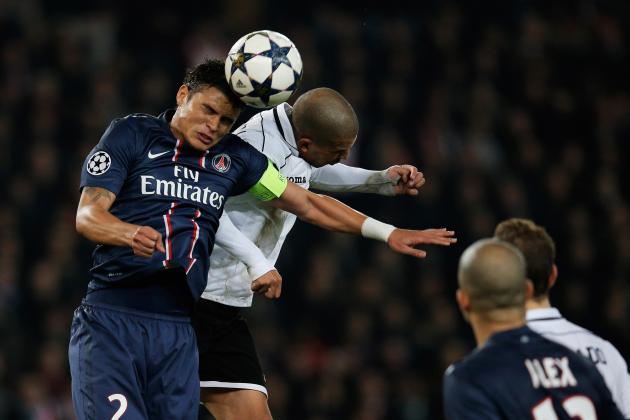 Dean Mouhtaropoulos/Getty Images

Thiago Silva has long been rated as one of the best defenders in the world. However, the 28-year-old Brazilian international has always suffered under the slings and arrows of naysayers who said he never did it on the big stage.
After his play for Paris Saint-Germain in 2012-13, nobody will be able to say that anymore.
To say that Silva has been immense for Carlo Ancelotti's team would be a disservice to his magnificence. Showing Stephen Hawking levels of concentration, Silva has helped guide PSG to the quarterfinals through sheer determination, superb defensive skills and absolute leadership.
Easily one of the standout players of the Champions League, Silva has played in seven matches, notching two goals, 13 tackles, 26 interceptions and 41 clearances. He is not as much blood and thunder as concentrate and ambush, and his defensive intelligence this term has shown no equal.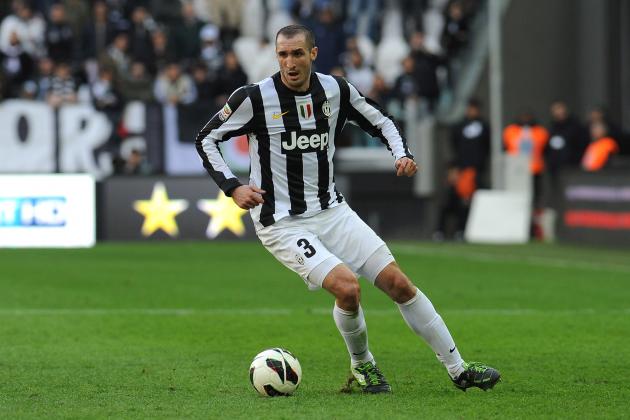 Valerio Pennicino/Getty Images

Giorgio Chiellini has enjoyed a superb Champions League. The hard-nosed Italian international has played in six of Juventus' matches and is a force to be reckoned with at left-back or centre-half.
His pass completion rate sits at a healthy 87.7 percent, and on defense skills he has contributed 2.7 tackles and 2.8 interceptions per match and a blistering 70 clearances in six games.
He is an old-school defender who takes very few chances. That makes him one of the most reliable defenders on the planet for club and country.
He is a supreme warrior in the air or on the ground and has the ball skills to get himself out of trouble in any situation.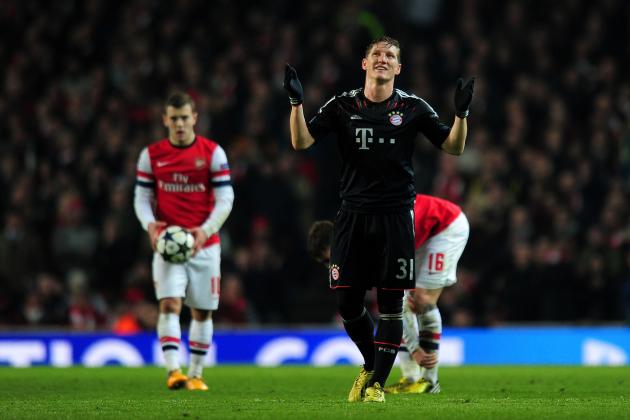 Shaun Botterill/Getty Images

Bastian Schweinsteiger is one of the best midfielders on the planet at this moment in time. Whether he is organising and running Bayern Munich or the German national team, Schweinsteiger is the leader on the pitch to whom every player looks for example.
He patrols the pitch like a guard dog and covets his space and the ball jealously. When playing against him, opponents know they have to win the physical war before they can even attempt to play.
The 28-year-old is ultra-competitive in midfield and isn't afraid to put his boot where others fear to tread. In seven Champions League appearances, he has 19 tackles, two goals and an 87.6 percent success rate on his passes. He is the player teams have to best if they want to beat Bayern Munich.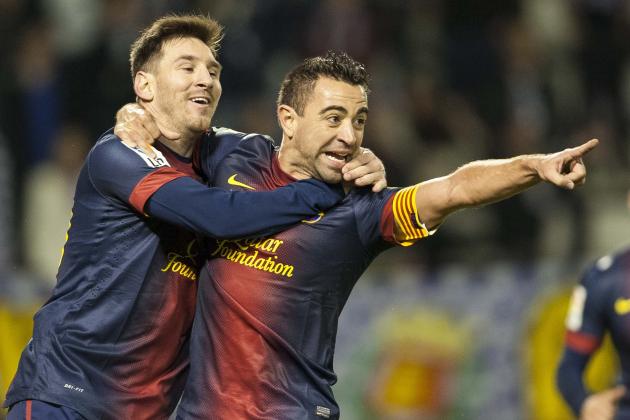 Victor Fraile/Getty Images

Xavi Hernandez is a true giant of the game. The little Barcelona star is probably the best midfielder the game has produced in a generation, and he links every single part of Barca's team.
Lionel Messi may grab all the headlines for his goals and supreme play, but Xavi provides the foundations for Messi's play.
He has made a staggering 962 passes with a completion rate of 94.9 percent in his seven matches for Barca in this Champions League term. That is more passes than many teams have managed in the same amount of games.
He is the fulcrum upon which Barca turn. He beats his opponents with intelligence, ingenuity and guile that goes unmatched in the modern game.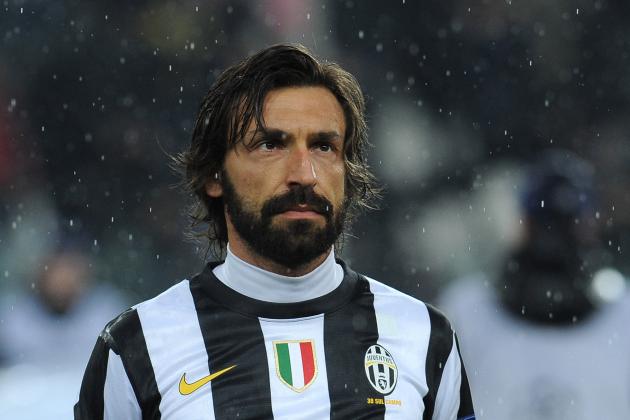 Valerio Pennicino/Getty Images

At 33 years old, Andrea Pirlo may be in the latter years of his career, but he has had some of the best performances many have seen in this season's Champions League. Central to everything that is good about Antonio Conte's Juventus team, Pirlo is a creative force for excellence.
He can pick a pass out through the eye of a needle, and he dictates the ebb and flow of Juve's every match. Unafraid to bite into tackles and brave enough to pick the ball up under intense pressure, Pirlo may just be the best all-around midfielder left in the competition.
During his eight-game journey in the competition, he has made 492 passes with a completion rate of 84.8 percent, but it is his eye for a pass that stands out. You must consider that Juve are a caution-first team and don't commit to attack unless a chance is clear-cut.
Thus, the very fact that Pirlo has created 25 goal-scoring opportunities (three assists) in so few games exemplifies his supreme creativity and vision.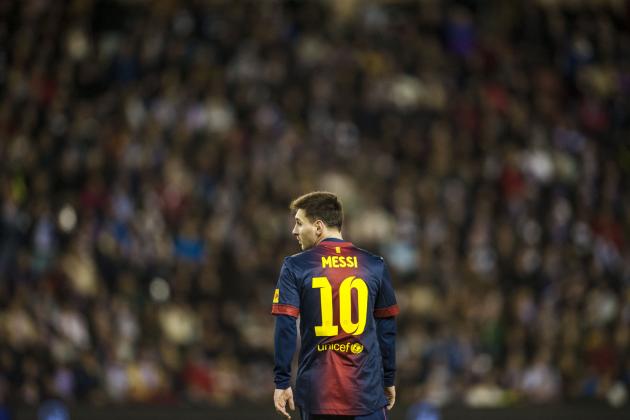 Victor Fraile/Getty Images

One could not have a Champions League team without the God who is Lionel Messi.
Once again, the little Argentinian is in the form of his life in domestic action and has scored a ridiculous 40 goals in his last 27 matches.
As far as the Champions League is concerned, though...
Messi has scored seven goals in eight appearances and is moving closer to becoming the all-time top scorer in the competition. He averages a whopping 4.8 shots per game, completes 86.2 percent of his passes, has created 15 goal-scoring chances and is one of the most fouled players in the competition.
To say that Messi has made his mark in 2012-13 would be an understatement. He is so dangerous in any position that he is now hailed in the same breath as the likes of Pele and Diego Maradona.
That's not bad company for the 25-year-old.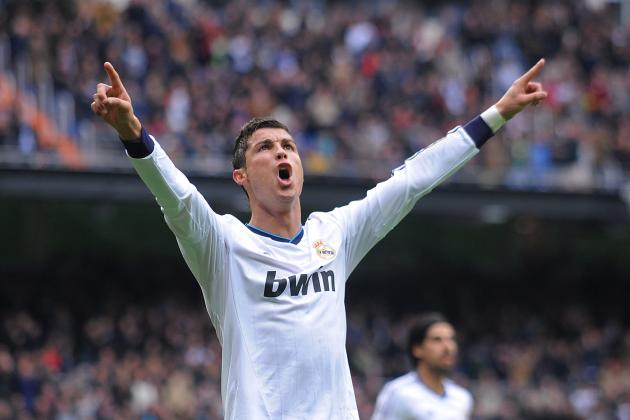 Denis Doyle/Getty Images

If Messi makes the team, there must be a place for Cristiano Ronaldo.
Ronaldo is a little more direct than Messi as a player but has managed a superb eight goals in eight Champions League games.
He averages 7.3 shots per game to Messi's 4.8 and has made just 269 passes compared to the Argentinian's 468. However, the devil is in the details, and this shows that Real Madrid employ a far more direct and swift counterattacking style more than anything else.
Like Messi, Ronaldo is dangerous in any situation, but unlike Messi, the Portuguese has the power and pace to attack his opponents from a far greater distance to the goal. In this respect, Real Madrid possess a forward who works back to help his midfield but can also be employed up front by himself.
To have both Ronaldo and Messi on the same side is the stuff of dreams for fans—and nightmares for defenders.
Jasper Juinen/Getty Images

Borussia Dortmund have wowed fans with their superb passing game, but they owe a lot to Mats Hummels at the back and Robert Lewandowski up front.
Lewandowski, one of the greatest Polish footballers of all time, has been lethal for Dortmund this term. He has scored five goals in eight Champions League appearances from just 28 shots and has also contributed two assists.
What makes him so special is his phenomenal work rate. The 24-year-old runs the lines as a lone striker but also possesses the energy, desire and stamina to drop deep and help out his midfield when the need arises.
He is comfortable as the main striker or just behind, where he can use his great strength, pace, creativity and vision combined with his work ethic to wreak havoc on unsuspecting opponents.
Statistics provided by www.soccerbase.com, www.whoscored.com and www.uefa.com.
You can follow me on Twitter @WillieGannon