Power Ranking the Top 10 Candidates for the Selke Trophy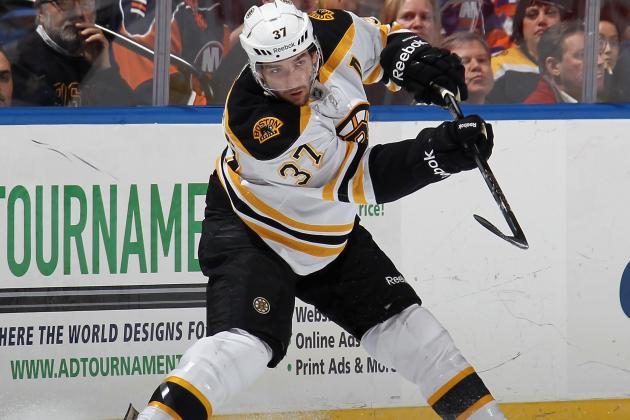 Bruce Bennett/Getty Images
Patrice Bergeron of the Boston Bruins is an exceptional defensive forward.
The best defensive forwards in the NHL could also be ranked on a list of the league's most dedicated and hardest working players.
Defense is at least 50 percent of the game and the players who are most effective study their opponents and put themselves in a position to break up opposing offensive plays on nearly every shift they skate.
The NHL gives out the Frank J. Selke Award every season to honor the best defensive forward. Perhaps the game has never known a better defensive forward than former Montreal Canadiens forward Bob Gainey, who was widely perceived as the game's best defensive player before the award was first given after the 1977-78 season.
Gainey who combined skating speed and physical strength with intelligence and tenacity, won the Selke Award the first four years it was handed out.
Pavel Datsyuk of the Detroit Red Wings has won the award three times and Patrice Bergeron of the Boston Bruins won it last season. Jonathan Toews of the Chicago Blackhawks is also considered one of the best defensive forwards in the NHL as well as one of its top all-around players.
Begin Slideshow

»
The Winnipeg Jets don't garner a lot of publicity outside of Evander Kane, but that doesn't mean they don't have players who are worthy of recognition.
Bryan Little is a smart player who is quite effective for head coach Claude Noel. Little is an opportunistic player who has scored four goals and 12 assists but is also quite underrated on the defensive end. He excels at reading the play, breaking up passes and turning defense into offense.
The 5'11", 185-pound Little can hold his own in physical battles and is plus-eight this season. He has won 51.7 percent of his faceoffs.
Marian Hossa is one of the best all-around players in the league and one of the key reasons behind the Chicago Blackhawks' sensational start this season.
Hossa has speed, anticipation and great hands—all qualities that help him put the puck in the net.
However, Hossa is not a one-way player. He is as concerned with stopping his opponents as he is making plays on offense.
Hossa demonstrates his skills in all three zones. The right wing can anticipate a pass, get in the proper position and turn play in the opposite direction. A deft lift with his stick can lead to turnovers that gives the Hawks scoring opportunities.
He is a very underrated defensive performer.
You're not going to make it playing for head coach John Tortorella if you are not a solid all-around player.
You can't pay lip service to defense if you are going to take a regular turn for the New York Rangers.
Derek Stepan understands this. He contests every pass and every rush up the ice by his opponents.
He makes plays look easy because he is often in perfect position to intercept a sloppy pass and make a big play.
However, he also does the hard work needed. Stepan blocks shots and finds away to wrest the puck away from his opponents.
He's a solid offensive player with seven goals and 10 assists, and he never fails to bring it on defense.
David Backes comes to battle every game for the St. Louis Blues.
Backes is a hard-nosed center who has scored three goals and 14 assists this season, but his specialty is bringing a hard-hitting game to the ice every night.
Backes will throw his body in the way of opposing shots and also take out his opponents. He is not going to back down, and he is going to finish his checks at all costs.
When opponents know they are going to have to play against the hard-hitting Backes every night, they are usually going to hesitate because they know they risk punishment for bringing the puck into the offensive zone.
Jiri Tlusty does not receive a lot of recognition, but the 24-year-old Czech native is having a huge year for the Hurricanes.
Carolina is holding on to first place in the Southeast Division and Tlusty is one of their most underrated performers. The 24-year-old has scored 13 goals and 21 points and he is a remarkable plus-17.
Tlusty is accomplishing quite a bit offensively, but he often sets up his scoring opportunities with his solid defensive play. His ability to intercept passes and break up rushes is a key to his solid showing in 2013.
If you look at John Tavares' development in the NHL, you find a player who has improved significantly in each of his four years and is a legitimate NHL superstar.
Tavares is tied for 10th in the NHL in scoring with 16 goals and 13 assists. When the Islanders win, it's almost a given that Tavares is involved heavily in the action.
But Tavares is more than just an offensive threat. He is a responsible player who works hard to get himself in the right position every time he is on the ice. He is constantly checking with his coaching staff to make sure he was in the proper position in all three zones on the ice—not just the offensive zone.
He is becoming very tough for opponents to play against no matter where Tavares is on the ice.
Eric Staal has long been one of the NHL's most effective all-around players.
It seems that playing with younger brother Jordan Staal has made him an even better player in 2013.
Eric Staal is tied for fifth in the league in scoring with 12 goals and 19 assists for 31 points. Staal is a super quick skater who can use his speed to turn defense into offense in the blink of an eye.
Staal is winning 52.8 percent of his faceoffs and is averaging 20:30 of ice time per game.
Jonathan Toews is a legitimate MVP candidate on the team that dominated the NHL through the first half of the season.
Toews lives up to his nickname of Captain Serious on an every-game basis. Toews has remarkable speed and quickness and he uses those factors to break up opposing rushes.
As good as Toews is throughout the game, he seems to turn it up a notch or two when the game is on the line. If it comes down to winning a faceoff, throwing a check or stealing the puck, Toews will do it.
He excels at finishing the play and putting himself or his teammates in a position to score goals. It begins with his intensity on the defensive end. Nothing is going to come easily for those competing against Toews.
Toews has scored 11 goals, 12 assists and is plus-13 for the season and he has won 59.5 percent of his faceoffs.
Pavel Datsyuk is so good, it's often scary on the ice.
His ability to string moves together and embarrass opposing defensive players and goalies is legendary. A "Datsyukian Deke" is a play that often leaves an opponent flat on his back or facedown on the ice, unable to cope with Datsyuk's magical moves.
However, as good as he is on offense, Datsyuk is even better on defense. Whether it's in the faceoff circle or simply lifting an opponent's stick with his own so he can take possession of the puck, he is in a class by himself.
Few players have ever been able to read an opponent's offensive maneuver with the prescience of Datsyuk.
Datysuk has 26 points and is plus-eight this season. He has won 57.9 percent of his faceoffs.
Patrice Bergeron scored the most significant goal for the Boston Bruins franchise since Bobby Orr when he scored the game-winning and opening goal in the seventh game of the 2011 Stanley Cup Finals vs. the Vancouver Canucks.
His quick release shot gave the Bruins a lead that they would never relinquish as they won their first Stanley Cup in 39 years.
It was appropriate that a hard-working, defensive-minded player like Bergeron was rewarded by scoring the Stanley Cup winning goal.
Every time the Bruins have a lead in a crucial moment of the third period, head coach Claude Julien is looking to get Bergeron on the ice.
In addition to his tenacity and effort on the defensive end, he is a virtuoso in the faceoff circle. Bergeron is winning a remarkable 61.0 percent of the faceoffs he has taken this season.
That's part of his career pattern of dominating in the faceoff circle.
He blocks shots, intercepts passes and stops his opponents. He is perhaps the best defensive forward in the game.