Ben Askren Taunts Michael Bisping over Steroid "Excuses"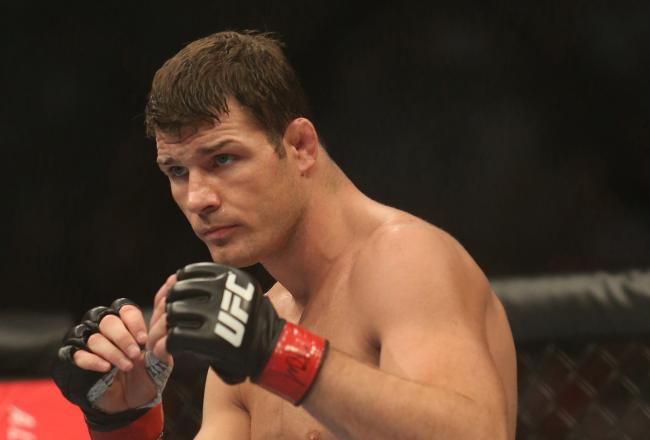 Tom Szczerbowski-USA TODAY Sports
Michael Bisping is quickly gaining a reputation as one of the UFC's hardest working fighters... on Twitter.
His war of words yesterday against Vitor Belfort have been followed by taunts from Ben Askren, who asked the Brit on the social network what his excuse will be after Alan Belcher "knocks you cold" considering his next opponent won't be "juicing" (h/t MMA Mania).
The loud-mouth Brit lost to Vitor Belfort in his last fight in January after getting knocked out via a vicious head-kick in the second round. It turned out, after the event, that the one-time drug cheat Belfort was given a therapeutic use exemption (TUE) to use testosterone replacement therapy (TRT) before the match in Brazil.
TUEs are usually given to athletes whose bodies cannot produce enough testosterone on their own. Many people think that the use of TRT is legalised cheating, as it allows fighters to circumvent checks on drug use which they would otherwise fail. The practice is even more controversial when TUEs are granted to fighters who have already failed a drug test in the past—like Belfort.
But Bisping's loss to Belfort was particularly bitter. The Brit was the closest he's ever come to a No. 1 contender's spot until he was stopped by Belfort. He has since come out vocally against the Brazilian, accusing him of being a "cheat."
The animosity between the two fighters continued on Twitter where Bellator's welterweight champion, Askren, decided to wade in.
@bisping hey @alanbelcherufc isn't juicing so what is going to be your excuse when he knocks you cold??

— Ben

Askren

(@Benaskren) March 12, 2013
Askren and Belcher are training partners at Roufusport, an MMA training camp run by Jeff "Duke" Roufus. Bisping is due to face Belcher at UFC 159 next month.
Bisping's response to Askren was to tell him to "focus on continually boring the shit out of people. You do it well," referring to Askren's "lay-and-pray" style of grinding out wins which has endeared him to few fans.
The two went back and forth into the night on Wednesday, with Askren saying he would "blanket" Bisping worse than Chael Sonnen did when he defeated the British middleweight, and Bisping telling his provocateur to "focus on fightin [sic] in a league where hector Lombard is literally unbeatable."
Askren is becoming a controversial figure in MMA, almost deliberately positioning himself as a xenophobic, patriotic American. One of his jibes against Bisping was to say that Belcher "would would never let a stinkin Brit beat him." Hours later, remarking on the Nick Diaz vs. Georges St. Pierre title fight this weekend, Askren said he wants Diaz to win because "GSP is part French."
Bisping's fight against Belcher takes place on April 27 in New Jersey.
This article is
What is the duplicate article?
Why is this article offensive?
Where is this article plagiarized from?
Why is this article poorly edited?