NHL Trade Rumors: 4 Best Fits for Dallas Stars Forward Jaromir Jagr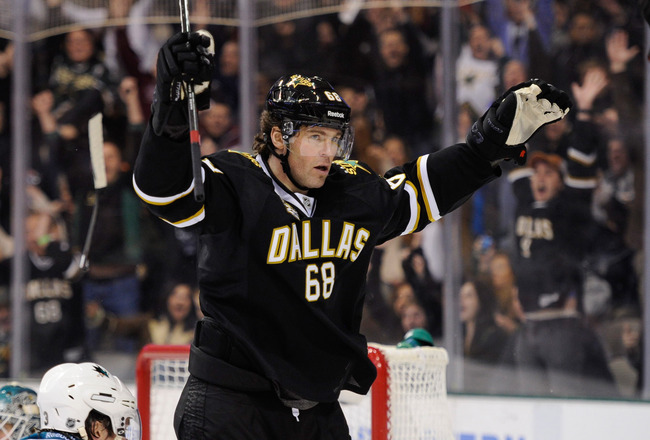 USA TODAY Sports
The Dallas Stars brought in a number of veteran players last summer to help the team end its four-year playoff drought.
This strategy has not paid off thus far as the Stars currently find themselves outside the playoff picture in 11th place in the Western Conference.
Dallas is currently on a two-game losing streak and has a tough upcoming schedule with seven of its next nine games against teams currently in a playoff spot.
Per Lyle Richardson of The Hockey News:
Still, if the Stars fail to gain ground by the trade deadline, there's a growing sense GM Joe Nieuwendyk will ship out pending unrestricted free agents Jaromir Jagr, Derek Roy and Brenden Morrow...As for Jagr, who leads the Stars in goals (10) and points (18), expect considerable interest from around the league if the 41-year-old is shopped on trade deadline day. Despite his age, he'd be an effective second-line rental player for playoff contenders seeking experienced scoring depth.
For teams that are unable to acquire players such as Calgary Flames captain Jarome Iginla and Anaheim Ducks winger Corey Perry at the trade deadline, pursuing a scorer of Jagr's caliber makes a lot of sense.
Let's look at four teams that would be the best fits for Jagr if he's traded before the April 3 deadline.
Boston Bruins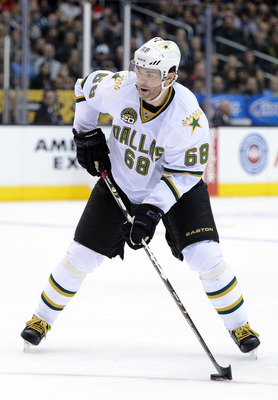 Harry How/Getty Images
The Bruins need a third line winger who can score goals and be relied on to produce offensively in the playoffs.
The team announced on Wednesday that third-line center Chris Kelly "will be out indefinitely after breaking his left tibia in the second period of Monday's game against the Ottawa Senators."
With the possibility that Kelly could miss the rest of the regular season, Boston now has to find another top-nine forward before the deadline. Rich Peverley will likely move to center on the third line, which would open up a spot at right wing that would suit Jagr perfectly.
Even though Jagr is a skilled forward known more for his offensive skill than defensive prowess, he's certainly capable of thriving in the Bruins' defensive style of play because of his high hockey IQ and willingness to help out defensively by backchecking and battling for pucks in the corners.
The biggest impact he would have on the Bruins is upgrading the team's power play, which ranks 21st in the league, but has improved over the last two weeks. Jagr leads the Stars with five power play goals, and his seven points with the man-advantage is two more than anyone on the Bruins has through 24 games.
His ability to score goals and set up scoring chances with his fantastic playmaking ability would be a tremendous boost to the Bruins' second power-play unit.
Jagr's versatility and leadership are two more qualities that he would give the Bruins. His incredible offensive talent and underrated defensive skills would make him a good fit on each of Boston's top-three lines. He could also be a positive influence on the team's young players and serve in a Mark Recchi-type leadership role.
Bruins general manager Peter Chiarelli has about $12 million in salary cap space (per Capgeek) to improve his roster before the playoffs, and finding a veteran forward should be one of his top priorities. If he's unable to acquire Iginla, or the price for the Flames star is too high, then Jagr would become a good Plan B.
Vancouver Canucks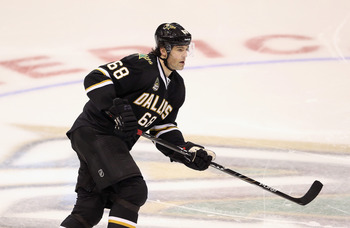 Ronald Martinez/Getty Images
Dallas' preference would probably be to trade Jagr to an Eastern Conference team (if the team actually decides to move him), but the Stars' first concern should be getting the most value in return for the veteran winger.
One team that's desperate for scoring and another winger is the Vancouver Canucks, who are 1-2-2 in their last five games. Vancouver ranks 18th in goals scored and has found the back of the net only eight times in its last five games (1.6 goals/game).
The team's inability to score goals consistently, combined with injuries to second-line center Ryan Kesler and top-six winger David Booth, have left general manager Mike Gillis with some holes to fill in his top-nine forward group before the trade deadline.
The Canucks power play has also been a disaster over the last three weeks. The team has converted on none of its last 22 opportunities with the extra man, and this lack of success needs to change for Vancouver to win another Northwest Division title over the improved Minnesota Wild.
Jagr would significantly upgrade the Canucks power play and give Henrik and Daniel Sedin another pure goal scorer to create scoring chances for with their exceptional vision and playmaking ability.
With top-nine wingers Zack Kassian, Mason Raymond and Chris Higgins combining for just two goals and an assist over the last five games, the Canucks must add another forward who will produce offensively on a consistent basis and play an important role on the power play.
Adding Jagr to the roster makes a lot of sense for the Canucks based on his ability to score goals and the championship experience he would provide them in the playoffs.
Nashville Predators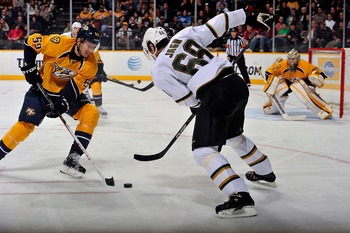 Frederick Breedon/Getty Images
The Predators are tied with the San Jose Sharks and Minnesota Wild for the eighth and final playoff spot in the Western Conference.
Nashville ranks 30th in goals scored and its 35 goals scored at even strength are the third-fewest total in the league. Only six players on the Predators have scored over 10 points this season, and Colin Wilson leads the team with just 19 points. No one else has tallied more than 14 points.
Jagr would be a top-line winger with the Predators and provide them with a consistent scorer who will make the players around him more productive. With top forward Patric Hornqvist battling injuries this season and only appearing in 14 games thus far, Nashville needs more depth.
From a defensive standpoint, the Predators are one of the better teams in the league. They rank third in goals against, and star goaltender Pekka Rinne could be a finalist for the Hart and Vezina trophies. But it's going to be quite difficult for Nashville to make the playoffs in a competitive Western Conference if general manager David Poile does not find another scorer for his top-six forward group.
The Predators have nine more games in the month of March, and only two of those matchups are against teams currently in a playoff spot. If the team goes on a losing streak during this stretch, Poile must make a move for a goal scorer.
Nashville is capable of making a surprise run in the playoffs because of Rinne's ability to dominate quality opponents, and the team's consistently strong play defensively, but they need to reach the postseason first. The Predators need another forward who can score goals, set up chances for teammates and excel on the power play. Adding Jagr to the roster would help the Predators address several of their weaknesses offensively.
New York Rangers
Bruce Bennett/Getty Images
A Jagr reunion at Madison Square Garden? It's not a bad idea.
The New York Rangers' embarrassing loss to the Buffalo Sabres on Tuesday highlighted the team's lack of depth. The Blueshirts' top line did not perform at a high level in the 3-1 loss, and when that happens, it's very tough for the Rangers to win because their secondary scoring has been non-existent for most of the season.
Bottom-six forwards Brian Boyle, Arron Asham, Taylor Pyatt, Jeff Halpern, Stu Bickel, Chris Kreider and Darroll Powe have combined for just 16 points this season.
The Rangers rank 22nd in goals scored and 23rd in power-play percentage, and without a lot of valuable trade assets to give up for a veteran forward (no first round pick in 2013), pursuing an upcoming UFA such as Jagr makes a ton of sense for the Blueshirts.
It's unlikely that New York will miss the playoffs, even if they don't make any moves before the trade deadline, but making another deep postseason run will be incredibly difficult without adding another top-nine forward.
Jagr's familiarity with the organization also makes this a move worth considering. He spent three and a half seasons in New York and scored 124 goals in 277 games.
Keep Reading