WWE Nostalgia: Jobbers and Squash Matches Needed for WWE Television
Use your ← → (arrow) keys to browse more stories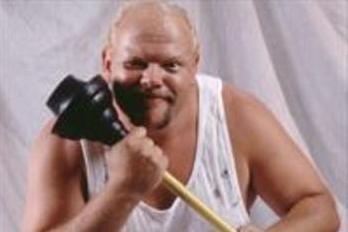 T.L. Hopper courtesy of wrestlingforum.com
When I first started watching WWE, most of the shows featured squash matches. These matches involved an established WWE Superstar taking on a jobber: someone who is paid to lose matches.
Many nicknames were given to these journeyman wrestlers who would come and go in WWE circles—like "ham 'n egger" or my personal favorite as a child, "wimpy guy."
These pro wrestlers were not involved in storylines for the most part, so their minimal impact made the WWE Superstars seem stronger.
As young adolescents, my friends and I always knew who would win these matches. Even as children, we could see the difference a WWE Superstar and a jobber.
Of course, perpetual jobbers from the 1980s and 1990s in WWE and WCW such as "Iron" Mike Sharpe, The Gambler, The Brooklyn Brawler, Reno Riggins, Jim Powers, Jerry Flynn, "Hardwork" Bobby Walker, The Goon, T.L. Hopper, Barry Horowitz and my favorite (before he was given a personality and persona) Lenny Lane would pretty much always lose without getting in much offense.
It was also a treat to witness rarely seen local indy wrestling talent lose to our favorite superstars. Many of these individuals were up-and-coming pro wrestlers whom we would never see again on national television.
These "wimpy guys" who lacked superstar personas and rarely got any offense in helped to sell WWE and WCW Superstars of the 1980s and early 1990s to the fans. The idea that a WCW/WWE Superstar possessed a physical prowess greater than a mere mortal was proved each week with these matches.
Mr. Perfect vs. "Iron" Mike Sharpe (Monday Night Raw May 10, 1993)
Holding off marquee matches for pay-per-view events or special cards helped to make a superstar vs. superstar match something special. When two superstars were built up over a stretch of time without much physical contact, the eventual match would take on a special feel because of the lack of in-ring physicality between superstars.
By building up a feud without having a match on regular television, it would make the pay-per-view match seem more worthy.
Of course, this all changed with the Monday Night Wars. PPV-quality matches between top stars were touted to garner ratings, and the tradition of superstar vs. "wimpy guy" was reserved for shows that few watched like WCW Saturday Night, WCW WorldWide and WCW Pro—some of the last major pro wrestling shows to feature journeyman jobbers.
Eventually, true jobber matches would pretty much cease to exist—especially toward the demise of WCW—except for minor exceptions like Ryback's first matches in WWE.
Currently, WWE has approximately 8.5 hours of original programming a week to fill (this includes NXT, Superstars and Saturday Morning Slam).
This is only an approximate estimate of actual original content since there are Raw replays shown on nearly every other show and plenty of filler via WWE Studios movie previews and pay-per-view commercials.
With so much time to fill and a relatively small roster, the idea of bringing back squash matches to at least one show makes sense. The Monday Night Wars are over, and with so much programming each week, it would not hurt at all to turn WWE Superstars into a superstar vs. jobber show at the very least.
Diamond Studd vs. TC Carter (WCW WorldWide October 5, 1991)
WWE is on a nostalgia kick. Consider: Old School Monday Night Raw, Brooklyn Brawler's return at TLC, Ric Flair in the corner of The Miz, "Bring It Back" articles on WWE.com and the WWE Championship reign of The Rock.
Jobber matches would raise this era of nostalgia another notch, and by having them on WWE Superstars, only a handful of fans would see them anyway.
WWE could even take a page from WCW's playbook and have some jobber vs. jobber matches to determine the better man.
The lack of squash matches in WWE needs to end. One way to establish new talent and continue to build existing talent is through squash matches. At one point in time, being a WWE Superstar meant being more than the average human being, and this invincibility was partly established through squash matches.
Currently, with so much time to fill and a seemingly small roster, WWE tends to have the same matches over and over again on television.
Bringing back squash matches to at least one WWE television show would provide something different to viewers. Perhaps another generation of WWE fans will be able to experience the phenomenon that is a show full of classic squash matches.