Duke Basketball: Ranking Blue Devils' Most Likely March Madness Heroes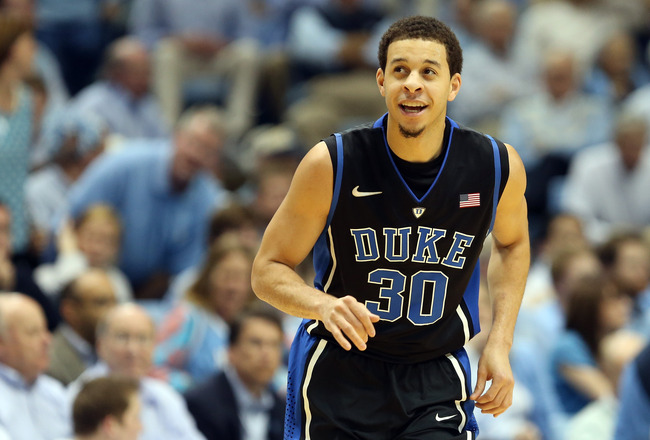 Streeter Lecka/Getty Images
The Duke Blue Devils have positioned themselves in prime position to contend for a national championship with less than a week left until the 2013 NCAA tournament.
Head coach Mike Krzyzewski has assembled a formidable eight-man rotation of talented and skilled players that have compiled a 27-4 overall record to accompany a No. 2 ranking to end the regular season.
With the ambitions of a championship the only goal for Duke, its key players will need to provide their own heroic performances in order for the journey to claim the ultimate prize in college basketball be a success.
Counting down from eight, this is the official ranking of the most likely Duke basketball players to secure hero status in the NCAA tournament.
8. Josh Hairston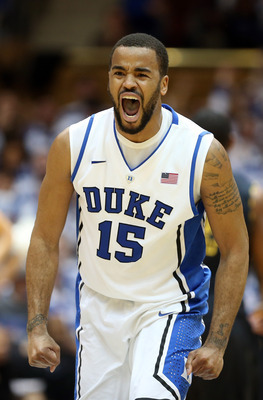 Streeter Lecka/Getty Images
Undersized and underwhelming are the two best ways to describe Josh Hairston. Still, he receives his fair share of minutes in the Duke rotation.
Why, you ask? Good question.
It's difficult to answer. He is a 6'7" power forward, who is clearly outmatched in the low post. His entire offensive game, minus an inconsistent mid-range jumper, revolves around second-chance opportunities.
Hairston's main contribution to the team is on the defensive end, where he possesses a knack for sliding over into position to draw charges against dribble penetration.
Judging by the final three games of the regular season, Hairston is ahead of the more talented Amile Jefferson in the rotation and is the main backup behind the senior duo of Ryan Kelly and Mason Plumlee.
However, don't count on any heroic moments coming from a player who is certainly incapable of providing one.
7. Amile Jefferson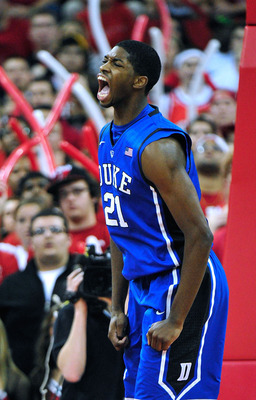 Grant Halverson/Getty Images
When Ryan Kelly suffered a right foot injury two games into the ACC schedule, it became a blessing in disguise for freshman Amile Jefferson.
Up to that point, Jefferson was rarely used off the bench as he was behind the three upperclassmen—Kelly, Mason Plumlee and Josh Hairston—in the frontcourt. However, he made the most of a golden opportunity that was presented to him by providing Duke with quality minutes at the power forward position.
In the four games following Kelly's absence, Jefferson averaged a stellar 10 points and seven rebounds per game while displaying high energy with every passing minute. Throughout the course of the next nine games, he made a substantial growth in his development while steadily becoming a reliable player to trust on the floor.
Although, the likely won't be the case in this year's NCAA tournament.
Since Kelly's return on March 2, Jefferson has seen his playing time decrease significantly, as he has only garnered a total of seven minutes in Duke's final three regular season games.
Despite having loads of potential, his time to truly shine for the Blue Devils will come later in his college career.
6. Tyler Thornton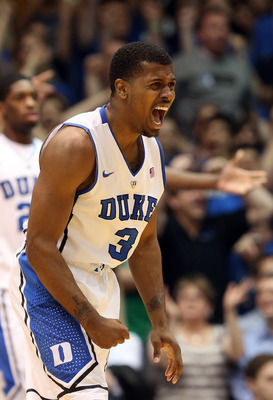 Streeter Lecka/Getty Images
There have been two separate occasions in his three years at Duke that Tyler Thornton has stepped up and hit game-altering shots in the late stages.
The first came in the 2012 Maui Invitational championship game, when Thornton converted a late three-point basket to beat the shot clock against eventual national championship runner-up Kansas.
Most notably, the second time came this season in the first meeting against arch-rival North Carolina on Feb. 13. In a shift of momentum, Thornton hit two crucial threes during a 21-9 run that propelled Duke into the lead for good.
Therefore, Thornton is no stranger to the spotlight.
When looking at Thornton's season in review, a glaring statistic to point out is that 75 of his 102 total points have come from beyond the arc.
With that being said, many of your top moments in the NCAA tournament come from the usage of the three-point shot. If Duke finds themselves in the midst of a tight game, it'll be wise for teams to key on Thornton, who could be the difference-maker for the Blue Devils in advancing to the next round, or being the subject of an early exit.
5. Rasheed Sulaimon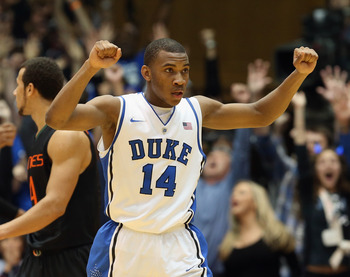 Streeter Lecka/Getty Images
Without question, Rasheed Sulaimon has made a strong case to be considered among the best freshmen in the country.
At the conclusion of the regular season, Sulaimon finished fifth for Duke in scoring with 11.4 points per game—while reaching double-digit point totals 19 different times.
But Sulaimon does not have to rely on his offensive production to become a factor for Duke. He is arguably the best on-ball defender for the Blue Devils, with quick footwork and great athleticism.
Despite finishing the season on a sour note in the last four games, averaging a lowly 4.3 points on 30 percent shooting, Sulaimon is poised for a string of solid performances.
And there is no better time for that than in March.
He has the ability to score from the outside, as well as penetrate and finish at the rim. If he can regain his confidence during the ACC tournament, we could be on the verge of seeing some special moments in the NCAA tournament that could place Duke on the fast track to a championship.
4. Quinn Cook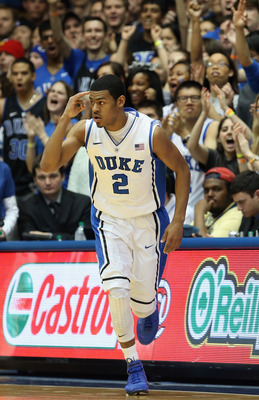 Streeter Lecka/Getty Images
A large part of me was tempted to rank Quinn Cook slightly higher on this list. That was mainly due to the fact that I strongly feel he is the most vital piece to the puzzle for Duke to claim its fifth national championship.
In any case, I decided to place Cook comfortably behind the senior trio of Seth Curry, Ryan Kelly and Mason Plumlee.
From his freshman campaign to his sophomore season, Cook has made a tremendous leap forward in his development. While he didn't begin the year as the starting point guard, it took him all of three games to assume the role.
And he never looked back.
Cook finished the regular season averaging 12.5 points and 5.3 assists in 33.8 minutes per game. He also finished third for Duke in three-point percentage with 42.5 percent—which is up 17.5 percent from a year ago.
Despite two sporadic shooting performances early in conference play against Wake Forest (0-for-11) and Miami (1-for-12), Cook was still able to facilitate the basketball at a high rate, accumulating 9.5 assists in those contests.
And that is where he is at his very best.
His scoring is an added bonus. When Cook is able to get the whole team involved into the offensive flow, Duke becomes a well-oiled machine.
Point guard leadership is crucial in making a run to a championship. Plain and simple, Cook becomes a hero for Duke by just being great.
Which, if you were to sum up his entire season to this point, the word "great" fits perfectly.
3. Mason Plumlee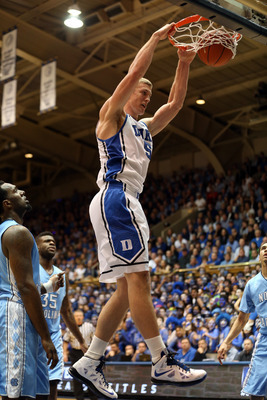 Streeter Lecka/Getty Images
Yes, Mason Plumlee checks in at No. 3 on this list. And yes, this ranking is appropriate.
This specific ranking came down to Plumlee and Ryan Kelly. As we saw this season, Duke without Kelly is a completely different team regardless of the numbers Plumlee puts up.
There is no denying that Plumlee is the best player on this team. That isn't debatable. He was the leading candidate for Naismith College Player of the Year for the first few months of the season. He also finished the season averaging a double-double with 17.2 points and 10.3 rebounds per game.
Above all else, he has given the Blue Devils the dominant post player they have lacked in recent years. However, because of that Plumlee has become the primary focus of opposing defenses.
He has faced a number of double-teams this season, which has caused frustration and bad mistakes resulting in his team-leading 2.8 turnovers per game.
That will be key in this year's NCAA tournament. When Plumlee attracts two defenders, can he make the right play? If so, Duke will thrive on its way to the Final Four.
While it doesn't scream heroic, it will make that much of a difference for Duke to separate themselves from the opposition.
2. Ryan Kelly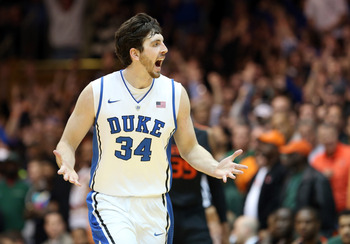 Streeter Lecka/Getty Images
As I alluded to in the previous slide, Ryan Kelly's impact on this Duke team is incomparable.
At the time of his injury earlier this season, Duke was ranked No. 1 in the country with a perfect 15-0 record. As Kelly was then held out for the next 13 games, Duke suffered its only four losses of the season in that span by an average margin of 10.5 points.
With just three games remaining in the regular season, uncertainty still revolved around the return of Kelly.
Nevertheless, after rehabbing and biding his time, he made his highly anticipated on-court return on March 2 in a conference clash with the Miami Hurricanes, who had previously thrashed Duke in a 27-point defeat. In his first game back, Kelly posted a career-high 36 points while almost single-handedly leading the Blue Devils to victory.
Over the span of the final three games, Kelly averaged 20.7 points and 6.3 rebounds per game while shooting 60 percent from the field and 56 percent from three.
His ability to stretch opposing defenses is superior in that he can consistently score from beyond the arc, as well as penetrate and score on the inside. With that style of play, Kelly has one of the best opportunities to become a March Madness hero for the Blue Devils.
1. Seth Curry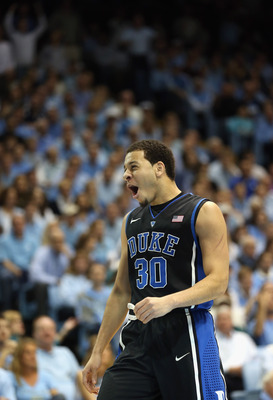 Streeter Lecka/Getty Images
It's difficult to justify which member of the Duke senior trio is most valuable. Mason Plumlee is the best player on the team, whereas Ryan Kelly is the most important.
But what about Seth Curry?
The sharpshooting senior is the one player that makes the biggest impact of the three.
With that being said, that's why he tops the list as the most likely March Madness hero for Duke.
Curry has had a remarkable senior season at Duke, despite playing with a nagging right shin injury that has prevented him from practicing.
Nevertheless, it has not in the slightest slowed his production. He ranks second on the team in scoring and three-point shooting with 17.1 points while converting on 43.5 percent of his attempts from deep. Also, he has scored 20 or more points an astonishing 16 times this season.
With dead-eye range and the sweetest shooting stroke in the country, Curry can alter a game in the blink of an eye and put points on the scoreboard in a hurry.
In the NCAA tournament, notorious for its collection of heroic moments and performances, Curry has a strong chance to assemble his own heroic accomplishments and be remembered as the player that shot Duke to its fifth national championship.
Keep Reading

Duke Basketball: Like this team?