Breaking Down the Most Impressive Pro Day Workouts so Far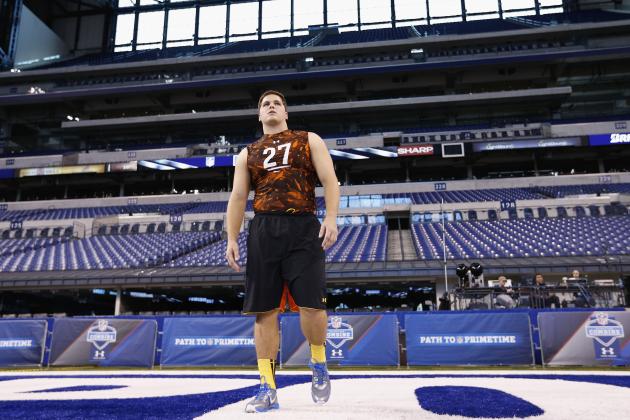 Joe Robbins/Getty Images

One question that always pops up during the offseason is some form of: "Just how important is...?" Whether it's a question of free agency versus the draft or combine numbers versus tape, everyone seems to have their own ideas about the necessity and value of different parts of the team building process.
As I tell just about anyone who asks: If the NFL finds value in part of the process, it's probably more important to some people than any of us would think. That, my dear readers, is where we land with pro days—a seeming afterthought for many, but a ridiculously important part of the overall yearly schedule for others.
One high-ranking personnel man I've spoken to has never been to a pro day save the really big football factory events that everyone attends, but that's only because he doesn't want people to see him near a prospect he might be interested in. That said, he makes sure his scouts provide detailed notes, asks the questions he wants to ask, and if there's tape of the performance, he personally scours over it himself.
On the outside, the casual observer might think this guy doesn't care about pro days. Inside, he values them as much as, if not more than, the combine.
With that in mind, which prospects are having great pro days this draft season?
Begin Slideshow

»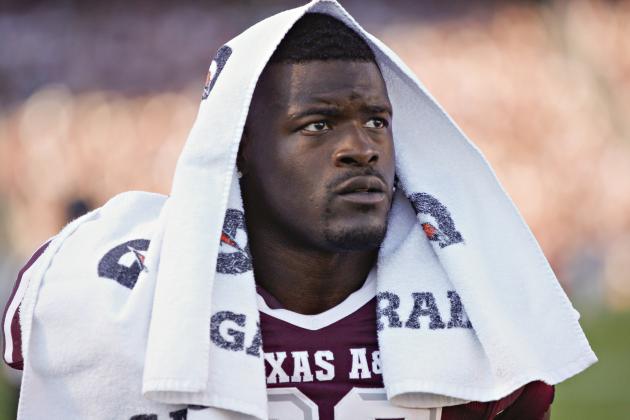 Bob Levey/Getty Images

Everyone tells me Christine Michael had a great week at Shrine Game practices. That seems odd to me—especially because I was there and saw the opposite.
The problem with his performance that week was that he would often find himself caught up in traffic and stopped for no gain. This would happen multiple times in a row before finally busting a moderate gain to the "oohs" and "ahhs" of bystanders who had either forgotten (or didn't care about) his other runs.
Michael is going to get drafted, but because of what I saw described above, it's feasible that his prospects have dwindled to the zone teams in the league—perhaps, Houston or Washington as a backup.
While all he really did was stand on his combine numbers, Michael did two things at his pro day that impressed people I talked to about him.
First, he owned up to sleeping through team meetings at the combine. Apparently, he was feeling sick and took some cold medicine. Sure that may seem like an excuse, but he was sincere and apologetic about the matter.
Finally, the workout itself (with Steelers' RB coach Kirby Wilson) was impressive. While he wasn't asked to run through traffic, he showcased some good footwork and lateral agility that I questioned whether or not he had.
Matt Scott is quickly becoming a QB de jour among draft media, and the pro day did nothing to quell that excitement. Scott has been working with quarterback coach George Whitfield Jr., and it showed in his passing workout in which he threw 85 passes—about 30 more passes than many prospects throw in similar situations.
Why so many? Well, not only do scouts want to see Scott make "all the throws" because he is a product of Rich Rodriguez' system, but they also want to see him make some of those throws with a little arm fatigue.
Scott is a mobile quarterback who fits in with the current trends of the NFL. Moreover, he's proving that he can sling the rock. His rise has the potential to look a lot like Colin Kaepernick's meteoric jump toward the top of his draft class.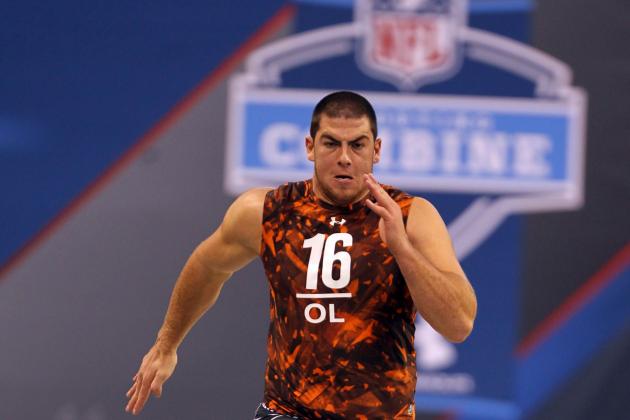 Brian Spurlock-USA TODAY Sports

Jacksonville OL coach George Yarno ran Eric Fisher through his paces and didn't do him any favors. Some coaches tailor their workout toward the athlete's strengths, others (like Yarno) have been in the business for so long that they know what scouts want to see.
Fisher stood on his numbers from the combine, but dropped jaws through the positional drills and likely solidified himself as a top-five pick.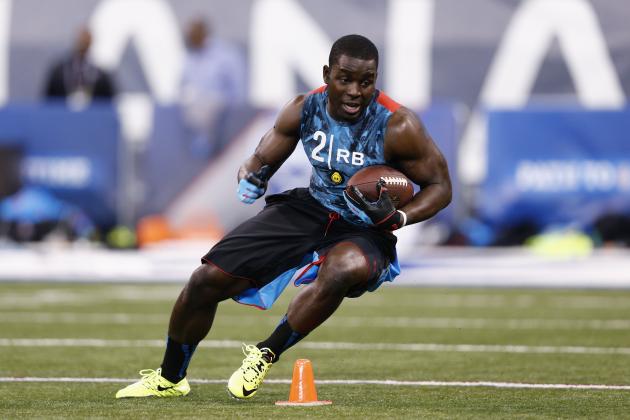 Joe Robbins/Getty Images

Montee Ball ran a 4.51 at his pro day after posting a 4.62 at the combine. The difference between those numbers, to anyone, should raise some eyebrows.
However, scouts almost always take the lower of the two numbers as a "best-case scenario" and care far more about game speed on tape anyway. The basic gist is that scouts now know if they wanted Ball to keep his weight down and play at a faster tempo, he could potentially do it.
The real story here, though, is anytime Ball has a football in his hands. He reportedly looked fantastic running through drills and helped garner some hype at a well-attended event. The top of this year's running back crop isn't very great, and Ball could be seen as a "safer" more well-rounded option than many of his peers.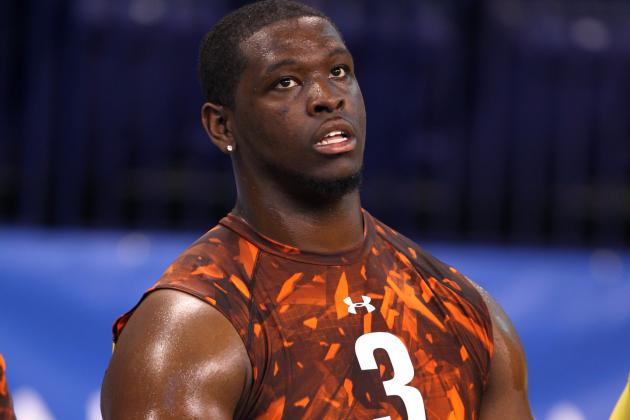 Brian Spurlock-USA TODAY Sports

I couldn't find one single person to talk about Terron Armstead's pro day. I found this interesting since people would tell me that they were there, but they just didn't want to tell me anything that I might print. The rub here is that Armstead did great, but just how great is supposed to be a big secret.
For times like these, we turn to Gil Brandt of NFL.com:
Armstead looked outstanding in the workouts, and now has some private workouts scheduled, including one with the Dallas Cowboys. Armstead has a very good chance of being one of the top 60 players selected in the draft.
Realize, too, that this pro day was far better attended than anyone at Arkansas-Pine Bluff might usually expect and some of the teams attending did so to see Armstead work out at tight end.
Athletic defensive backs with ball skills usually love pro days. It's hard to look bad when one is playing cornerback against air and making plays on ducks meant to make them look good. Desmond Trufant was no different.
Trufant is garnering a ton of attention among teams at the top of the second round and could potentially sneak into the first if a team feels like trading up to secure him. He did nothing at his pro day to change that.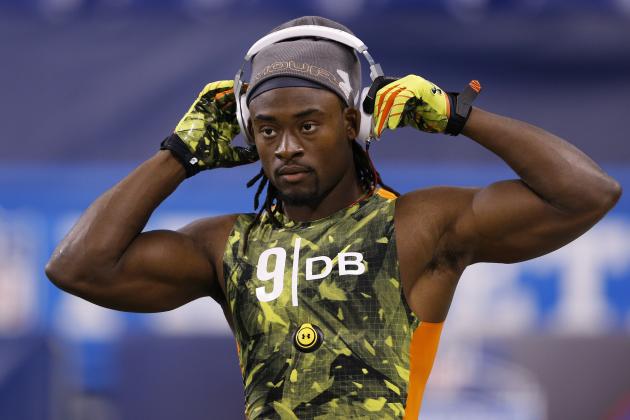 Joe Robbins/Getty Images

Jonathan Cyprien ran his 40-yard-dash in sub-4.6 seconds.
What that does for Cyprien is give teams the comfort level to project him as a deeper free safety than he often showed on tape in 2012.
While Cyprien can move all around the field and do a lot of important things near the line of scrimmage, the need to play over-the-top and have the range to get from sideline to sideline is the hallmark of a safety who is being drafted as high as Cyprien is being rumored.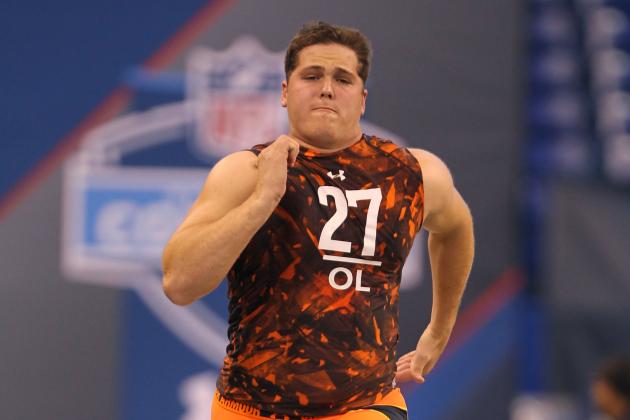 Brian Spurlock-USA TODAY Sports

As good as Eric Fisher's pro day was, some might think that he should overtake Luke Joeckel as the top tackle (even top player) in the entire draft.
Hold on just one hot second.
We'll let Dennis Allen, head coach of the Oakland Raiders, set the record straight:
I think he was impressive on the tape and just watching him out here and getting a chance to visit with him, I think not only is he a good football player, he's an impressive young man.
Allen said after the pro day. "I think that's the thing that when you look at him, that's the thing that says this guy is going to make it in the National Football League."
Joeckel looked strong, lean and athletic—every bit the part of a No. 1 overall pick.
Michael Schottey is the NFL National Lead Writer for Bleacher Report and a member of the Pro Football Writers of America. Find more of his stuff at The Go Route.