Illinois Basketball: Final Regular-Season Grades for Illini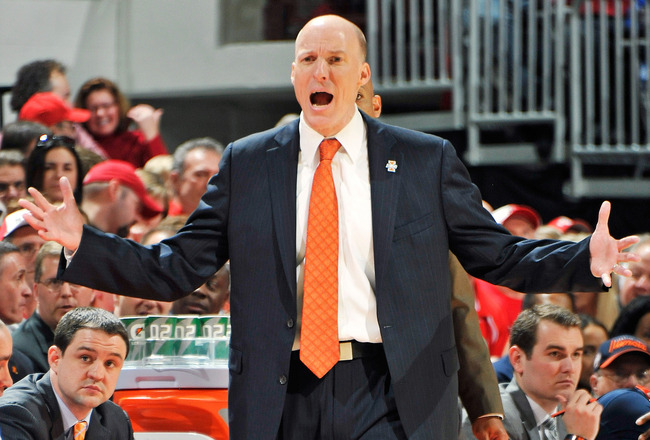 Jamie Sabau/Getty Images
By this point, all of the college basketball world knows that Illinois is a wildly inconsistent team. There are nights when the Fighting Illini are untouchable, beating the likes of Gonzaga, Indiana, Ohio State or Butler. Then there are games where they lose to Northwestern and Purdue, or barely scrape by Penn State and Nebraska.
At 8-10 in the Big Ten, good for a three-way tie in seventh place alongside Purdue and Minnesota, Illinois starts off the Big Ten Tournament Thursday morning at 11 a.m. CT against the Golden Gophers, which are in a similar position to the Illini.
The road doesn't get any easier, as Illinois will match up with outright Big Ten champion Indiana on Friday, followed by Wisconsin or Michigan, should they be so lucky to win back-to-back days. Regardless of what happens in Chicago over the weekend, Illinois deserves to be NCAA tournament bound. What seed they will earn, who they will face or where they will play is still far from determined, however.
Brandon Paul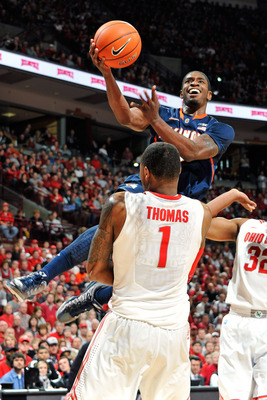 Jamie Sabau/Getty Images
Brandon Paul's senior season has been as much of a roller coaster as Illinois' success. After winning MVP at the Maui Invitational, Paul struggled in the beginning of the Big Ten season as Illinois struggled out of the gates with a 2-7 league record.
Fortunately for Illinois, Paul got hot again when it mattered; the Illini went on a five-game winning streak and all but clinched the second NCAA tournament bid of the current seniors' careers. Paul has scored double figures in five straight contests.
Paul, the team's leading scorer, was voted as a third-team All-Big Ten selection by both the coaches and media. If the good Brandon Paul shows up, look for the Illini to pull off March Madness upsets. If bad Brandon Paul is there, though, the Illini's stay in March will be a short one.
Final Grade: B
D.J. Richardson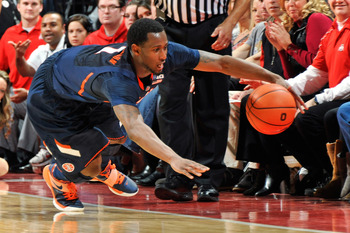 Jamie Sabau/Getty Images
In my personal opinion, D.J. Richardson should be this year's MVP for the Fighting Illini basketball program. After winning Big Ten Freshman of the Year in 2009-10, Richardson had mediocre sophomore and junior years, becoming way too comfortable only shooting from the outside.
As a senior, Richardson found his stroke from deep, while also attacking the basket when the shots from the outside weren't falling. During the 18-game Big Ten schedule, Richardson led the team in scoring, finishing second in that category when nonconference games were counted.
Richardson was selected as a third-team All-Big Ten pick by the coaches and an honorable mention by the media. Richardson leads the team in minutes, and for good reason, as his consistent play led to 13 straight double-figure scoring efforts.
Final Grade: B+
Tracy Abrams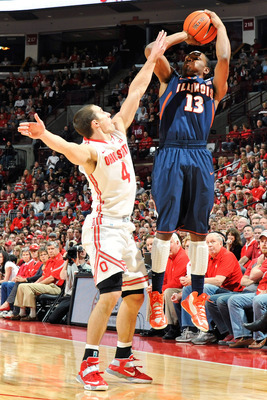 Jamie Sabau/Getty Images
Tracy Abrams made great strides between his freshman and sophomore seasons. As a freshman, he only started the second half of the season, yet was awarded the team's MVP, as he appeared to be the only player that cared during the meltdown that occurred under Bruce Weber last winter.
What's unfortunate for Abrams is he will likely need to make just as big of a leap during his junior year for Illinois to reach similar success in 2013-14. Offensively, Abrams is best attacking the basket and scoring in transition.
However, sometimes Abrams gets caught up in seeing upperclassmen like Paul and Richardson hoist up threes and joins in, though that isn't his game. Abrams' on-ball defense is tremendously underrated, though he needs to improve as a passer from the point guard position.
Final Grade: B-
Joseph Bertrand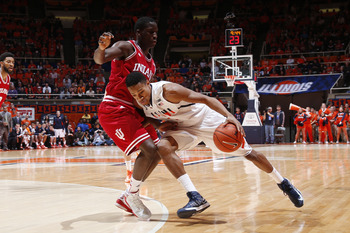 Joe Robbins/Getty Images
After receiving high marks during nonconference play and being applauded for his athleticism and energy off the bench, Bertrand has steadily declined over the course of the 2012-13 campaign. Over the last 13 games, Bertrand has only reached the double-digit mark once.
Still, Bertrand finished as the team's fourth leading scorer, despite being the only Illinois guard to receive consistent minutes off the bench. As a redshirt junior, Bertrand needs to develop a killer instinct over the offseason, as he and Abrams will be the team's top two returning players.
Bertrand missed the Ohio State game with an injury, which may have deterred his play over the last month. Bertrand is the best athlete on the team and would be more than a welcome addition back to the rotation—without him the Illini backcourt could become overworked in a one-and-done tournament situation.
Final Grade: C+
Tyler Griffey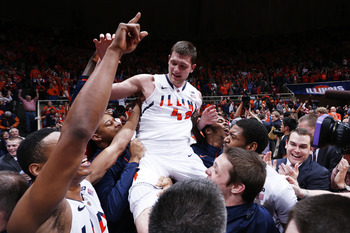 Joe Robbins/Getty Images
Tyler Griffey's senior season has also been quite the up-and-down ride. After losing his starting job midway through last season, Griffey started out as the team's starting power forward right out of the gates under new head coach John Groce.
Griffey excelled in Maui and hit a game-winning three-pointer over Gardner Webb, and he scored 10-plus points in seven of the first eight games. He followed that by scoring in double figures only once over a 15-game span as he went through a massive shooting slump that greatly hurt his confidence in all aspects of the game.
Then came the Indiana game. Not only did Griffey convert the memorable layup to top the Hoosiers, but he broke out of the slump, averaging 14.0 points over the next three games. If Griffey can provide a few made triples and a little toughness on the boards, he'd finish his time in Champaign on a positive note.
Final Grade: B-
Nnanna Egwu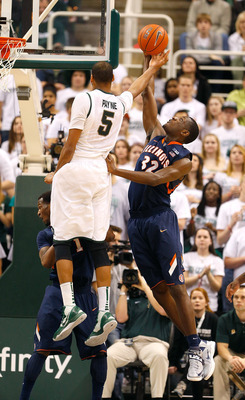 Gregory Shamus/Getty Images
When Meyers Leonard left Illinois for the greener pastures of the NBA following his sophomore season, Egwu automatically became the front-runner for the starting center slot. Over the course of the season, both good and bad can be pointed out in regards to Egwu's game.
Egwu always plays with energy, sprinting down the court on either side. Egwu has a nice outside touch for a big man and has the length to become a seriously good shot-blocker. Like Abrams, another offseason to improve could go a long ways for this fellow sophomore.
On the negative side, Egwu sometimes plays too fast and aggressively. He has fouled out of eight games and picked up four fouls an additional six times. He hedges off screens way too hard and isn't a true low post scorer. Still, I like the future ahead of this young gun.
Final Grade: B-
Sam McLaurin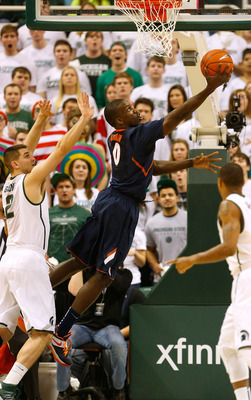 Gregory Shamus/Getty Images
More often than not, when it is announced that a certain player is transferring to another school, expectations automatically become high for that player to produce right away. As a fifth-year senior coming from Coastal Carolina, I became excited when I heard of McLaurin's arrival and set unreasonably high expectations for him despite coming from a truly inferior conference.
In actuality, McLaurin is exactly the type of player Illinois needs, even if he doesn't produce the same 10-point, eight-rebound average that he did a season ago. McLaurin rebounds, defends and makes all the hustle plays that the Fighting Illini lacked a season ago.
He's not afraid to get physical in the paint and adds to an already experienced roster for a first-year head coach. However, McLaurin does not help the inside scoring issue that Illinois faces as he has yet to score in double figures over the course of the entire season.
Final Grade: C+
Myke Henry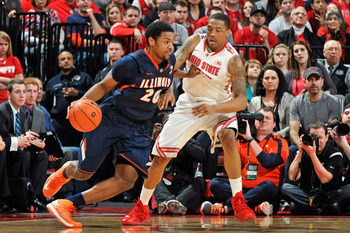 Jamie Sabau/Getty Images
Last but not least in Illinois' eight-man rotation is sophomore Myke Henry, who has recently been speculated as a possible transfer in the upcoming offseason. For both Henry's and Illinois' case, I hope this current sophomore sticks around another two seasons.
His numbers are far from gaudy at just over three points and two rebounds per contest, but unlike some of his teammates, Henry is peaking at the right time and could see some serious playing time over the next few weeks.
Henry's game features two great skills: an ability to shoot from the outside from the power forward position and a knack for rebounds, especially on the offensive end. After a 12-point, nine-rebound effort against Nebraska and a seven-point, eight-rebound performance against Ohio State over the past week and a half, expect to see a lot of Henry, especially if both Bertrand's and McLaurin's injuries linger.
Final Grade: B
Keep Reading

Illinois Fighting Illini Basketball: Like this team?