10 Takeaways from Wednesday Night's Heart-Stopping NBA Action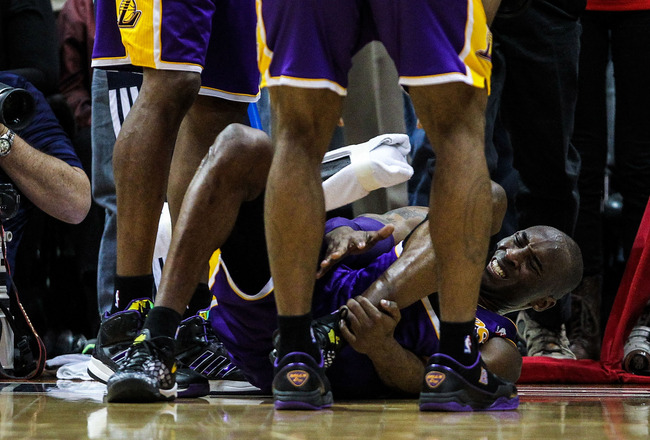 Daniel Shirey-USA TODAY Sports
Wednesday's wild NBA action featured a pair of disappointing losses for the Los Angeles Lakers.
The Atlanta Hawks ran past Mike D'Antoni's club despite the absences of Josh Smith and Jeff Teague, constituting the first defeat.
And Kobe Bryant went down with an ankle injury in the waning seconds of that game, causing a much greater feeling of loss in L.A.
The actual loss on the court didn't hurt the Lakers at all, with the Utah Jazz rolling over for the eighth time in their last 10 games, but the potentially extended absence of Bryant could drastically reverse the Lakers' positive momentum.
Besides L.A.'s dual defeats, the Miami Heat took care of business for a 20th consecutive time, and the Memphis Grizzlies took a swipe at the Los Angeles Clippers out West.
And if you like high-scoring affairs, the Houston Rockets and Sacramento Kings both enjoyed a couple of blowout victories behind some big point totals.
Wednesday's games had something for everyone, except the faint of heart. Anyone with a cardiovascular condition probably shouldn't hear too much about the shocking results and stressful injuries that marked a full NBA slate. Otherwise, enjoy!
Lakers Lose, Then Lose Big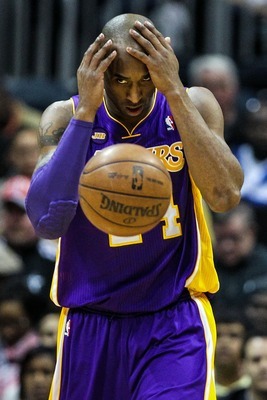 Daniel Shirey-USA TODAY Sports
The Atlanta Hawks knocked off a predictably fatigued L.A. Lakers team by a final score of 96-92 on Wednesday. But after Kobe Bryant went down in a heap in the game's final seconds, nobody in purple cared about the score.
Bryant landed on Dahntay Jones' foot, rolling his left ankle as he attempted a game-tying jumper from the right baseline. He was able to walk off the court on his own, but his progress was slow, and the news coming out of the Lakers' locker room in the aftermath wasn't good.
BREAKING: Kobe Bryant suffers severe ankle sprain in closing moments of tonight's loss to Hawks. Lakers say he is "out indefinitely".

— SportsCenter (@SportsCenter) March 14, 2013
With the Lakers finally in playoff position, albeit by the slimmest of margins, the injury to Bryant couldn't possibly have come at a worse time. L.A. will now have to scramble to find some kind of stopgap measure until Bryant can return.
Maybe that means a whole lot more pick-and-roll action for Steve Nash and Dwight Howard. Or perhaps Pau Gasol will move his return date up by a few days. Who knows?
Considering that No. 24 has virtually carried his team over the past couple of weeks, it seems almost impossible that the Lakers can do anything to replace his production.
The Lakers' have to hope that the Utah Jazz continue to spiral downward (which Tyrone Corbin's team seems to have no trouble with) and that Kobe gets a chance to rest his tired legs as his ankle recovers.
There's no silver lining for L.A. in this situation, but at least Bryant's injury actually has some bearing on a playoff berth.
It wasn't long ago that the Lakers were so far out of it that losing Bryant wouldn't have mattered.
The Utah Jazz Would Like to Get off of This Ride, Please
Mark D. Smith-USA TODAY Sports
Following a 110-87 loss to the Oklahoma City Thunder, the Utah Jazz have now dropped eight of their last 10 games. And if not for the good fortune of wins over the lowly Detroit Pistons and Charlotte Bobcats, we'd be talking about a 10-game slide.
OKC is probably going to beat the Jazz on most nights, but the way Utah just gave up the ghost in this one says a lot about where the team is.
The frontcourt tandem of Al Jefferson and Paul Millsap combined to score just 15 points on 5-of-18 shooting and the Jazz managed just nine points as a team in the second quarter. In all, Utah scored only 28 points in the game's first half.
Typically a team that relies on its size and toughness inside, Utah was bullied on the boards, losing the rebound battle 48-35. In short, there was really no facet of Wednesday's game that pointed to even faint signs of fight in the Jazz.
Kobe falls hard, but it looks like L.A.'s landing on the soft cushion of Utah Jazz basketball. Hope that ankle's okay.

— Ethan Strauss (@SherwoodStrauss) March 14, 2013
With Bryant going down against Atlanta, you might think the Jazz would be poised for a late run over the next couple of weeks. But a rough schedule and an apparent psychological surrender make that seem pretty unlikely.
Daryl Morey Has Outsmarted Everyone...Again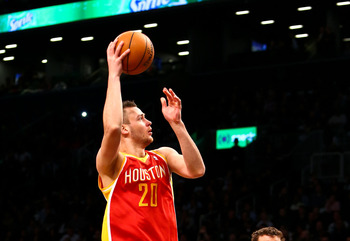 USA TODAY Sports
Usually, it's a bad idea to trade your entire power forward rotation in the middle of a hotly contested fight for a Western Conference playoff seed. But Houston Rockets GM Daryl Morey shipped off Patrick Patterson and Markus Morris for the not-quite-ready Thomas Robinson and a pick in two separate deals, leaving the 4-spot open for little-used Donatas Motiejunas.
And it turns out that Morey was hiding an ace up his sleeve all along.
Motiejunas registered a career-high 19 points against the Phoenix Suns in a blowout 111-81 win for the Rockets, and he showed off a promising combination of stretch-4 skills that help explain why Morey was so willing to shuffle up his frontcourt deck at the deadline.
The 7-footer from Lithuania knocked down threes from the corner, ran the floor and shot an efficient 7-of-12 from the field in a remarkably effective 28-minute stint.
In short, he's got a well-rounded, polished offensive game that fits someone about six inches shorter than he is. And he's just 22 years old.
At some point, teams in trade talks with Morey are just going to start asking to acquire the guy buried on the bench instead of the player he's trying to deal. Motiejunas may still be too young to figure prominently in Houston's playoff run this year, but going forward he's going to be a force.
Wait, So the Celtics Can Score Now?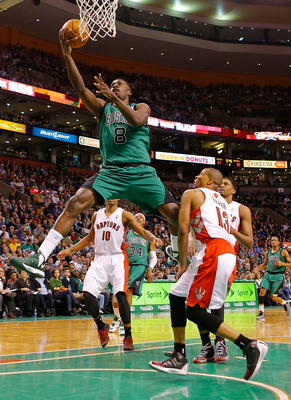 Jared Wickerham/Getty Images
After dropping an embarrassing 26-point laugher to the Charlotte Bobcats on Tuesday, the Boston Celtics rebounded...by scoring. (See what I did there?)
Boston, owners of the league's No. 23 offense, pumped in 112 points in a sound 24-point win over the visiting Toronto Raptors on Wednesday, scoring with unusual efficiency. Seven Celtics hit double figures, with Jeff Green's 20 leading the way.
On the night, Boston shot 51 percent from the field and made 6-of-15 from long range.
It certainly helps that the Celtics were back home, and there's no question that the soft Raptors defense contributed to plenty of good looks. But for a Boston club that is going to need to generate offense more consistently to make noise in the postseason, a 112-point night can only be a good thing.
Perhaps best of all, Boston's 19-point lead heading into the fourth quarter allowed Doc Rivers to sit Kevin Garnett and Paul Pierce down the stretch. A little rest is always welcome for those two.
Roy Hibbert Is a Bully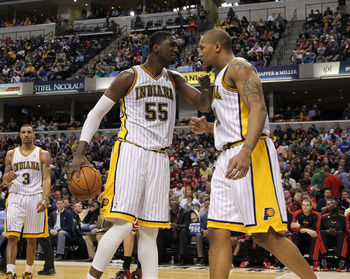 Brian Spurlock-USA TODAY Sports
Nobody likes a bully in the schoolyard, but when one gets loose in the paint during an NBA game, it's actually kind of awesome.
Indiana Pacers (very) big man Roy Hibbert had fun picking on players who definitely weren't his size in the Indiana Pacers' 107-91 win over the Minnesota Timberwolves on Wednesday. The Wolves, playing without their entire starting front line, fielded a frontcourt featuring Greg Steimsma, Derrick Williams and Mickael Gelabale.
Naturally, Hibbert crushed Minnesota's undersized "bigs," scoring a season-high 27 points and grabbing nine offensive rebounds. At times, it looked as though Hibbert was all alone underneath—until you cast your gaze downward about a foot, at which point you'd notice the tiny Timberwolves nipping at his ankles as he played volleyball on the glass.
The Pacers need more of this type of play from Hibbert, and they need it more consistently. After pushing around the Miami Heat in the first quarter of the Pacers' March 10 loss to LeBron James and Co., Hibbert basically disappeared for the subsequent three quarters.
Indiana has to be hoping that Hibbert's dominance against the Wolves will lead to more bullying as the playoffs draw closer.
The Bulls Had an Accident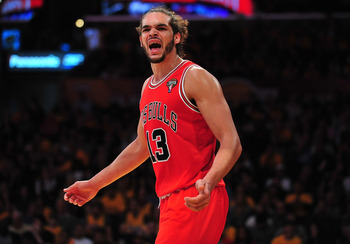 Gary A. Vasquez-USA TODAY Sports
If the Chicago Bulls were trying to make a plea for Derrick Rose to return, they did a pretty good job by losing the night's biggest stunner, a 121-79 thrashing at the hands of the typically awful Sacramento Kings.
Chicago shot just 38 percent from the field and watched as the Kings guards absolutely diced up Marco Belinelli and Nate Robinson on the perimeter. Horrible offensive flow and an inability to contain penetration from quick guards? I wonder who might be able to help in those areas...
The Bulls have now lost four out of their last five games and appear to be wearing down under the strain of the consistently heavy minutes coach Tom Thibodeau asks of his starters. Sacramento crushed the Bulls in transition, amassing 27 fast-break points. That's as clear a sign of fatigue as you'll ever see.
At least Joakim Noah and Luol Deng were spared their usual 40-minute allotments against the Kings, thanks to a halftime deficit of 29 that grew to 33 by the start of the fourth quarter.
Realistically, the Bulls are nowhere near this bad. And the Kings have enough talent to occasionally stumble into scoring outbursts like the one they hung on Chicago. But if there was ever going to be a case for the importance of Rose's return, this game would definitely be entered into evidence as Exhibit A.
Effort Is the Key to Success
Chris Trotman/Getty Images
The Miami Heat have had some close calls during their winning streak, but superior talent has always bailed them out in the end. In a 98-94 win over the Philadelphia 76ers, the Heat logged their 20th straight triumph in a slightly different fashion.
Effort was the reason Miami extended its run on Wednesday.
Up by a single point with less than a minute to go, LeBron James got a look in the paint, but missed his first attempt. He quickly bounded off of the floor a second time, securing the board and going up again.
But he missed his second try, too.
Then, Dwyane Wade soared in, tipping the ball into the bucket and giving the Heat a three-point advantage that the Sixers couldn't overcome.
The 76ers shot a better percentage from the field and from three, out-rebounded the Heat and even turned the ball over less often. But for all that, the Heat prevailed in the end.
If Miami keeps getting this kind of effort from its stars to go along with its top-shelf talent, there's no telling how long this streak is going to go.
Don't Feed the Bears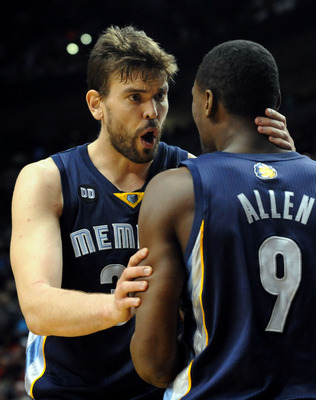 Steve Dykes-USA TODAY Sports
The Memphis Grizzlies snatched sole possession of the No. 3 seed in the Western Conference from the host L.A. Clippers on Wednesday, employing uncommonly efficient offense to go with their typically stout D.
Memphis hit on 54 percent of it shots and even knocked down six of its 12 three-point attempts. For a team that came into the game with the league's No. 19 offense, those figures are pretty darn good.
Jamal Crawford helped out in his typical way, hitting just one of his 10 attempts against a Grizzlies defense that was happy to surrender long twos off the dribble. But it wasn't just Crawford's shot selection that fed the Memphis run.
Mike Conley met the challenge presented by Chris Paul, logging 17 points and 11 assists while playing solid defense on the other end. And Marc Gasol continued to solidify his case as the NBA's best all-around center, posting 21 points and five steals on 10-of-14 shooting.
It sort of makes you wonder why nobody has ever tried to popularize the nickname "Papa Bear" for Gasol. Can we just agree to start that now?
Warriors Get What They Need, Survive Scare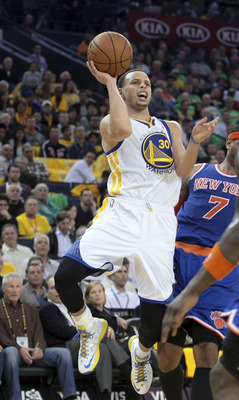 USA TODAY Sports
The Golden State Warriors have dropped two games to the Sacramento Kings and two to the Orlando Magic this year, so it was far from a foregone conclusion that they'd take care of business at home against the Detroit Pistons.
In fact, for most of the first half, it appeared that the Pistons would add their name to the list of lottery teams that had upset the streaky Warriors.
Thanks to 31 points from Stephen Curry and a good game (finally!) from Jarrett Jack, the Warriors prevailed by outscoring the Pistons by eight in the second half. The final result of 105-97 didn't quite reflect how dicey this game really was, though.
Curry had yet another stellar scoring performance, tossing in his points on a variety of flips, pull-up jumpers and, of course, three-point shots. His five threes on seven attempts helped offset a woeful 1-of-6 night for backcourt mate Klay Thompson, who finished with just 10 points.
Perhaps most importantly for the Dubs, Andrew Bogut actually posted a decent statistical night. The oft-injured big man played 32 minutes and pulled down 10 rebounds in addition to his seven points and four assists. It may not seem like much, but for Bogut, any progress at all has to be encouraging for Mark Jackson's club.
Golden State stayed one-and-a-half games up on the Rockets with the win, but they'll have to learn to take care of the league's lowliest teams, lest one of them sneaks up to spoil the Dubs' season down the stretch.
Carmelo's Welcome-Home Party Didn't Go as Planned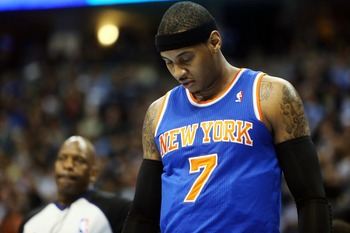 Chris Humphreys-USA TODAY Sports
With Carmelo Anthony returning to the Pepsi Center for the first time since becoming a New York Knick, the Denver Nuggets thought it best to greet him by doing what they do best: running out to a big lead and never looking back.
The Nuggets sprinted out to a 22-point halftime advantage and then extended the margin to 28 before the fourth quarter. Anthony was long gone by that point, though, having taken a trip to the locker room because of his increasingly worrisome right knee.
The loss probably hurt Anthony on a personal level, as he surely would have liked to stick it to his old team in front of the fans that once cheered him. But the bigger issue has to be his knee.
Denver is on a sharply upward trajectory on the strength of the league's most balanced offensive attack. The Knicks, on the other hand, are simply treading water without Anthony at full strength.
If his condition continues to worsen, they're in danger of sinking like a stone.
Keep Reading