Carmelo Anthony: Breaking Down Knicks Star's Performance in Return to Denver
Chris Humphreys-USA TODAY Sports

In February of 2011, the Denver Nuggets infamously traded star forward Carmelo Anthony to the New York Knicks. The most common perception was that Anthony forced his way out of town, which led to a controversial split between he and the loyal Denver fanbase.
For the first time since the trade transpired, Anthony made his return to Denver on Mar. 13.
More than two years removed from his controversial departure, Anthony entered this game with all eyes glued to what he would do. Coincidentally, this event came just one day after Dwight Howard returned to Orlando and dominated the game.
Well, 'Melo's trip back to Denver didn't go as planned.
The Nuggets blew the Knicks out of the building, going on a 17-0 run in the second quarter and never looking back. When it was all said and done, the Nuggets decimated 'Melo and the Knicks.
The Nuggets won by a score of 117-94. So how did it all go down?
Begin Slideshow

»
Chris Humphreys-USA TODAY Sports

It certainly wasn't pretty.
From the second Carmelo Anthony stepped onto the hardwood, Denver Nuggets fans rained down with a chorus of boos. Whether it was the pregame introductions or an average possession, Denver let 'Melo have it.
Every time he touched the ball, they booed as if two years weren't enough to heal their wounds.
The only time the fans weren't booing Anthony was when they had no time to stop cheering. With the Knicks rushing possessions, Denver quickly converted failed attempts into points of their own.
The crowd's reception was almost as rough as 'Melo's evening.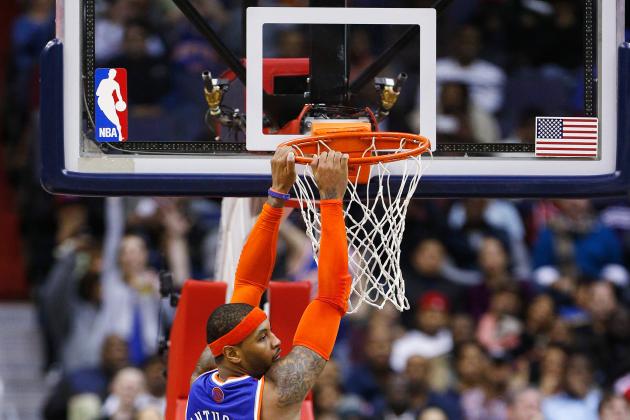 Rob Carr/Getty Images

There are few words that can describe Carmelo Anthony's offensive performance without offending his loyal fans.
When he had the ball in his hands, Anthony appeared disconnected and uninterested in the game being played. Whether his body language reflected his mentality is unclear, but one thing was evident.
Knee injury or not, 'Melo couldn't score.
In 22 minutes, Anthony shot 3-of-12 from the floor and 0-of-5 from beyond the arc. Come the second quarter, he gave up on making an impact with the ball in his hands.
Anthony simply spaced the floor for his teammates by standing idly along the perimeter. In turn, the Knicks fell into isolation basketball and allowed the Nuggets to go on a 17-0 run.
There isn't much positive you can say about this.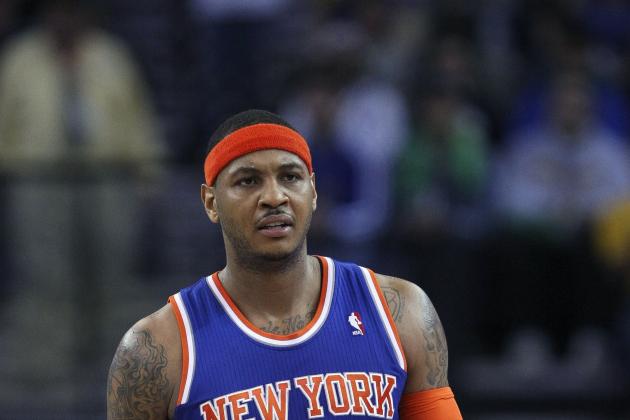 USA TODAY Sports

Before we get started, it's important to note that this is hardly Carmelo Anthony's fault. The entire New York Knicks team failed to play any form of defense.
That's exactly why the Denver Nuggets scored 62 points in the paint.
When it comes right down to it, the Knicks simply did not display a reasonable effort on defense. Instead—Carmelo included—they stood around and watched as the Nuggets took it to the hole.
Fortunately for 'Melo, his reputation appears to be intact due to Danilo Gallinari's 4-of-13 shooting night. Even if his individual defense wasn't the reason.
A rough performance on both ends by Anthony.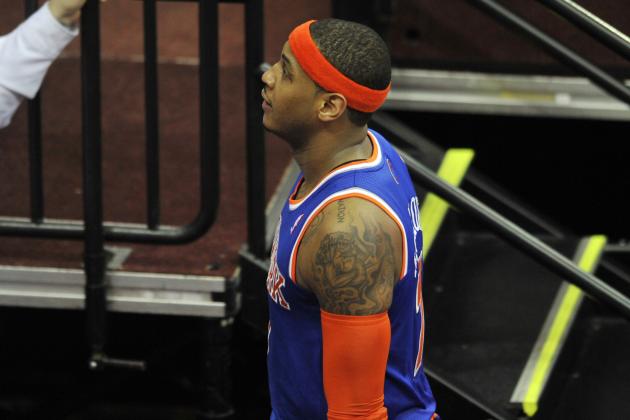 David Richard-USA TODAY Sports

Prior to Carmelo Anthony's return to Denver, it had been reported that he was battling a knee injury. That played a major role in the overall outcome of the game.
Anthony left during the third quarter and didn't return.
It was speculated that Anthony was unable to overcome the knee issues. That was later confirmed.
Per the New York Knicks' public relations department:
Carmelo Anthony has a sore right knee and will not return.

— NY_KnicksPR (@NY_KnicksPR) March 14, 2013
A disappointing ending to what should have been a special evening.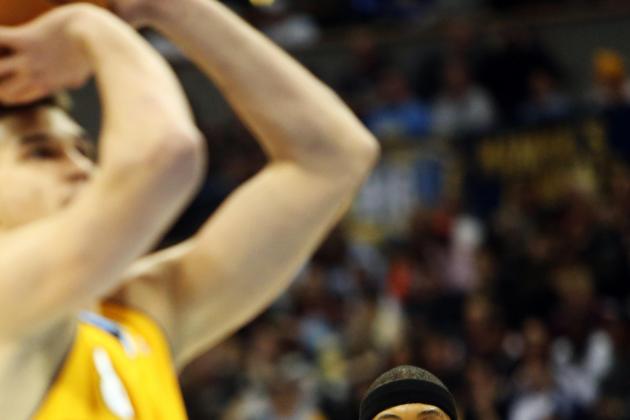 Chris Humphreys-USA TODAY Sports

Overall Grade: F
117-94. Do we really need to say more?
When news broke that Carmelo Anthony would be returning to Denver, many expected this to be a memorable game. With that being said, few expected the fans in attendance to get such joy out of what transpired.
Anthony disappeared and the Denver Nuggets ran wild with a victory.
Whether it was a matter of production or body language, Anthony failed to step up in a game that the media labeled of extreme importance. Regardless of why it transpired, Anthony failed to perform at the level expected of him.
Should we now put to the rest the argument of "Who won this trade?"
Carmelo Anthony returns to Denver tonight for the 1st time since he was traded. Since then, the Knicks are 88-67. The Nuggets are 98-57.

— Numbers Never Lie (@ESPN_Numbers) March 13, 2013
Make that 88-68 and 99-57.