Georgia Football: Week 2 Spring Practice Stock Report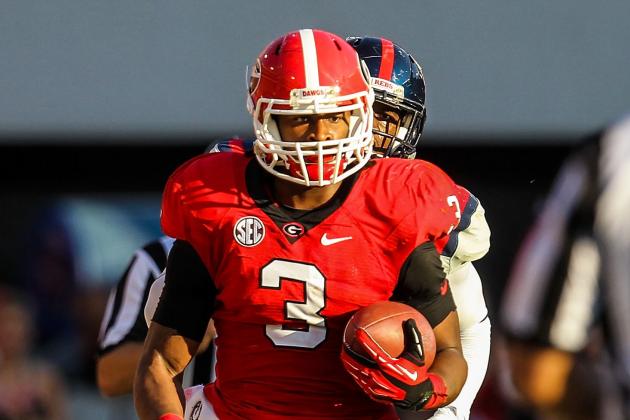 Daniel Shirey-USA TODAY Sports

The Georgia Bulldogs are currently not taking part in spring drills because the coaching staff gave the players time off for spring break.
So far, the Bulldogs have practiced three times this spring and will be back on the field on Tuesday March 19.
At the end of each week, we will do a stock report for the Bulldogs during spring practice. We will look to see which three players are on the rise and which three players are on the decline.
So, without further ado, here's the Week 2 Spring Practice Stock Report for the Bulldogs.
Begin Slideshow

»
J.J. Green will be the most interesting player to watch moving forward. The athlete from Kingsland, Georgia, was working with the running backs during the first week of spring practice, which is interesting because he was recruited as a cornerback.
The reason for Green working with the running backs is the lack of depth at the position, and offensive coordinator Mike Bobo thinks he would make a good "scat-back," which means he would also line up as a receiver.
Green could be the next Malcolm Mitchell, in terms of playing on both sides of the ball.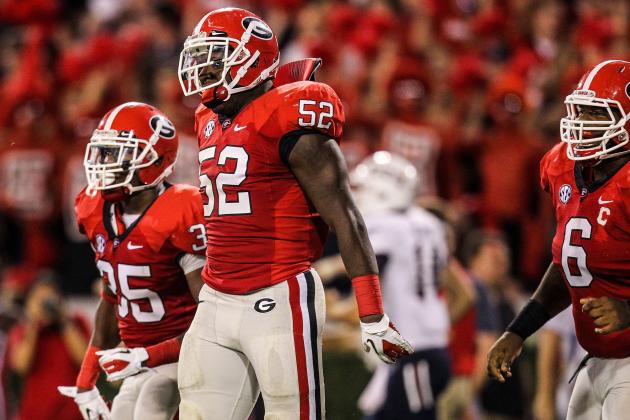 Daniel Shirey-USA TODAY Sports

Amarlo Herrera will be the leader of the defense this season.
He will be back at the "Mo" linebacker spot after playing there the first four games of last season because of the suspension of Alec Ogletree. When Ogletree returned, Herrera moved to the "Mike" linebacker spot, which is the other inside linebacker position.
Herrera knows that this is an important spring for him because the rest of the defensive players will look up to him.
He said it felt different when not seeing players like Jarvis Jones and Shawn Williams at spring practice this year, but once they were a couple of days in, it started to feel normal.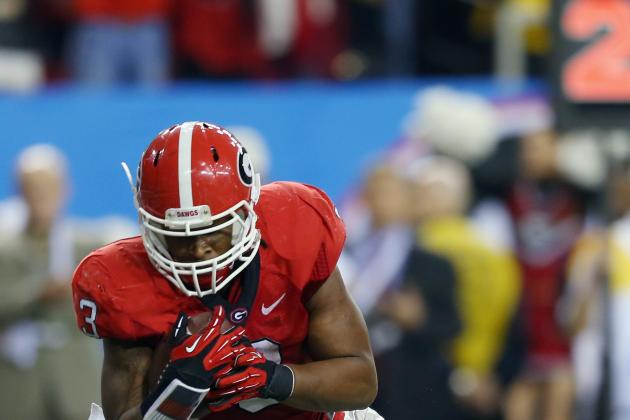 Mike Ehrmann/Getty Images

Believe it or not, Todd Gurley looks better this spring than he did in the fall.
Head coach Mark Richt said that Gurley looks trimmer, has more endurance and has more quickness than he did at the end of last season.
It's clear that Gurley knows what he needs to do to improve on his numbers from last season. Every defense in the SEC will be gunning for him this year, so he has to be in great shape in order to take another beating from opposing defenders.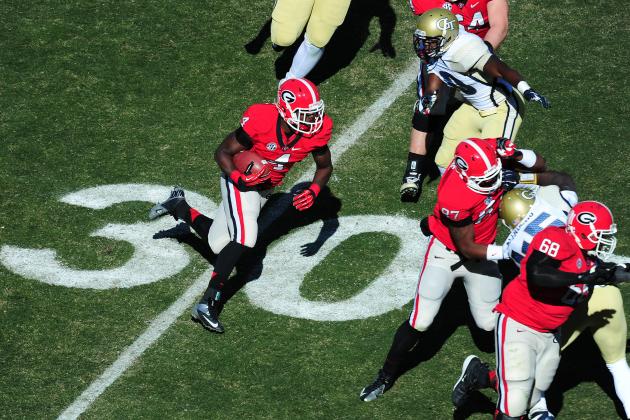 Scott Cunningham/Getty Images

While one star running back is in tiptop shape, another has some work to do as he tries to work his way back on to the practice field.
Keith Marshall has been fighting a hamstring injury he suffered while running track. It's not a major hamstring injury, though, and he should be ready to practice when the team returns from spring break.
However, because of the lack of depth at running back, Marshall needs to be out there as soon as possible. He also needs to be as healthy as possible this season if the Bulldogs want to get back to the SEC Championship.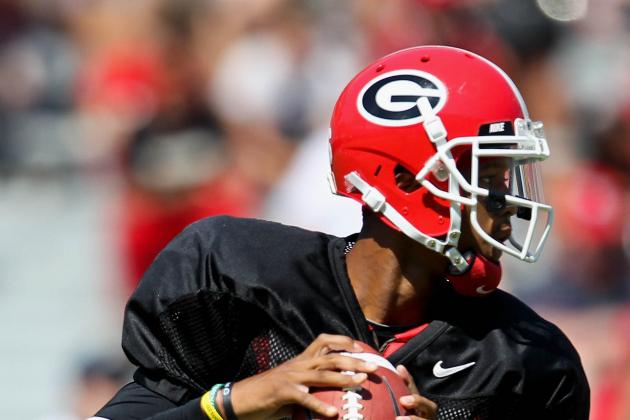 Daniel Shirey-USA TODAY Sports

There is no quarterback controversy for the Bulldogs, but Christian LeMay got lost in translation during the first week of spring practice.
The quarterback has been working with the third string, alongside quarterback Parker Welch.
LeMay has been expected to make a splash with the offense, but it has not happened yet.
Granted, the main reason for LeMay not playing is that Murray has held down the position for the last few years along with Hutson Mason. But he has to show the coaches that he can take the next step in his progression as a college quarterback.
He can't do that when working with the third-teamers.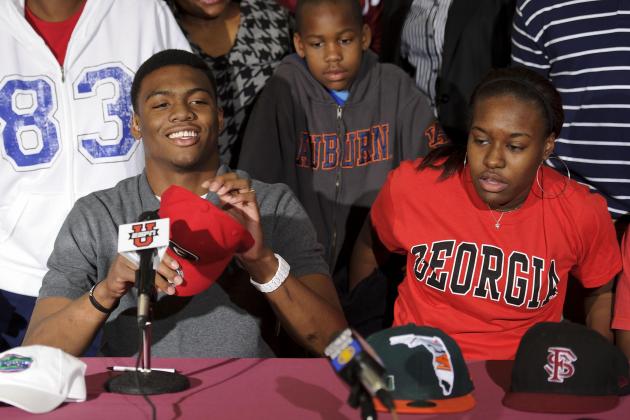 Paul Abell-USA TODAY Sports

Josh Harvey-Clemons is expected to make an impact this fall, but he does have some work to do.
Harvey-Clemons played safety for the Bulldogs last year and was expecting to work with the linebackers during spring practice.
That has not happened yet, because the coaches want him to get the safety position down pat and he has to gain 10-15 pounds.
Regardless, Harvey-Clemons is expected to be an impact player on defense this year and has done a solid job at safety during the first week of spring practice.