Syracuse Basketball: Ranking Most Likely Orange March Madness Heroes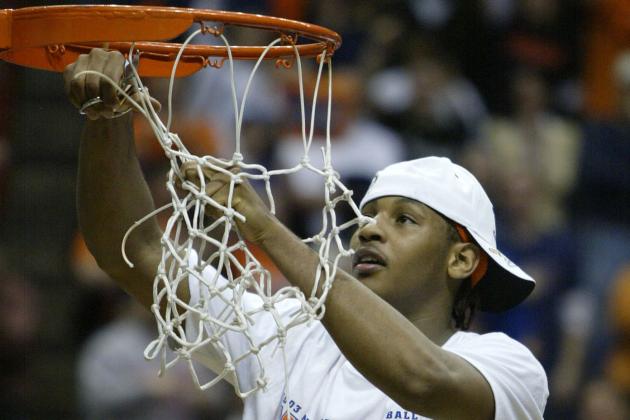 Al Bello/Getty Images
Carmelo Anthony: Syracuse Standard for March Madness Heroes
Sunday is Selection Sunday, which means it's time for March Madness dreams which always involve heroes.
Orange dreams, circa 1987, introduced us to future Orange all-timer Derrick Coleman who led Syracuse to an exciting, albeit excruciating, last-second loss in the NCAA Championship game as a freshman.
The 1996 dreams were of a repeat of Kansas' 1988 Danny and the Miracles championship as Orange senior John Wallace put the team on his back, coming up just short to Kentucky in the championship game.
Then came the glorious spring of 2003.
Gerry McNamara made six three-pointers in the first half of the championship game against Kansas as a true freshman. Ponder that for a second...
Hakim Warrick came from the other side of the court to block Michael Lee's last-second game-tying shot.
As impressive as McNamara and Warrick were, they paled in comparison to the ultimate Syracuse hero...
CARMELO ANTHONY!
'Melo was the Final Four Most Outstanding Player, scoring 33 points against Texas in the semifinal and 21 in the title game against Kansas.
Will there be a 2013 Orange hero?
If so, who will it be?
I've picked four potential March Madness heroes for Syracuse and ranked them in order with the most likely being the last one discussed.
In deciding on my rankings, I looked at each player's performance and potential. I looked at performance for the whole season, the last 10 regular season games and today's Big East tournament win over Seton Hall.
Time to dream.
Begin Slideshow

»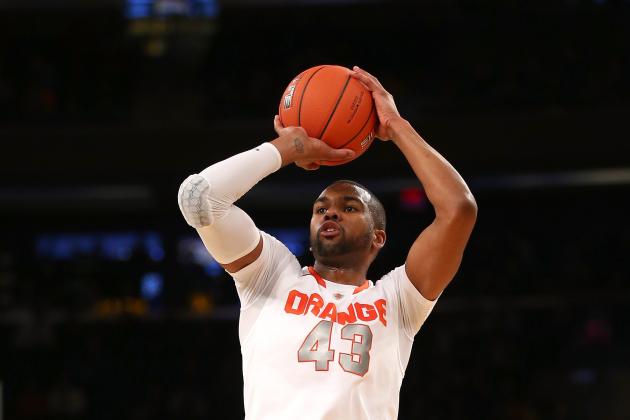 Elsa/Getty Images

Southerland has been consistent this season with the exception of the last two regular season games when he struggled against DePaul and Georgetown. I know he scored 22 points with 10 rebounds against DePaul, but he was one-of-10 from long range.
He averaged 13.6 points and 5.3 rebounds this season and came through with very similar numbers in the last 10, averaging 13.6 points and 5.4 rebounds. His overall shooting percentage did dip a bit in the last 10 games from 44.9 to 37.7 percent.
Southerland was clearly a hero in today's Big East tournament win over Seton Hall, scoring 20 points on seven-of-11 shooting, including six-of-nine from behind the arc.
While Southerland is important for the Orange, his game is generally limited to spot-up shooting. His success can vary based on the defense Syracuse faces. A pressing, man-to-man team like Louisville can give James trouble.
Thus, his status as fourth most likely Orange March Madness Hero.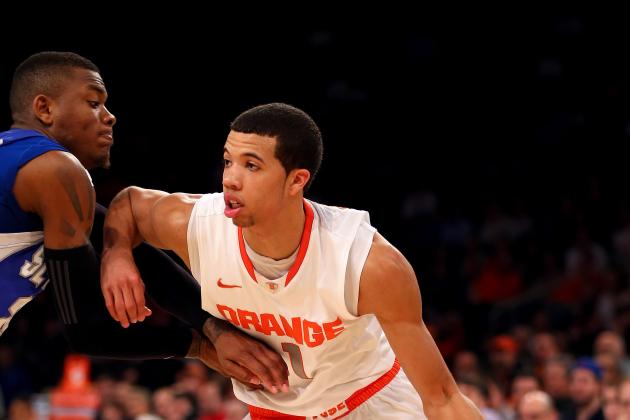 Elsa/Getty Images

Michael Carter-Williams' season has had the ups and downs typically described by the term roller-coaster.
He led the nation in assists for much of the early season and seemed on his way to All-American status. He then seemed to remember that he is a sophomore and thus began the crazy ride.
He's had a good statistical season, averaging 12.5 points, 4.7 rebounds, 7.6 assists and 2.9 steals per game. His numbers were similar for the last 10 games with an unfortunate dip in assists to 5.5 per game.
The best of MCW was on display today at Madison Square Garden as he scored six points, grabbed five rebounds and had an amazing 14 assists and only one turnover.
Why then is he only my third most likely March Madness Hero?
I don't have enough faith that he will continue to be so spectacular. He's had moments of poor decisions and too many turnovers.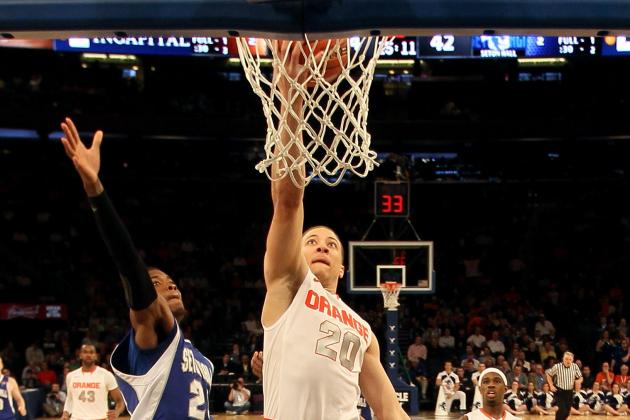 Elsa/Getty Images

As Brandon Triche has struggled, the Orange have struggled.
His senior season was pretty good, with averages of 13.9 points, 3.5 rebounds and 3.6 assists per game. However, his shooting plummeted in the last 10 games as he shot 29.9 percent, including 17.8 percent from behind the arc. This from a three-year 35 percent long distance shooter.
Not surprisingly his scoring dropped to 11.8 points per game in the last 10 and his assists rose to 4.2 per game as he looked for his teammates much more.
Why then is Brandon the second most likely Orange March Madness Hero?
If the Orange are to have a March that produces a hero, Triche has to play well. He's that important to the team.
It's no surprise that when Triche struggled in the last 10 games, the Orange went 5-5 and looked terrible.
Today against Seton Hall, Triche hit his first two shots and you could just see the relief in his face. He made six-of-nine shots, including two-of-four from long distance in scoring 17 points. He chipped in with five assists and only two turnovers.
Is he back?
If he isn't, the dreams will turn nasty.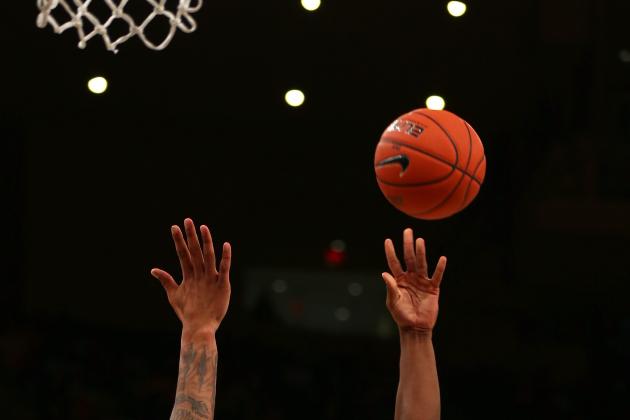 Elsa/Getty Images

C.J. Fair has been the Orange's best player this season and thus the clear choice for most likely March Madness Hero.
Fair averaged 14.5 points and 7.1 rebounds this season. He was even better in the last 10 games, averaging 16.1 points and 7.5 rebounds.
Fair was Syracuse's best free-throw shooter, hitting 79.2 percent and best three-point shooter, making 43.2 percent.
It's no coincidence that Fair scored only two points in today's first half and the Orange were tied with Seton Hall at 34.
In the second half, Fair scored 14 points as Syracuse pulled away for a 75-63 win. He made six-of-10 shots and pulled down eight rebounds.
Based on the facts and the eyeball test, Fair is the player most likely to be dreamt about by Orange Nation.