UFC: Diego Sanchez vs. Nate Diaz Head-to-Toe Breakdown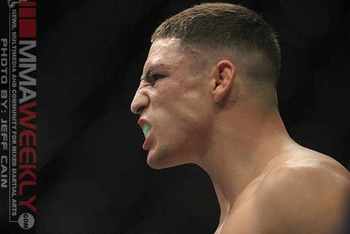 mmaweekly.com
When Diego Sanchez called out Nate Diaz on Twitter, for those who remember the epic fight Sanchez had with the elder Diaz, Nick, it instantly seemed like an excellent fight.
After a little time has passed, those feelings remain.
Diego Sanchez is one of the few men in the lightweight division who is capable of matching the bravado and aggression of Nate; in his fight with Nick, the action was nearly nonstop and was one of the better fights of the year.
Now, with Sanchez coming off a controversial win over Takanori Gomi and Nate looking to rebound from his loss to Benson Henderson, both men would be hungry to make a statement at the cost of the other.
Not only is this an interesting clash of personalities, but styles as well; like his older brother, Nick loves to stand and trade, while Sanchez is all about the business of getting the fight to the ground and finishing it there.
So, should this fight actually be finalized, who would win such a bout?
It's a hard fight to predict given just how aggressive both men can be; this is a fight that will no doubt be flying all over the octagon, with both men enjoying moments of success.
That being said, we can still do our best to find order in that beautiful chaos, and in doing so, we might get some idea as to who has the upper hand.
Striking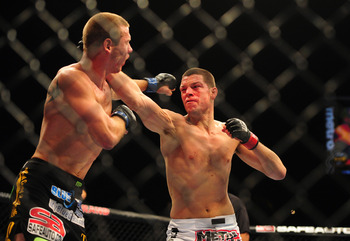 Mark J. Rebilas-USA TODAY Sports
While Sanchez has improved a great deal over the years when it comes to his stand-up game, the edge in a pure striking battle would have to go to Nate, who has taken many accomplished strikers to school.
Granted, his defense is lacking and the threat of takedowns could see Sanchez land blows, but that is all part of his style, and he's proven that he can be an early starter.
This will be terribly important in a battle with Sanchez, who is apt to charge across the cage in an attempt to force the fight right down Nate's throat.
Still, if given just a little bit of room to move, Nate can get on his bike quickly and really start to land those punches.
After getting his legs blasted by many kicks from Benson Henderson in his last fight, Diaz will probably be ready to check those leg kicks, although it's hard to imagine that Sanchez will be content to remain on the outside.
When it comes to a battle of blows on the feet, it will probably happen in close quarters, where Sanchez can dip down for handy takedowns as he sees fit.
Sanchez is the stronger fighter, which could see him bully Nate to the cage and attack him there, limiting his movement and his range while working uppercuts and hooks with savage abandon.
Another thing Diaz needs to be wary of is backing out of any exchanges with his hands down, as Sanchez does have a nasty high kick that could blast Nate off his feet if it connects.
Regardless, when all is said and done, Nate still has better timing with his punches, throws with more accuracy, keeps his eyes open, and attacks both the body and head, threading together combinations that actually land as they are intended.
The real question then becomes a matter of styles; brawler vs. boxer.
In that battle, I give the edge to the better boxer, Nate.
Edge: Diaz
Wrestling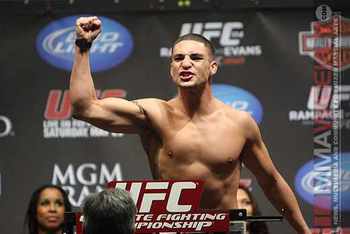 mmaweekly.com
As one of the cornerstones of MMA, wrestling is something both Diaz brothers seem to ignore in favor of employing a pure jiu-jitsu game on the floor, and by that virtue (or mistake, depending on who you ask) alone, Sanchez has a clear advantage.
Sanchez isn't among the elite wrestlers in any division, but he's very strong, aggressive and dogged about getting the takedowns when he really wants them.
He's got a good understanding of the mechanical principals of the takedown game, and his top game is pretty damn good as well.
Given his sheer power and wrestling ability, Sanchez may be able to repeat the kind of performance he had against Nick, continually taking him down and attacking from the top like a madman.
Edge: Sanchez
Submission Grappling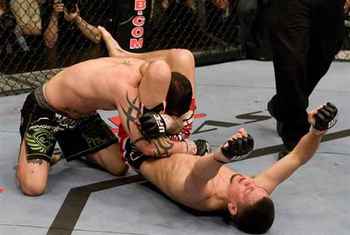 fightpassport.com
While much ado has been rightly afforded the submission skills of Nate Diaz, I don't feel they are enough to submit Sanchez.
Sanchez has never been submitted in 29 professional bouts, so to say his submission awareness is high is accurate.
For Nate, he has only been submitted once, early in his career. Since then, he's racked up more wins via submission than Sanchez (the majority of submission wins on Sanchez's record are due to strikes), and that is why while I don't see either man submitting the other, I still give the edge in submissions to Diaz.
Edge: Diaz
Strength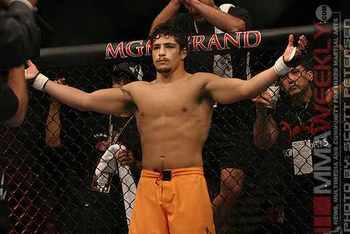 mmaweekly.com
Obviously, brawn alone is not a true indicator of physical power, but in this case, it seems fairly obvious that in the category of strength, the edge belongs to Sanchez.
Sanchez was a strong fighter at welterweight, and if he rehydrates properly for a bout with Nate at 155, he should honestly enjoy a sizable strength advantage.
Nate is no weakling, but he is simply outmatched against Sanchez.
Edge: Sanchez
Speed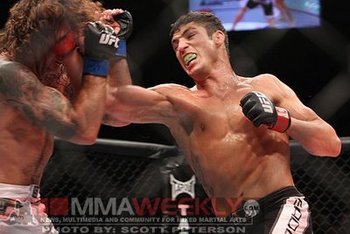 mmaweekly.com
Perhaps it is due to his often-frantic style of fighting, but Sanchez has proven capable of being surprisingly fast not only with his strikes, but during scrambles on the ground.
Diaz is not slow by any stretch of consideration, but he's not fast, either. He's middle of the line, throwing straight punches that arrive sooner than anticipated and hooks when his opponent is ducking or turning.
Nate makes the utmost of what he has, his heart following his chin and even against faster fighters, he still manages to land punches and secure submissions.
Will that be the case in this fight?
Perhaps, especially if Sanchez ends up slowing down in the final frame, but up until then, Nate will find he's facing a faster fighter.
Edge: Sanchez
Conditioning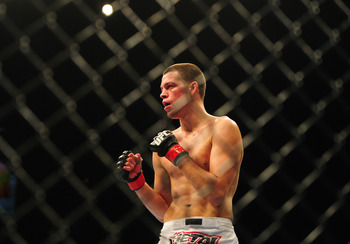 Mark J. Rebilas-USA TODAY Sports
Whenever either Diaz brother is in a bout, considerations of conditioning and endurance are almost always in their favor, and rightfully so.
The Diaz brothers have a ridiculously high level of endurance, never seeming to tire in any fight, no matter how long it goes.
On the other hand, Sanchez is no slouch when it comes to stepping into the cage in true fighting shape.
He rarely seems to be lacking the energy needed to fuel his berserker pace, and few set a pace as high and demanding as Sanchez, especially in the early rounds.
Predicting who has the advantage in this area is in many ways akin to splitting hairs, but I give the edge to Diaz.
Edge: Diaz
Experience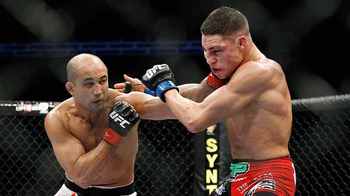 espn.go.com
Both Sanchez and Diaz have proven they are equal to the task of performing in big fights.
Both men have fallen short in title bouts at lightweight and both men have proven themselves more than just winners of the TUF plaque.
While Sanchez has more fights in the UFC, the advantage is not so significant that it would lend him an appreciable advantage over Diaz in a bout, but it is an advantage nonetheless.
Edge: Sanchez
KO Power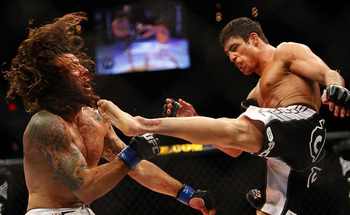 boston.com
This is one area where Sanchez has an obvious advantage, even though he's really never starched anyone with a single shot.
Nate Diaz does hit hard, but he's not a knockout puncher; he looks to connect many punches with authority and does so better than nearly anyone at lightweight, save Anthony Pettis.
Sanchez, on the other hand, puts a great deal of effort into delivering force with his strikes, and evidence of that can be seen in his bouts against Clay Guida, Kenny Florian, Karo Parisyan and others.
Be it standing or via ground-and-pound, the strikes of Sanchez are the heavier weapons.
Edge: Sanchez
Chin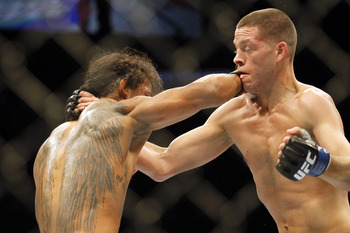 Joe Nicholson-USA TODAY Sports
As both men have proven many times—especially in the losses each has suffered in their title bouts thanks to BJ Penn and Benson Henderson—throughout their careers, they can take a serious pounding and keep on coming.
Few will ever forget the beating Sanchez took against Penn, who had him in serious trouble in the very first round of their bout.
After that, he's had a brutal contest with Martin Kampmann that left him a swollen, bloody mess.
Diaz has never really taking a serious thumping in any fight save his bout with Henderson, and he took his lumps very well.
While I think Sanchez has proven capable of taking heavier punishment from more dangerous fighters, it is still not enough for me to do anything other than divide this one down the middle.
Edge: Even
Prediction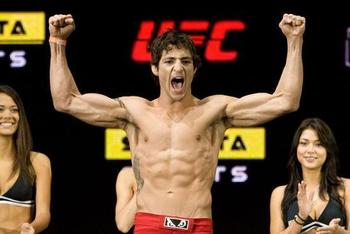 devotedmma.com
In the end, a fight like this is very tough to call.
Many would predict that Sanchez has the horsepower to simply run all over Diaz, bullying him against the cage and mauling him there or simply ripping his legs out from under him and trying to pound his head through the canvas.
While those are possibilities, Nate Diaz knows how to meet aggression, and his ground game is very good.
If Nate can survive the first few onslaughts by Sanchez, he will likely get a chance to get his feet under him and start to mount his own offensive; the longer this fight goes, the more it favors Diaz.
If this were a five-round co-main event, I would predict a Diaz victory via unanimous decision.
But as it is likely to be a three-round bout, I predict Sanchez will attack hard and relentless for the majority of the first two rounds, while Diaz will come back to win the third.
Prediction: Sanchez via unanimous decision.
Keep Reading