Washington Nationals: Winners and Losers Halfway Through Spring Training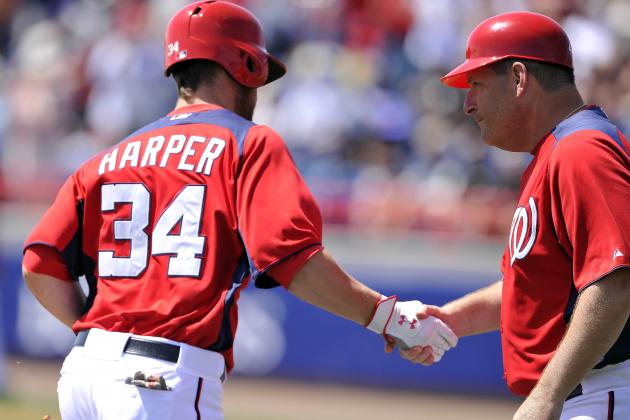 Brad Barr-USA TODAY Sports

Spring training isn't always a reliable indicator for the regular season.
Though many will have reservations on taking stock in certain players' performance during the months of February and March, there are still inevitably winners and losers during that span.
In the Nationals' case, a "loser" in spring training may not necessarily stem strictly from poor performance. It could be the result of multiple scenarios, like positional depth and injuries.
Throughout the spring, younger players can open the eyes of their respective manager and GM while still not making the opening day roster.
Progress and regression on an individual basis are common occurrences during spring training within any organization.
There are players in their respective primes looking to get better, up and coming stars looking to grow and players on the cusp of making the major league squad.
While there may not be many roster spots up for grabs following a successful season when Washington kept the majority of its roster intact, the following piece will look at which Washington Nationals players have been deemed the winners and losers throughout camp thus far.
Begin Slideshow

»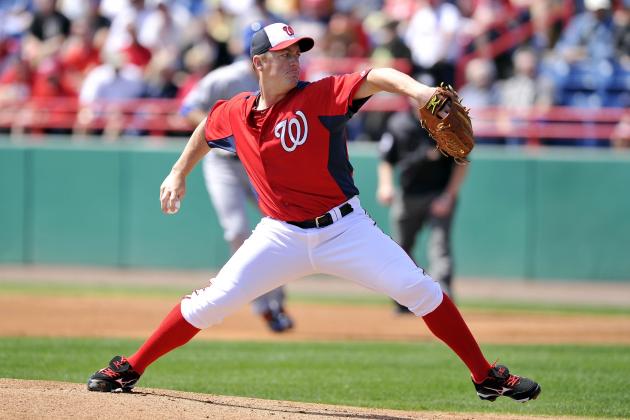 Brad Barr-USA TODAY Sports

Just a week ago Jordan Zimmermann may have landed on the losers list here, but this week he bounced back from a short stint of dealing with a "dead arm."
Following his most recent Grapefruit League start on Wednesday, Zimmermann gave up one earned run over 4.2 innings while striking out six.
His command and velocity were sharp, and Zimmermann went on record stating he felt much better this time around, also mentioning his changeup continues to improve.
Zimmermann is now locked in as the Nationals' No. 3 starter and looks to be in line for another solid season with a quality offensive lineup and bullpen backing him up.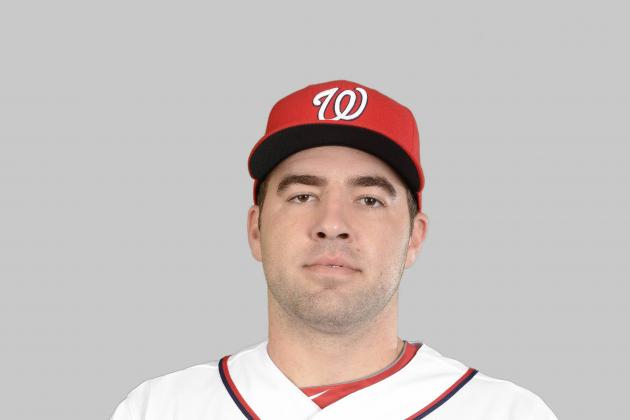 Brad Barr-USA TODAY Sports

Karns came into spring training as the Nationals' reigning Minor League Pitcher of the Year in 2012.
Unfortunately, Karns dealt with a nagging leg injury during his time spent in the Grapefruit League.
That inevitably limited Karns from showing his full potential to the Nats front office and coaching staff.
He was shelled in an outing against the St.Louis Cardinals, allowing seven runs (one earned) in only two-thirds of an inning.
After that less-than-stellar performance, it was revealed that Karns was dealing with the right-leg issue.
This upcoming season will be his first unrestricted one since shoulder surgery, and the Nationals want him to build a body of work as a starter.
"I got a lot out of here," Karns said. "I may not have gotten to participate physically, but a lot of guys talked to me about the mental aspect and things to look forward to. ... Anytime you get to show just more than a stat line, get to know me as a person or see me play, I think that'll help out in any regard."
If Karns manages to stay healthy at the minor league level, it isn't too far-fetched that he also could be called up in September, perhaps as a long reliever or an injury replacement.
It's obvious the talent is there as his previous numbers in the minors speak for themselves.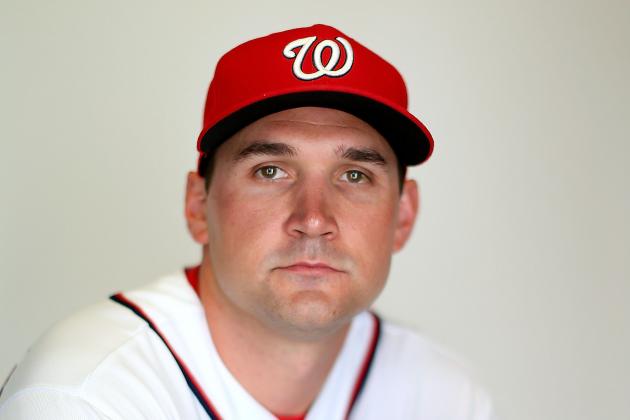 Mike Ehrmann/Getty Images

Ryan Zimmerman is still in the process of working his way back from offseason shoulder surgery to clean up his AC joint, but all signs during spring training point to him being very close to full strength.
Zimmerman has hit .500 throughout spring training and recently launched his first home run via the back-to-back variety alongside Bryce Harper, just another indication that his shoulder ailment is a thing of the past.
He has been slotted primarily in the DH spot thus far, but he is due to start playing the hot corner within the next week, according to manager Davey Johnson.
Johnson and Zimmerman mutually agree it won't take an extended period of time for the Nationals' franchise player to get re-accustomed to playing the field.
The Nats skipper recently stated, "He's got great hands, he doesn't need but a couple games playing in the field. What he needs more than anything is timing at the plate and getting comfortable there."
With rumors currently swirling that Zimmerman will open the season as the team's cleanup hitter, he could be in line for some seriously productive numbers in 2013.
With the lineup support of rising star Bryce Harper ahead of him and returning silver slugger Adam LaRoche behind him, Zimmerman has the potential to match—or even eclipse—his career marks in home runs (33), RBI (110) and slugging percentage (.525).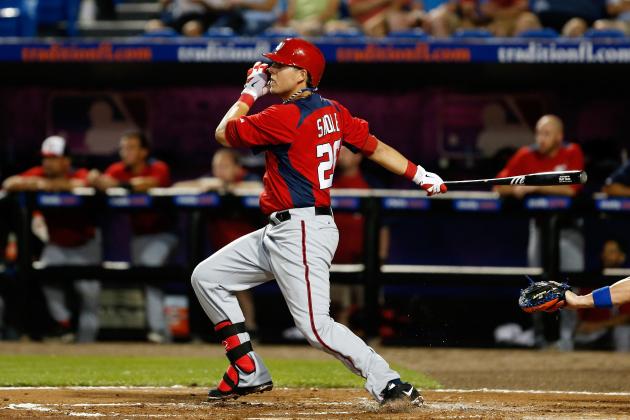 Chris Trotman/Getty Images

Matt Skole is unfortunately the product of a common scenario in baseball; he's buried behind talent at his natural positions on the depth chart.
With Adam LaRoche entrenched at first base and Ryan Zimmerman at third—and their backups Tyler Moore and Chad Tracy already established—Skole had no shot to make the major league roster.
A situation that is somewhat out of his control, Skole still ends up getting the short end of the stick. He was one of the few prospects that were among the cuts from major league camp on Thursday morning.
Skole saw time at both first and third base in spring training, and the Nationals will try him at first base for the time being in the minors.
His athleticism for a big-framed hitter was impressive, and his raw power was also a highlight of camp.
He only batted .250 throughout the 14 games he played in, which is an area the Nationals front office will look for improvement from the left-handed slugger.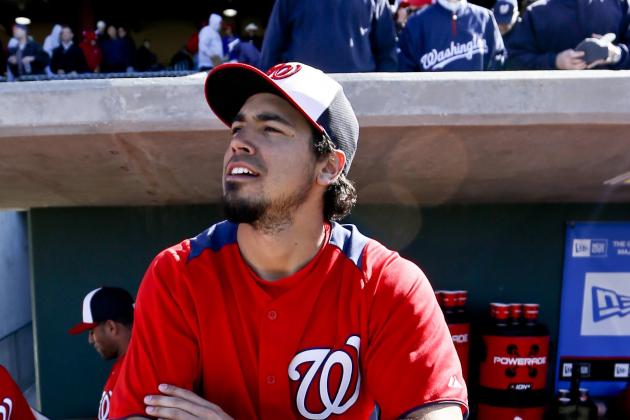 Derick Hingle-USA TODAY Sports

Rendon was undoubtedly the Nationals' hottest hitter throughout the first half of spring training. He had four doubles, four homers and 11 RBI in 13 Grapefruit League games—impressive stuff for a 22-year-old.
Despite his torrid streak, Rendon will start the season in Double-A Harrisburg, but could ultimately reach Class-AAA Syracuse in short order and potentially find himself in Washington sometime late in the regular season.
Its obvious Rendon was doing all he could to leave a lasting impression for manager Davey Johnson and GM Mike Rizzo.
Judging by the numbers he posted, he's done just that.
"I'm trying to take it one day at a time," Rendon said. "Of course, I'm happy just to be here. I'm doing well this spring. That's a positive, but I know I'm not going to be here that long. Before I go back on the Minor League side, I just want to be remembered. I want them to say, 'Hey, he had a good spring before he left.' That's all I can do."
Rendon drew high praise from his coaching staff and teammates, both of which will certainly keep him on the minds of fans and front-office alike.
A September call-up is certainly not out of the picture now.
If he can maintain his health throughout the time spent in the minors, Rendon should be in good shape to make an impact for the Washington Nationals sooner rather than later.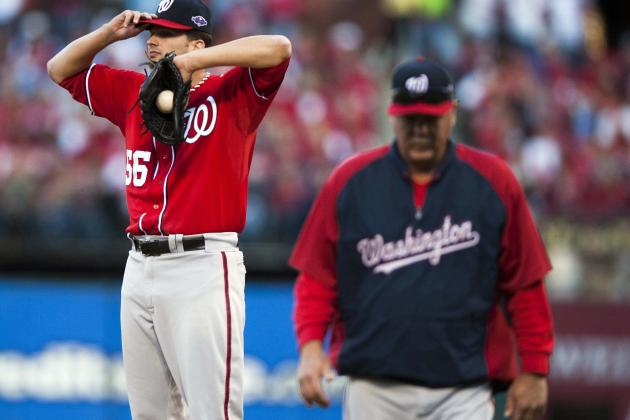 Jeff Curry-USA TODAY Sports

Garcia has yet to make his spring debut due to a partial tendon tear in his right forearm. He's currently slated to visit a wrist/hand specialist in Baltimore in the coming week, per beat writer Dan Kolko.
Garcia had an impressive stint in the majors following a call-up last September.
Over the span of 13 appearances, he posted a 2.13 ERA in 12.2 innings, clearly showing the Nationals front-office what he's capable of.
Unfortunately for Garcia, he's been unable to show any sort of continued growth this spring due to the forearm injury that hasn't quite healed.
No stranger to injury, he has already undergone Tommy John surgery twice in his career and is now dealing with another injury to his throwing arm.
Garcia has the arsenal of pitches, talent and obvious persistence to get back on the field, recently stating:
"I'll do whatever it takes to play in the big leagues. I got one taste of it last year, and there's nothing like it. It was a dream of mine growing up. Being able to get to feel it and live it, it's just a dream come true now. I don't want anything but that."
It was recently reported that he would resume a throwing program this weekend, but he'll need to get good news from the specialist for that to become a reality.
Chances are he will begin the season on the disabled list.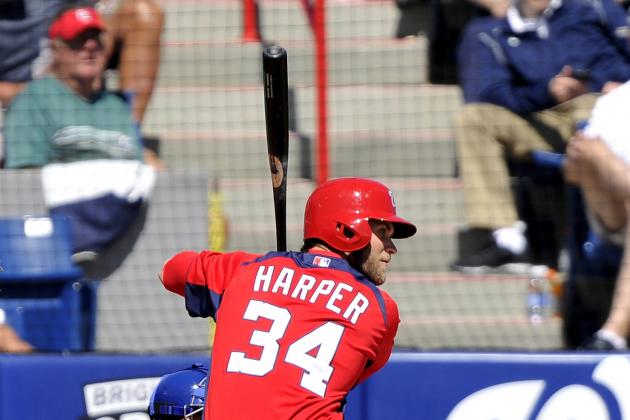 Brad Barr-USA TODAY Sports

Tentatively scheduled to take over the coveted three-spot of the Nationals lineup in 2013, Bryce Harper could be in line for a breakout campaign following his monster spring training.
If Harper manages to bat third in the Nationals lineup for 60-plus games this season, he would be the first 20-year-old to bat third for his respective team since Ken Griffey Jr. did so in 1990.
Pretty incredible considering this will be his first full 162-game season.
There is no denying what he is doing in spring training at the moment. Harper is simply raking the ball thus far, posting a .436 batting average over 14 games.
He's also belted three homers, a clear indication his power stroke is already in mid-season form.

Ahead of his second season in the majors, Harper has high hopes. He has approached spring training with the same fiery drive that he's been known for during the regular season.
Harper has hit left-handed pitching better, a point of weakness at times last season.
He isn't wildly chasing pitches out of the strike zone, which is attributing to his domination of opposing pitchers throughout the Grapefruit League.
Despite Harper's impressive numbers through spring training, he still remains modest and aware of the fact that he must continue to develop, which will be a crucial factor towards his individual success this season.