When Carlos Condit steps into the Octagon on Saturday night in Montreal, it will be one day shy of four months since the last time he did so. While there will be no title on the line and no pound-for-pound great standing across from him, many of the outside factors surrounding his bout at UFC 158 will be strikingly familiar.
The Canadian crowd will be losing their minds in anticipation of his scrap with Johny Hendricks, and despite the bout preceding the card's headlining showdown between Georges St-Pierre and Nick Diaz, there is plenty of "big fight" feel surrounding the co-main event.
The former interim champion will square off with a man considered by many to be the true No. 1 contender to the welterweight crown in Hendricks. "Bigg Rigg" is riding a five-fight win streak coming into the bout with Condit, and should the former two-time NCAA Division I wrestling champion emerge victorious, his long-awaited title shot should be etched in stone.
The same case can be made if Condit derails the Oklahoma native in the tilt, though this may not have been the case had things played out to their original schedule.
The Road to Gold Can Be Fruitful or Unforgiving
The 28-year-old Albuquerque-based fighter was slated to rematch surging contender Rory MacDonald on the welterweight showcase, but an injury suffered by the talented young Canadian forced him to the sidelines.
With the spot opposite Condit available, the Team Takedown fighter jumped at the opportunity to mix it up with "The Natural Born Killer" in Montreal. This turn of events created an interesting situation for Condit, because a win over Hendricks would be a strong argument for Condit to step directly back into a title shot.
Had the original scheduled bout with MacDonald taken place, the case for Condit receiving a title shot may not have been as strong, since the 23-year-old's place in the divisional hierarchy is not clearly defined.
In Hendricks, the Jackson-Winkeljohn-trained fighter has an opponent who has generated buzz and campaigned for the past year to get a title shot. The heavy-handed welterweight has been a wrecking machine in the 170-pound division, and if Condit can find a way to grab a victory, another crack at the welterweight crown could very likely be in short order.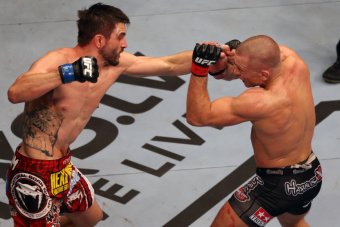 Tom Szczerbowski-USA TODAY Sports
On the other hand, should Condit come up short against Hendricks, the loss would potentially move him to the back of the line in the contender's class of the 170-pound division. With the weight class growing more competitive by the month, the former WEC welterweight champion would have a difficult road to travel back to a title shot.
With a batch of future contenders like Demian Maia, Rory MacDonald, Tyron Woodley and Tarec Saffiedine ready to make their move up the ladder, Condit would most likely have to win at least three bouts before earning another opportunity to compete for UFC gold.
When you include the high-profile bout between Jake Ellenberger and Nate Marquardt taking place on the card at UFC 158, the road for Condit to get back to the top could be a very difficult path to travel.
This makes the bout between Condit and Hendricks a high-risk/high-reward affair, and Condit has made a career out of his ability to step up in big moments.
Condit Possesses a Unique Set of Skills
There is little doubt Condit is one of the most versatile fighters in the welterweight division, but skill alone is hardly his greatest asset. The scrappy New Mexico native has a tremendous ability to remain dangerous at every point of the fight—a talent Condit has displayed on numerous occasions.
During his most recent bout with Georges St-Pierre at UFC 154 in November, Condit rebounded from an opening two rounds where he was battered on the canvas by the champion to nearly steal the victory with a brilliantly timed head kick in the third frame.
The well-placed strike dropped GSP to the canvas. But despite Condit's best efforts to finish the welterweight king on the mat, St-Pierre was able to get back to his feet and recover.
Unfortunately, the damage done in the third round wasn't enough to turn the tide. Condit came out on the losing end of a unanimous decision at UFC 154.
Does Condit deserve a title shot with a win over Hendricks?
Nevertheless, he had the champion in more trouble than any other opponent had been able to manage in recent memory, and this has kept Condit near a title shot despite coming up short.
Coming back from a rough start is an ability Condit has shown time and time again. In his bout with Jake Ellenberger and his first throwdown with Rory MacDonald, Condit bounced back from early batterings to score victories.
Hendricks is historically a very fast starter who likes to come out and establish his power from the get-go. For two of the last three opponents the 29-year-old has faced, that hammer left hand he carries was too much to overcome.
In a career that has carried over a decade, Condit has never been knocked out. His only losses in bouts that were stopped came by way of submission, but those are few and far between. Condit has only been tapped three times in 34 fights.
If Condit is able to weather the early storm Hendricks is sure to bring, the tide of the fight could turn in his favor. His ability to move in and out while remaining accurate with his striking has proved to be a difficult puzzle to solve. While Hendricks is heralded for his one-punch knockout power, Condit is no slouch in the one-shot kill department either.
With that in mind, a victory over Hendricks on Saturday night would catapult Condit directly back onto the championship doorstep. Should that win come in impressive fashion, it would be difficult to imagine Condit not being a lock for another shot at the title.